Nick Cave & The Bad Seeds, Groove Armada, Jungle, Sinéad O'Connor & more for All Together Now 2022
All Together Now 2022 will take place from 29 - 31 July at Curraghmore Estate, County Waterford.
An incredible line-up has just been announced for the return of All Together Now festival, with tickets on sale next Thursday, November 18th at 8am.
One of the most intense and exciting live acts on the planet, NICK CAVE & THE BAD SEEDS will headline festivals across Europe in summer 2022, in their first shows in four years.
Formed following the breakup of The Birthday Party in 1982, to date the band have released 17 studio albums, starting with From Her To Eternity in 1984 to the Bad Seeds' latest album Ghosteen, which has been widely received as their best work ever.
One of the most critically acclaimed acts working today, Nick Cave & The Bad Seeds have sold over five million albums worldwide to date. Their influence has been profound and far-reaching with many artists covering their work and citing their influence, the outfit continue to remain peerless.
UNDERWORLD, AKA Rick Smith and Karl Hyde, are a true one-off - at home headlining the world's biggest festivals and events, playing underground techno clubs and warehouses. Having cemented their place in the '90s underground techno scene, the group's definitive breakthrough came in 1996 when their timeless anthem 'Born Slippy (Nuxx)' became the soundtrack of a generation.
Advertisement
We'll see you, baby, shaking that ass with masters of electronic music GROOVE ARMADA Live to celebrate 25 years of touring, GA call time on their legendary live show. This will be one of the last opportunities to see their incredible career spanning hits.
With their Mercury nominated debut album, massive hit single 'Busy Earnin'' and a serious live reputation, we can't wait to check out London collective JUNGLE. Having released their third studio album Loving In Stereo, this will mark their only Irish show in 2022.
SINEAD O'CONNOR's incredible artistry has made her a household name across the globe, and the reviews for her current US tour have been nothing short of astounding. This will be her only festival performance in Ireland this year.
Australian psychedelic rockers KING GIZZARD & THE LIZARD WIZARD will make their Irish festival debut at All Together Now, with two duelling drummers, three phenomenal guitarists, heavy bass and possibly a harmonica thrown in. They have just released their eighth studio album in June of this year to serious acclaim.
Brooklyn rockers DIIV will be making their Irish debut at All Together Now. The band's third album 'Deceiver', was praised for its mature artistic direction and expanding sound.
The phenomenal GIRL BAND return to play tracks from their critically acclaimed album The Talkies. Electric and charismatic rapper, singer and poet DENISE CHAILA will bring her spoken word hip-hop art to life. Check out some post punk pop from PILLOW QUEENS, who had their US debut on James Corden's The Late Late Show earlier this year. Enjoy some contemporary alt-country with a pop twist from witty musician Ciara Mary-Alice Thompson aka CMAT.
Expect a hip hop set mixed impeccably by club DJ, musician, remixer, producer and KOMPAKT recording artist DJ KOZE. Globally renowned Irish electronic music producer MANO LE TOUGH (Live) will be performing his new live show for the first time in Ireland. Get your alternative post-punk fix from SHAME who received critical acclaim for their debut album 'Songs of Praise'.
Advertisement
Chicago native HONEY DIJON has a style that blends all genres and captivates with her instinct, versatile sound and dazzles as she performs live. Bringing his style of dubstep, UK garage, oldschool funk we have electronic artist JOY ORBISON. Waterford dance act KING KONG COMPANY are a joy to behold!
We're huge fans of the unreal GEMMA DUNLEAVY, twice Mercury nominated poet and musician GHOSTPOET. DRY CLEANING are a new post-punk-slanted, minimalist London quartet, gaining media praise from across the media landscape. There are few artists as refreshingly direct as Bristol based BILLY NOMATES.
ATN are thrilled to have The xx's ROMY, inventive DJ OR:LA, high-speed raver SHERELLE, folk singer songwriter SORCHA RICHARDSON, Galway indie-rock band NEWDAD, folk singer JOHN FRANCIS FLYNN, legendary singer, composer and transgender activist BEVERLY GLENN-COPELAND.
London singer/rapper OSCAR JEROME, German electronic artist CHRISTIAN LÖFFLER, electronic group CRAZY P DJ, hip hop, jazz electro duo SAD NIGHT DYNAMITE. Elsewhere, the stages will see Irish poet and performer SINEAD O'BRIEN, Daithi and Paul Noonan (BellX1)'s new outfit HOUSEPLANTS, Cork's post punk psychedelic THE ALTERED HOURS, R&B/soul artist ABY COULIBALY, dynamic 4-piece POWPIG, Lo-fi indie pop from SMOOTHBOI EZRA.
Alternative R&B purveyor MONJOLA, unreal East African DJ KAMPIRE, French electro-dance DJ EMA, hazy, dreamy indie pop from FAR CASPIAN, bringing their own mix of psychedelic rock from MELTS, serious danceability from ENOLA GAY, Limerick composer/producer PADDY MULCAHY, post-punk from Cork's PRETTY HAPPY, sing-along craic fest SING ALONG SOCIAL, chunky fun soul from PRYMARY COLOURS, unique chamber orchestra GLASSHOUSE ENSEMBLE, NIALLER9 and firm festival faves TRINITY ORCHESTRA are also on the bill.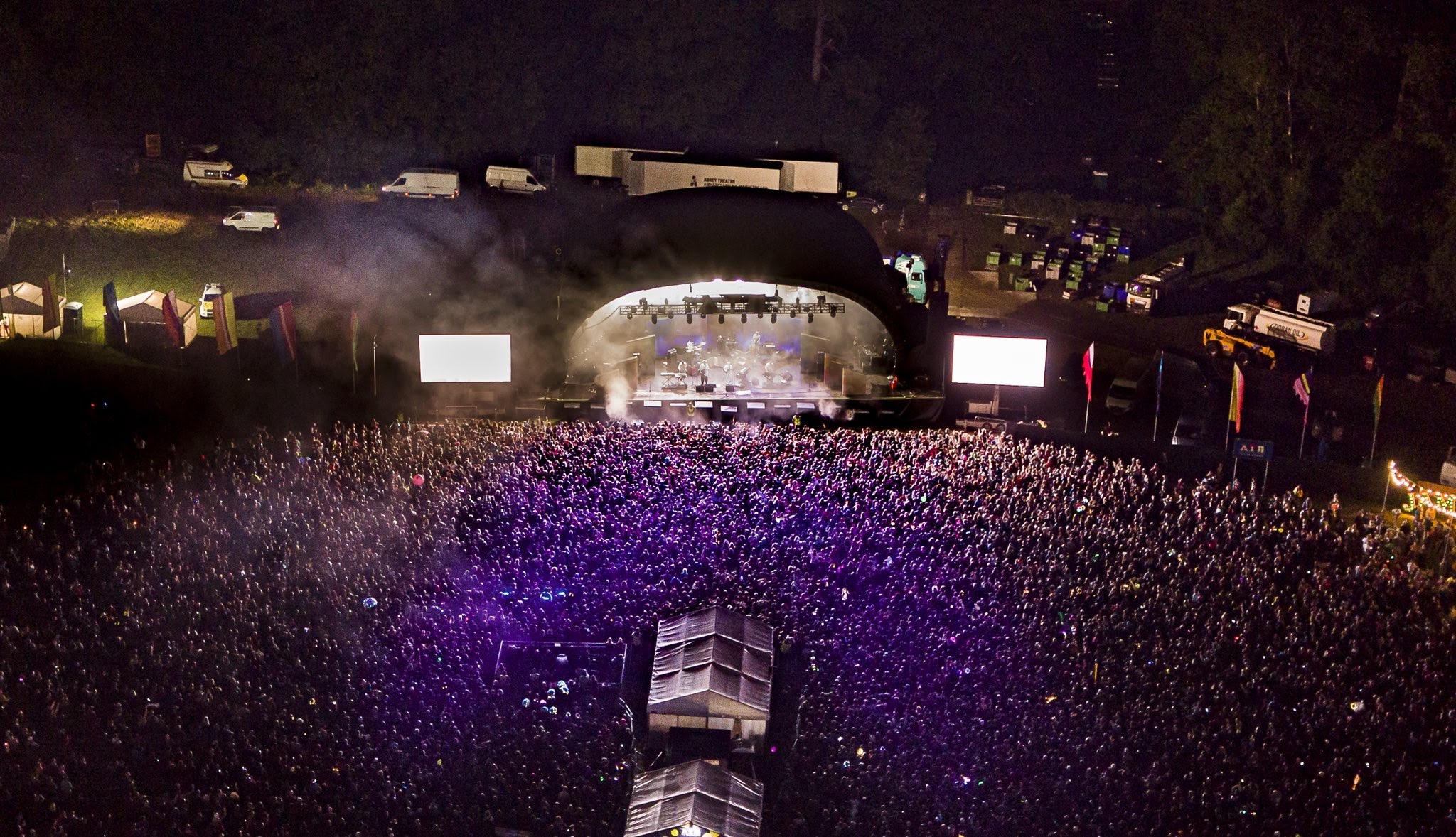 Organisers "can't wait to welcome festival-goers and music lovers back after three long years" to the grounds of Curraghmore House.
Advertisement
The August Bank Holiday Weekend see creativity and celebration all across 18 stages of music, art, theatre, spoken word, comedy, feasts of food, with plenty more hidden gems.
"We thank those of you who have continually supported us. Without you the festival would not be possible. Our team has, and will continue to work tirelessly to create a special festival for our return," a press release reads.
"Festivals are places of escape, discovery, and celebration. They give us the space to dance, laugh, sing, and give us all a sense of belonging and togetherness, something we are longing to get back to."
Roll on the summer of 2022!
Remaining tickets for All Together Now General & Family Weekend camping tickets go on sale Thursday, November 18th at 8am via Ticketmaster Ireland & usual outlets priced at €235.00 - including booking fee.
All Together Now is again strictly over 21s. Children 12 and under can attend free of charge, accompanied by a parent with a family ticket.
Limited Instalment Plan tickets go on sale Thursday 18th November at 8AM via Ticketmaster. Limited Instalment General & Family tickets will be priced at €47.00 spread across 5 payments.
Advertisement
All Campervan passes are SOLD OUT
2022 LINE-UP
Nick Cave & The Bad Seeds, Underworld, Groove Armada Live, Jungle, Sinéad O'Connor, Pillow Queens, CMAT King Gizzard & The Lizard Wizard, DJ Koze, DIIV, King Kong Company, SHAME, Mano Le Tough Live, Honey Dijon, Joy Orbison, ROMY, Or:la, Ghostpoet, Billy Nomates, Gemma Dunleavy, Sorcha Richardson, Beverly Glenn Copeland, Dry Cleaning, NewDad, John Francis Flynn, Oscar Jerome, Sinead O'Brien, HousePlants, SHERELLE, Christian Löffler, Sad Night Dynamite, Crazy P DJ, Smoothboi Ezra, The Altered Hours, MELTS, Enola Gay, Aby Coulibaly, Monjola, Far Caspian, Pretty Happy, PowPig, Kampire, Paddy Mulcahy, EMA, Sing Along Social, prYmary colours, Glasshouse Ensemble and more.