By: Tanis Smither
The series comes from the producers of 'Stranger Things' and the director of 'End of the F***ing World'.
In an announcement made Tuesday, Netflix revealed a new series called I Am Not Okay With This. The series will premiere on February 26th, and includes Sophia Lillis and Wyatt Oleff (both of the It franchise) in its main cast.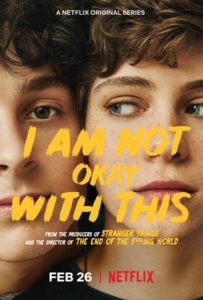 I Am Not Okay With This follows a teenage girl (Lillis) who attempts to navigate the trials and tribulations of being a teenager, high school, her budding sexuality and complex familial relationships all while a mysterious superpower begins to show itself to her. The series is based on the Charles Forsman graphic novel of the same name, published in 2017.
Advertisement
Jonathan Entwistle is best known for his directing work on smash Netflix hit End of the F***ing World.