Martha Wainwright: "It was always going to be personal, as my songs are. And as I have a tendency to be in any case"
Singer-songwriter Martha Wainwright isn't holding back in her compelling new memoir. She talks about her complicated family life, a recent marriage break-up and a misspent youth that featured Pete Doherty, fist-fights and unsuitable boyfriends.
There are many harrowing passages in Stories I Might Regret Telling You, the funny, moving, occasionally devastating memoir by songwriter Martha Wainwright. The book begins with Wainwright's father, Loudon III, advising her mother, Kate McGarrigle, to have a termination rather than see out her pregnancy with Martha. Later, the author recalls her baby son, Arcangelo, turning blue and requiring mouth-to-mouth resuscitation (he makes it). In between, the pages are littered with family spats, bad boyfriends and drug-fuelled antics. It's a read-and-a-half, especially, though not exclusively, for fans of Wainwright's raw-boned confessional pop.
"The title of the book was sort of a set-up in many ways," Martha says over Zoom from a temporary base in the Catskill Mountains. "When I first wrote some stuff to see if I couldget a book deal… I used the word 'regret' a couple of times. The original publisher picked up on that."
This made sense to Wainwright, who knew that her autobiography, were it to have any legitimacy, had to come from the heart. That it couldn't pull punches.
"It forced me to do what I wanted to do anyways, which is to write a very personal book. Because I wasn't going to write a book of recipes or, you know, travel diaries. It was always going to be personal, as my songs are. And as I have a tendency to be in any case."
She wrote and rewrote Stories I Might Regret Telling You over a number of years. One complication was that, bang in the middle of the process, she and her husband, Brad Albetta, had a nasty split.
Advertisement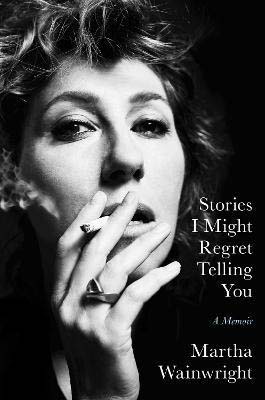 "I went through this divorce. And was very upset and very angry. I definitely put a lot more down. I wrote a lot more and took a lot out. 'I can't say this. It's not worth it.'"
Wainwright is a ferociously talented songwriter who, at age 45, has a body of work behind her going back to the mid-2000s. She is also part of what is often described as a musical dynasty. Older brother Rufus is perhaps the great piano troubadour of our times. Her mother, Kate McGarrigle, was a cult folkie who, together with sister Anna, performed as the McGarrigle Sisters. And Loudon, her dad, has been an Americana stalwart going back to the '60s and '70s.
It's her brother, her elder by three years, who casts the longest shadow. Precocious, outgoing and beloved by his mother, Rufus was the golden child of the family. This understandably dented Martha's confidence. And was a cause of tension with her mother, who passed away in January 2010 after a struggle with cancer. In one hard-to-read passage, Kate tells Martha she is "the definition of mediocrity", who "had no interests" and didn't apply herself. Martha physically lashes out, throwing her mother to the floor. Those details must have been difficult to share.
"It's easier because she's dead," says Martha. "A lot of people probably wait to write about their parents until after they pass away to say things like that. So I was able to say those things about Kate. I wanted to say it because the fact I struck her down shocked me. Especially because she was ill. I think that these things [always] come up in people's lives. Hopefully it doesn't. But I think it can. I wanted to touch on those things that are taboos. Not only in my personal experience, which is why I talk about abortion in the first two sentences basically. I wanted to talk about alcoholism and these things. I felt it was important to say it out loud."
Loudon had left Kate while Martha was a baby and so she grew up the child of a single parent. The closest she came to a father figure was her mother's musician boyfriend, Pat Donaldson. He was one of many men who flit in and out of the story and are often intimidated by the successful women in their lives. That club also includes the songwriter Dan Bern, with whom Martha was in a relationship (it ended when Bern introduced Martha to his girlfriend). And the Dublin singer, Phil Marshall, of New York-based band, Those Bleedin' Tulips, with whom she remains friendly to this day.
"I was sort of lost," reflects Wainwright. "I wasn't a woman who wielded a lot of power over men. I wished I was. That made me feel sad. A psychologist or something would bring it back to my dad. Not being brought up by my father. I don't want to say abandoned, but I was brought up by my mother. I wanted my father's attention. There was definitely a recurrence of me wanting male attention, from men who are extremely talented and beautiful. But maybe egocentric and insecure."
Advertisement
It's hard not to conclude that the music industry has historically proved a welcoming place for male egotism. Whereas women who know what they are about receive a chillier reception.
"I would guess it's more appealing to have male artists be kind of womanisers," says Wainwright. "So that they're more attractive to as many people as possible and they're not available."
Stories I Might Regret Telling You is wrenching. But it isn't miserable. There's a very hilarious section where Wainwright recalls a debauched weekend at Glastonbury in the company of songwriter Ed Harcourt. They end up bumping into Pete Doherty, with whom Harcourt has a pretend fist-fight. Meanwhile, Martha's tour manager tells Damon Albarn's manager Wainwright can't sing with his Africa Express Project because she is exhausted. Albarn's manager nods, and then points to Wainwright standing on a table dancing with drink in hand.
"Those Glastonburys, where I was getting really fucked up, like everyone else there, were very valuable to me. Just for the experience of it – for the sheer cinematic experience," she says. "I don't know if they did my career any good. I don't think they did. But I certainly look back on them fondly."
The book has a happy ending of sorts, too. Having moved back to Montreal, where she now runs a venue - Ursa in the Mile End neighbourhood - Wainwright began a new relationship with a French carpenter named Nico. That isn't to say her demons are completely at rest. The previous night, she recalls becoming slightly upset when a Spotify playlist kept pulling up tunes by her brother while her catalogue was studiously ignored. Even after all these years, all those teachable moments, that sort of ambient rejection still hurts.
"That first hour was a lot of male artists," she says. "This continued into the second and third hour. I went to bed upstairs and then some women started to play on it. I think I heard Sandy Denny and Patti Smith, something like that. I was like, 'I'm gonna fucking go to bed and I'm not going to come up on this'."
She says this with a laugh, conveying the story in the same wry, warm authorial voice that infuses her writing.
Advertisement
"Hopefully there were parts that were funny," she concludes. "The hardest part was writing about my ex-husband because I had to be careful not to be sued. I did want to be able to express some sadness and shock. I'm always teetering on the edge of how far I can go. Going back to the title being the thing that is steering the ship. That's sort of the spirit of itm that's how I feel about my life. I'm always a little bit of an edge off a fall."
Stories I Might Regret Telling You by Martha Wainwright is published by Simon and Schuster