Irish alt-folk singer Maria Kelly's new project will feature alternate versions of songs from her latest album in a collaborative project with Minding Creative Minds.
Maria Kelly has just announced her newest creative endeavor, an exhibition titled The Postcards In-between that will run in concurrence with her newly announced tour dates.
The new project comes hot on the heels of her debut album The Sum of the In-between that was released last October. The West Ireland native's new tour in association with the project will see her perform in Dublin, Galway, Limerick, Cork, and London. A new exhibit connected with her music will also be running in Dublin.
The exhibit began with 12 letters from several of Kelly's fellow Irish songwriters that were each written as a "letter to self" meant for a version of themselves that they thought might need a helping hand.
Each of these letters is linked to a specific track on Kelly's new album.
Abacaxi, Ciaran Lavery, James Vincent McMorrow, Paul Noonan, Rosie Carney, Runah, Saint Sister, Sammy Copely, Shiv, Sive, and Tim Chadwick all provided letters for the exhibit.
Advertisement
Irish-French illustrators Nathanaël Roman and Cécilia Noiraud designed the visual elements of the letters that will be displayed at Universal Space, Dublin on Saturday April 30th and Sunday May 1st. On Saturday evening, there will be a panel discussion on the exhibit as well as live music performances.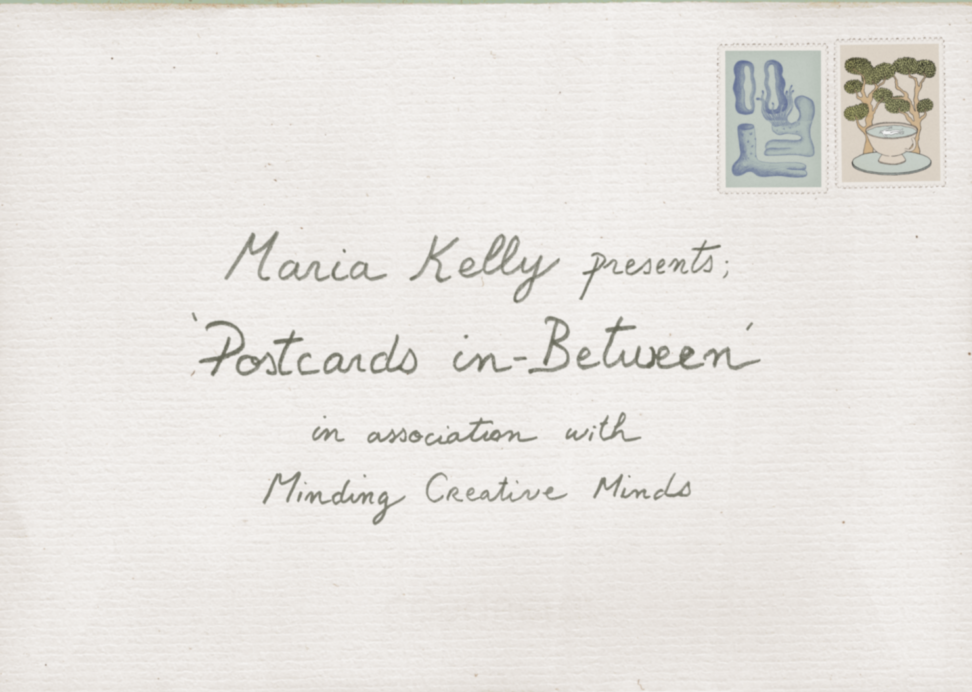 The exhibit is being presented in association with Minding Creative Minds, Ireland's first 24/7 wellbeing support program. Minding Creative Minds offers numerous services including a 24/7 dedicated phone line; short-term intervention, telephone counselling, secure video counselling, and a comprehensive web portal for live chat functions with a counsellor.
According to programme founder Dave Reid: "Our focus at Minding Creative Minds is supporting the entire individual. We ask people in our creative community not to wait until they are in a crisis to contact us; if something is troubling you, regardless of how small you deem it to be, let us help you. This in itself is one of the kindest acts of self-compassion you can show yourself; the theme Maria has chosen for this beautiful and thought-provoking exhibition and event. We applaud Maria for this initiative and are very pleased to display our support by partnering with her for The Postcards In Between Exhibition and Event."
In addition to the tour and exhibit, Maria Kelly will also be recording several alternative versions of songs off her album. The first of these new recordings will feature a collaboration with Paul Noonan on the album's title track 'The Sum of the In-between' and is set for release on March 30th.
"Postcards In-between aims to bridge the gap between who we were, who we are, and who we will be," says Kelly.
"It's a project about self-compassion; acknowledging the part of ourselves that is always changing, growing and learning. The part that is always, at some level, trying their best. By collecting different perspectives this way I hope that anyone reading the postcard or visiting the exhibition might be able to identify with them, finding some comfort in the fact that somebody else made it out the other side - a way of seeing yourself, by meeting somebody else exactly where they are."
Advertisement
Dates For Kelly's upcoming tour:
Sat 7th May - Dublin - Whelans Main Room
Sun 8th May - Galway - Róisín Dubh
Fri 13th May - Limerick, The Record Room
Sun 15th May - Cork, Winthrop Avenue
Wed 1st June - London, Servant Jazz Quarters
Maria Kelly's album The Sum of the In-between and tickets for her tour are available here.
Advertisement
Minding Creative Minds can be reached 24/7 at their dedicated phone line:
(1800 814 244)
(Calling from NI / UK – 0800 0903677)
(International – 00353 15180277)
Listen to Maria Kelly's new album The Sum of the In-between below: