Made By Music: How Three Ireland Brought Together a Series of Unique Musical Collaborations
Three artists gather. They have a connection that is made by music. And so they pursue the holy grail of a very special collaboration. This process happens not once, but twice – with first David Kitt, Kean Kavanagh and Fehdah and then Elaine May, Sorcha Richardson and Soulé joining forces. Two collaborative songs. Two videos. All brought to fruition, with the support of a company with a real commitment to the connections that can be made by music. As John Lennon nearly said: "One thing I can tell you is it's got to be Three!"
After a hugely successful first outing in 2018, Three Ireland's 'Made By Music' initiative has already had a stellar start to 2019. The good news is that things are only going to get better. Designed to highlight the fascinating connections that can be Made By Music, in 2018 Three offered a platform to Jafaris, Saint Sister and Kormac. Music videos were commissioned to showcase three of their tracks, each telling a unique story of connection.
This year, Three are taking the theme of connection a step further again, by bringing together six Irish musicians in all – David Kitt, Fehdah, Kean Kavanagh, Elaine Mai, Sorcha Richardson and Soulé – to write, record and release two brand new collaborative songs. The aim is to make a tangible contribution to the Irish music scene, by helping the next generation of Irish music stars reach a wider audience.
The songs and their accompanying videos have been hugely successful, racking up tens of thousands of streams on Spotify and hundreds of thousands of views on YouTube. The next stage of the journey sees them getting their live debut at the all new 'Made By Music' stage at the Electric Picnic.
SOUND OF THE SUMMER
The gorgeous 'Follow The Sound' kicked off this Summer's 'Made By Music' series, in real style. Featuring renowned Irish artist David Kitt, singer-songwriter Kean Kavanagh and Afro-soul vocalist Fehdah, the hypnotic summer anthem became a great marriage of the trio's unique voices. The marriage theme was continued in the stunning video, directed by Ian Robertson, which captures a bride losing herself in the music during the first dance at her wedding.
Those in the know will be aware that David Kitt has been to the forefront of the Irish music scene since his sophomore album, The Big Romance, became the official soundtrack to the summer of 2001. Since then, Kitt has released six solo albums, toured variously as a member of Tindersticks and with David Gray's band, and recorded and released music under the New Jackson moniker. His most recent release, the Like Lightning EP, was released in late 2018. As far as Kitt is concerned, the Three collaboration is a marriage made in heaven. "I'd actually sent an email to Kean about three weeks beforehand," he reflects, "asking him to do some work on a track because I was a fan."
As the co-founder of Soft Boy Records – who release music by Kojaque, Luka Palm and Wastefellow, among others – Kean Kavanagh is right at the centre of the exploding new Irish music scene. A producer and performer in his own right, Kavanagh has released music as a solo artist, including the singles 'Coca Cola Sky' and 'Miracle'. He thoroughly enjoyed working with Kitt on the music for their collaborative track. "First day we met up," he tells Hot Press, "David and I ended up talking about music for three hours. Then we went out and had a couple of pints and when we came back, David started messing around with what eventually became the instrumental for this track."
With a solid foundation in place, Kitt suggested getting Fehdah involved. "I just really liked her work," he says. "It was quite organic, the way it all came together."
Blending futurist Afro-soul with contemporary electronic beats, Fehdah is a project by Dublin-based singer Emma Garnett. Raised in the university town of Maynooth, Emma was a science student in college, but always intended yo follow her passion. Originally from Sierra Leone, Emma's sound incorporates her African roots with stylish, tumbling dance beats. It was the perfect adornment to the track envisioned by Kitt and Kavanagh. Fehdah loved the collaborative aspect of the project. "I'd never worked with these guys so I was really excited for it," she enthuses. "I normally work alone but we all worked together so well."
SOCIAL BUTTERFLIES
In early August, Three released the second 'Made By Music' single, 'Butterflies'. Written and recorded in Dublin's Diffusion Lab, the song it a perfect showcase for the individual talents of Soulé, Elaine Mai, and Sorcha Richardson.
Balbriggan-based 2-step/neo-soul/R&B singer, Soulé, is a leading force in a new wave of emerging Irish talent. Having brought her dazzling set to festivals around the country over the past few years, she's an unquestionable star-in-the-making, who has had millions of Spotify streams on the back of hits like 'Troublemaker', the Choice Song Of The Year-nominated 'Love No More', and her most recent release, the Love Cycle EP.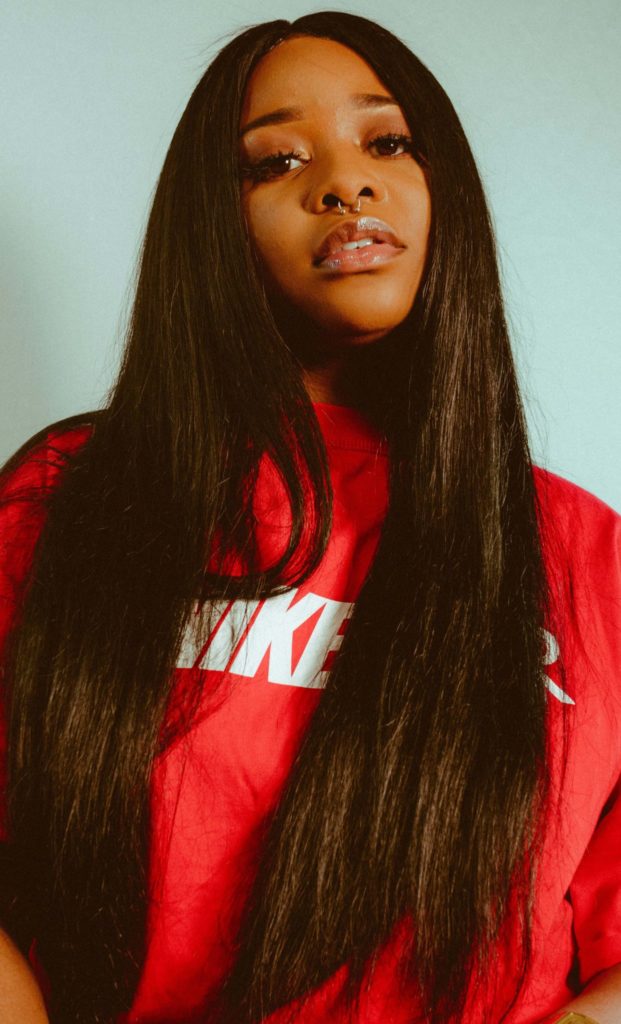 Electro-songstress Elaine Mai recently unveiled a sultry, lush-yet-lo-fi remix of the Pillow Queens song 'Gay Girls', which transfomed the track from an indie rock anthem to a bona-fide club banger. Active as a solo-artist since 2011, Mai has released a string of impressive singles and remixes, collaborated with the likes of Daithí and Le Galaxie, and in 2017 released the EP, 'The Colour Of The Night'.
Dublin-born singer-songwriter Sorcha Richardson kicked off her musical career while studying creative writing in New York. Her first single 'Petrol Station' was a hit, gaining traction on SoundCloud and on American and European music blogs before earning her first airplay on BBC1. This summer saw the release of the single, 'Don't Talk About It', which gave us a taste of what's in store on her upcoming debut album. 'Butterflies' combines each artist's unique sounds and talent. The Ali Kurr-directed video has, since May, already racked up half a million views. "This song not only showcases the incredible connection musicians can make when brought together, but also celebrates the amazing female artists within our music industry," Head of Brand and Marketing Communications at Three Ireland, Aislinn O'Connor reflects.
"It was so exciting to have the opportunity to collaborate on a project like this," the artists themselves state. "We made 'Butterflies' in a studio in the heart of Dublin city, after a couple of days writing together and sharing ideas. It's a song about falling in love and feels like the perfect meeting place between each of our different styles and tastes as artists and writers. We're really proud of the song and so excited to see it released into the world."
LET'S TAKE IT TO THE STAGE
As if two hit singles weren't enough, all six artists will be on hand to give a never-before-seen live performance of the tracks on the brand new 'Made By Music' stage at this year's Electric Picnic. And, joining the Three 'Made by Music' artists at the new stage is some of best rising talent on the International and Irish music scene.
Electro-pop star Shura will headline Friday night and will be preceded by avant garde vocalist and performance artist Serpentwithfeet, indie pioneers Sports Team and rising Irish stars, Alex Gough – Waterford's latest rap sensation – and 18-year-old singer-songwriter Curtis Walsh.
On Saturday, Jyellowl – one of the stars of the Irish hip-hop scene – acoustic trad-metal fusionists The Scratch, Dundalk shoe-gaze band Just Mustard, indie rock/pop sensation Somebody's Child, producer & songwriter Rob De Boer and multi-instrumentalist Uly all feature. The day's line-up is completed by multi-instrumental five-piece Easy Life, Kentucky garage punk band White Reaper and new wave post-punk trio, Working Men's Club.
Bringing the stage to a close on Sunday are Electro pop trio Kero Kero Bonito, who be joined by post genre group Ider, experimental pop duo Let's Eat Grandma, Italian alt-pop singer Georgia, indie pop outfit Cassia and Bristol punk band Heavy Lungs. Irish artists such as the genre-defying Limerick all-female outfit PowPig, Brighton rockers Yonaka and poet Sinéad O'Brien complete Sunday's line-up. All in all it promises to be a brilliant weekend – Made By Music, of course.