Lloyd Cole: "Van Morrison came to see us open The Mean Fiddler in Dublin. He said we were pretty good but too fucking loud!"
Truly a prolific force of nature, Lloyd Cole has just released his twelfth solo album On Pain last week, with his Irish return date set for October 8th at Dublin's 3Olympia Theatre. The Buxton singer-songwriter has had a fascinating career, both as a solo artist and with his band The Commotions, so Hot Press are delighted to get time with the '80s heartthrob.
We're in Lloyd Cole's attic studio (virtually, that is), where he makes the audio magic. The current soundscape brewed by the Englishman is firmly in the electronic realm, despite his indie-rocker roots with The Commotions in the '80s. He swapped his riffs for synths long ago, but remains fiercely loyal to his DIY roots and adoration for the great writers. New album On Pain is another example of his continued dedication to honing his craft, without taking notice of what others may expect of the 62-year-old New England resident.
Having been raised in Derbyshire but made in Glasgow, Lloyd Cole's name was everywhere in 1984, when The Commotions had their breakthrough debut album Rattlesnakes. While indie was in the sonic DNA, Cole cites T Rex, Brian Eno, David Bowie and Roxy Music as core facets of his musical education. He traversed into synth territory almost by accident in the same decade, after buying a Sequential Circuits Prophet VS synthesiser in London's Denmark Street.
The rest is history, leading him on a solo career after The Commotions split in 1988 and sixteen studio albums later. We'd bet he's got some incredible tales…
Advertisement
"People keep asking me about doing a podcast, but I don't want to," Lloyd laughs, brutally frank as per usual. "I probably should, because I've got a bunch of friends that, whenever we start talking, we always end up laughing at the weird memories.
"The worst day of my life would be entertaining for a podcast," he shakes his head. "Paris, 1991. My record company tried to get me to film a video the same day as doing a concert at the Grand Rex. I ended up throwing my guitar down and checked into the Ritz because they put me in this shitty hotel. There wasn't enough space for my suitcase in the room - so between that and trying to make a video, and playing the biggest concert of our lives in Paris on the same night; I ended up having some sort of nervous breakdown on stage."
"We finished the gig," he affirms. "Amazingly, I think some people thought me throwing my guitar was just part of the act. I've never thrown one before or since!"
It's safe to say that if TikTok had been around during that time, Cole would have gone viral.
"If some of the material I released in the late '80s or early '90s came out now, I would definitely be called toxic by some people," he shrugs, his honesty never wavering. "I wrote songs from a male perspective and I used the word 'babe' far too often to be honest. A little embarrassing in retrospect. But I have fun on Twitter, believe it or not. Not as much as I did before Elon Musk took over, but I enjoy having access to people globally on a daily basis."
Some of Lloyd's artistic legends remain bulletproof, no matter the online circumstances.
Advertisement
"People have already started to say things about Bowie, on account of his young girlfriends. One thing that I don't like that's happening a lot right now is to do with book censorship. Releasing an alternative version of the Roald Dahl books, if there's a demand for them, is fine - but we should still be able to buy the original one.
"For example, Disney removed Gene Hackman using a racist slur in the French Connection. Anybody with a brain would know that that film is set in a certain period of time when that word was quite common. To not be able to present an accurate picture of the time because we worry about offending a group of people right now isn't brave. I don't know if that's the way we should be doing it."
Cole seems pretty animated on the subject, so I ask him to elaborate.
"Applying today's morality to yesterday is very tricky," Lloyd posits. "Obviously Winston Churchill was a racist - so was every other person during his time. I didn't know anybody that wasn't a racist when I was growing up in 1970. We had black and white minstrels on TV. White guys dressed up in blackface dancing around and singing Al Jolson songs. If you want to say I'm never going to read anything written by a racist, then just rule out everything from more than 20 years ago. Martin Amis, bless him, put it best: 'I can palpably feel that my children are less racist than I am. Their children will be less racist than they are and so it goes on'."
"How can you not be a bit racist when you've been raised that way? Of course I don't want to be prejudiced, but there's some unrealistic expectations by Gen Z and others at times."
Has the singer-songwriter tried to make use of social media, given his independent status?
Advertisement
"I just managed to try and learn how Instagram works because my career necessitates it," he laughs. "I wrote a song in 1994 called 'Trigger Happy' at the age of 33 about this topic. It was from the perspective of an older person who is out of touch. But the assumption from the younger person about the older person is that they're oblivious to being out of touch.
"All I wanted to do in the song was to say, 'I'm out of touch and I know it'. I see what's going on here and I know it's not for me. I'm not supposed to understand it, but don't think that I don't get what's going on. Thankfully I'm closer to death than having to go through it again."
The straight-talking musician is due to make his Dublin return on October 8th.
"It's been a long time because I've been playing at Vicar Street or Whelan's the last 25 or 30 years or so. I always stay on Drury Street so I walk by the Olympia Theatre all the time," he tells me, happily. "I'm looking forward to it; and I have a band for the first time in ages.
"I only have good memories of Dublin," he continues. "Is it Leeson Street where all the after hours places were? I remember that Leggs or another club on that road was the only place that was open after a certain amount of time. Whenever we were in Dublin, we went out and just didn't want to go back to the hotel after a show. I'd wake up the following morning and I'd have no recollection of it and then I'd look in my pocket and see a receipt like, 'Oh shit'."
Advertisement
Two dozen Guinness and a 5am chipper?
"More like buying cigarettes in the middle of the night and going to some bloody club where they only serve champagne or something horrible!" Lloyd groans. "But I've got friends in Dublin, so I've spent so much time there. Dublin is actually the first place I ever got mobbed! 1984: I was staying at The Gresham. Across the street there was an old newsagent and I went to buy a paper. These little kids all started swarming around me, I was so shocked!"
Since those days, Cole's modular synth albums 1D and Selected Studies Vol. 1 (the latter a collaboration with Krautrock legend Hans-Joachim Roedelius) arrived after 2010's folk-inspired Broken Record and the chiming Britpop of 2013's Standards. 2019 saw Guesswork follow 2017's In New York (collected recordings), and four years later, he's ready to unleash On Pain upon the world. How does he beat the writer's block devil?
"Writer's block is being a normal person and expecting to be able to write and be creative all the time," he says. "It doesn't exist. It's frankly just stupidly unrealistic. When I can't write, frankly it's kind of nice to have a little break from constantly walking around with words and melodies going around my head. To beat it, I do what I've always done, which is keep a notebook," he answers, matter-of-fact.
"Just yesterday I wrote, 'My self destruction can be elegant and nuanced'. It came to me in the shower and I had to keep it in my head. That might well be the opening line to one of the songs on the next record. If I get a melody in my head, I might just sing it into the phone. It used to be a little cassette recorder I carried around. I'll be at my workstation," he gestures around him. "It means I can get material recorded quickly. Sparks of ideas or inspiration are fleeting. You've just gotta grab them and then sometimes you can make something out of it."
Advertisement
"I have a Patreon page, which I needed when we were stuck here and I had two years of no income with Covid and also the tour that we were doing was shut down. I made a loss on those dates, so things were pretty bad. I started work on this album when I got home from the tour. A couple of months into working on it, it just occurred to me that I don't make money from records. What the hell am I thinking trying to make a record right now?
"I started selling handwritten lyrics, which made me feel really stupid," he concedes, curtly. "I'd never done it before but people pay quite a lot of money and seem to love them. I sold tons of them and then started this Patreon page. The first major project I did was called The Notebook. I started tracking the history of all the songs I'd ever written that were published through the notebooks that I kept, and I've still got 95% of all the notebooks I ever had. So I'm up to 'Love Story' right now - which is a horrible period of time in my life.
"The one thing I can remember about 'Love Story' as an aside is that we played The Mean Fiddler in Dublin. You probably won't remember that place, but it was 1995 and we opened it. We were the first people to play it, and we did two nights there. Van Morrison came to see us and I was summoned to the table after the show. He's got brandy and Guinness and he's just like, 'Pretty good, pretty good. Too fuckin' loud'," Lloyd laughs. Does the Belfast blues icon live up to his grumpy reputation?
"Well, I can't tell you the end of what happened - other than the fact that I snuck off to the toilet and never went back. I went out the back door! I was just like, 'Nah, I cannot handle this'. It was just too much chaos."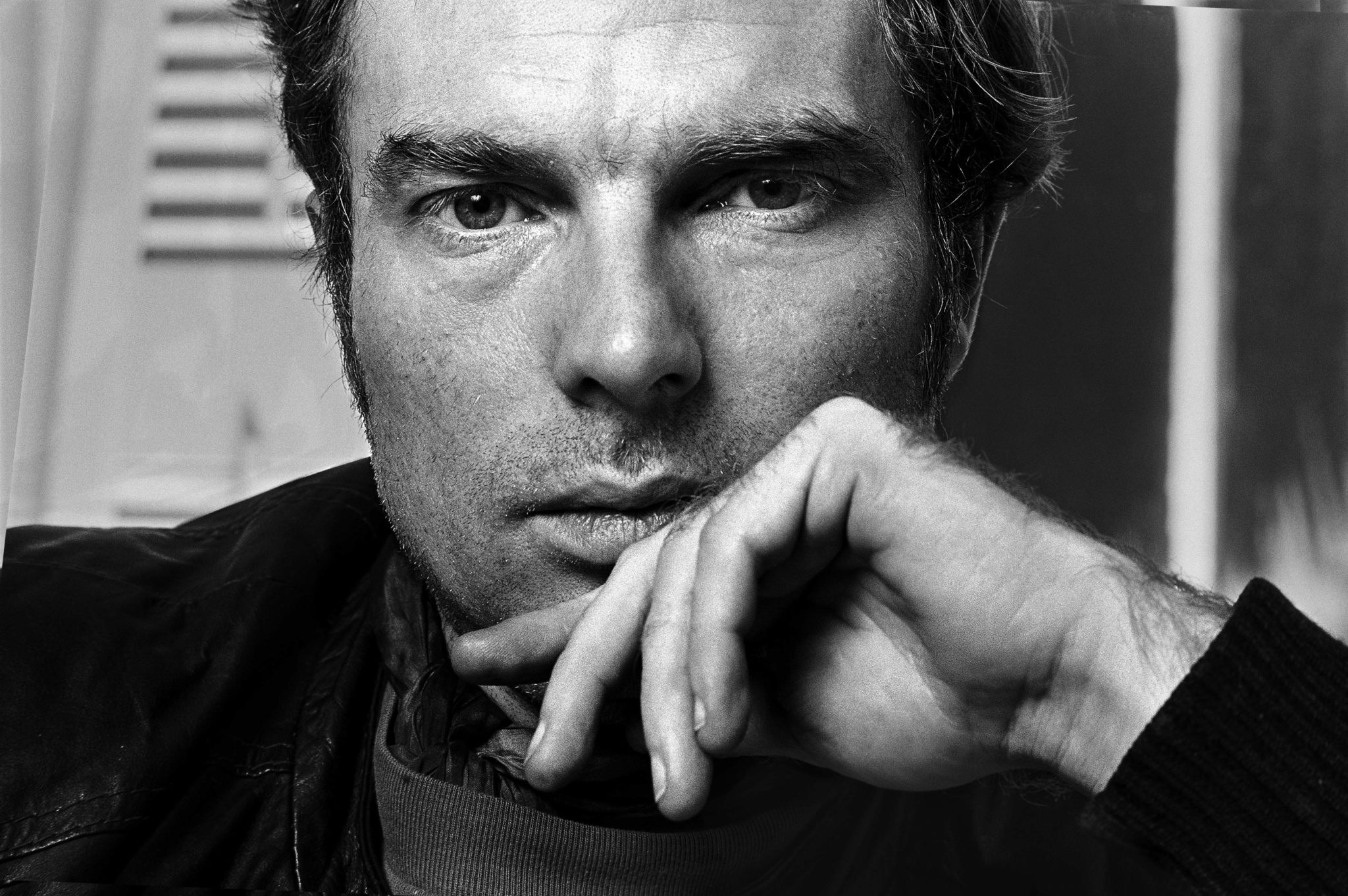 Advertisement
Lloyd's son Will Cole is also a dab hand at guitar, formerly playing in a New York-based band.
"William's sort of retired from music because he had enough of the ups and downs. But he did tell me the other day that he's coming to stay and could he use my studio. Maybe he's got some ideas? He's a brilliant musician. He's really far more talented than me in terms of being able to play instruments. That's not just me being a dad - he plays lead guitar on some of my 2013 album, Standards. Fantastic stuff."
Has he played the new album for his wife?
"My wife doesn't like to listen to my records anymore, she thinks too many of my songs are mean!" he replies, smiling. "She also doesn't like the fact that most people hear me singing in the first person and assume I'm talking about myself. That's obviously not the case."
"I didn't really think about the overview of the lyrics on the On Pain until I started doing interviews. Somebody told me the album's pretty dark, and I thought 'Is it really?' I didn't realise at all. I didn't sit down and think 'I want to make a macabre record.' I mean - look at my generation, we've got very little to be proud of. Humanity's not doing a great job, is it?"
Lloyd's twelfth album as a solo artist features four tracks co-written by Commotions founding members Blair Cowan and Neil Clark, who also perform on the record. The album is produced by Chris Merrick Hughes. How does he view the current music scene in the UK?
"I don't listen to any of what you would call rock-pop music anymore," he shrugs. "I heard a Harry Styles single that sounds like The Cure and I thought 'That's really good, but not good enough to make me want to play it again.' Better than I expected but not a whole album."
Advertisement
"There's a band called The Walkmen in New York. They're the only band who really excited me massively in the last 20 years and they just reformed. I went to see them in Rhode Island and they were fantastic. A band as good as that I'll follow them as long as I'm alive. I really like Sylvan Esso, and their song 'Ferris Wheel'. Just really beautiful and simple.
"My favourite artist right now is a woman called Kali Malone. She's an American composer and she makes music that is almost completely devoid of melody, it's just sound and just shifting timbres and I find it incredibly beautiful and kind of inspiring. I feel like I want to get further away from rock and roll and I want to see how far I can go with minimalism. There's a Sade album that's just drums and her voice - it's amazing. I'm not very good at that. I'm not confident enough to feel like my voice is strong enough to be the only thing."
Given the length and breadth of Cole's career, how does he set career goals at this stage?
"The only thing that I really would like is to be reaching a wider audience again," Lloyd responds, after a pause. "I miss it. I don't like being a niche artist. I don't think the music I make is niche or difficult. I would like success is what I would like," he laughs.
Advertisement
"It brings you economic freedom. When I'm making albums, I don't think about money at all. Musically, the only concern is artistic. I'm touring with a four piece band because I can't afford a five piece band. I'm playing bass, which is exciting, but it's because somebody has to play bass. I had economic freedom from '84 to '94. I could decide how I toured and how I lived. And I basically threw it all away with idiotic decisions in 1993 and 94. I would like to have something like that again, where I could choose a bassist. Wouldn't that be lovely?"
"I'd like to be able to retire if I wanted to, but I don't want to yet. I've still got lots of music I want to make!"
Lloyd Cole's new solo album On Pain is out now. The Buxton native plays the 3Olympia Theatre in Dublin for a seated show on October 8th tickets on sale here.