Known as The Liberties, the area west of Christchurch and east of Kilmainham, is one of the most important and historic in the capital city. While there are impressive plans for regeneration and development over the next ten years, the aim is to retain its unique, Dublin character. By Stephanie Costello photography Miguel Ruiz, Conor Heavey, Amber de Jong
No other place in Dublin has tapped into the cultural zeitgeist quite like The Liberties. From centuries old churches and cathedrals, to horse drawn carriages, colourful characters, fantastic pubs and generations of vendors selling all sorts in long established shops and markets, all human life is here – in a good way... Once a semi-autonomous jurisdiction, The Liberties (or Na Saoirsí as gaeilge) got its name in the 12th century due to its geographic location outside the city walls.
In the manner of the time, King Henry II granted to the Augustinian monks certain privileges and powers, which enabled them to control trade in the area. It's one of the oldest and most historic areas in central Dublin, spanning from the river Liffey on the north end across to Warrenmount on the south; and St.Patrick's Cathedral on the east, to St.James Hospital on the West.
Today, this multi-faceted, bustling part of the city is alive-alive-oh, and brimming with charm. Easily accessible by bus or on foot, it is a focal point for tourists and natives alike. Walkers generally begin their Liberties jaunt in Medieval Dublin, at Christ Church Cathedral, one of the capital city's oldest and most exquisite structures: one can saunter around the famous 12th century crypts and gaze in amazement at the splendour of its artistry and craftsmanship, before heading over to Dublinia, a historical museum dedicated to our Viking and Medieval heritage. A short hop, skip and jump along High Street takes you to Francis Street. It is a narrow thoroughfare through the heart of the Liberties – and a destination in its own right, famed for its unique mix of antique dealers, trendy coffee shops, pubs and nightlife. Yeats Country Antiques can be found here, specialising is top quality period furniture, along with Gallery Zozimus, a mecca for fine sculpture and thought provoking exhibitions. One of the newest and best additions to this street is Two Pups Coffee, a colourful and creative cafe specializing in healthy grub and excellent coffee, catering to local arty types as well as the manifold musicians, who are studying and developing their craft at BIMM college just a few doors down. District 8, located in The Tivoli Theatre, at the Thomas Street end of Francis Street is a clubbing institution for the newest generation of ravers, where top international house and techno DJs are likely to be found on weekends. Meanwhile, The Tivoli car park has become a go to place in and of itself. There, the work of the cream of Irish urban artists can be found on display, on its towering walls. The Tivoli is set to be redeveloped as a hotel in the coming years. Its loss will be mourned by many – but it is also a sign that developers see the huge potential in the area and are anxious to get involved. The Liberties are rising...
BREWING AND DISTILLING This area of Dublin wasn't always a prime target for cash injections and redevelopment plans. It has a strong, proud working class history with some of Dublin's oldest tenement buildings remaining an important part of the social and cultural mix. That there was a huge divide historically between the rich and the poor of the Liberties was axiomatic: that's how things were then. Locals were all too well aware of the ill-treatment of children generally in Ireland, in what was a very divided society. Indeed it was a Liberties resident, the great Dean of St Patrick's Cathederal, Jonathan Swift, who in 1729 wrote the justly famous work of satire, A Modest Proposal, which highlighted the inequality, hypocrisy and double standards of the time. During the late 18th and 19th century, however, the area became an important brewing and distilling quarter and many residents found work in the factories there. That did not mean an end to poverty. But there was work to be had, and the area was an important centre of industry. Historic hardships only served to embolden the community spirit in the Liberties, as Nancy O'Doherty who was born and raised on Reginald Street remembers. "We had a wonderful childhood,and growing up in the 40s and 50s our playground was the street," she says. "We'd go in for our dinner and then go straight out again. In our street you could play skipping and we'd have the rope from one side of the street to the other. I think it made my generation very self sufficient, because all of a sudden we knew how to sew and crochet. The toilets in our house were outside in the yard so we'd have to make our own slippers." In its heyday in the 18th and 19th century, the area was the epicentre of brewing and distilling in Ireland. Everyone knows about Arthur Guinness & Co, and the company – now owned by Diageo – is still hugely important to the area.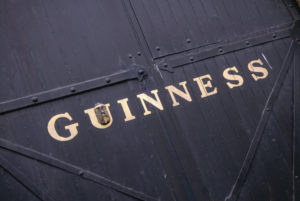 Advertisement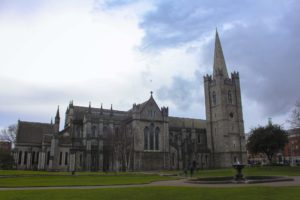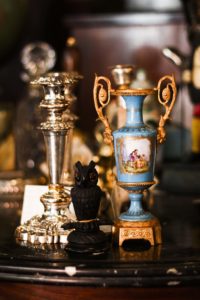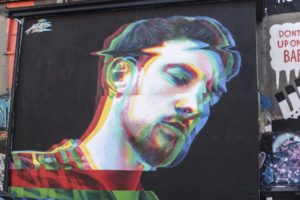 Advertisement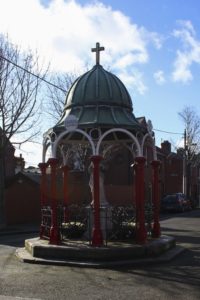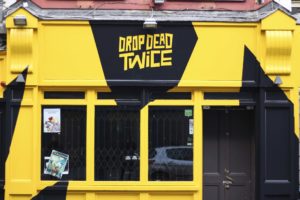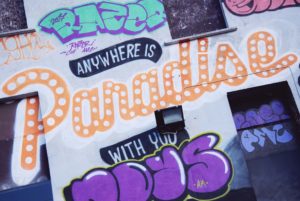 But at one time, The Liberties was home to an amazing 27 distilleries in all - including what was at one time the world's biggest whiskey distillery, George Roe & Sons (a brand that is currently being revived by Diageo). Today tourists flock in their droves to the Guinness Storehouse – Ireland's bigest tourist attraction, it had over 1.6 millionvisitors in 2017 – to learn how to pour the perfect pint and to be told of the significant contributions the Guinness family made to the area, including The Iveagh Trust complex, The Iveagh Markets and Iveagh Baths. While distilling in Ireland collapsed between the 19th and 20th centuries, this part of the city is hugely important to the current revival. The Pearse Lyons Whiskey Distillery is located in a renovated church on James Street; and Teelings Whiskey Distillery is located in the lovely square of Newmarket. Both offer entertaining and educational tours and tasting sessions for the whiskey curious. Meanwhile, on Mill Street, a 300 year old mill and tannery is being transformed into the Dublin Liberties Distillery and Visitor Centre. HERITAGE PROJECTS Meath Street might be described as the beating heart of the Liberties. A place where you're as likely to see local teens race down the road on horse and carts as you are to witness fashion and design students strut their stuff in avant garde gear, it has a fantastic energy and excitement about it. Famed for its strong street-side market trading history (not unlike that described in the music hall ballad 'Biddy Mulligan (The Pride Of The Coombe)', one can find anything from lampshades to fresh fish (with a communion card or two thrown in for good measure). A few doors down, the newly opened Lucky's Bar is offering pizza and craft beer for the 30 something crowd, while Legit Coffee Co are steadily growing a reputation as one of the best coffee shops in town. Family butchers like C&N Meats and Tony Martin & Sons have been selling high quality meats for generations. Yet as the demographic steadily shifts, some locals worry about the heritage of The Liberties, and the possible impact of developers, whose primary focus is naturally on profit. Right now, the Liberties feels like a living example of why preserving our cultural heritage is so important. Local resident of over 30 years, Kieran Doyle O'Brien is happy that the area has moved out of the shadows of recent years, but feels that the nature of future developments will be vital. "There is a danger in the fact that the area is becoming more desirable, more gentrified," he says. "That means a lot of people have had to, or may have to move out, people who would have traditionally lived here, going back generations but can no longer afford it. A lot of what's happening in development around here at the moment is student accommodation and hotels. The area needs developments for families – or it is going to have a very transient population in the future." Stephen Coyne from Dublin City Council, meets that concern head on. He is keen to stress that while modernisation is underway, the heritage and history of the Liberties is at the core of the council's ambitious plans for what they see as a hugely important area. "The Liberties is set to change and modernise, that's for sure," he says. "But, luckily, it can't escape its history – all 800 years of it. It will still be an area of majestic cathedrals and beautiful churches, a famous brewery and trendy new distilleries, lively market streets and colourful local charm. "It's been a feature of the current development boom in the area that a number of high profile heritage projects have been undertaken, often in advance of newer development. Look at the restoration of 130 Thomas Street for example, thought to be one of Dublin's oldest surviving houses; or 10 Mill Street, a prominent Dutch billy house located in Newmarket." CULTURE DATE Thomas Street, home to Ireland's National College of Art and Design, offers a fascinating insight into how the old might work with the new in the Liberties. Late night venues such as Hot Press Live Music Venue of the Year, Vicar Street – a key development in re-invigorating the area – and its older sister The Tivoli, feed customers to smaller pubs like Tom Kennedy's Bar, known for its excellent karaoke nights and lively atmosphere. Old Irish shop fronts sit next to more multicultural counterparts, selling extoic herbs and spices as kids ride around on bikes outside. Just down the road from Vicar Street is a another hive of music activity, Thomas House – a great bar that mixes a New York feel with genuinely being the heart of the rowl. No trip to Thomas Street could really be complete without a visit to Mannings Bakery and Cafe for an indulgent slice of Black Forest Cake. Or Vincenzo's Chipper, where you can sample a batter(ed) burger and chips drenched in salt and vinegar. Further down, beyond St. Catherine's Church, where Thomas Street turns into James Street, the Digital Hub has introduced a very different kind of working world into the area. Similarly, Guinness have plans to develop 12.6 acres of their St. James Gate site, into a mixed-use residential, office and commercial area. It has been described as a major new rejuvenation project. All in all, this is a hugely exciting time for a part of Dublin that has produced some of Ireland's most important singers and songwriters. Almost everyone knows about Imelda May and Mark Sheehan of The Script, who both grew up in the area, before going on to huge international success. But next time you see someone stepping up to sing 'Follow Me Up To Carlow', 'Boolavogue', 'The Boys of Wexford' or 'Kelly The Boy From Killane', remember that they too are paying tribute to a Liberties man – the great songwriter P. J. McCall. The son of a publican, grocer and folklorist by the name of John McCall, P.J. was born in 1861, on Patrick Street. With that kind of history in mind, this coming May, Dublin City Council will hold their second 'Culture Date with Dublin 8' – a mini festival offering the public special access to many of the cultural institutions in this part of the city. This event is highly recommended for those wishing to discover an area bursting at the seams with heritage, history and culture. We'll be there!
RELATED