As a premise, We Happy Few is a mind trip. The game is set in an alternate 1964 where the inhabitants of a fictional English town are zonked on a drug called Joy, in an effort to forget what they did to survive Nazi occupation. When the game opens, you play a newspaper censor who awakens from his Matrix-esque slumber and escapes to reunite with his missing brother. A further two playable characters feature in a story that riffs on Orwell's 1984, Huxley's Brave New World, and films such as Brazil.
As the back story unfolds in flashback, your goal is survival in a world gone bonkers. Hand-craft medicine and forage for food to stay alive. Stealth is a preferred option to assault, especially since the combat is clunkier than a sack of tin cans. Blend in with the locals; hide in grass to bypass villainous police officers.
The story and graphics are brilliantly unnerving, but Bioshock remains the daddy of dark dystopian videogames.
7/10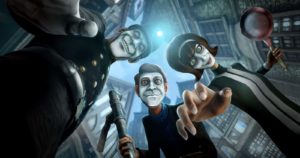 Advertisement