Glen Power: "I sent Steve Perry a song I wrote for the High Kings and he phoned up, asking to sing on it!"
Not content with being part of the Script juggernaut,– one of Ireland's greatest musical success stories of the past five decades – GLEN POWER has been making music with The High Kings, Journey legend Steve Perry and his son Luke. Power Sr. and Jr. talk to Hot Press about keeping it in the family.
It's five o'clock on a Friday afternoon and, together with the rest of The Script, Glen Power is getting ready to headline the Concert at SEA festival in Holland.
"It's about 40,000 people and really lively, so it should be good," Glen enthuses. "We've always got a massive buzz from playing live but, given what we're coming out of, this run of gigs feels extra special. We really missed the fans and our crew who've had a rough time these past two years. When you're travelling round the world together sharing all these amazing experiences, it feels like family."
As awful as Covid was, it forced The Script to take their first real breather in sixteen years – Danny, in particular, seems to have benefited from the time out – and allowed Glen to indulge in some extracurricular activities.
"I've been writing with The High Kings who are amazing musicians and singers," he enthuses. "I know their manager really well and he asked would Dan and I write something for them over lockdown. They're traditional Irish music, so it's different genres, but we absolutely loved doing it."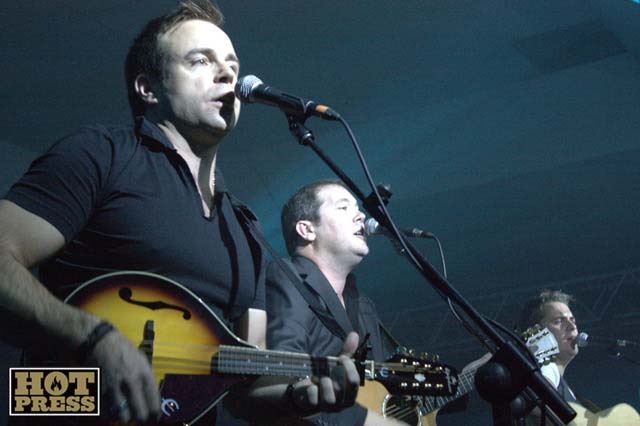 Advertisement
On a writing roll, Glen penned two more songs for The High Kings on his own.
"Here's a weird twist of fate," he resumes. "Years ago, Steve Perry of Journey fame wanted me to play on something. That never came to pass, but we remained in touch and, when The Script were gigging in Los Angeles, I invited him to the show. He couldn't make it, and asked, 'What are you working on?' I sent him the song I'd written for the High Kings about the White Lady of Kinsale. I don't know if you know the legend, but it's the true story of how a wedding resulted in the funerals of the bride, the groom and the bride's father with all four taking place on the same day. It's quite intense: she still haunts the place and has been regularly seen down through the years."
The idea of writing a song about the White Lady, aka Wilful Warrender, had been percolating in Glen's head for a while when he experienced a 'eureka!'moment.
"I was sitting in the bathtub in London," he smiles. "There was a party at the back of my house and I heard a melody, which I changed a bit and thought, 'Oh, I know what that is. It's the song I've been thinking about'. So I jumped up, went downstairs with my towel, pulled my guitar out, put the capo on the second fret and the chorus arrived. Getting back to Steve Perry – I send him this song and five days later he phones up saying, 'Glen, can I ask a favour? Can I sing on this?' His girlfriend, who's Irish, knows the legend and explained it to him so, yeah, Steve Perry is singing alongside Darren on a High Kings song. He did all of his parts, harmonies and everything, in California and sent them to me. I was talking to Steve on the phone while I was mixing it, and he was demonstrating how they created the Journey sound. It was very, very surreal."
As we have seen first-hand in Hot Press over the years, there is a marvellous randomness in rock 'n' roll! Not content with masterminding trad/AOR/pop-crossovers, Glen has also written and recorded a banger of a tune, 'Bitter Wine', with his son Luke who operates as BadScandal.
Advertisement
"Again, it's a spontaneous, organic thing," he resumes. "When Luke was eight, I taught him how to use Logic on a laptop – not because I was a pushy dad but because he was interested in it. I told him, 'Stick with it and by the age of twenty you'll be shit-hot', which he is. He's living near me now, so we're constantly bouncing ideas off each other. Luke had got 'Bitter Wine' to a certain point when he said, 'I need you to be on the chorus because I can't hit it like I know you can'."
Time to turn the story over to Luke who tells us that his father "is a fucking awesome songwriter. We have contrasting skills – I'm good with melodies while he's amazing at lyrics. I was at home working on 'Bitter Wine' when I realised, 'This needs a serious line on the chorus'. He sang the 'I am so suffocated' part, originally for demo purposes, in a sort of Freddie Mercury rock-style. Straight away I was like, 'That's a keeper!' The lyrics I had were okay, but he spiced those up too."
It sounds suspiciously like Dave Grohl syndrome to me.
"Yeah, he wanted to come out from behind the drums and be the singer," laughs Luke, who goes on to talk about his own musical journey.
"I spent a lot of time at home as a kid thinking I was an acoustic pop/rock artist," he says. "When Picture This went out on their first tour, I supported them. After years of learning to produce virtually every genre, I met these guys from Russia, who introduced me to a genre of house called flap house, which combined all the elements of pop that I love with this really rhythmic sound. I knew from that moment what I wanted to do. I released my first song, 'Jumpin' Around', in January and six months on I'm at 173,000 monthly listeners."
Courtesy of 'Bitter Wine', you just know that those numbers are going to expand. Who knows? In our 50th Anniversary issue, Hot Press could be interviewing two superstars by the name of Power...
Advertisement
READ: The Track That Changed My Life: The Script's Glen Power on U2's 'Where The Streets Have No Name'
Read more interviews and features in our 45th anniversary issue below.