Glen Hansard and Rónán Ó Snodaigh on The Busk: "We're a tiny island with about five million people. We should really look after each other a bit better"
Busking has always been an integral part of the Irish music scene. Now, that vital spark has been turned into a campaign, raising funds to support the Simon Community in their battle against homelessness. Founded by Glen Hansard, the latest manifestation of The Busk is a unique vinyl release that features Glen, Bono, Damien Rice, Lisa O'Neill and Rónán Ó Snodaigh of Kíla, among others… Photos: Abigail ring, Miguel Ruiz, Mark Logan.
Busking is integral to the music scene in Dublin. With the continuous action on Grafton Street, and numerous other pitches elsewhere in the city centre, it is an arena where musicians can both learn their chops and get used to performing in public.
A lot of well-known Irish musicians started out busking, including some of the new breed. Dermot Kennedy began playing in public as a busker at the tender age of 17, and he continues to arrange busks in different countries – as he did from the balcony of Bewley's Café on Grafton Street this week.
In a similar vein, Niall Horan and Lewis Capaldi embarked on a stint busking in unexpected locations around Ireland recently, as part of a project with Guinness. But it is a tradition that runs deep in Ireland, with Hothouse Flowers, Glen Hansard, Paddy Casey, The Riptide Movement and Keywest among the well-known Irish artists who started out on the streets. More recently, Allie Sherlock and Saidbh Skelly have created huge online followings via their busking exploits.
IMMEDIATE ADDICTION
Advertisement
It was against this background that The Busk was invented, with the object of raising much-needed funds for the Dublin Simon Community – a homeless charity that is more vital than ever now, with rents spiralling and more people being pushed out onto the streets.
The Busk has taken place each Christmas Eve for over a decade, with Bono, Hozier, Lisa Hannigan, Declan O'Rourke and more joining in regularly on a project which was launched by Glen Hansard.
"When I was starting out, I had no idea about the entertainment world," Glen tells me. "I just knew I wanted to play. My headmaster said busking is the bottom rung of the entertainment industry, and you need to step on the first rung in order to get anywhere else.
"So for me, busking became an absolute immediate addiction," he adds. "The sense of becoming someone who's actually utilising the world they live in, rather than theorising, looking out the window and dreaming about it – that was amazing. You're actually in it. I absolutely loved that."
Glen Hansard has always seen helping people as an essential part of being human. He felt a huge empathy with homeless people, and put that into practice, volunteering with homeless charities since he was 15 years of age.
"It's a funny thing to admit, but I thought they were just so cool," Hansard laughs. "I had people in my family who are lost souls, and I was always attracted to them, because they were mad fuckers. They were free in their way and their freedom cost them the societal securities, if you like. I always had great time for that spirit. And it was never out of pity. It was always out of camaraderie or brotherhood."
A TINY ISLAND
Advertisement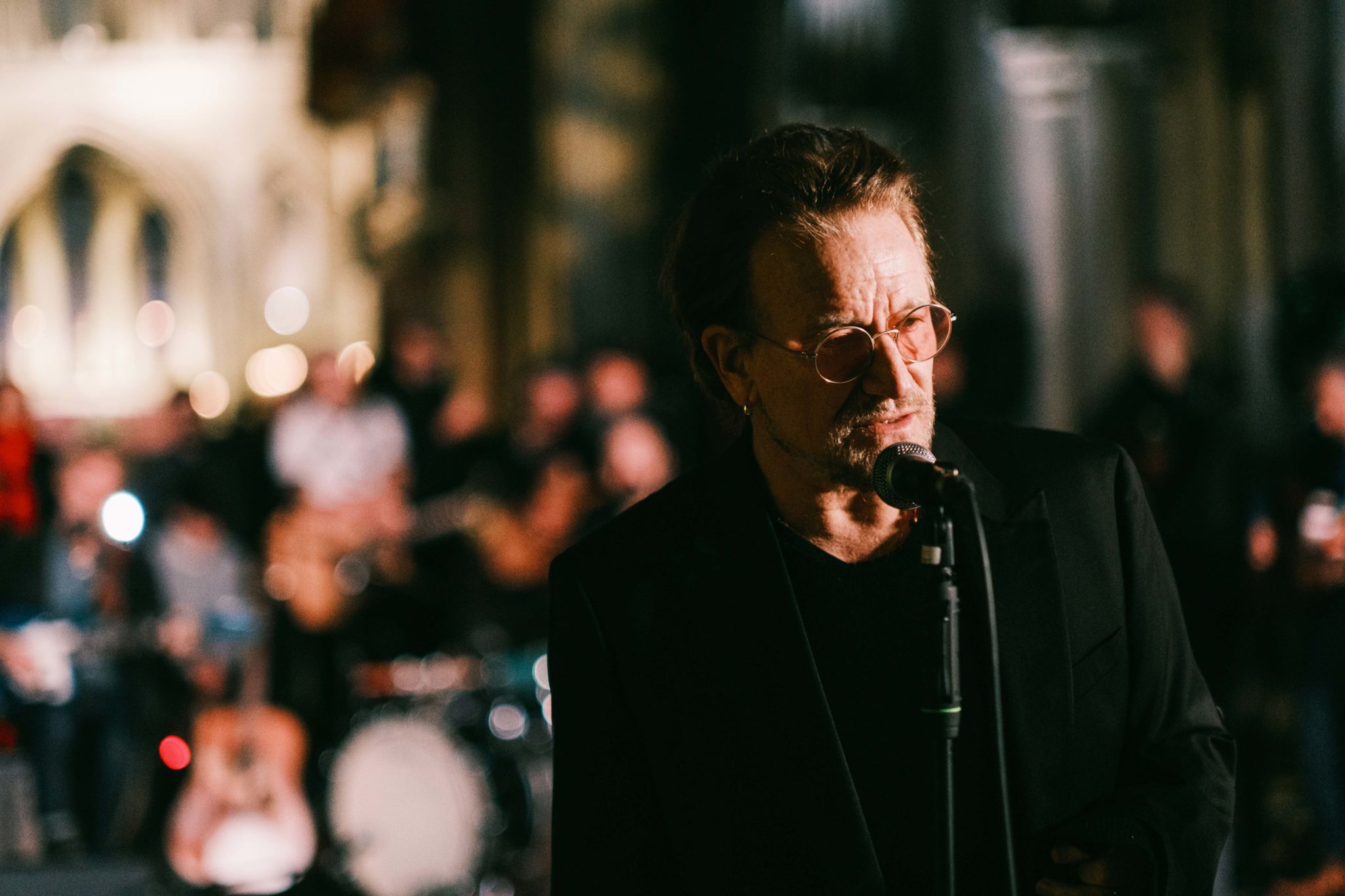 By now, of course, most Dubliners will be aware of The Busk as a venerable tradition. Sadly, the past two years were affected hugely by the presence of Covid stalking the streets. As a result, the organisers were looking for a different dimension – a search which has culminatied in the release of a special vinyl album titled The Busk.
Recorded during last year's once-in-a-lifetime Busk performance in St. Patrick's Cathedral, the record features some truly extraordinary performances by Irish musical heroes.
But the release isn't just about raising money.
"The hope is that the record will prompt a whole discussion around homelessness," explains Aisling Harmey, Dublin Simon Community's Head of Fundraising & Communications. "It can inspire people to engage with the reality of what homelessness is. To think about it, and hopefully to support Dublin Simon Community in our frontline work – including raising funds."
The line-up on The Busk is an impressive one, with phenomenal Irish artists like Bono, Glen Hansard, Damien Rice, Lisa O'Neill, Rónán Ó Snodaigh, Laura Quirke of Lemoncello, and more participating.
"Simon believe in The Busk," The Busk director, Mark Logan, observes. "And they believe in the message of The Busk. They're a modern, creative, organisation. They're willing to invest and take chances. This little fire that we have going on here has massive potential, if we all get behind it."
Advertisement
It was Glen Hansard who asked songwriter, composer, musician, poet, founding member of (and lead vocalist with) Kíla, Rónán Ó Snodaigh, to get involved.
"I was busking with Glen 30 years ago," Rónán recalls. "At the time, Glen used to do things for charity. He'd give all the money raised to one charity or another – including the Simon Community. Then, him and a few of the other lads started this particular Christmas busk every year – or 'The Busk' as we're now calling it."
"Sometimes music works as a comforting or emotional thing," Rónán says, "sorta like a canopy. But Jesus, it's quite profound to turn it into an actualisation. It's like: you feel good that you're playing for the right reasons – for a cause that matters. So, I'm thrilled to have been brought along.
"I don't really like the phrase 'raising awareness'," he adds, "but singing about something really does draw attention to it. The more singers that are involved, the more people will talk about it. And homelessness is a huge issue in Ireland.
"We're a tiny island in the middle of the Atlantic with about five-million people on it. We should really look after each other a bit better."
Advertisement
With significant funds already raised from pre-orders, this vinyl release will certainly help in that regard. Here's to making it a big success…
• The Busk vinyl is available to purchase from December 9.
Read more in the new issue of Hot Press, out now.