Former Saucy Monky Cynthia Catania Releases Powerful Single 'Remember' About Her Days In The Band
Cynthia Catania was in a relationship with the wonderful Irish songwriter Annmarie Cullen, as well as being a member of the same, highly-rated outfit. The SMs halcyon days are revealed in a lovely new single and video...
Cynthia Catania has released a new song 'Remember', and a beautiful video to match.
A former member of Saucy Monky and also front-woman with The Secret Things, the LA-based Cynthia has latterly been focussing on her work as a solo artist. Then lockdown happened – throwing a major spanner in the works, with the forced cancellation of a bunch of solo dates.
On the new single, she looks back to her early days with Saucy Monky, a band she co-fronted with the hugely talented Irish singer-songwriter Annmarie Cullen – with whom she was also in a relationship. The video contains numerous Irish references, including a mast-head of Hot Press, from an issue in which Cynthia and Annemarie featured, and a clip from The Late Late Show – on which they also starred.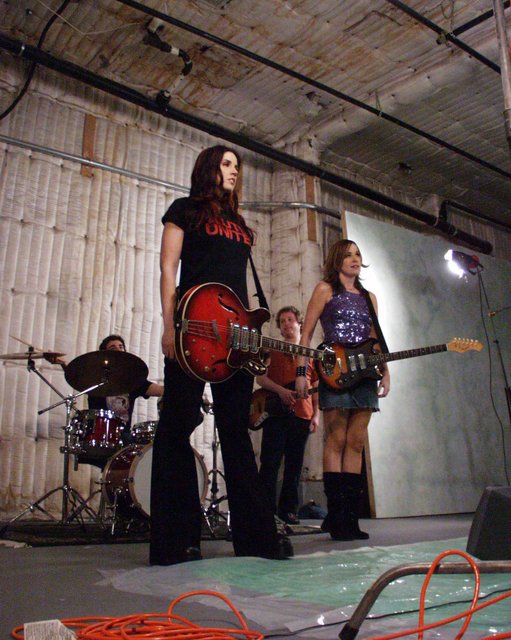 "The whole thing is kinda special for me, because the video came out SO WELL," Cynthia says. "It documents, in a very universal way, I hope, my early career with Saucy Monky."
Advertisement
She is thrilled with the finished video – and for good reason.
"I'm so, so happy with it. It feels like I got to honour that part of my life," she says. "I worked with Jerry Spears on it – he's a very talented LA filmmaker and editor. He cut together all that footage and the vintage clips. He really captured the nostalgia of 'life on life's terms'. Dreams that maybe didn't turn out; the narcissistic 'fuck-its' of youth. the bridge-burning and fool-fuckery one does in their 20s – without consciousness or care; the black-outs of not really knowing yer doing it – till age brings on that ability to pause and reflect.
"All those moments were in my thought process for the songwriting. Which, by the way, is a co-write with another extremely talented LA artist named Beth Thornley."
Beth, who is originally from Birmingham, Alabama, has released three solo albums and had songs in dozens of movies and TV shows, including Scrubs, Dawson's Creek and Hung.
"I had always wanted to write about misspent, self-absorbed, splendid youth," says Beth. "Then Cynthia sent me this song with the first bit already sketched out: the 'remember when we were young' section. I thought it was exactly the right way to do a song about our younger days; it was the perfect starting point. Not too dramatic, not too melancholy, just a very casual and honest, yet loving tone.
"Cynthia is very open to ideas and she made it easy. We bounced it back and forth via rough recordings and then settled on a version we felt good about. It was a fun project."
"Regret is universal," film editor Jerry Spears says. "Timeless. When looking for footage, we wanted to find moments that were not significant but instead felt like splinters of memories of moments from a time before 'we knew better'. Nostalgia is a complicated emotion, filled simultaneously with love and pain and the hope was to tap into that visually."
Advertisement
The video does that and then some. Watch it here...