Forest Fest announces new additions to the lineup, with Three Underneath, Strings n' Things, The Barley Mob and more
Forest Fest has announced new six new artists gracing its bill this summer, joining already confirmed acts the likes of Damien Dempsey, Hothouse Flowers, THUMPER and more.
Forest Fest has announced new additions to it's lineup of over 30 bands and artists — welcoming Three Underneath, Strings n' Things, The Barley Mob, Manden Express, Flublah and Ares Redemption to Co. Laois this July.
Though in its first year, the Emo Village-based festival is quickly rising to be one of the most anticipated events of the summer, playing host to a wide variety of both Irish and international artists. The six new acts will be joining heavy-hitters Damien Dempsey, Hothouse Flowers, Soda Blonde, Paper Planes, THUMPER and more — establishing the festival as the soundtrack of summer '22.
"We set out to make Forest Fest a fun event which would capture the spirit of the summer where people could celebrate and socialise and let their hair down again after an absence of festivals since 2020," explained festival promoter Philip Meagher. "We also wanted to showcase a broad spectrum of music, the best talent on the live music scene as well as provide a platform for the best of emerging acts, and the six bands we have added encapsulate that ethos and those objectives."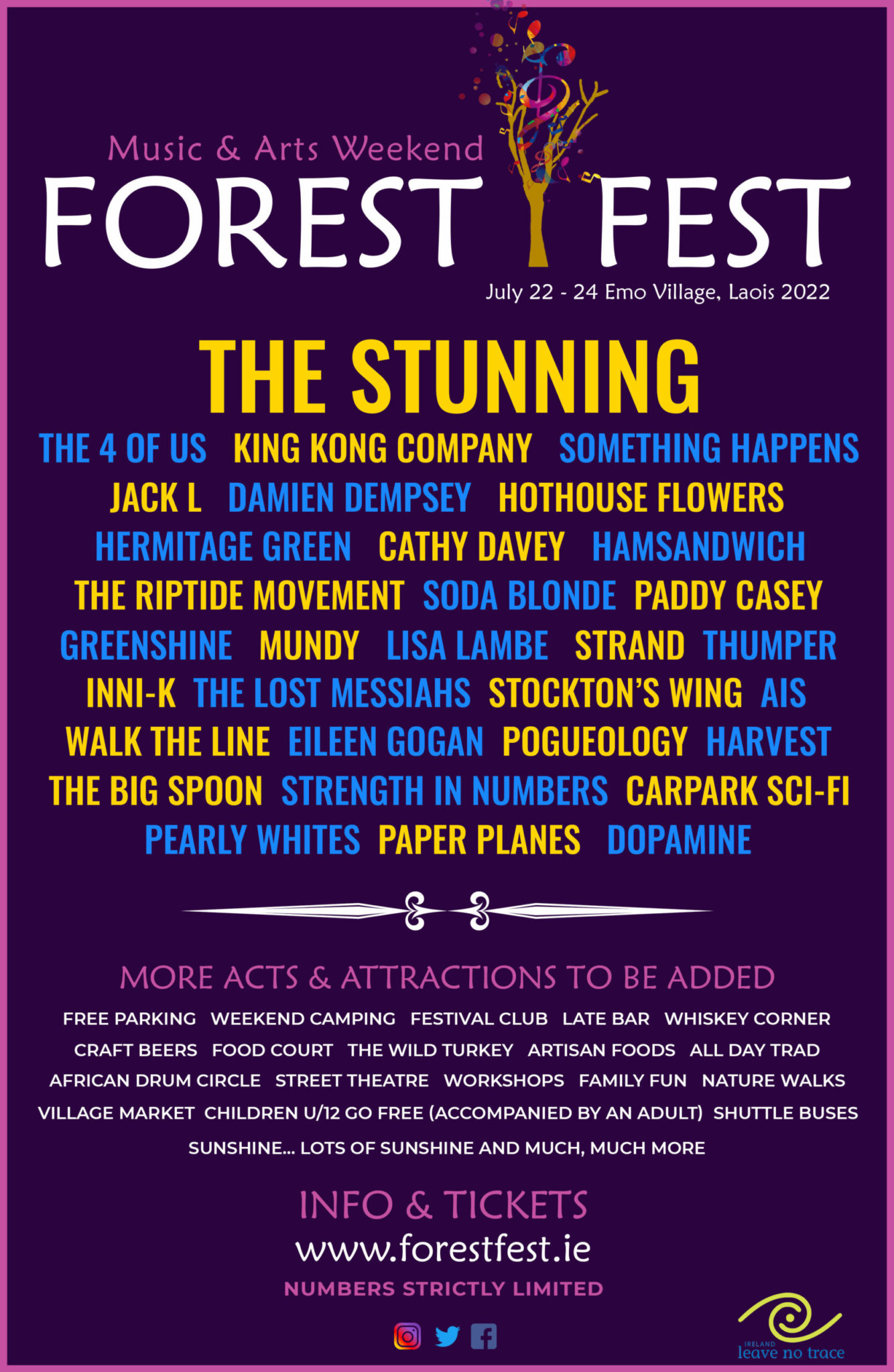 Advertisement
In addition to the thrilling lineup of musicians, Forest Fest is working to create a well rounded festival experience; incorporating an arts programme, children's entertainment and a variety of food and beverages, the event has something for everybody. Whether looking for singer songwriter, grunge, noise rock or indie it has it all, with a range of 30 bands and artists gracing the stage from July 22nd through 24th.
"It's all going to add up to a most memorable, exciting and entertaining weekend in Laois which is already attracting fans from all over the country with a brilliant uptake of the Festival Club, weekend and camping tickets, which are heading towards selling out in advance of the event," adds Meagher.
Find the full lineup, festival updates and ticket sales on the Forest Fest website, here.