Department of Justice Responds But Asylum Seekers Say Underlying Health Conditions Not Being Treated Seriously
By: Shamim Malekmian
The Department of Justice has told Hot Press that residents with an underlying condition are being cocooned in direct provision centres – but individuals on the ground suggest that things are not happening as they should there. Main photograph by Alan Landers.
The Department of Justice has responded to further questions from Hot Press about the treatment of asylum seekers during the global Covid-19 pandemic (see below for full text of their response).
Among the commitments made by the Department of Justice in their response is that "all residents over 65 in our Centres have been cocooned, along with any resident with an underlying health condition."
On the face of it, this is undoubtedly the correct policy in the circumstances. However, it appears that the experience of one of the asylum seekers with whom Hot Press has spoken has been very different to what the department set out in its statement.
Yesterday, we published an interview with Syed Irfan Rizvi, an asylum seeker from Pakistan, who is currently housed with his family, in the Temple Accommodation Centre, in Moate, Co. Westmeath.
"I wrote to the Minister for Justice and the International Protection Office that my wife and son suffer from breathing medical issues, and they still didn't try to help at all," Syed told us. "Like they didn't help others."
Advertisement
In light of the commitment made in the response presented to us by the Department of Justice, Hot Press sought further information from Syed on the nature of the medical issues with which members of his family are wrestling.
Hot Press has now seen letters from Tullamore hospital, detailing surgery appointments for his son and wife. Syed said that a GP, who is based in Moate, had referred them to the hospital. However, he did not give Syed or his wife any letter stating their conditions. Instead, in that old paternalistic mode of medical treatment, the letter was sent directly to the hospital.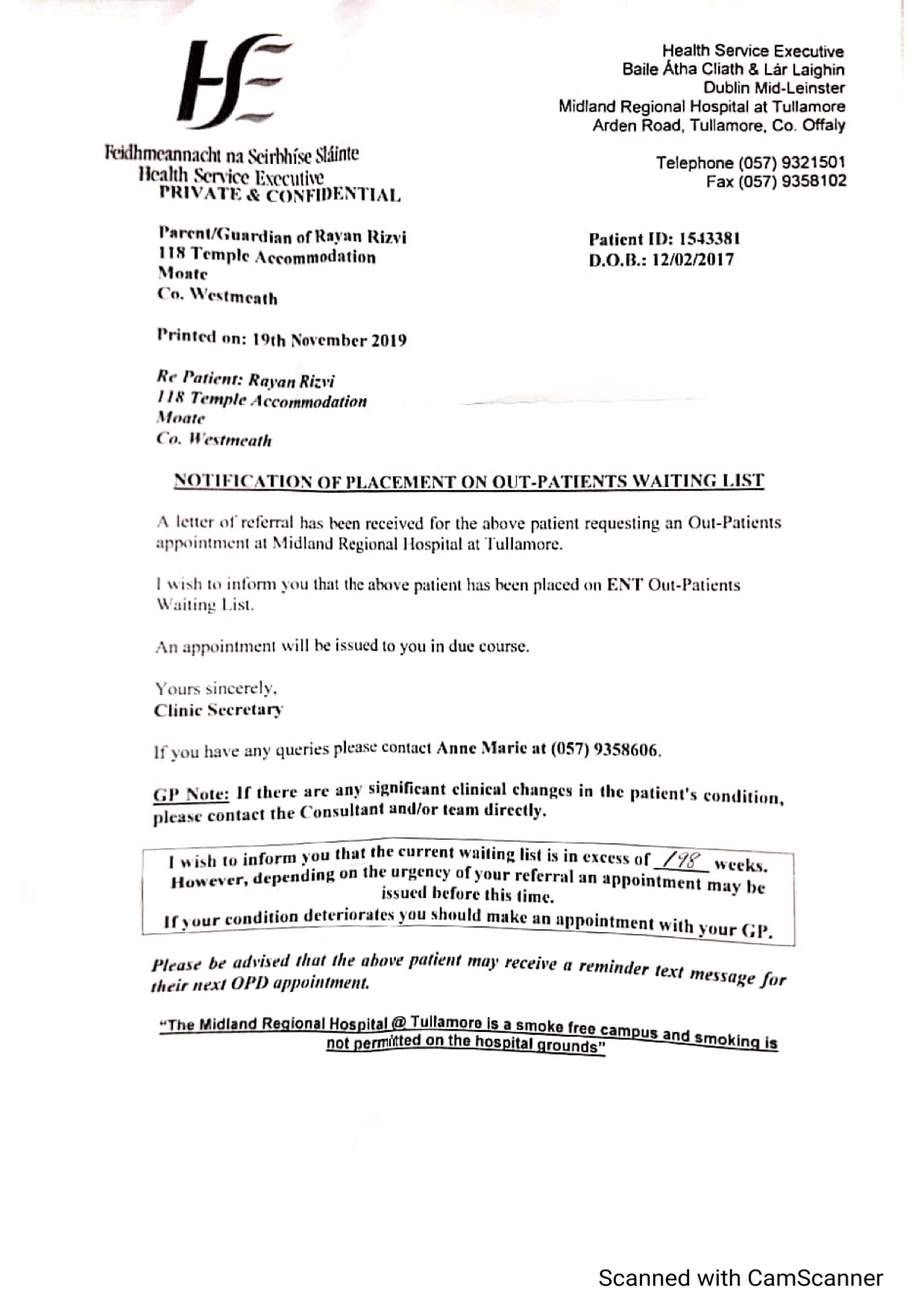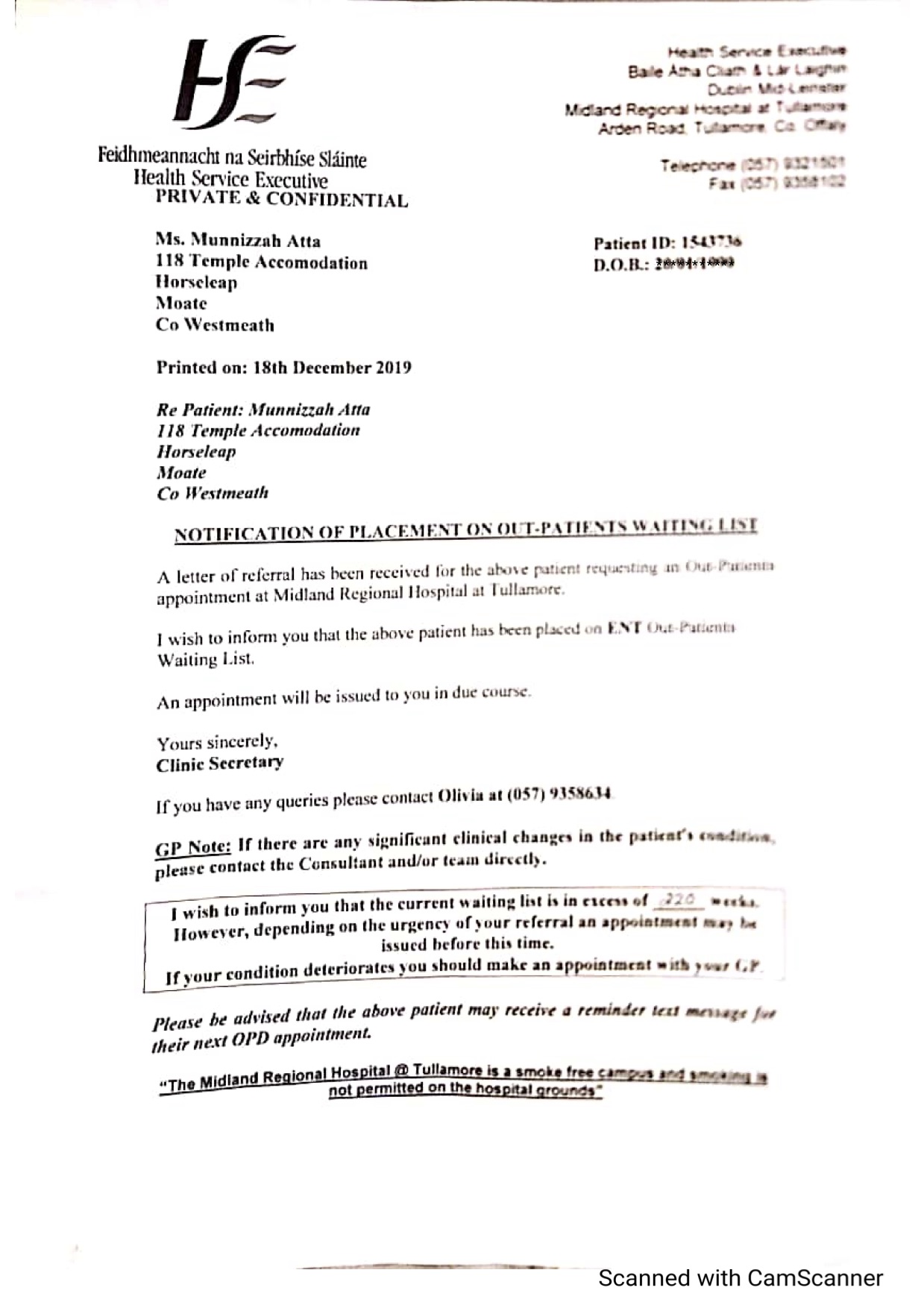 However, Syed is in no doubt about the symptoms which led to the referral.
"My wife had allergic rhinitis and her nose is always blocked. We had to go to a medic, one night when my wife couldn't breathe, and they told her that the doctor suspects that she might have asthma," he said. "We went to the GP, and they referred her to Tullamore hospital, but they did not confirm if my wife was developing asthma."
Syed said that his wife had undergone two other surgeries for the same issue in Dublin, but that the condition – whatever its cause – has only been getting worse.
"The problem with my wife is that her condition has similar symptoms as corona. She has been fearing, every day, that she has contracted the virus because of her condition," he told Hot Press.
Advertisement
"My son," he said, "has huge tonsils and it causes him breathing problems. GP told us that they have to be removed otherwise it will only get worse, but they only remove tonsils after the age of five in Ireland. But the doctor scheduled him for surgery in Tullamore hospital."
Three Pregnant Women
It is not clear what might qualify as an underlying condition in the HSE's guidelines on the issue. However, to a layperson, there is a very strong argument that the condition suffered by Syed's wife is enough to require specific careful consideration. And as far as he is concerned, there had been no sign of this taking place.
Syed said that he had informed a HSE doctor about his wife's condition in mid-April, when that doctor visited their centre.
"He said, they did not have enough information about this virus that he could say if my wife was more vulnerable," he said. "I think they should've protected my wife [and son] just in case, even if they didn't have enough information."
"[The doctor] said 'Maybe if an Irish person living on a farm gets Covid, nobody might help him, but here you have management'. He gave us false security," Syed told Hot Press.
Syed is critical of his centre for not transferring ill migrants to offsite facilities until three days after testing positive, while also saying that they were served poor quality meals in isolation. Hot Press has seen a photo of the meal served to ill residents.
Advertisement
Over 60 residents are currently sharing fridges and laundry facilities in Moate centre, while a highly infectious virus is marauding about.
"At least they could try to give every room a fridge and microwave to reduce the chance of infections. If they really wanted to protect us, they could do that," Syed said.
Hot Press understands that there are currently three pregnant women living in the centre who are pleading with the State to be removed to a safe space. Yet their voices seem to have gone unnoticed, so far.
One asylum seeker at Temple Accommodation Centre in Moate, who has tested positive for coronavirus, was working at a meat-processing plant in the area, which was forced to suspend activity due to a confirmed outbreak of coronavirus, last week.
"A lot of people who tested positive did not show any signs at all. They were among us cooking, doing laundry and everything," Syed said. "It shows that we will never be secure until we have our own self-contained units."
Meanwhile, in related news, Hot Press understands that the expectant mother, written about by Hot Press, who had been housed in the controversial direct provision centre in Cahersiveen, Co. Kerry, has now given birth to her child.
A battle is likely to ensue now as to where she can be located, following the birth. There will certainly be considerable opposition – both from the new mother herself and the NASC – to the idea that she should simply be returned to the Skellig Star Hotel, where there have already been as many as 20 cases of coronavirus among the residents.
Advertisement
Hot Press's coverage of what goes on inside the Cahersiveen centre, prompted Joe O'Brien, Green Party's TD for Dublin Fingal, to raise the issue with the Taoiseach in the Dáil yesterday.
Responding to Deputy O'Brien, the Taoiseach said that "I don't think that anyone in this house believes that the Direct Provision is a good system. And I absolutely believe it should be one of the objectives of the next Government to put an end to it."
Yesterday, Minister for Health, Simon Harris TD, also confirmed that there are currently 164 confirmed cases of covid-19 among residents of Direct Provision centres across the country.
Response From The Department of Justice
Here is the full text of the response provided by the Department of Justice to our queries:
"The health and welfare of the residents in our Centres and the staff and wider community is our priority. We are working closely with the HSE in ensuring that the right measures are in place in our Centres. The Health Protection Surveillance Group has published guidance for settings including Direct Provision Centres and this is publicly available here: https://www.hpsc.ie/a-z/respiratory/coronavirus/novelcoronavirus/guidance/vulnerablegroupsguidance/COVID-19-Guidance-for-vulnerable-groups-settings.pdf
"All residents over 65 in our Centres have been cocooned, along with any resident with an underlying health condition. Furthermore, where a case of COVID-19 is identified in a Centre, isolation facilities are in place. Any resident with a positive COVID-19 result has been transferred to an offsite self-isolation facility where they are cared for until such time as the HSE considers that they can safely return to their centre.
Advertisement
"We are closely following HSE advice and working very closely with the HSE in managing the unprecedented challenges of this public health crisis."
• Picture shows protestors on the streets of Cahersiveen, who support asylum seekers in their demands