Controversy Mounts Over Bizarre Letter Sent To Residents In Cahersiveen Direct Provision Centre
Events have taken another strange turn at the coronavirus-ridden direct provision centre in Cahersiveen, Co. Kerry, with goodie bags and phone credits being offered to residents – while a letter blaming them for the spread of the virus has also been circulated. Main photograph by Alan Landers.
Amid mounting confusion, in a controversial letter, asylum seekers living in Cahersiveen, Co. Kerry Direct Provision Centre, have been advised to stay indoors for 14 additional days. There has been a serious outbreak of coronavirus at the centre.
In the letter (pictured below), which claims to come from the HSE, residents at Skellig Star Hotel have been warned that the coronavirus outbreak in their centre is likely to "continue for some time" and that "this could potentially be very serious."
"This is clear evidence that some residents are not following the Public Health recommendations," the letter reads.
The letter is not dated and does not have a letter-head, an official name or a signature. It seems to blame the residents for the prevalence of the coronavirus in Skellig Star Hotel.
"Because social-distancing is not being followed by everybody, the period of self-isolation has to be extended for a further 14 days until 20th May 2020," the letter states.
Advertisement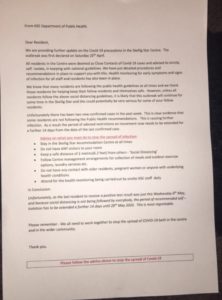 Suspicious that the somewhat bizarre letter might be a fake – circulated, for example, by some anti-immigrant group – Hot Press contacted the HSE to verify its authenticity. A spokesperson for the HSE's national office referred us to the health authority's representative for Cork and Kerry – who, unfortunately, has not answered our queries.
In the absence of a response from the health authority, we have compared the letter to the HSE's previous self-isolation advisory note to residents. While there are similar lines in the two letters, the clear attempt to blame the extension on the residents for not adhering to 'social-distancing' guidelines seems uncharacteristic of HSE communications. Neither do the warnings, which are clearly designed to stoke fear among residents, feel authentic.
If the letter did not come from the HSE, then the issue as to who wrote and distributed it becomes a matter for the Gardaí. But until we get definitive word, the issue remains an extremely thorny one.
ANGER & DISTRUST
Meanwhile, asylum seekers at Skellig Star Hotel remain sharply sceptical of the approach of staff and management at the centre.
Some of those to whom Hot Press spoke insist that the letter is fraudulent – but point out that it is unlikely to have come from outside either, given that residents are, as far as possible, living in confinement.
"It's so fake," one resident insisted. "so who exactly wrote it and printed it out for distribution? The way it feels is that now we are full-time prisoners."
Advertisement
Residents are angry that the letter blames them for the spread of coronavirus in the centre, when their view is that social-distancing has proved impossible.
"This place is infected. The corridors are narrow, and so social-distancing is not possible," a resident told Hot Press. "We have the impression that rooms that hadn't been disinfected properly were reallocated to people who tested negative. Residents use the same vacuum cleaner, just one for everybody."
There are now 149 cases of Covid-19, the disease caused by the coronavirus, in Direct Provision, according to the latest figures issued by the Government.
In Skellig Star Hotel, about five more people displaying symptoms of infection were tested yesterday morning. They are currently self-isolating in their rooms and awaiting the results.
There have been over 24 confirmed cases of coronavirus in Skellig Star Hotel.
MOVE US OUT
In another very strange turn of events, over the weekend, residents started to receive "goodie bags" (contents pictured below) containing chocolates, soft drinks and Tayto crisps, from the management. Yesterday afternoon, a phone credit slip worth €50 was also distributed among the migrants at the Kerry-based centre.
Advertisement
Hot Press understands that most residents refused the gift, to display their unwavering commitment to the demand they have made to be transferred to a safe facility.
One resident described the move as a calculated gambit, aimed at promoting division among residents; and between them and the wider Cahersiveen community.
"The locals usually give us gifts," the resident said. "Now it seems the community is being pushed away by the owner. I suspect that they want to separate the residents' connection with the community members who are helping to get us out, and to prevent information about the poor conditions here being talked about. They are also serving residents large quantities of meals, just to calm people down."
Cahersiveen locals not only donate food and items to the migrants at the Centre, but on occasion try to help with their shopping as they remain locked inside.
"They have been very helpful," the resident said of locals.
In another twist, asylum seekers who cannot speak English, are finding it difficult to communicate their fears to journalists or politicians. A photo sent to Hot Press depicts a group of Georgian refugees pressing signs to a window that are inscribed with the words "move us out" in their native tongue.
Advertisement
INFLAMMATION IN VITAL ORGANS
Skellig Star Hotel, which is at the centre of the ongoing controversy, is owned by developer and director of the investment company, Remcoll Capital Ltd in Swords, Paul Collins.
Paul Collins runs several other Direct Provision centres in Ireland. Asylum seekers in Cahersiveen have told us that the centre began offering gifts and snacks to residents, following Mr Collins's visit to the centre, on Saturday.
Local TDs in Kerry have tried to persuade the owner to listen to the residents' concerns and to get behind the campaign for their safe transfer to another facility.
In a two-and-a-half-hour video call yesterday, for example, Independent deputies Michael Healy-Rae and Danny Healy-Rae, alongside Fianna Fáil TD Norma Foley and Sinn Féin's Pa Daly have asked Paul Collins to address the issues surrounding the controversial centre by agreeing to be interviewed on Radio Kerry. So far there is no word of a positive response.
It has also been suggested that the International Protection Office (IPAS) failed to ensure in advance that Skellig Star Hotel could deliver the necessary accommodation standards before moving over 100 migrants from various, undisclosed locations to the centre.
A number of residents in the Cahersiveen centre were reportedly transferred from Travel Lodge, a hotel in close proximity to Dublin Airport, where a guest – who had travelled from Italy – became ill with coronavirus in March.
Migrants at Skellig Star Hotel and other Direct Provision Centres across the country – including a substantial number of child refugees – continue to share rooms with non-family members, despite the advice to the contrary from the country's Chief Medical Officer Dr. Tony Holohan.
Advertisement
It is commonly understood that children contract a milder dose of coronavirus. However, The New York Times reported last week that a child in Manhattan Hospital died from what appeared to be a syndrome linked to the coronavirus which causes life-threatening inflammation in vital organs and blood vessels of children.
Symptoms of the illness, which has been observed in a growing number of children infected with the coronavirus in New York, and some in the UK, bears some resemblance to Kawasaki syndrome, a separate disease that can cause sudden inflammation of the heart in children.
CAHERSIVEEN UNITED
Back in Co Kerry, the fight to avoid infection with Covid-19 – or any complication arising from the disease – continues. While residents in the Skellig Star Hotel fear that they might lose their growing connection with Cahersiveen locals, evidence testifies to the community's unwavering support.
"The Skellig Star is Highly Infected & is not Safe At All," a banner stuck to a bush in Cahersiveen reads.
Lucy Henehan-Gavin, a visual artist and a Cahersiveen local, also told Hot Press that her community has never been so united, as it is in its desire to aid the residents of Skellig Star Hotel.
"There has been failure after failure by the Department of Justice," she said, "as they neglect their responsibility for the residents and contract it out to private companies with no knowledge of disease prevention or control.
"The residents and the wider community are working together to bring this debacle – and hopefully Direct Provision – to an end. I have never seen a community so united."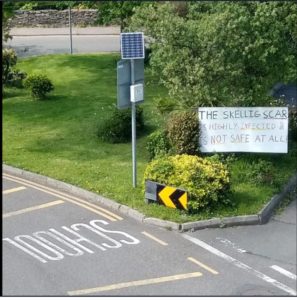 Advertisement