To celebrate the release of our cover star's new album, Heartbreak Weather, we're revisiting a classic interview with Niall Horan – originally published in Hot Press in 2013, during the height of One Direction mania.
First of all, it's OK to fancy one of them, so long as you choose wisely (for example, the half-your-age-plus-seven rule puts Zayn and Louis within my reach, but Harry, Niall and Liam out of bounds).
Second of all, it's OK to like their music and to show it – again, if you're careful (I am not and never will be cool enough to pull off the line, "Let's go crazy, crazy, crazy, 'til we see the sun", not even as the self-identified hippest person in the post office queue).
Third of all, it's OK to be heart-achingly jealous of them: because, for about two years now, Niall Horan, Zayn Malik, Liam Payne, Harry Styles and Louis Tomlinson have been living a life that most musicians would trade a small – or perhaps even a large – portion of their intestines for.
In that time, the five-man teen pop factory that is One Direction have racked up a frankly preposterous accumulation of accolades: their debut album, Up All Night, was the first ever by a British act to go straight to number one in America, a landmark achievement by any standards; their song 'Live While We're Young' became the fastest pre-ordered single in history and just kept on selling; they've won BRIT, BBC Radio 1, MTV Europe and Video Music awards, performed at the London 2012 Olympics closing ceremony, headlined a sold-out show at New York City's Madison Square Garden, and according to Sony UK's CEO Nick Gatfield, they're all set to double their $50 million empire in 2013. And the hair. Don't forget the hair.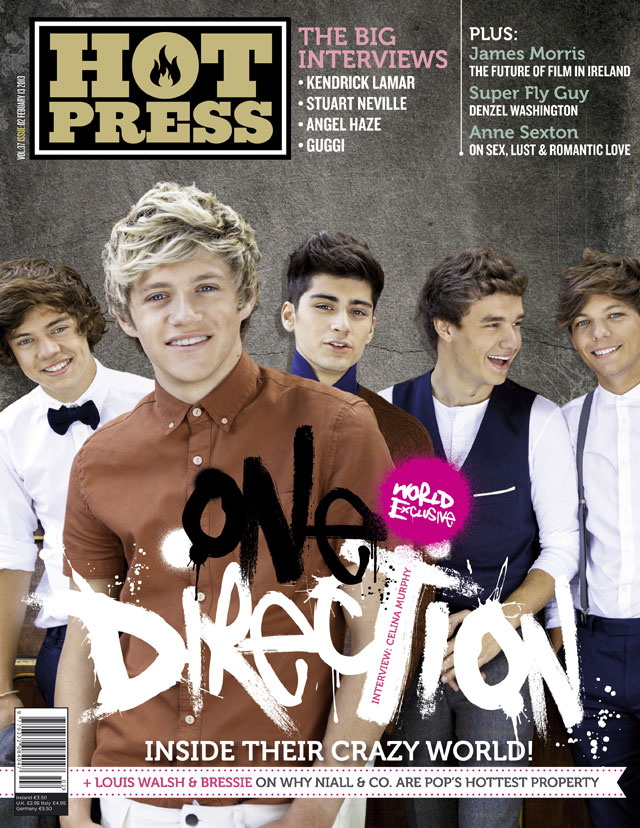 Advertisement
In fairness, all the glossy coifs in the known universe would be pointless without a continent's worth of fans to gaze lovingly upon them. What makes One Direction the pop phenomenon of the decade is not awards, headlines or invitations to perform at the Royal Variety – it's that shirt-ripping level of wild enthusiasm, not seen since the height of Beatlemania.
Irish superfan Martha Kavanagh describes a signing at a Dublin shopping centre in late 2011 as "absolute hell". But a kind of hell that she was more than capable of taking in her stride.
"I had to go to Clarehall at four o'clock in the morning to stand in a queue outside in the cold for a whole day just to get the wristband," the 15-year-old devotee tells me, "and we had to come back the next day and do it all again to see them!"
But the school girl, who counts pencil cases, calendars and coffee mugs among her One Direction-branded bounty, says it's all in day's work for a true Directioner.
"It was so worth it," she enthuses, "I'd do it all over again, if I could. You meet loads of new people and make loads of friends. I have a really good friend from England that I've never met, but we're so close. She's one of my best friends, and it's all because of One Direction."
Of course, this is the key to the whole extraordinary thing. In the early days of the group's fame, communities of British and Irish fans led the online charge to make One Direction a hit in the fickle US market. Through dedicated Twitter counts and Tumblr pages, and all the other online hoopla they could muster, fans were able to recruit fellow music lovers to the cause. Before long, the Directioners were multiplying like laboratory mice.
As sales strategies go, it was win-win-win: Sony Music saved themselves a fortune in marketing, the band made even more history as the first act to break America through social media, and pop consumers felt more connected to the music because they discovered it through their peers, not DJs or TV presenters or via-cameos on the Disney Channel. No wonder everyone is smiling.
Advertisement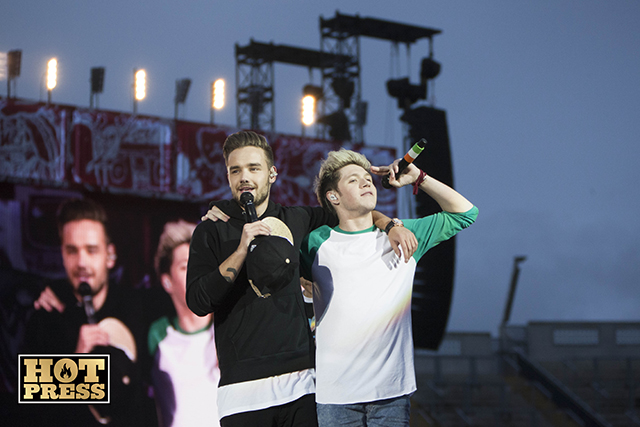 For those of you wondering what utterly brilliant genius put this baby-faced gold-mine together, look no further than the judging panel on the seventh season of The X Factor, who suggested that a group of rejected solo auditionees should try their luck as a five-piece boy band. The newly-formed One Direction subsequently finished third behind Rebecca Ferguson and winner Matt Cardle, but mentor Simon Cowell wasn't fazed by their failure to snaffle the top spot.
"Simon Cowell believed in them," says X Factor judge, Louis Walsh, who was present for those crucial live auditions, and knows all about putting hugely successful boy bands together.
"Simon believed that he had something special there. That's why he invested a lot of time in them on the show – because he was testing them out and he was getting a great reaction. There were girls outside the building – a hundred the first week, two hundred the next, then three hundred – so he knew what was brewing."
Louis is in no doubt about the importance of Cowell's initial belief in the One Direction manifesto.
'He was committed from day one," he recalls, "and convinced everyone in Sony and everyone worldwide that these boys were special. He knew the time was right for America. He had all the contacts. He got the right guys writing songs, and he basically made it all happen. But it's more than that. The guys genuinely like the music themselves because they all auditioned as solo artists on the show. They're musical and they know what they like and they know what they want and that's why it's all worked."
As Harry Styles succinctly puts it: "We don't ever want our music to sound like a 40-year-old man in an office has written it and given it to us to perform." Impossible though progress to date may seem, Walsh predicts even bigger things for the quintet in 2013, thanks to their pervasive presence on social networks.
Advertisement
"It's definitely the way forward, because the internet has made the whole world so small," he reasons. "You have Sony, Syco and Modest Management all working together. Then you've got the five boys working really hard and it just becomes a worldwide phenomenon. They make great videos. They have great songs and the time was right, you know? They're not like all the other boy bands, because they're kind of cool and different and they don't do the usual, old fashioned clothes and all that. That's what I like about them. They're a very modern day version of The Monkees. Harry gets compared to Mick Jaggar. He's like the frontman but everybody has a role, they're all good guys. They've been amazingly successful, and I think they're going to get even bigger next year. In fact, Asia and Europe are going to take over."
In a TV3 special filmed late last year, the boys were still struggling to put their success into words.
"It's weird," Doncaster boy Louis Tomlinson told Karen Koster. "You'd be laying in bed at night and you'd be thinking about what we've achieved, and it's incredible! It's just so difficult to sink in what we've done in two years. We're lucky."
Well, they are. But, of course, there's more to it than that...
Call it luck, talent, great hair or a mixture of all three. To find out a bit more about what makes One Direction tick, Hot Press spoke with the Irishman in the band, Mullingar's Niall Horan, a lad for whom life must feel like one continuous, ecstatic scream right now...
"Josh," I hear him shouting, "I'm doing an interview, leave me alone!"
Yeah, leave him alone, Josh!
Advertisement
"Sorry, that's our drummer," he explains. "He's wrecking my head!"
It appears that Niall Horan can't get a minute's peace, even within Team One Direction. Smack bang in the middle of rehearsals for a world tour that will have him on the road until October, the 19-year-old sounds chilled nonetheless, and genuinely cheery, even if he has misplaced his wallet.
"I bought a curry last night and I can't remember where I left it after," he worries, and I don't have the heart to tell him that it might have already found a home in a well-meaning Directioner's collection of memorabilia. The price of fame! Meanwhile, I'm shocked to hear that the boy wonder is allowed out to his local Indian without a security team in attendance.
"I just got the new car, so I've been able to get around a little bit more," he explains. "I guess you have to watch where you go and at what time. Like, if I walk past a girls' school at half-past three, it's going to get a bit crazy, isn't it? You have to watch out where you are, without getting too paranoid about it. I've just been for lunch there, in one of the shopping centres, and it's not a big deal, really."
It's a bizarre image, given that Niall is the owner of one of the most famous faces in the world right now. But the entourage needn't worry; they aren't out of a job just yet.
"Our day-to-day thing is quite small actually," Niall resumes. "We've a tour manager and depending on what we're doing – if it's a show – we'll have loads of security. I think we're allowed one each at the moment – plus our manager's assistant and a label rep and that's pretty much it. Today it'll be just one security, the four band and a couple of technicians.
"Obviously there are people that work at the label, product managers and that," he adds. "It's quite a big operation, logistically, getting us around the world and obviously people don't see that side of things, they think we just arrive up and book the hotel! But yeah, there's people that do all that for us. The people who work for us are unbelievable. And we've got three or four Irish security, so that's good for me, too!"
Advertisement
Born and raised in Mullingar, Horan left school at the end of 5th Year. He isn't bothered that he doesn't have a Leaving Cert. Now 19, he wanted to be a singer for as long as he can remember. He counts a handful of classic rockers among his favourite acts.
"Rock 'n' roll is my kinda thing," he enthuses. "I like The Eagles and Bon Jovi and the Stones from when I was young. I've always been into that, but I listen to everything. Just on the way here I was listening to Taylor Swift's album and I'm absolutely loving Kodaline (of HP's Hot For 2013 fame) at the moment. Their album is amazing."
Bands like Kodaline and another of Niall's favourites, The Vaccines, are clearly operating at a less celestial level than One Direction. Is he ever tempted to play spot the difference?
"Obviously we have production people who help get gear around for us," he reflects, "but when I talk to bands like Kodaline and The Vaccines, they just roll with it, same as any band. That's the norm. You get up on the stage every night and you do your thing. They're not complaining – they're loving what they're doing, especially when you're having success like they are."
Critics may dispute One Direction's musical legitimacy all they like, but Horan and company are still contributing more to their records than the average boy band. All five members boast writing credits on second album Take Me Home, while Horan plays guitar on some of the songs.
"We're all quite confident when it comes to that kind of thing," he states. "Because we're the ones who have to get up and sing the songs and people are not going to go, 'Did you hear that new song by that producer?' They're going to go, 'Did you hear that new song by One Direction?', so you have to think about what you want to say. We're all OK with it, because we worked with pretty much the same team as we did on the first album, so we felt a little bit more comfortable and had more input this time."
If rumours are to be believed, Horan's even going to pluck some strings on the forthcoming live dates.
Advertisement
"It's coming out quite a bit on this tour I think," he teases. "We're kind of working it out at the moment, the guitar parts and stuff. But yeah, we've all got new guitars from Fender so we're laughing."
And he laughs.
It's a measure of the scale of One Direction's success that they're about to embark on a series of eight Irish shows, four South of the border and four North. They'll be playing to somewhere in the region of 100,000 people.
"I can't wait, it's gonna be class!" Niall promises. "I've just seen the stage there and it's crazy. These days when people go to shows, they spend their hour-and-a-half making videos for YouTube so we try to make it so that none of any two shows are the same. Every show is different."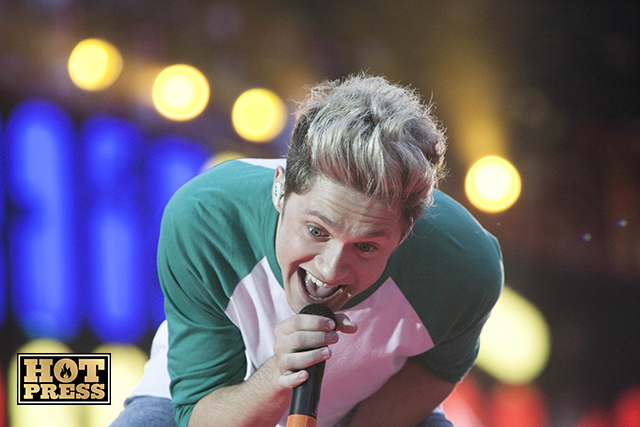 If the dreamy fivesome see a few more male faces in the crowd this time around, it's probably down to the acoustic tear-jerker 'Little Things', which afforded the band a taste of what crossover appeal might do to their record sales.
"The amount of guys who were texting me when 'Little Things' came out saying, 'It's a great song'," he laughs. "I thought that was pretty cool. Sometimes you get people who say, 'One Direction are this', 'One Direction are that' – but we don't want to be seen like that. We want to open up to everyone. It turned out well with 'Little Things', that people started getting into it."
Advertisement
The track in question was penned by Hot Press fave Ed Sheeran, who's become a good friend of the band, along with fellow megastar Justin Bieber. It must help, I suggest, having a crew of mates who can sympathise with the packed schedule and the screaming girls.
"Well, you don't go, 'Awh, I'm going to be friends with famous people because, blah blah blah'," he says, matter of factly. "They're just nice people. Ed is one of the nicest guys I know and super talented. I was around at his house over Christmas and we jammed all night, just doing normal things. Same with Justin. Whenever we go to LA, we go around to Justin's and just chill out and watch TV and all that regular stuff. But it's good. Sometimes it might come up in conversation about different countries we've been to and Justin was saying, for instance, that when you go to Japan, when the song finishes, the crowd literally go so quiet that you can hear a pin drop. Then we went to Japan last week and it was exactly what he said! You talk about normal things too, but it's good to have them around, really."
In terms of relationships, the boys have been the subject of many a salacious tabloid story including the occasional kiss 'n' tell. Harry Styles was linked with Taylor Swift. An Australian waitress rather peevishly claimed that she had sex with Zayne Malik. Liam Payne was surprised to read he was dating Leona Lewis. Meanwhile Niall, on TV3, dismissed the notion that he was in a relationship with US X Factor judge Demi Lovato.
"Me and Demi are just really good friends," he told Karen Koster. "They quoted us saying this week that we were going out, but it's not true. It's only a bit of a rumour."
Apropos of which, veteran chart-toppers have offered pearls of wisdom to help the band understand the pitfalls that occasionally swallow young artists whole.
"One of The Backstreet Boys told us not to party too much," Niall laughs. "I think that's pretty good advice, although, to be honest, we actually don't. We don't party enough! And we'll probably regret it in 10 years time, that we didn't party enough when we were young!"
And why, forever, not?
Advertisement
"We just don't, when we finish a gig, we're all tired and there's no going out. I can't even remember the last time we went out! People always tell us to just roll with it and do what you do. I met Ronnie Wood from the Stones. I met one of the boys from Bon Jovi at a Who gig. I met Roger Daltrey and stuff and they all said, 'Just do what you do and do it good'."
If there's one lecture One Direction don't need, it's the one about being nice to your fans. The boys spend hours chatting to Directioners online, while 15-year-old Martha proudly notes that she's received tweets from three of them.
"You have to keep the fans interested," Niall reasons. "At the end of the day, they're the ones who are paying the bills. And they're the ones who are getting us on stage in all these amazing countries and getting us gigs at places like Madison Square Garden and sending us on tours. It's unbelievable. These are the best part of what we do, and they've allowed us to do it. So we have to – we don't have to, we want to get them involved as much as we can.
"Simply, without sounding really clichéd, we literally have the best fans in the world," he insists, "because of what they've done for us online and everything, blowing it up so quick. What they've done for us in two years is unbelievable. Spreading the word around the world and YouTube and Twitter and Facebook – they all play a massive part in what we've done. Obviously, having good music helps but the fans have been unbelievable."
Over the past two years, the certified messers of One Direction have intrigued everyone from Barbara Walters, who placed them on her list of 10 Most Fascinating People, to Morgan Spurlock who's making a 3D biopic film about the group. What will we learn from Spurlock's flick that we didn't know before? Niall lingers a little longer on this one.
"A lot of the fans would say that they know us better than we do, but I think they know the us that they see publicly. I'm not saying that we're fake because we're definitely not. We're probably too honest sometimes, but I think it's nice to see backstage stuff. They see us coming out of an airport in, say, Japan but they didn't see us get off the plane. It's nice for them to see that and also the messing around that we do. We're always taking the mick out of ourselves, because we're the most immature people of all time!
"They'll see how real it actually is," he muses. "It's easy to say that we're just five normal lads from these places – Mullingar or whatever – but we literally are. I was looking at pictures this morning from the award ceremony we went to the other night in France, and the ones from the red carpet are me and Harry doing 'Gangnam Style'! Try to get anyone else to walk down the red carpet doing 'Gangnam Style' and I promise you, you won't!
Advertisement
"Without being forced, we're just so real," he concludes. "It even surprises me a lot of the time."
Pick up your copy of the new issue of Hot Press, featuring an in-depth interview with cover star Niall Horan, in shops now – or order below: