All Rise: The Passing of the Poem to celebrate Damien Dempsey's 'Colony' at Kells Courthouse
Damien Dempsey's iconic anti-colonisation track was featured on his 2000 album They Don't Teach This Shit in School.
SoFFT Productions have announced their brand new event All Rise: The Passing of The Poem, taking place in Kells Courthouse, on October 15th in celebration of Damien Dempsey's 'Colony'.
The second All Rise event will feature artists Damien Dempsey, Perlee, An Chéad Ghlúin Eile, Michael Brunnock, Rema Hamid, and Nuala Leonard with host Clíona Ní Chiosáin in front of an intimate audience.
Each artist will respond to Damien Dempsey's 'Colony', a song about colonisation in Ireland and abroad - bringing poetry, dance, storytelling, and music into the acoustics of Kells Courthouse. The place was built during harsh English rule and penal laws.
Damien Dempsey will perform the special song at the anticipated October event.
All Rise seeks to reclaim and reaffirm Ireland's indigenous methods of cultural preservation, where songs, poems, and stories were passed from person to person - linking artists, communities, and cultures together.
Advertisement
Showcasing the wealth of talent which resides in Co. Meath, SoFFt Productions are asking the contributors to All Rise Live, to consider the lineage of their art form, and how artistic legacy provides a roadmap to the mindset of the past.
Kells Courthouse was built in 1801, during a time of great resistance and the beginning of our emancipation from English law ruling over Ireland. The Penal Laws were introduced in the 15th century and were designed to destroy indigenous Gaelic culture, spirituality, language, and ways of life.
Speaking about the event Michael Brunnock says: "Damien's song 'Colony' is a powerful raw emotive energy. Speaking truth and also galvanising those of us who seek to recognise what colonisation means today. As an artist, it's an honour to be asked to respond to the message in this song."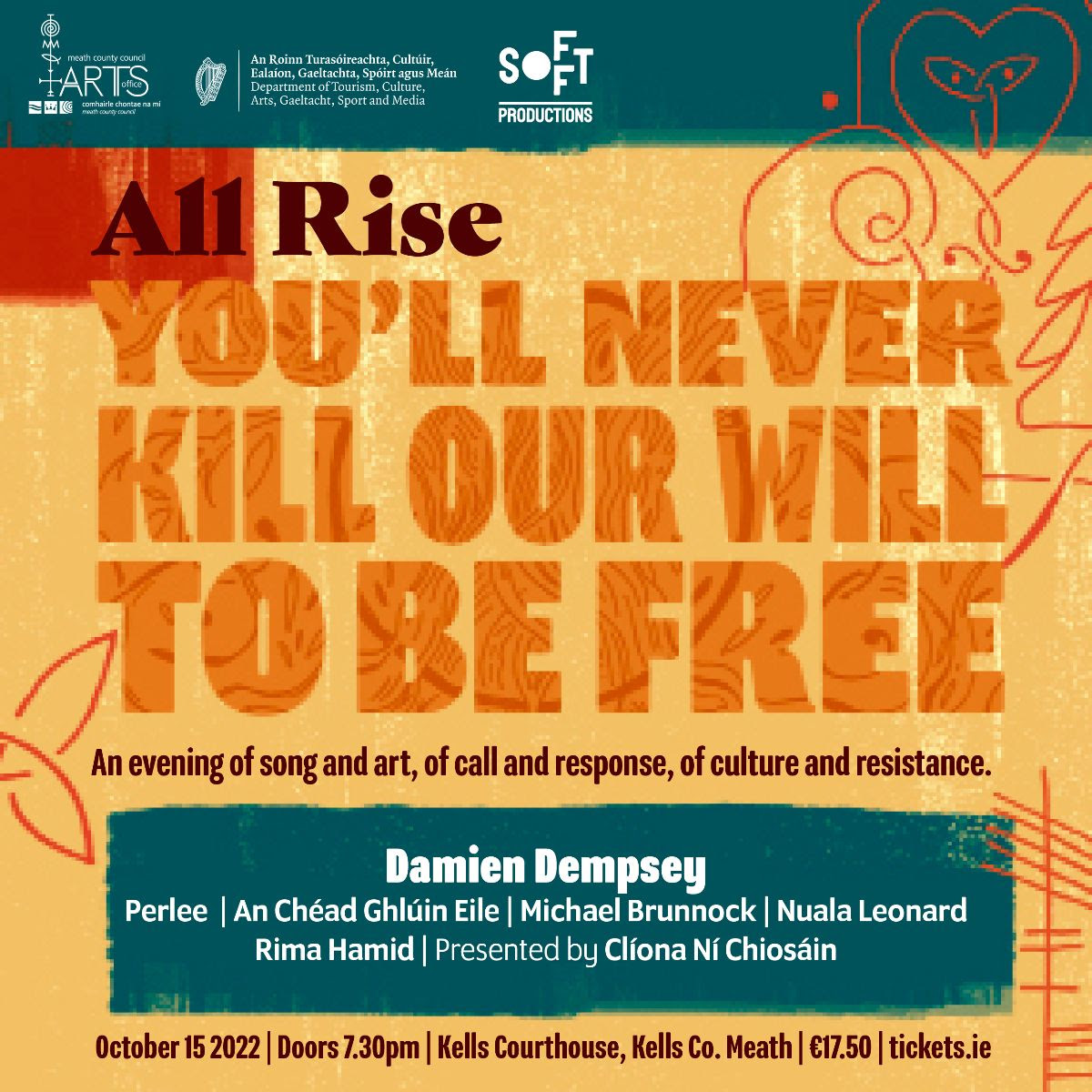 RELATED