And it doesn't have to be all soft lighting and discreet camera angles either. Women producers and directors are making porn that celebrates the diversity of sex, in all its mystery and power. Dr. Caroline West tells us more...
A few issues ago I wrote about how I am really just starting out on my porn journey. For the article, I watched porn recommended to me by friends, all of which revolved around Pornhub – which I have subsequently learned is not the best place a woman can go for porn. In response to that article, several people reached out to me, giving me advice on where to go and how to find feminist porn. I got a subscription to brightdesire.com from Ms Naughty. Also sssh.com reached out to me to share their latest video. I had never been so excited to get some alone time, so I could watch the real deal, and I was not disappointed. For the first time, I felt like I really connected with porn.
However, I didn't want to stop there. Every day, we are learning new things about sex and – writing this column – I have the opportunity now to meet amazing people who can educate me even further.
Essentially Puritanical
After meeting at a panel discussion recently, I got the opportunity to sit down with Dr Caroline West – and to pick her brain about all things sex and porn-related. Dr West has just finished her PhD on 'Pornography and Feminism: Power and Stigma'. She lectures at DCU in Sex Studies and the psychology of marketing. As if she weren't busy enough already, she also teaches classes on consent and sex-ed on the side. Now there's some work-rate!
Caroline first did a masters in Sexuality Studies. What that involved, she says, was "essentially watching Freud spend 10 years of his life telling women how they were wrong about their own bodies, their own orgasms and their own sexualities."
Advertisement
Even though her Masters was discussing porn, none of the lecturers attempted to connect with porn performers – instead canvassing the views of anti-porn feminists. Caroline says that this seemed unethical to her – fuelling her decision to write what is one of the only sex studies ever that focuses on porn performers!
In explaining her findings to me, she stresses that we need to be wary of those who try to answer questions about porn in a nut-shell. "There is no singular answer," she says simply.
"I didn't have enough space in my PhD to go into everything that I wanted to," she adds, but her main findings were around stigma and violence. Interestingly the porn performers didn't define violence in the way most people would assume – i.e. that violence must be related to the way they are treated on the set – but instead emphasised that violence comes from being dismissed and excluded from conversations.
The performers talked about how they can be stigmatised by potential partners – from being seen as nymphomaniacs to being thought more likely to cheat.
Performers who were married said that their partners are often questioned as to why they would marry a porn-star, perpetuating the idea that marriage is only for "good, sacred people." The implication, of course, is that by working in porn you become in some way "dirty" – a condescending and essentially puritanical view.
The findings also show that this need to stigmatise people often comes from an inward issue with sex on the part of those who essentially want to 'reform' porn performers. As a result, a lot of Caroline's public engagement work is about changing the discourse around sex and sexuality. She describes how Ireland hasn't historically had the space for conversations around sex. From The Magdalene laundries to the abortion referendum, we are still learning the language around sexuality, consent and autonomy. Better sex education will be required to break these stigmas down and teach about pleasure.
Demanding their rights
Advertisement
Definitions of feminist porn vary. For a start, Caroline points out that it has been around for longer than most people think.
"It started in the '80s really," she explains. The decision was taken by a group of female producers and directors not to show cum shots; and also not to show the genitals in orgasm but to show the face instead.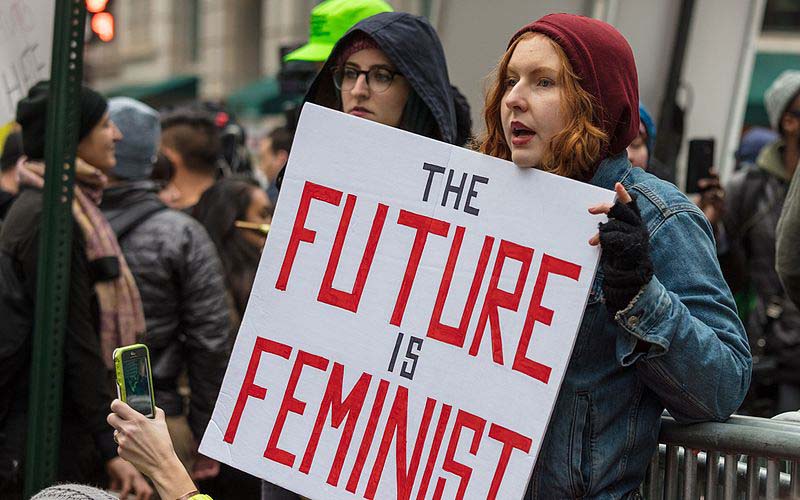 Caroline talks about how some people assume feminist porn should be softer, with nicer lighting and not showing the messy or occasionally 'rougher' side of sex. However, she cautions against thinking in these binary terms, or trying to give a prescription for what is "good sex and bad sex." Who are we to tell women what they should or shouldn't like during sex?
Looked at in one way, it all comes down to money: where there's equal pay and equal opportunity, key goals of feminism are met. The working conditions in which porn is created are central. For example, feminist porn can be defined as porn that is made where there's equal pay – but also where the set has better facilities and enables conversations with the director.
Caroline makes the often dogmatically dismissed point that there are many forms of feminism – and as such there are many forms of feminist porn.
She references kink.com – a kink and BDSM porn site that shows sex that has elements of role-play and dramatisation of S&M activities, including the use of restraints, spanking, whips and other elements of domination and (voluntary) humiliation. Some people try to argue that this isn't feminist porn, as if women never want, like or enjoy BDSM activities. However, kink.com employs lots of female directors, producers, camera people and actors, and as such can be defined as feminist in that women are employed and paid for their work on an equal basis.
Advertisement
Talking to Caroline, it becomes clear that binary thinking will undermine the conversations that are needed now about sex. Caroline speaks with excitement about the emerging generation and the power they have shown by demanding their rights to bodily autonomy, as well as to consent classes and so on.
It is clear that properly adult conversations around sex and porn are just beginning in Ireland. In that context, Caroline West represents a progressive voice in an ocean of outmoded conservatism. It is people like her who make this a really exciting time to be a part of the discussion.