This issue's fascinating bits; sperm is a good moisturiser and smelling mushrooms can reportedly be orgasmic.
SIX ON SEX
1. Rumour has it that smelling mushrooms can cause spontaneous orgasms in women!
2. Milk protein, used in the manufacturing of condoms, means they're unsuitable for (use by) most vegans!
3. An orgasm can clear your sinuses! Why? The rush of adrenaline from your orgasm causes tissues in the nose to shrink, clearing up sinus passages.
4. Bonobos, one of our most closely related primates, are rarely found in zoos.ÊWhy? Because they're constantly having sex (regardless of their age or sex!)
Advertisement
5. Sperm is highly effective in treating (ie. moisturising) wrinkles! Anti-wrinkle ingredients use products similar to sperm because it works so well.
6. From the 16th century through the 20th century, anal sex was punishable by death in parts of the UK.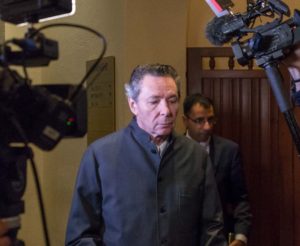 Jean-Claude Arnault, Central Figure in the Nobel Scandal, Jailed for Rape
A Swedish court has given Jean-Claude Arnault, the man at the centre of the scandal that led to the cancellation of this year's Nobel Prize in Literature, a two-year prison term for raping a woman in 2011.
Arnault's lawyer, Bjorn Hurtig, told Swedish news media that his client would appeal the verdict. Mr. Arnault had denied the allegations. The scandal has severely damaged the reputation of the Swedish Academy, which awards the Nobel Prize in Literature, setting off a series of recriminations and power struggles.
In November 2017, the Swedish daily Dagens Nyheter reported that 18 women had accused Mr. Arnault of sexual assault or harassment. Many of the alleged incidents took place at the Forum (which is owned by Arnault and his spouse) or Academy-owned properties in Stockholm and Paris. The accusations covered a span of 20 years; in many cases, too much time had passed for criminal charges under Swedish law.
Advertisement
Arnault could have received a sentence of up to six years. However,Ê the prosecutor, Christina Voigt, said in a telephone interview thatÊtwo years "is a reasonable penalty". The court awarded unspecified damages to the victim.
Elisabeth Massi Fritz, lawyer for the victim, called the verdict "a big relief for my client" and "a victory for justice." She said it should undermine "the culture of silence that surrounds rapes and sex crimes." The verdict was announced as the 2018 Nobel season opened. It is the first without a literature prize in nearly 70 years. Irish Nobel prize winners include George Bernard Shaw, William Butler Years, Samuel Beckett and Seamus Heaney.