SXSW: Irish acts put homegrown scene on the map at Austin music festival – featuring Pillow Queens, CMAT, Just Mustard and more
From Meryl Prendergast in Austin, Texas…
Last week, an impressive posse of Irish musicians travelled across the pond to South by Southwest, the prestigious annual conference, film and music festival hosted in Austin, Texas.
Well, I'm happy to report that this bright selection of up and coming Irish talent blew American audiences away, confirming that Ireland has nurtured some of the most unique and talented musicians on the international scene right now.
And with St. Patricks Day falling in the middle of the Music Festival, SXSW Badge Holders came out in droves to celebrate the holiday in the best way possible: listening to Irish music with a legendary 'pint of plain' in hand!
There was a strong cross-border element to this particular musical manoeuvre. At the beginning of the day, huge crowds came out for the celebration of Northern Irish artists Beauty Sleep, Dani Larkin, The Wood Burning Savages and CHERYM, along with special guests, Dundalk rockers Just Mustard – who recently inked a deal with Partisan Records that should see them make serious progress by the end of 2022.
Advertisement
Dubbed the "Irish King and Queen of Indie-Pop", Derry outfit Beauty Sleep opened the showcase with their alluring combination of dreamy soundscapes and mesmerising songs. The radical art-pop producer and songwriting duo of Cheylene and Ryan – who needs a second name, eh? – charmed crowds with their upbeat style and infectious energy. Anyone who feared that the Irish and UK lyrical references woven throughout their music would puzzle an American audience were proven wrong: it was clear that newly-won fans were hanging on their every word.
Next up was folk singer Dani Larkin, originally from the Armagh-Monaghan border area. Following the release of her debut album, Notes of a Maiden Warrior, and more recently, her collaboration with the Ulster Orchestra on EP Between Worlds, Dani is clearly on the rise. Her songs, dipping into strong musical roots territory, resonated powerfully here, and she proved her status as a uniquely focussed performer. You could sense that she was really making an impression.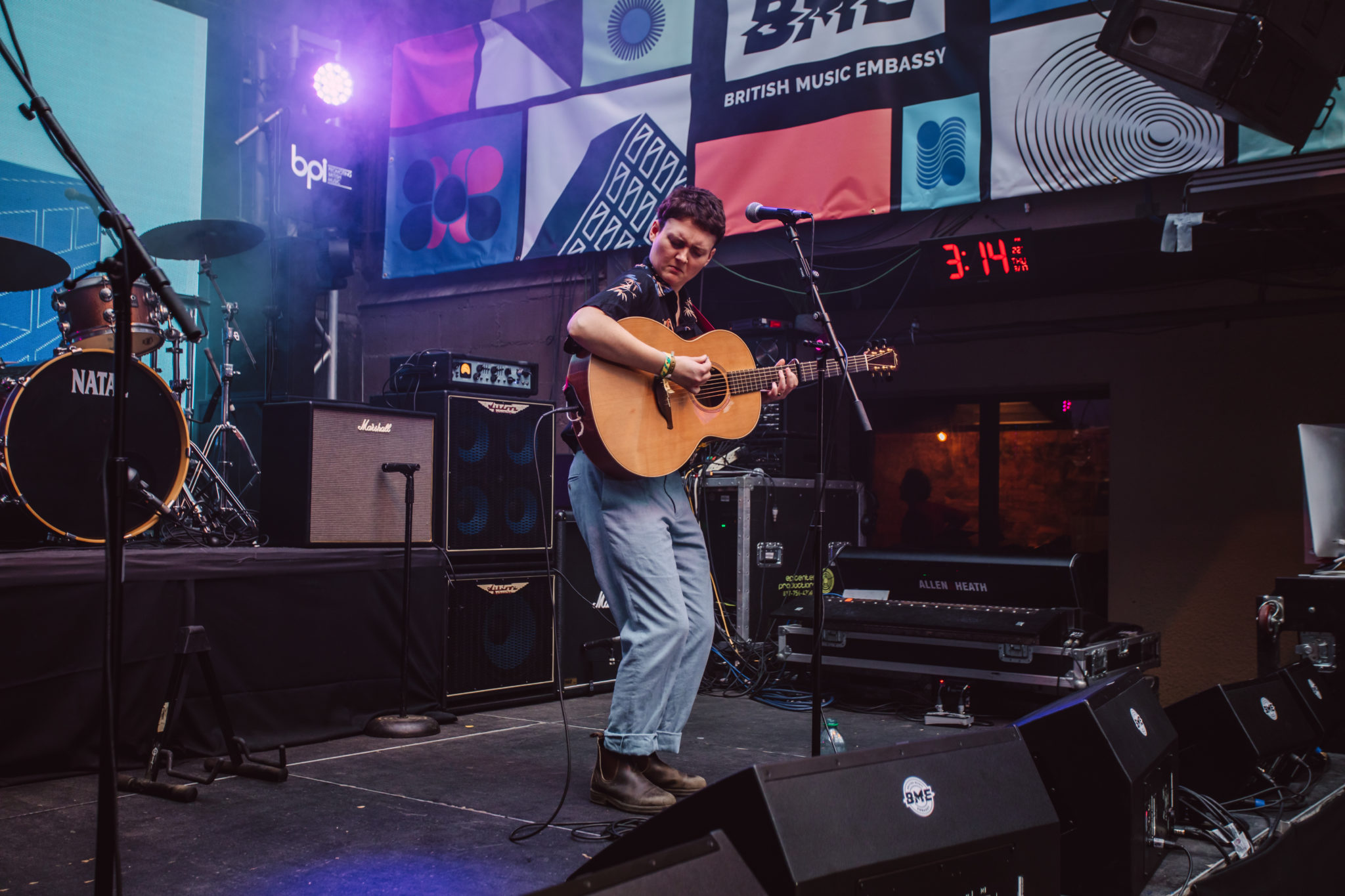 The tone shifted with the arrival onstage of the politically driven, post-punk noise-makers The Wood Burning Savages. With their punchy and rebellious set, and a fiery performance from the impressive Paul Connolly out front, this provocative four-piece left the audience reeling – in a good way. The band are currently playing their biggest-ever headline tour across the UK and Ireland, with shows in Derry on May 6th and Belfast on May 7th likely to rank among the essential gigs of the coming month.
The three members of the rambunctious CHERYM came dressed in matching 'Derry Girls' jerseys, making a vital point: Ireland's most northerly city is currently a hotbed of creativity. You want fearless punk energy, stellar pop hooks, and addictive rock swagger – all in the one tightly knit musical package? No problem. CHERYM played a bunch of songs from their newest EP, Hey Tori, breaking boundaries not just via their music, but also by abandoning the stage to get up close and personal with the crowd! This was a pure rock 'n' roll moment – and it worked...
Advertisement
Later on, we headed over to the Velveeta Room to catch the Music From Ireland Showcase, featuring Sprints, NewDad, CMAT, Just Mustard, Pillow Queens, and MELTS. The place was packed and an enthusiastic crowd cheered and danced their hearts out all night, with many people staying for the entire showcase – unusual at an industry event like this.
Sprints got the night off to a rocking' start, leaving the audience in no doubt that that old guitar magic still weaves a highly effective spell. The impressive NewDad, meanwhile, emphasised the St. Patrick's spirit, with front-woman Julie Dawson sporting a long, oversized Irish green tee almost like a dress, as they rolled out a set of dreamy songs laced with swells and surges of electric power. And speaking of fashion statements...
Fringed hat, leather boots, cow print and bolo ties of Texas, ahoy! It could only be the one and only CMAT, who has just scored an Irish No.1 with her debut album If My Wife New I'd Be Dead. Joking about the irony of bringing country music to Texas, the recent Hot Press cover star put on a stellar performance, breathing great life and considerable joy into the songs from her debut album. A packed house proud to be no obstacle, as crowd members found ways to swing one another around, complementing the singer's soaring vocals and epic grandeur.
The excitement around Just Mustard continues to grow with the announcement of the release of their highly anticipated second album, Heart Under, on May 27. The band sucked listeners right in from their first song, riding a wave of energy as their set built architecturally. The group are also set to embark on an upcoming headline tour, playing throughout North America in April and May before finally returning for a Dublin show in early June. A word to the wise: we could be discussing the emergence of a new global rock phenomenon by year's end…
Advertisement
Pillow Queens, meanwhile are clearly already wide awake in America, with a new James Corden appearance, performing 'Hearts &Minds', under their belt. They kicked off their US headline tour at South By South-West in fine style, featuring songs from their acclaimed second album, Leave The Lights On.
The band talked to Hot Press' Lucy O'Toole earlier this year about touring America.
"It's a new crowd of people," singer/guitarist Pamela Connolly noted. "Our expectations in terms of how we're going to be received is different. We'd perform somewhere in Ireland, and we'd be like, 'Ah yeah, there'll be loads of people'.
"But as far as we know, there might not be anybody there!" she laughed.
"And America is just so different," Pillow Queens' drummer, Rachel Lyons, chimed in. "They speak differently, they act differently."
Well, they can put that stuff back in the can now! It was immediately clear here that they had nothing to worry about. The positive energy in the room was palpable, with their battalion of new-found fans grooving to the band's increasingly familiar hits.
Despite the late hour, Dublin rockers MELTS closed the night in style. The band will be releasing their debut album, Maelstrom, on May 13th – yup, there's a lot of good stuff going on in Ireland at the moment! – and are heading out on a UK Headline Tour. For me, it was one of the most compelling musical moments of a superb night when the five-piece played their newest track, 'Waltzer', inspired by the whirlwind rides at fairgrounds. Opening with mesmerising keyboards, it is a brilliantly potent piece of repetitive, urgent, pulsating rock 'n' roll.
Advertisement
From what we saw here, it is clear that the Irish music scene is packed with incredible talent that's ready to go global. It may be a small island, but Ireland has proven, time and time again, that its musicians are right up there with the very best – and that they are capable of seducing the whole world into singing with them. Don't say you haven't been warned. 2022 is going to be a brilliant year for Irish music.
And that's the definitive word from Austin, Texas...
Photography: Meryl Prendergast