Staff and residents at St Mary's Nursing Home, owned by the Sisters of Charity, have been plunged even more deeply into crisis with the news that some staff will be required to leave on August 17. So, what is really happening at the former School for the blind?
The Board of Management at St Mary's Nursing Home (Telford) in South Dublin have sped up the process of closing the doors at the centre, which is owned by the Sisters of Charity.
In June, the general manager at the South side nursing home had said that the plan was to "slowly wind down the operation of the nursing home in a careful and considerate manner." The date for the conclusion of the process was the end of the year.
The reason cited for the closure was a lack of funding to meet the standards set by the Health Information and Quality Authority (HIQA) and the HSE. However, doubt was cast on this position by a carefully worded statement issued to Hot Press by the HSE, last month.
This week, however, the apparent reservations of the HSE notwithstanding, the company and the liquidators appointed by the High Court – Baker Tilly – have laid off over 20 staff members 'without pay'.
"I can't get a job," one staff member told Hot Press, "because since I'm laid off without pay, I'm still technically employed, and if I send a letter of resignation, I would not be eligible for redundancy pay."
Advertisement
The firm of Baker Tilly is due to go before the High Court to present the liquidation application on behalf of St Mary's Nursing Home for finalisation next Monday, August 17 2020.
It is not clear whether residents will be forced to leave by that date or not, but since several staffers have been made redundant already, the deadline has created confusion and anxiety among residents and their relatives.
The Death of Sister Pius
On Monday, August 17, just as Baker Tilly are scheduled to ask the High Court to finalise the liquidation of St Mary's Centre (Telford), the funeral of the woman known as Sister Pius will also take place, Hot Press has learned.
Sister Pius was a member of the Religious Sisters of Charity – owners of St Mary's Nursing Home – and one of the founders of Caritas Convalescent Centre, on Elm Park campus.
Staff, relatives of residents at the home, and union organisers were also slated to march in protest at the closure – and at what they see as the cavalier treatment of staff – travelling from the nursing home to the offices of the Sisters of Charity in Sandymount, on Monday.
Out of respect for Sister Pius this protest has been called off. Now staff members are asking Baker Tilly to similarly postpone the insolvency. Whether they will do so or not remains to be seen.
Advertisement
"The unions have backed down out of respect, and we think Baker Tilly must show the same level of respect," a laid-off staff member said.
It is believed that less than 15 residents currently reside at the nursing home, down from 35 in June. In the independent-living houses and apartments, which are also located on the campus, another 19 people still try to lead a normal life – but the threat of imminent closure shadows them.
The foreshortening of the timeline has fanned the flames of fury and distrust among both staff and the families of residents. Those residents who don't have any relatives, are deemed wards of court, and the consent of relevant responsible court appointees is required where the individuals' well-being might be at risk, a spokesperson for St Mary's Board of Management had previously told Hot Press.
Families and staff to whom Hot Press spoke said that the hurried closure reveals a shocking lack of empathy and runs contrary to the ethos of the Religious Sisters of Charity, under which, the nursing home is supposed to operate, namely: "Dignity, compassion, justice, quality and advocacy."
The staff are furious about the gap between what they were initially told about the timescale involved, and what is now being imposed.
"We were led to believe," one staffer told Hot Press, "that it would be a slow wind-down to closure by the end of the year. The way staff have been treated is appalling."
Devastating News
Advertisement
St Mary's home is an extensive campus which stands alongside St Vincent's Hospital, off Merrion Road, one of the most affluent parts of Dublin city.
The land was originally gifted to the Roman Catholic Archdiocese of Dublin by an Anglo-Irish landowner, Sir Richard Martin. Other charitable donations later expanded the imposing scale of the St Mary's site.
In 1995, the Sisters of Charity sold St Anne's National School and some lands in Milltown, Co Dublin for about IR£8 Million. In 1997, a spokesperson for the Sisters told The Irish Times that the money had been ploughed back into developing the Merrion Road complex.
The Sisters of Charity had also sold 14.5 acres of their Merrion Road lands to prominent building company McNamara, in 2001, reportedly for close to €46 million. That this is prime real estate is not in doubt.
Established in 1868, St Mary's used to be a 'boarding school' for blind children. Now in their autumn years, some of those who attended the school still reside at the centre. Some former pupils have been in St Mary's for over 70 years.
One such resident who wished to remain anonymous told Hot Press that before enrolling in the Blind School at the age of ten, her disability had posed an obstacle in the way of her education.
"I was denied an education because this was not provided to me at the time by the Department of Education and particularly given my special needs of blindness," she said.
Advertisement
"I was [at the Blind School] dependent on the charity that was then called the Irish Sisters of Charity. The sister who was the principal then still lives close by and is now 91 years of age."
The resident said that she felt anxious and uncertain about her future upon hearing the 'devastating news' of closure. Questions, she said, were left unanswered.
"I think it was really bad to tell [the news] to residents on a Friday. Residents are very upset, and to cause emotional upset to residents without some form of counselling is absolutely dreadful, in my opinion," she said. "That's certainly not a high standard of care."
As Hot Press explained in an earlier article on the issue, the centre is divided into two units, Loyola and St Oliver's, while a few houses on the campus are used to house vulnerable, yet generally healthy residents, with visual impairment and other types of disabilities. Not all of those individuals are necessarily old, and their care falls under the HSE's Adult Disability Services.
All residents of St Mary's are female.
A former staff member told Hot Press that when independent residents grew older and in need of nursing home care, they would seamlessly "transition into the nursing home."
"It was another arrangement that was unique to St Mary's, so those people still kept in touch with their friends and contacts at the apartments and houses. Now they have lost many of their friends in the nursing home," she said.
Advertisement
Former staff members with knowledge of the background, told Hot Press that independent living houses on campus, were funded by the Department of Environment as "social housing" for people with disabilities, in line with section 39 of the Health Act 2004 – though we have been unable to confirm this.
"If it was the Department of the Environment's mortgage and it's social housing, then can the residents be evicted? Is that within the law?" a former staff member asked.
A Stained History
St Mary's Nursing Home is not far from Donnybrook's Mary Magdalene Laundry, and at least three of its residents were former inhabitants of that institution.
The Magdalene Laundries were places in which so-called 'fallen' women and girls –prostitutes and single women who had become pregnant out of wedlock or as a result of rape or one-off sexual encounters – laboured as a form of penance. The laundries were run for profit by the nuns.
The Irish State has paid over €25 million in compensation to 696 survivors of Magdalene Laundries, although the Government has never admitted its role in supporting or facilitating the laundries. Official documents reveal, however, that thousands of inmates of industrial schools were sent to the laundries directly from State care, and the Gardaí returned those who escaped. The institutions are commonly regarded as having been a form of imprisonment, by any other name.
The Sisters of Charity, who have a significant portfolio of property in Ireland and abroad, and had an income of €8 million in 2018, have neither contributed money towards the compensation; nor have they admitted to any human rights violations in the laundries.
Advertisement
In a letter to Hot Press, a representative for Sisters of Charity said that it was libellous to suggest that the Donnybrook laundry was a 'squalid dumping ground'.
While it may have been one of the better-run of these dubious establishments, testimonies from survivors that are available online tell a different tale.
Sara, who entered the Donnybrook laundry in 1954 at the age of 15, for example, has described prison-like conditions in Donnybrook.
"The door was locked," she said, "and the windows used to be up very high, like a small little window, and I used to climb up the top of the bed to look out. I never seen daylight for two years. At nine o'clock every night you were locked into that cell – summer and winter."
Sara has said that her mother died during her stint at Donnybrook, yet the nuns never informed her, despite witnessing the emotional turmoil she experienced as she wrote to her mother every week and waited for a response – which never came.
A former staff member at St Mary's told Hot Press that one survivor of Donnybrook laundry – currently living at the home – was so 'institutionalised' that fear had crept under her skin.
"She would just sit on top of the stairs, not coming down," the staff member said.
Advertisement
Donnybrook laundry ran for 150 years until 1992 when the nuns sold it to a private company, under which it operated on a commercial basis until 2006.
In 2017, plans for its demolition were scrapped due to fears that there were unmarked graves on the property. The Sisters of Charity deny that there are any graves there.
No Immediate Plans
St Mary's is not the only residential care facility that Sisters of Charity are planning to close. They are also shuttering St Monica's, another care home for the elderly, in Mountjoy, Co Dublin.
While the Sisters of Charity had said that they had no immediate plans for those properties, there are those who believe that the lands are being prepared for sale.
Dr Peter Boylan, renowned obstetrician and the former Master of the National Maternity Hospital (NMH) is one of those sceptics.
Dr Boylan, whose voice is calm and kind, is spearheading a campaign whose objective it is to make sure that all women in Ireland can have access to safe abortion services in the new NMH.
Advertisement
One of the claims made by the Sisters of Charity – and repeated on their behalf in a recent missive to Hot Press – is that they have 'gifted' the land beside St Vincent's Hospital to "The People of Ireland." This could only be done if permission were given first by the Vatican, in line with requirements of the Canon Law – thus, on paper at least, paving the way for the development of the new HMH on the property.
However, Hot Press questioned the use of the term 'gifted' for good reason: it is not a 'gift', surely, if rights are retained and obligations imposed on the party that is alleged to be benefitting from the transaction.
That view is supported by Peter Boylan, who said last month, that he was being 'blocked' from physically attending NMH's Annual General Meetings (AGM).
The current NMH officials strongly support the development of the new hospital on Elm Park Campus.
Peter Boylan said that it was 'utter nonsense' to suggest that the Sisters of Charity had gifted the land for the new NMH to the 'people of Ireland'. The facts are that the ownership of the property was transferred to St Vincent's Holdings, a firm that Dr Boylan said has done little to date other than drawing a constitution and registering with the Charities Regulator.
Its directors, he said, were yet to be officially named.
The Sisters of Charity have also transferred their shares in St Vincent's Healthcare Group to a new 'charity' called St Vincent's Holdings CLG. This is the legal entity that would – if the new Minister for Health Stephen Donnelly allows things to proceed as they are currently planned – oversee the operation of four hospitals in all: St Vincent's University Hospital, St Vincent's Private Hospital, St Michael's Hospital and the new NMH.
Advertisement
While a spokesperson for St Vincent's Healthcare Group insisted to Hot Press, that the new NMH will be free of religious influence, the evidence suggests that it might be otherwise. The wording of the ethos of the new firm – which was registered with the Charities Regulator in August 2019 – as stated in its constitution, is the same as the ethos of the Sisters of Charity: "Dignity, compassion, justice, quality and advocacy". And if this is the case, the risk of conscientious objection, whether among management or carefully selected employees becomes very real indeed.
In plain terms, there is very good reason to suggest that these two positions are entirely incompatible. And unless it can be incontrovertibly established otherwise, the very firm view of Dr Peter Boylan is that the project should not proceed in its current form.
Dr Boylan is un-phased by any accusation that his opposition might delay the building of the new hospital. For him, the adherence to the ethos of the Sisters of Charity by St Vincent's Holdings CLG is a red flag.
"If their ethos has the same exact wording as the Sisters of Charity's, then the whole thing stinks," Dr Boylan said.
Dr Boylan also told Hot Press that he was 'appalled' to learn about the plight of elderly residents at St Mary's.
"It's appalling, and it's cynical," he said. "And I don't believe that lack of funding was an issue. In the next few months, you might see a big for-sale sign there."
People before Profit TD, Bríd Smith, also told Hot Press that the Sisters of Charity were "behaving shamefully in trying to close down and sell off St Mary's."
Advertisement
She said she was concerned that the decision to close was "a tactical decision to withdraw from the care of the elderly."
"We want a public takeover of St Mary's, so we can have public control over elderly care," she added. "Covid-19 has shown us that we need public control of nursing homes and congregated settings."
Fellow party member Richard Boyd Barrett said that the move amounted to the 'abuse' of the elderly.
Labour Senator Ivana Bacik also raised the issue with Minister for Health, Stephen Donnelly, in the Seanad, last week.
"Many of the residents have lived there for many decades, and to move them at this point would be extremely traumatic," she said. "There are real concerns about the impact that this closure will have on residents and the staff."
Little Influence
A spokesperson for Sisters of Charity has claimed, in a letter, that Hot Press was wrong when it reported that the sisters were represented on St Mary's Board of Directors. The spokesperson – who requested that the text of the letter should not be published – suggested that the Sisters had little influence in St Mary's when it came to decision-making.
Advertisement
Company records, however, show that two Sisters, Teresa McAllister and Geraldine Byrne, sit on the company's Board of Directors.
Geraldine Byrne has also been named as a director in two mental health and social care facilities in Dublin, the Oasis Centre and St Laurence O'Toole Social Services.
Deirdre Wills and Joanna Flannery have been listed as St Mary's shareholders, each owning 50 per cent of the shares.
On the website of Sisters of Charity, Joanna Flannery has been recognised as a Sister, and staff told us that Deirdre Wills is also a member of the religious order.
Their names have also been listed as principal shareholders in St Mary's Centre (Telford) liquidation application to the High Court.
According to the Charities Regulator website, for the period between December 31, 2017, and December 31 2018, the gross income at St. Mary's was €5,975,458, and their expenditure was €5,736,031. They received €4,775,768 from Government and local authorities, while €1,199,690 came from other sources.
Total assets of the company were estimated at €1,133,807 million for the year, 2018.
Advertisement
Responding to Hot Press, a spokesperson for the HSE had previously said, in a guarded and carefully formulated response, that they had not received any request from St Mary's Centre for additional funding.
She added that the centre's management had shown little appetite for engaging with the Health Authority, in the latter's bid to keep the centre on its feet.
The HSE also told us that it was not 'anticipating' that it would take over St Mary's, 'at this time', adding, however, that it was working with the 'provisional liquidators' and HIQA to ensure care and support for 'current residents.'
"The HSE has no remit to expend funds other than in the pursuit/commissioning of services, and therefore all funding provided is attached to evidenced service provision," a spokesperson said.
The latest HIQA report also reveals that the body believed that St Mary's was 'substantially compliant' with regulations, in 2019, following some renovation work.
Happy Retirement
Since Hot Press last spoke to people whose loved ones were living in St Mary's, the situation has changed – not necessarily for the better in every case.
Advertisement
On the positive side, Joe Brabazon, whose wife of 58 years, Kay, grapples with Alzheimer's disease, has found a new home for her. Kay was in St Mary's since last August and over the intervening year had grown accustomed to the environment and had found her carers to be kind and loving.
Brabazon and other families were also impressed with the staff who had managed to shield the residents from the threat of coronavirus.
Brabazon told us how he had secured a place for his wife.
"I sourced it myself with no outside help," he said. "If it turns out to be as good as St Mary's we'll be happy."
Before securing a place, however, Brabazon endured significant stress and had told us about what he ironically described as "the ongoing saga of our happy retirement."
At the time, he told us that the management at St Mary's had twice cancelled appointments he had made to meet them.
"The first request was ignored, but on my second attempt I was told by Mr [Mervyn] Hollywood [the centre's clinical service manager] that his workload was such that, in effect, he was too busy to see me, but if he could fit me, he would."
Advertisement
On the downside, unlike Brabazon, some residents' families are still struggling to find alternative accommodation.
Meanwhile, the Sisters of Charity told us that the word 'eviction' does not apply to the ongoing situation in St Mary's. There are those who disagree.
Sitting on a white sofa at his home in Sandymount, on a warm August afternoon, one man who preferred not to be named, said his wife has been living in St Mary's for the past five years, and if he had a choice, he wouldn't relocate her.
The man looked up the word 'eviction' in the Oxford Dictionary. He relayed the definition of the word as "the act of forcing somebody to leave a house or land, especially when you have the legal right to do so."
He said he could relate to that because "we're not prepared to leave."
The man's wife, who is a stroke patient with rapidly growing cancer, was upset already upon being moved to another centre within St Mary's, and he is especially fearful about the impact of a further relocation on her. He said if there is a Government ban on eviction during the coronavirus pandemic, managers at St Mary's should also postpone the closure until the health crisis ebbs.
The man pays €62,500 per annum to St Mary's – a fee partly funded by the HSE – to look after his wife.
Advertisement
He said the managers at St Mary's had offered a bed in another centre to his wife, shortly after the announcement of the closure was made, but – under the impression that he had until December to find a place – he had declined the offer.
"I thought we had time, until December, so I said, I want to be the last to leave, and my preference is to get my wife to a palliative care centre," he said.
"Now they have been talking about August. I don't know."
Workers' Travails
St Mary's Home employs 80 staff members, including relief workers. About 15 volunteers also come to the centre to assist them.
Workers at St Mary's, some of whom have been with the Home for over 30 years, said they might need professional counselling to overcome the trauma of watching the elderly residents leave, steeped in sheer confusion.
On top of that, there has been no promise of statuary redundancy payments.
Advertisement
The Sisters of Charity have said that they are "extremely disappointed to learn that there may not be enough funds to pay statutory redundancy" to staff at St Mary's and St Monica's nursing homes.
It is not, however, the first time that a Sisters of Charity-owned centre has chosen to let its employees down: the 64 employees in the Caritas Convalescent Home on Merrion Road were also let go with no redundancy payment.
Caritas Centre was intended to replace Linden Nursing Home, another Sisters-of-Charity-owned care facility for the elderly in Blackrock, Co Dublin. The Sisters netted IR£8 million in 1997, from the sale of Linden Home.
Last week, a Labour Court ruled in favour of the workers at Caritas, obliging the employers to provide a "fair and responsible pay-off." Caritas was closed last March, when 23 of its 64 staff members became ill with Covid-19. The centre never reopened.
A spokesperson for the HSE told Hot Press that the Health Authority had no plans to 'utilise' Caritas as "the Religious Sisters of Charity own the facility."
SIPTU have told Hot Press that discussions between St Mary's Board of management and union representatives are ongoing. The aim of the union is to negotiate a fair deal for the workers. So far, however, no offer has been forthcoming.
The people driving the campaign to stop the closure of St Mary's, involving residents' families and staff, have also penned an open letter to Minister for Health Stephen Donnelly; to Acting Chief Medical Officer, Dr Ronan Glynn; and to the Chair of Vulnerable People Subgroup, Dr Kathleen Mac Lellan. All three are urged to step in and stop the closure.
Advertisement
"When consideration is given to the high risk that the global pandemic poses to the elderly," the letter reads, "there is a duty of care to protect the vulnerable residents of St. Mary's Nursing Home from being discharged for transfer out of the Nursing Home on a weekly basis during this global pandemic. We are calling on you to take immediate action to intervene in relation to this practice by the senior managers."
Meanwhile, one resident told us that she is shocked to see that the Sisters of Charity had turned their backs on their former blind or visually impaired students.
"I think the Sisters of Charity need to be confronted and asked if there is somewhere, something written down about their commitment to the blind children who attended their school and who transferred to their adult section."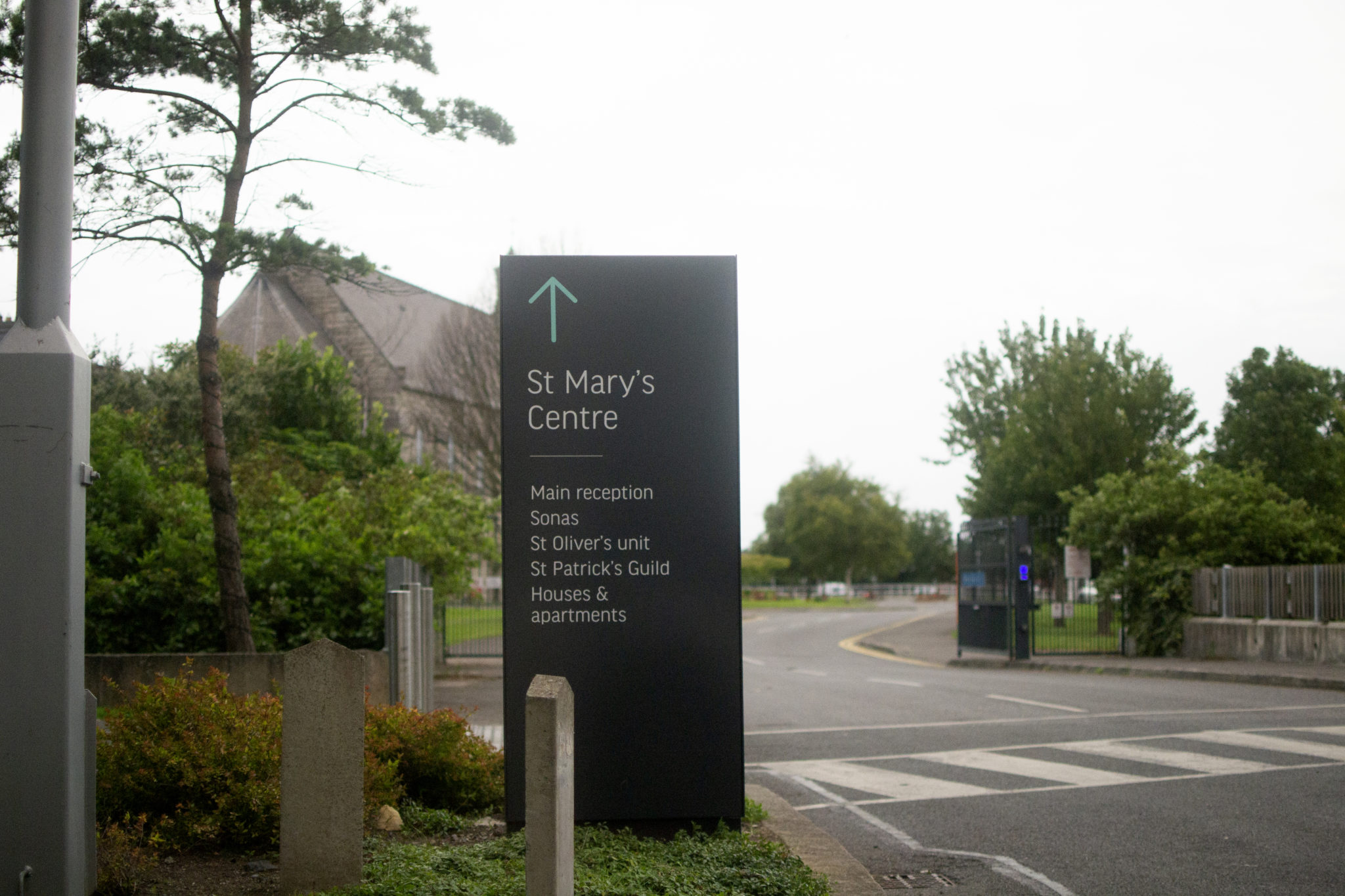 Main picture: A relative holding a photo of his wife who is in St. Mary's – Jaco Bronkhorst.
Additional picture: St. Mary's entrance – Shamim Malekmian.