Electronic maverick Moby on giving his hits an orchestral reworking on Reprise, his friendships with David Bowie and David Lynch, and soundtracking De Niro and Pacino's legendary final scene in Heat.
Moby's latest album, Reprise, finds the electronic maverick giving some of his greatest hits an orchestral overhaul, with guest appearances from the likes of Mindy Jones, Gregory Porter and Amythyst Kiah, and Mark Lanegan and Kris Offerson.
To coincide with the record, he also released the punningly titled Moby Doc, covering everything from the blockbuster success of 1999's Play to his struggles with addiction, with appearances from friends and collaborators like David Bowie and David Lynch.
When I catch up with Moby, he's at home in Los Angeles, where he has now lived for over a decade.
"I moved to LA about 12 years ago," he explains. "Basically, after I got sober, I learned that New York is a phenomenal place and a paradise for drunks, and a very challenging place to try and be sober. So like many other middle-aged musicians before me, I decamped to LA."
Including, I believe, Trent Reznor…
Advertisement
"Yeah, Trent and Atticus Ross," nods Moby. "Every time I go to the supermarket, I see some other legendary musician buying organic carrots, basically."
It sounds like a sitcom.
"The thought has crossed my mind," he notes. "LA is funny because there is such a high concentration of public figures here, and for the most part, all they do is utterly banal things. I'm not kidding, the other day I was at my local health food store, and I was standing in line between Kim Gordon and Angelina Jolie. And I thought, 'Okay, this is life in LA.'
"There's the classic example of someone going to Ralph's supermarket, and they see their dark lord hero Glenn Danzig comparison-shopping cat food."
So, to get down to business, why did Moby decide to revisit old material on Reprise?
"Broadly speaking, there are two reasons," he replies. "One of which might be very uninteresting to most people, which is simply that I love the idea of making a record in a way I've never made a record before. Because almost every record I've made, even when it involved guests, I'd say 99.9 percent of the time it was me alone in a small studio, obsessively working on music. A very reclusive, monastic process.
"And when I was asked about possibly making an orchestral record for Deutsche Grammophon, I thought, I love the idea of revisiting songs, and almost trying to expand upon the emotional core of these pieces of music. But also just the idea of making a record the way people used to make records – in old studios, with acoustic instruments."
Advertisement
Moby has been exceptionally prolific since 2016, releasing at least one album a year. Would he describe himself as a workaholic?
"I don't binge-work that much, but I also never take days off," he says. "I don't know if it's workaholism, I would say it's more empirically supported choices. One of the nice things about the pandemic is it's given me the perspective where I can say, 'Oh, you know what? There's all this stuff I did in the before times that I actually did out of obligation, or habit, that I never really liked.'
"Like, I finally admitted to myself that I don't like socialising. Maybe with one or two people, but I finally accepted – and it took me 55 years to admit this – that I don't like parties. I don't like loud environments, I don't like loud nightclubs; I don't like any of these things. I also realised a while ago that I'm pretty happy not dating, so I haven't dated in about five years, and that just creates all this extra time."
In Moby Doc, one is reminded that he is one of the few musicians to achieve mass popularity whilst being equally influenced by both dance and rock. Of course, one artist who incorporated both those styles – as well as many others – was Bowie.
It's notable that in the five years since his death, his cultural standing has actually increased, with audiences taking full stock of his extraordinary artistic range.
"I still can't quite believe the fact that I got to be friends with him," Moby reflects. "The first ever job I had when I was maybe 13 years old, I worked in a golf club as a caddy, and I only did it long enough to make enough money to buy Lodger and Heroes. So I obsessively loved David Bowie for most of my life, and understandably considered him the greatest musician of the 20th century.
Advertisement
"He was one of the only rock musicians embraced by the punks, the New Romantics, the new wavers – he inspired everybody. And when he wasn't busy inspiring all those people, he invented ambient music with Brian Eno, so I just revered him. And the fact that we became friends – we were neighbours, we went on tour together, we had the holidays together, we play fundraisers together – it's kind of like looking back and thinking, 'Wow, I was friends with god – god and I used to drink coffee and play songs together!'"
Bowie's final albums, The Next Day and Blackstar, ranked among his finest work. Did Moby keep abreast of his later output?
"Only passingly," he admits. "Basically, what happened was we were very close from around 2000 to '05, and then in '05, I started seriously bottoming out as an alcoholic and drug addict. Around that same time, he and his family moved up to Woodstock – he bought a recording studio up there.
"And I know he was battling some health issues then, so we stayed in touch. But then also, I got sober and moved to LA, and we were living 3000 miles away from each other. So there was polite staying in touch, but as I'm sure you've experienced, when adult friends don't live across the street from each other, they tend to not see each other as often.
"So some of the later records, if I'm being honest, I gave them a cursory listen, but probably did not spend the time that I should have with them. But now you've inspired me to go back and listen, because I maintain that the greatest song he ever wrote was a Heathen track called 'Slip Away'. I think it's the greatest David Bowie song ever, because it's also one of the only truly personal, autobiographical songs he wrote."
Funnily enough, I find Heathen to be possibly the warmest Bowie album.
"Yeah, obviously he was battling health issues, but he was in such a good place," says Moby. "He was sober, he had a new daughter, he was happily married. We toured together in 2002, and he had basically decided that he didn't want to tour together. And I kind of talked him into doing this three-week tour, and at the end of it, I remember the last show in Seattle, he was so happy – just beaming.
Advertisement
"And he decided that he would actually keep touring, because he was reminded that he actually loved going out and playing music. I just remember that last show, being backstage and I'd never seen him so joyful."
Also appearing in Moby Doc is legendary cult filmmaker David Lynch, whose Twin Peaks: The Return gets my vote for best TV series of the last 10 years.
"I actually have a brief cameo in one of the episodes," says Moby. "I'm the guitar player in one of the scenes – I think I'm onscreen for maybe 10 seconds in the background. You could watch the entire season and not know I'm in there. It was just something David and I did because I thought it would be funny.
"My only issue with the last season was the ironic comedy sometimes wore a little thin for me, like the Dougie Jones stuff. I almost want someone to go back and do an edit where they pare down the comedy. I mean, David Lynch is good at comedy, but if you watch the first season, it's like 20 percent comedy and 80 percent darkness, and that's the ratio I personally prefer.
"I forget which episode it was in The Return, but the one that has the nuclear explosion, that is the single greatest thing that's ever been on television. I remember watching that and texting my filmmaker friends going, 'How did he do that?' It was like 15 or 20 minutes of non-linear, non-narrative, phenomenal experimental filmmaking – that was worth the price of admission for the entire series as far as I was concerned."
As for his take on Lynch in the man, Moby finds one view particularly apt.
"The best description I ever heard of David Lynch was from Mel Brooks, who described him as being like Jimmy Stewart on acid," he says. "His movies are so layered, dark and thoughtful, and as a person, he's just kind of jolly."
Advertisement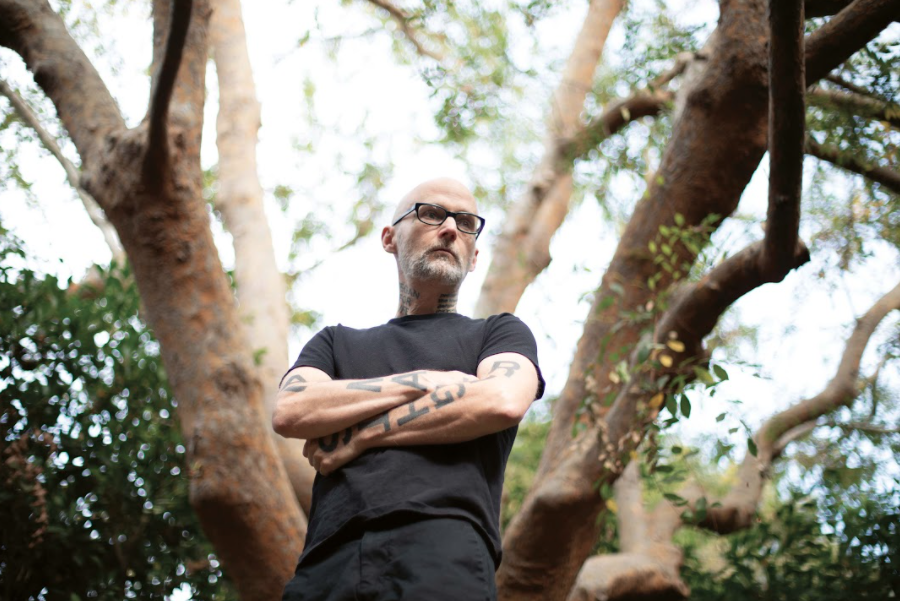 Moby had another memorable screen moment in 1995, when his stirring 'God Moving Across The Face Of The Waters' was used to soundtrack the climactic final scene between Robert De Niro and Al Pacino in Heat, Michael Mann's crime thriller masterpiece. Again, it's a movie whose standing has only increased in recent years.
"You're absolutely right," says Moby, "because when the movie came out, I remember going to the theatre and I left going, 'That's a masterpiece. It's poetic, and it's dealing with so many classic archetypes.' It's really nice that as time has passed, more people have discovered it and recognised that is actually a masterpiece.
"There's mildly funny story about how it happened. My manager was approached by Michael Mann's production company to license two songs for that movie. I of course said yes, and then I was asked if it was okay if they re-recorded 'God…' with an orchestra in Eastern Europe. Keep in mind that I had never even licensed a song to a movie before, and I was just like, 'Sure. This is  Michael Mann, he can do whatever he wants.'"
The next episode would illustrate the wildly unpredictable nature of the film business.
"They spent all this time and money re-recording it with this orchestra," Moby continues, "and then they flew me to LA to oversee the mix. I'm like, 'Wow, this is so legitimate – I'm just an old punk rock kid who used to live in an abandoned factory.' And then, after going through all that, Michael decided that he liked the version that was on the album, so he used that!
"But keep in mind, the album version was recorded in my tiny little studio with a couple of Midi keyboards. Somehow, a couple of mid-'90s Midi keyboards won out over a huge orchestra in Eastern Europe. So I thought that was mildly ironic."
Advertisement
• Reprise and Moby Doc are out now.