Under his EOB guise, Radiohead guitarist Ed O'Brien made his LA live debut as a solo artist last night, in the Masonic Lodge at Hollywood Forever. The gig was a revelation...
There's a redeeming joy, when you witness a sideman step forward to take up a new position, centre-stage.
The striking Masonic Lodge is located on the grounds of one of Hollywood's oldest cemeteries. It is here that Radiohead guitarist Ed O'Brien has chosen for his debut LA solo performance. And what a debut it turns out to be.
Ed opens with 'Shangri-La'. There's an insistent chant – "Going back - I'm not going back" – underscored with vibrant arrangements that bubble up from minimal sonic motifs to thick potent scores, driven always by finely tuned live drums, EDM grooves and modular synths. The textures on songs like 'Brasil' are rivetting, building and building with stealth and then aggression courtesy of his New Orlean's born drummer, Alvin Ford Jr.
The young multiracial, co-ed band answer every modest guitar riff and vocal line like an afternoon tennis match, punctuating vocals, that are often dreamy and sometimes uneasy. But there is a kind of pop wizardry here too: the hooks are concise and repetitive. Ed's masterful guitar work is deliberately low-key, playing second fiddle. Switching back and forth between electric guitars, modified acoustic guitars and triggers, he pauses occasionally to raise his arms above his head and sing.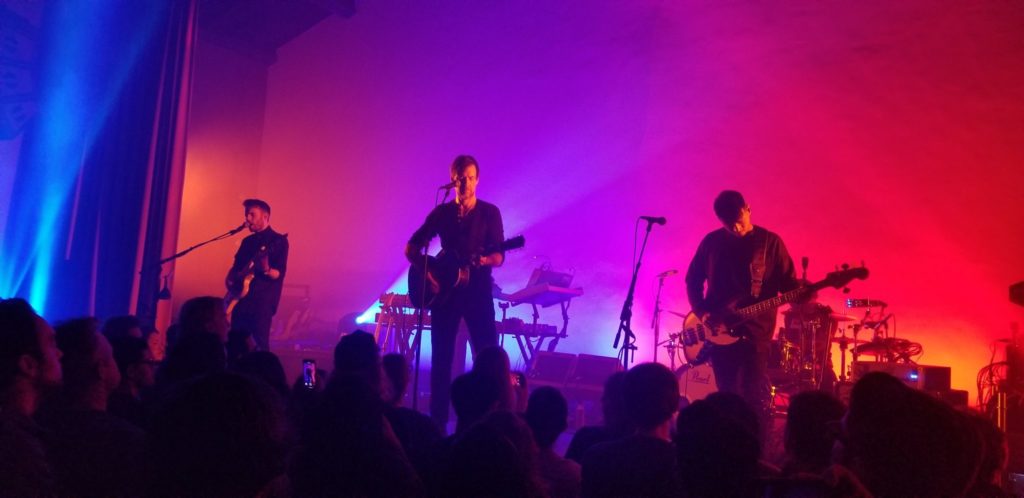 EOB mentions that the band, mostly from London, started rehearsals four weeks ago in Wales. This is just their fourth show. Hot. And not: one of my favourite moments comes when he dedicates 'Sail On' to his Grandmother, who passed away on New Year's Eve. "It's a beautiful thing when yer 103-year-old Granny digs what you do," he says. Here, in particular, the gorgeous keyboard sounds and textures shine through.
Advertisement
'Mass'– with its refrain "long time comin'" – is another highlight. Ed tells the story of how his long-time friend Phil Costello – in the audience tonight – planted the original seed, advising that he should record a solo album. "Funny how the Universe works," Ed says, with a wry sense of amusement. "That was 12 years ago."
The production is excellent too. Gothic in decor, the lodge boasts long-forgotten crypts and halls, murals, vaulted ceilings, and stained glass windows.The lighting is captivatingly beautiful, streams fanning out from the stage floor in long beams of white against the spectrum of orange, reds, and yellows.
The band end the night with a funky cover. "Because we don't have enough songs," Ed jokes. His sweet, sentimental nod to the audience – "I do not take you for granted" – rings true and sincere.
Catch EOB if you can: dates coming up in the UK, Switzerland, and the US later this summer.