Just Like You've Never Seen. Words: Pat Carty. Images: Liam Kelly.
It's a long road from Dublin to Listowel, especially if Google maps takes its job a bit too seriously and sends you down the back way after you pass Limerick, to do chicken battles with tractors in the dark, but it's a challenge worth taking to get to Mike The Pies, Aiden O'Connor's marvellous boozer/venue and deserved winner of the coveted Hot Press Live Venue Of The Year award. While it's nice to visit with Aiden, and the good people of the kingdom, the reason we're here – and a few of us have made the trek – is to catch Fontaines D.C. in a venue that, with all due respect, would probably struggle to accommodate the guest list at some of the larger gigs they've played in the year they went global.
It was no surprise at all that Dogrel took home the medals in many of the end of year polls, including the one in Hot Press, and last weekend's triumphant Vicar St gigs were, apparently a quasi-religious experience. It speaks very highly of the band, and their management, that they would then choose to return to one of the venues of their early triumphs, simply because they wanted to. As lead singer Grian told Stuart Clark in the Hot Press annual – still available in the better quality newsagents – "I don't want it to get too big and impersonal, there's less danger of us forgetting who we are. Plus Aiden is just a lovely, lovely man. Qualities like that take precedence over money. If we were ever to stop playing Mike The Pies, I'd want to stop the band. It's everything I love about music." Fair play.
In another admirable move, Aiden had only sold tickets – maybe one hundred, maybe - to those who had attended previous Fontaines shows here – apart from liggers and arch blaggers like myself – starting back in 2017. The place is full then, but not uncomfortably so, another reason to applaud Aiden as he could have flogged passes for stupid money if he were that kind of fellow.
Big Star and Bob Dylan are piped through the PA in anticipation before the band, pints in hand, make their way through the crowd. A bass drum that could knock over a wall kicks off – this is going to be fucking loud – and they're into 'Hurricane Laughter', the sound of The Ramones mugging The Stones. Grian howls into the "PLA–AH-ASTER!" The guitars sound avalanche immense. This is a different band again from the one I saw last at All Together Now. Unbelievably, they've found another gear. If they're tired after a year of hard work, there's no sign of it here.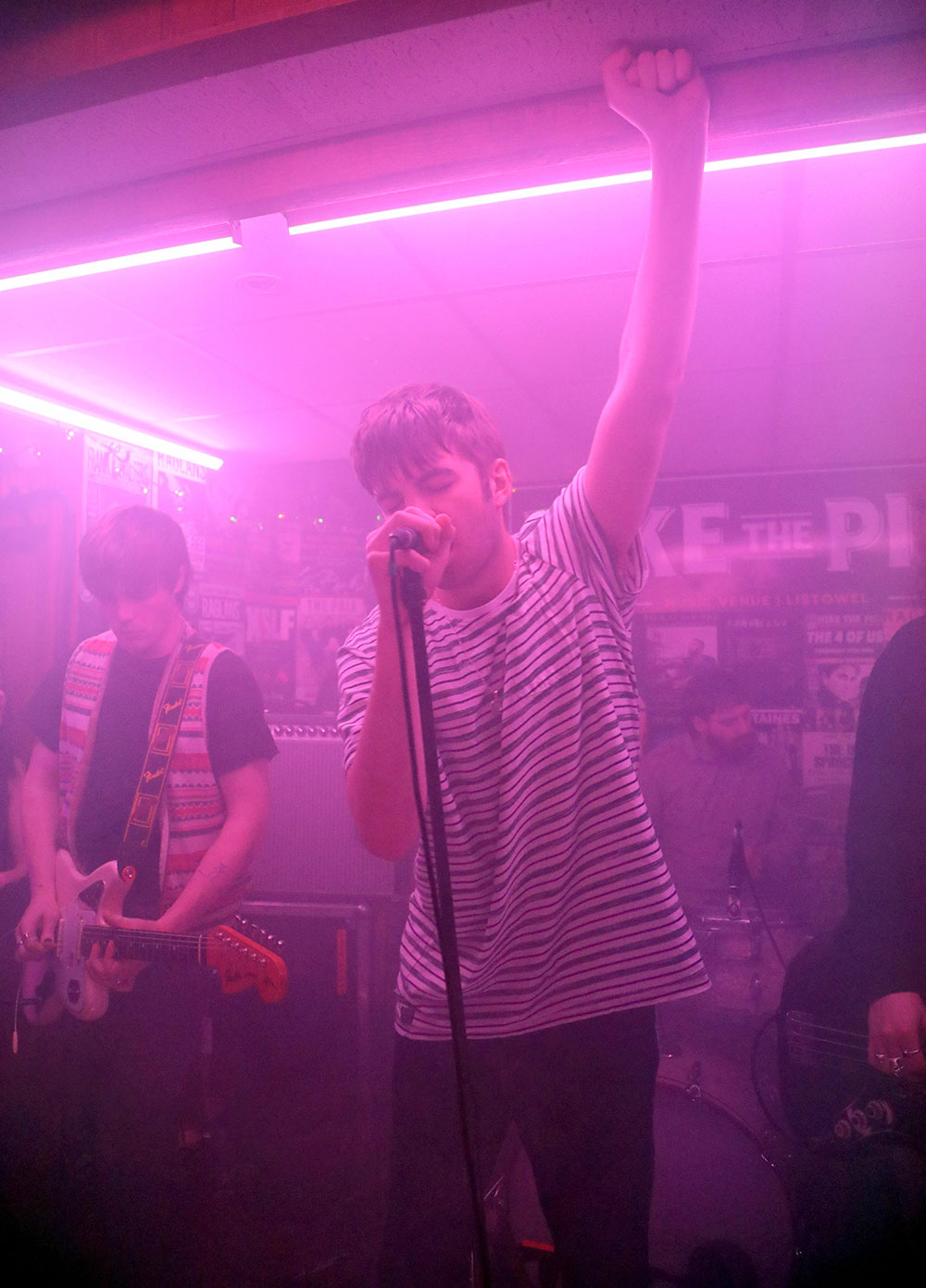 'Chequeless Reckless' starts off like 'Have You Seen Your Mother, Baby?' being played by an angry Duane Eddy, and finds time for a 'Ballroom Blitz' drum break. Pints are flying in the crowd during 'Sha Sha Sha' with the guitars sounding like an angry mob coming over a hill. Carlos' twang in new song 'Televised Mind' makes it sound like some demented Italian Spy movie from the sixties, and things go nearly oriental in the middle. If this is influenced by The Beach Boys, as they've said in the press, then it's that little know period when the Wilsons took too much acid and went crazy with krautrock chainsaws.
Advertisement
Grian's spoken word two o'clock in the morning gutter poetry, his monotone approximation of urban apathy "la, la, la' carries the Joy Division throb of "The Lotts" The guitars now feel like your head has been put into some kind of meat grinder. "Hello" from Grian – more than we normally get – and then two more new songs, the feedback swoops over the heavy bass riff and gatling gun drums of 'Lucid Dream' and the "life isn't always empty" declaration of 'Hero's Death' which, with its "Ooh, Ooh" backing vocals and "Ba, Ba, Ba" ending has at least heard The Beach Boys, albeit from the next room.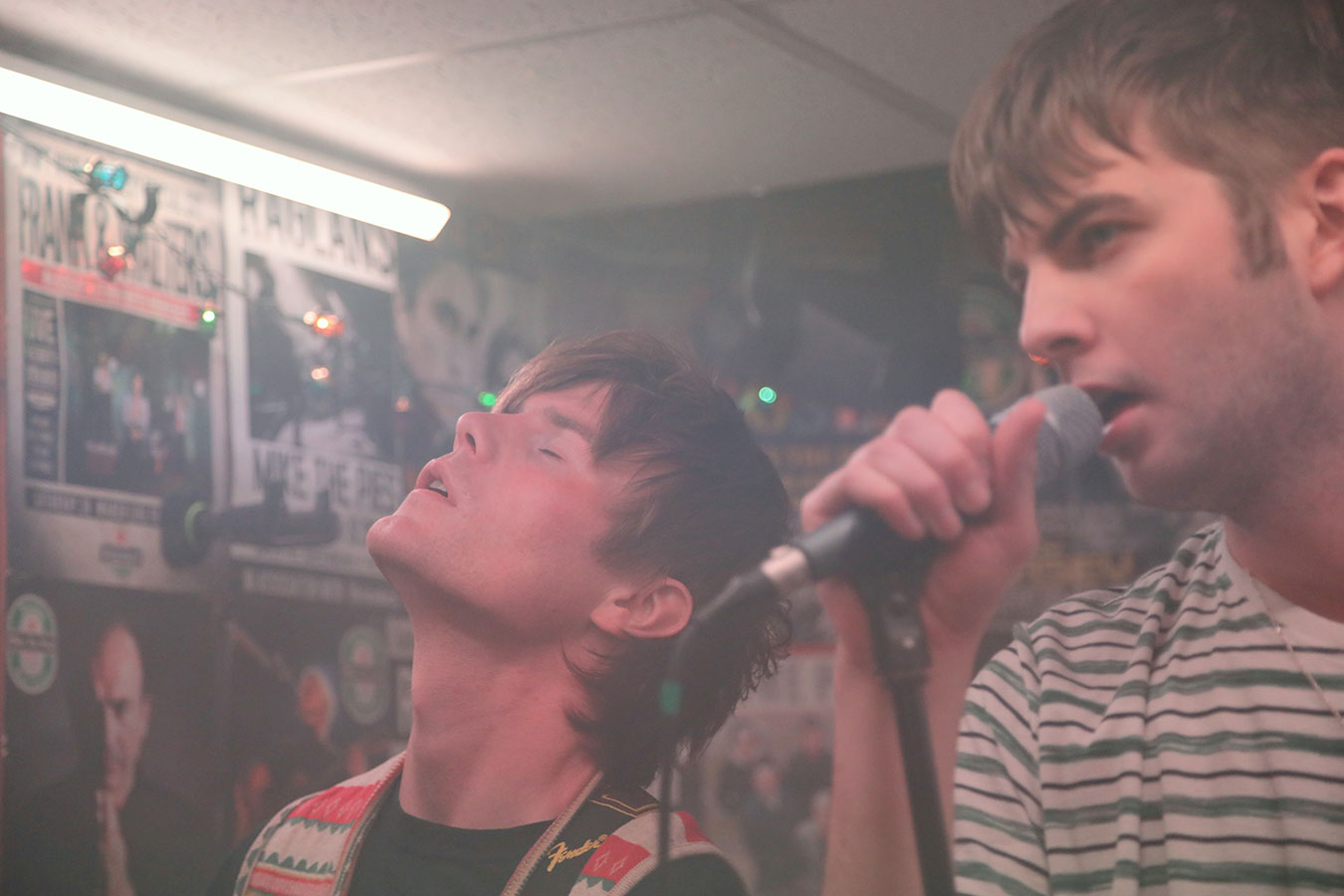 Curley channels Johnny Marr for a beautiful 'Roy's Tune' but things really start going in 'Too Real'. The front half of the room has now become one seething mass organism, bouncing against each other, exchanging grins, eyes closed, in the music. There's no violence in it, just joy and belonging. People know how lucky they are to be here to see this. Danny, beside me, has already decided this is the gig of the year. He's probably right. Another drum tattoo from Tom the machine heralds 'Liberty Belle' and then – "Go on, Carlos!" – a faith restoring 'Boys In The Better Land', still their finest couple of minutes, and possibly the finest couple of minutes by anyone in the last year or two. Grian's tambourine arms are in the air, bruising off the low ceiling. The lights and the crushing noise and roar of the music combine to create some sort of hallucinogenic experience that assaults the senses. This is why they belong where they are, this is the reason this music means so much to so many, this is a genuinely moving experience
"No encore", no surprise. More drums. "Dublin in the rain is mine!" "I'm gonna be big" They're going to be bigger. The world is theirs. My ears are bleeding. Rock N' Roll.