Alive, Alive, Oh: The Heavyweight Champs Return To An Staid Náisiúnta. Words: Pat Carty. Pictures: Pat & Isabella Carty.
It must be nearly Christmas because I'm standing outside the National Stadium in the freezing cold queuing – well, I say queuing – to get in to see Kíla. It's a bit early to call it an annual tradition but twelve months ago the band took a chance and put on the first Féile Kíla here on the South Circular as part of their 30th year celebrations. The night was a great success so why not do it again? Plenty of smiley punters in the foyer obviously think it's a good idea too.
There's something really great about walking up the stairs and into the National Stadium that you don't really get in other venues. The stage, over to your right, is close enough to touch, and Dublin-based Afrobeat "collective" – what's wrong with the word "band"? – are giving it out in fine style, putting a bit of shuffle in my step as I make my way to my seat. After their well-received set, I regale my eldest daughter, an excited Kíla fan who is seated to my right, with memories of visiting this hallowed hall for various pugilistic contests. She's delighted, as she always is, when her Da remembers things, but she doesn't believe they still sell cup-a-soups here until she goes to the concession stand to see for herself. To escape my reveries, she excuses herself and heads to the front of the floor to dance and, perhaps wisely, doesn't return until the show's end.
Tenor John Scott walks on stage in a hat and coat borrowed from his Uncle Sam and tries to take us from "Cold Dublin to sunny Italy" – he toured Ireland with Jóse Cura, I'll have you know – but, frankly, I'm not buying it. The thing is, he's in such fine voice that by the time he pulls out Puccini's Turandot aria, 'Nessun Dorma', he's won us all over. 'Nessun Dorma' roughly translates as 'let no one sleep' which is as good a theme as any for tonight's blowout.
The room goes dark, and out of the darkness comes a procession of bodhrán players led by Rónan Ó Snodaigh – Kíla's front man in as much as a collective – ha! – such as theirs can be said to have one. They've got branches tied to their heads, interspersed with Christmas lights, and masks, all beating on the poor man's tambourine that Seán Ó Riada once declared to be the native drum of the Celts, although the historical jury is still out. Strawboys or mummers visiting a wedding to confer good luck on the newly weds, Wren Boys turning up a the door to freak out this young child back in the seventies, pagan rites, the inhabitants of Summerisle dancing as poor old Edward Woodward met his fate, devils, pookas – it's all here. They make their way around the floor and then back to the stage to reveal that the band members were amongst those in disguise all along – would Brian Hogan be better off with the mask left on? The reader can decide.
Down to business, they open with 'Mutatu' – just as they did on 2017's brilliant Alive Beo album – and already people are abandoning their seats to give it some on the dance floor. The flutes go double-time – how often outside of a bad adult movie (as opposed to a good one) do you hear that phrase? – and we're off to the races. 'Pota Oir' – pot o' gold for those of you who were out the back smoking fags during Irish class, like me – might have Ó Snodaigh declaring that he's going to give you children in the chorus but I don't know, my education lets me down again, I knew those "Christian" brothers would have caught more flies with honey. None of that matters a jot, of course, as the bouzouki speeds up, the bass line goes up the fret board, driven on by castanets and everyone is swaying along as waves crash to shore on the projected backdrop.
Advertisement
"It's a party so we're gonna sing a love song" says Ó Snodaigh before a lovely 'Girl And A Boy' and then the first special guest, Hank Wedel "from the dark side of Cork, via America" joins them for his 'The Time We Share' which, frankly, is a better sentiment than it is a song, but he gives it his all and easily persuades all present. Rubbery bass heralds Dee Armstrong's magical fiddle before they're joined by a double flute attack (Oi, Oi!) for the joy that is 'Electric Landlady', a song that would have O'Leary and all the lads with him in the grave up and moving. The band introduce drag artist - if that's the acceptable term - Tina D Parton – the "queen of Sean Nós dancing", it says here. Shapes are thrown on a specially laid-out plywood board as the mighty Dave Hingerty does all the heavy lifting at the back.
'Or Agus Airgead' is a brilliant build and release, and the waltz intro and gypsy violin and bouzouki of 'Rusty Nails' sees a procession of huge Jellyfish on sticks weaving through the crowd. Is Colm Ó Snodaigh using a soprano saxophone or a clarinet to snake charm the audience as the song slips through tempo changes? I'm not sure which but I suspect he could blow into an empty paper bag and get a tune out of it. Parton is back out again doing the old sweeping brush dance that travellers and hawkers used to employ in order to sell their wares. More interesting is the band's four-part close harmony singing during 'Disco Pigs'. "I'm Michael Flatley in drag, " announces Parton. "I'm a BIFFO, a beautiful intelligent Female From Offaly" Sons and daughters of the faithful county the world over – and I am one of them – rejoice at this revelation.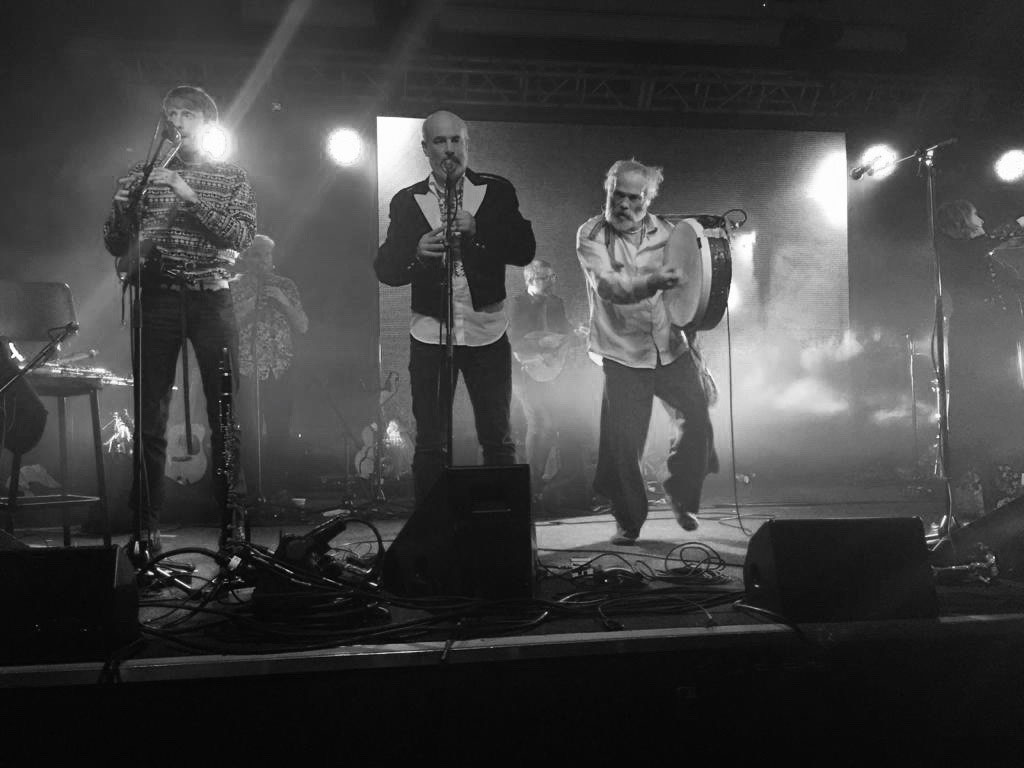 After a heartfelt message from PeterMcVerry reminding us of the national disgrace that the homeless crisis is, especially in the depths of a cold winter – the band are donating a portion of the ticket price to the worthy trust set up in his name - 'Crann Na bPinginí' is a delicate, evocative thing, made even more tingly by the swoop, drop and swing of an aerial silk performance above the dance floor. 'Seo Mo Leaba' – a chat-up line of mine back in my Gaeltacht days – has Rónan pulling a variety of clickety-clacks out of his instrument as the vocals swim around him. Scenes from the Oscar-nominated Song Of the Sea play in the background during 'AM Reel' - people are even dancing in the jacks as I pay a quick visit, John Scott helps the band out on 'Glanfaidh Me' from 2003's Luna Park as the earth burns on the screen behind them and Oil Slick Man, a giant puppet that might owe a small bit to Gerald Scarfe's The Wall art work, makes its way through the crowd. I could muse on its two faces as a representation of the Janus-like nature of man or I could get lost in the fierce maelstrom of the music as Scott's voice howls a warning.
Two leopard-print clad slinky - and not unattractive - dancers bracket the band for the sinuous 'Her Royal Waggeldy Toes' and Rossa Ó Snodaigh – how many Ó Snodaigh brothers are there? Had their parents no television? – sticks two fingers in his mouth for a whistle solo – they must have made their own sport in that house. The Suso Gospel Choir make for beautiful readings of 'Babymouse' – one of Kíla's finest songs - and 'The Last Mile Home', and 'Raise The Road' is dedicated to the late, great Arty McGlynn who has gone on "to the great trad session in the sky" with Brian Hogan's bass backing vocals coming from somewhere south of his boots. There are more puppets in the crowd during 'Buadán' – a large raven and an old crone move among the throng as they go particularly spare, a freak-out that goes up a notch into the flute frenzy (Matron!) of 'Skinheads'. Massive balloons (stop!) are flung out into the crowd while Justine Doswell – I suspect she was one of the cat-suited boogiers spotted earlier – twists a plastic palm tree around on the side of the stage. What this means is lost on me, but I'm sure it's been a stressful week, so go on ahead. The closing medley which contains bits of 'Gwerty' and 'An Tiománaí' has everyone going bananas as the wah-wah guitar makes it sound like Shaft is investigating a case in Connemara and some new form of Irish hip-hop is being created in front of us as Ó Snodaigh ad-libs.
They quit the stage but the crowd are having none of it, roaring out for more. One bloke, who is the spitting image of Cheech out of Cheech & Chong has somehow brought in his own drum and is leading the call. One security man who is, I would say, anxious for his holiday to begin, is popping a few of the balloons as distressed brown ricers look on aghast, worried the vibe might dissipate. No fear Kíla are going to let that happen. They're back for 'Cardinal Knowledge' with all the guests on stage and then things finally do come to a halt with the great 'Tóg É Go Bog É'. There are country guitar licks and feint, almost Burundi drum patterns because here is a band who play world music in the truest sense of the word. In the year that achingly traditional acts like Lankum and Ye Vagabonds went overground, here is a band steeped in tradition but aware that music is an ever-growing and evolving thing. Tóg É Go Bog É, take it easy. Kíla take it easy right enough, but they take it. Superb, as always.
Advertisement
RELATED
Lifestyle & Sports
26 Sep 22