Laura Whitmore: On responding to the challenges which life throws at us and her short film Sadhbh
In a very special, personal contribution to our 1,000th issue, Laura Whitmore has penned a wonderfully honest, self-reflective piece on some of the challenges she has faced in recent months. The truth, as the article reveals, is that we never really can know what lies ahead. Sometimes, as many women in particular will understand, the only thing to do is to roll down the window and let the wind blow back your hair. Or better still, get behind the wheel of a Ford Mustang and set out across America....
There's no real end to the story. It continues.
No happy ever after, just a constant selection of twists, turns and possibilities. I've learned to not look for the happy ever after, rather to look for the happy in what I'm doing NOW. I have a tendency to be constantly moving, like a wanted woman in some '60s crime thriller – I must keep moving or they'll catch me. But maybe I'm not running away from something. Maybe I'm not even running towards something. MAYBE I'm just running because it's fun to run.
Remember as a kid you'd run so fast you couldn't breathe: you're moving so fast you think you could just fall over? THAT feeling. That's my favourite feeling.
I'm writing this from the passenger seat of a Mustang, driving through the state of Wyoming. I'm currently road-tripping across the US – coast to coast. In my perfect state of movement, my safe space.
Road trips mean playlists – and, my god, do I love a playlist! A song for every mood. It was disco yesterday. My windswept hair blowing, in the driver seat of a convertible Ford Mustang GT, channelling Diana Ross in The Supremes, though not quite as glamorous but definitely with the same volume.
Advertisement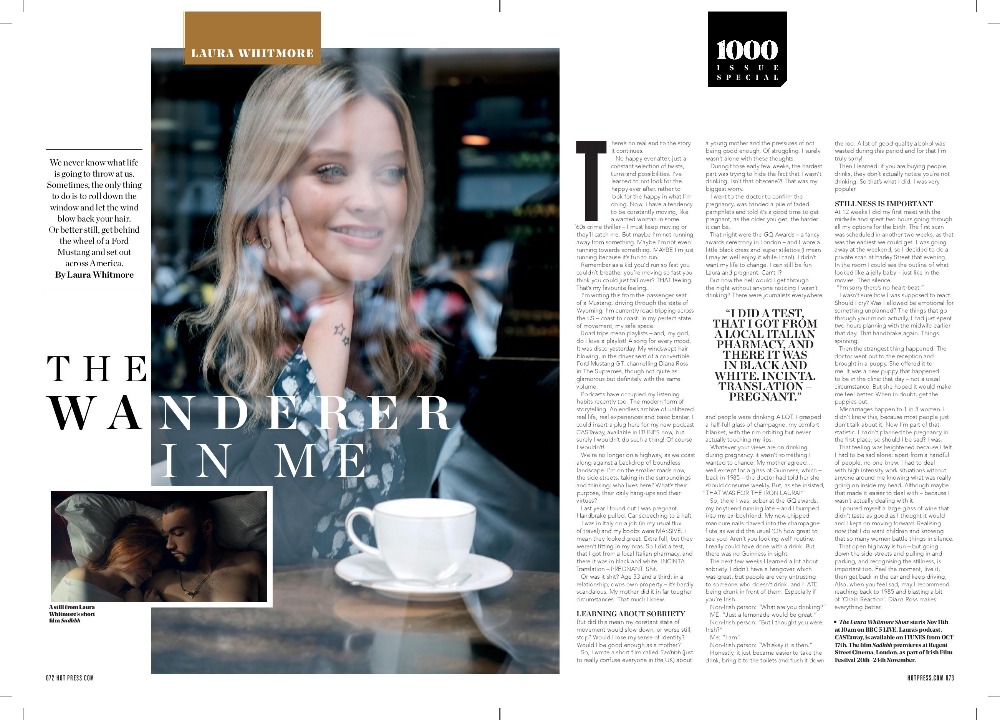 Podcasts have occupied my listening habits recently too. The modern form of storytelling. An endless archive of unfiltered real life, real experiences and basic banter. I could insert a plug here for my new podcast CASTaway, available in ITUNES now, but surely I wouldn't do such a thing! Of course I wouldn't!
We're no longer on a highway, as we coast along against a backdrop of boundless landscape. I'm on the smaller roads now, the side-streets, taking in the surroundings and thinking: who lives here? What's their purpose, their daily hang-ups and their virtues?
Last year I found out I was pregnant. Handbrake pulled. Car screeching to a halt.
I was in Italy on a job (in my usual flux of travel) and my boobs were MASSIVE. I mean they looked great. Extra full, but they weren't fitting in my bras. So I did a test, that I got from a local Italian pharmacy, and there it was in black and white. INCINTA. Translation – PREGNANT. Shit.
Or was it shit? Age 33 and a third; in a relationship; owns own property – it's hardly scandalous. My mother did it in far tougher circumstances. That much I knew.
LEARNING ABOUT SOBRIETY
But did this mean my constant state of movement would slow down, or worse still, stop? Would I lose my sense of identity? Would I be good enough as a mother?
Advertisement
So, I wrote a short film called Sadhbh (just to really confuse everyone in the UK) about a young mother and the pressures of not being good enough. Of struggling. I surely wasn't alone with these thoughts. During those early few weeks, the hardest part was trying to hide the fact that I wasn't drinking. Isn't that obscene?! That was my biggest worry.
I went to the doctor to confirm the pregnancy, was handed a pile of faded pamphlets and told it's a good time to get pregnant, as the older you get, the harder it can be.
That night were the GQ Awards – a fancy awards ceremony in London – and I wore a little black dress and super stilettos (I mean I may as well enjoy it while I can!). I didn't want my life to change. I can still be fun Laura and pregnant. Can't I?
But how the hell would I get through the night without anyone noticing I wasn't drinking? There were journalists everywhere and people were drinking A LOT. I grasped a half-full glass of champagne, my comfort blanket, with the rim orbiting but never actually touching my lips.
Whatever your views are on drinking during pregnancy, it wasn't something I wanted to chance. My mother agreed… well except for a glass of Guinness, which – back in 1985 – the doctor had told her she should consume weekly. But, as she insisted, "THAT WAS FOR THE IRON LAURA!"
So, there I was, sober at the GQ awards, my boyfriend running late – and I bumped into my ex-boyfriend. My now chipped manicure nails clawed into the champagne flute as we did the usual 'Oh how great to see you! Aren't you looking well' routine. I really could have done with a drink. But there was no Guinness in sight.
The next few weeks I learned a lot about sobriety. I didn't have a hangover which was great, but people are very untrusting to someone who doesn't drink, and HATE being drunk in front of them. Especially if you're Irish.
Advertisement
Non-Irish person: "What are you drinking?"
ME: "Just a lemonade would be great."
Non-Irish person: "But I thought you were Irish?"
Me: "I am"
Non-Irish person: "Whiskey it is then."
Honestly, it just became easier to take the drink, bring it to the toilets and flush it down the loo. A lot of good quality alcohol was wasted during this period and for that I'm truly sorry!
Then I learned: if you are buying people drinks, they don't actually notice you're not drinking. So that's what I did. I was very popular.
Advertisement
STILLNESS IS IMPORTANT
At 12 weeks I did my first meet with the midwife and spent two hours going through all my options for the birth. The first scan was scheduled in another two weeks, as that was the earliest we could get. I was going away at the weekend, so I decided to do a private scan at Harley Street that evening. In the room I could see the outline of what looked like a jelly baby – just like in the movies. Then silence.
"I'm sorry there's no heart-beat."
I wasn't sure how I was supposed to react. Should I cry? Was I allowed be emotional for something unplanned? The things that go through your mind: actually, I had just spent two hours planning with the midwife earlier that day. That handbrake again. Things spinning.
Then the strangest thing happened. The doctor went out to the reception and brought in a puppy. She offered it to me. It was a new puppy that happened to be in the clinic that day – not a usual circumstance. But she hoped it would make me feel better. When in doubt, get the puppies out.
Miscarriages happen to 1 in 3 women. I didn't know this, because most people just don't talk about it. Now I'm part of that statistic. I hadn't planned the pregnancy in the first place, so should I be sad? I was. That feeling was heightened because I felt I had to be sad alone: apart from a handful of people, no one knew. I had to deal with high intensity work situations without anyone around me knowing what was really going on inside my head. Although maybe that made it easier to deal with – because I wasn't actually dealing with it.
I poured myself a large glass of wine that didn't taste as good as I thought it would and I kept on moving forward. Realising now that I do want children and knowing that so many women battle things in silence. That open highway is fun – but going down the side-streets and pulling in and parking, and recognising the stillness, is important too. Feel the moment, live it, then get back in the car and keep driving, Also, when you feel sad, may I recommend reaching back to 1985 and blasting a bit of 'Chain Reaction'. Diana Ross makes everything better.
Advertisement
• The Laura Whitmore Show starts Nov 11th at 10am on BBC 5 LIVE. Laura's podcast, CASTaway, is available on ITUNES from OCT 17th. The film Sadhbh premieres at Regent Street Cinema, London, as part of Irish Film Festival 20th -24th November.
The 1000th issue of Hot Press is out now. Buy it in stores or order it online below: