Interview: The Lost Brothers on Ireland, Dylan, Getting It Together In The Country (and The City), and After The Fire After The Rain
With the release of After The Fire After The Rain, The Lost Brothers have delivered another thing of beauty, and their finest record yet. They discuss finding "alchemy and magic" in the Irish countryside, taking inspiration from Dylan, and heading off to tour the States with M. Ward. "We're building a picture that feels right to us," they tell Pat Carty. Photography Miguel Ruiz
It's their friendship you notice first, the ease in one another's company that can only come from time spent together, a lot of time. The Lost Brothers were born when Oisin Leech – the one with the glasses - and Mark McCausland – the one with the hat – got together in Liverpool where they were both working in different bands.
"Mark and I have been friends since 2003," remembers Oisin. "Both bands would end up in the bar, feeding the jukebox. We used to just get pissed every night." Mark puts their bonding down to the power of records "M. Ward's was one of those records you discover that nobody really knows and you feel like it's yours. Oisin was the first guy where I went 'Oh, you know this album as well?' That's kind of where it all kicked off." M. Ward's presence on the new record closes out this circle.
The first album, Trails Of The Lonely, recorded in a haunted attic in Portland, appeared in 2008, but it wasn't until much-missed industry veteran Frank Murray stepped in that things started happening.
"Before Frank started managing us," says Oisin, "we were this two piece playing constantly on the outskirts. Frank sat us down and taught us by telling these stories about tour managing The Specials or The Pogues."
Murray first came across the duo in Texas, telling them there was "something in the voices" he liked. Mark takes up the story.
Advertisement
"He called us up the next week and asked if we wanted a manager. He was kind of semi-retired but said he'd come back into it for us."
"We had our second album, So Long John Fante," Oisin again, "we weren't going to put it out, but Frank heard it and said  'Lads, come on, wake up!' Within a month he had us playing at the Fleadh in Finsbury Park."
"It's weird," Mark Smiles,  "Frank's name still pops up every day, it's like he's still around."
Fast forward to a year or two ago and The Lost Brothers decided to step back slightly from constant touring and reconnect with their home land. Oisin had become a father and Mark had a different kind of baby, co-owning Boneyard Records in Omagh. Opening a record shop in this day and age, was it a case of just having too much money?
"Too much time on my hands!" he laughs. "It was just something to get stuck into when we're not on the road. I run it with another guy who's retired so he's happy to be there all the time if I need to go away for two months on tour."
Leech kept his hand in too, running his popular folk club in Navan.
"Navan doesn't get too much live music so it's great. It's only forty minutes away so if a band have a day off before their Dublin gig, they'll come up. Everyone plays for twenty minutes, and it's always packed. I get to see my favourite bands,  - we've had Steve Gunn and Villagers and Doug Paisley - play really stripped back shows."
Advertisement
Into The Mystic
The interview starts to go a bit brown rice and lentils at this point as Leech recalls how album number six began and he found "alchemy and magic" in the countryside around him.
"We started writing and found the images reoccurring of places like the Gortin Glen in Omagh and the Boyne. Where I live in Navan is deep in a valley, so it's off to the Hill of Tara in the summer time and it's heaven. We bring the kids up and they can just literally run without stopping for miles. Aside from all that, I actually think there's some sort of magical energy up there"
He spots my raised and sceptical eyebrow and qualifies this.
"I have brought mates up there though, and they're like 'what?!?'"
Locations became song titles, like 'Six Mile Cross'.
"That was a place where we demoed a tune," Oisin recalls, bright-eyed. "I arrived there at midnight and said to Mark 'this place is magical!' - full moon, fog, away in the depths of Tyrone. For Mark those places are just grim!"
Advertisement
"You take it for granted when you're living there," is Mark's more measured response. "You've spent your whole life trying to get away, but there's something you can't quite put your finger on that keeps drawing you back, it gets into your blood and it comes out in the music."
The pair decamped to an old hotel in Monaghan – "a good half-way point" – working up fifty-odd song ideas which they then filtered down.
"You end up building a picture that would feel right to us and the songs are just part of the feeling. There were some bigger songs we left on the shelf, not because they were lesser songs, but they didn't work on this thing we were trying to achieve," according to Oisin, with Mark adding that "we make albums, we don't really think of it as tracks, it's an album, Side A, Side B. We went to New York with about twenty songs, and once the band start playing, you instinctively know which ones are going to go."
The New York he's talking about is the Brooklyn of Strange Weather Studios, a locale recommended to them by showbiz pal Tony Garnier, long time bass player with Bob Dylan.
"We met him in Germany where he was on tour with Dylan, he invited my wife and I backstage," says Oisin. "Mark and I kept bumping into him here and there and we struck up a friendship. We got to a point where we knew we had the songs, Tony had recommended the studio so we said yeah. He asked did we want bass, and that was it. Tony ended up producing a lot of it, when he walks in a room, everyone is on their A game."
Not only did Garnier work the faders but he also turned up with Charles Mingus' old bass – "Well, it's got 'Charles Mingus' inscribed on it!" - which you can hear on the opening of 'Hope Machine', a song which has some of the feel of Tom Waits' Raindogs, an album Garnier appeared on. It turns out not to be the song's only Waits connection.
"We actually said to the engineer, 'we'd love the kind of Marc Ribot guitar sound' and he goes 'well, Ribot was just recording here last week and he left his guitar and am, do you want to use it?' Yes!" remembers a delighted Mark.
Advertisement
'Hope Machine' is the name of a sewage cleaning machine in India, so my research tells me, but one would have to presume the song means something else? After their derisive laughter has died down, Oisin explains to himself to the idiot interviewer.
"There's a Woody Guthrie new year's resolution where he says 'keep the hope machine going'."
That does sound better. The album was engineered by Daniel Schlett, much respected for his work with The War On Drugs.
"Tony uses Daniel in Strange Weather, they bounce off each other. The War On Drugs actually flew into the studio to do the vocals and harmonicas on A Deeper Understanding with Daniel, he has this gift for capturing. He kind of runs the studio like his own instrument."
Other returning guests include Howe Gelb and Steve Wickham.
"Howe's another one of those kind of weird, mystical gurus whose presence lifts everyone's spirits," is how Mark sees the man who produced their last album, Halfway Towards A Healing. "Steve's been a great supporter of us through the years, helping us with songs and jumping up on stage," adds Oisin.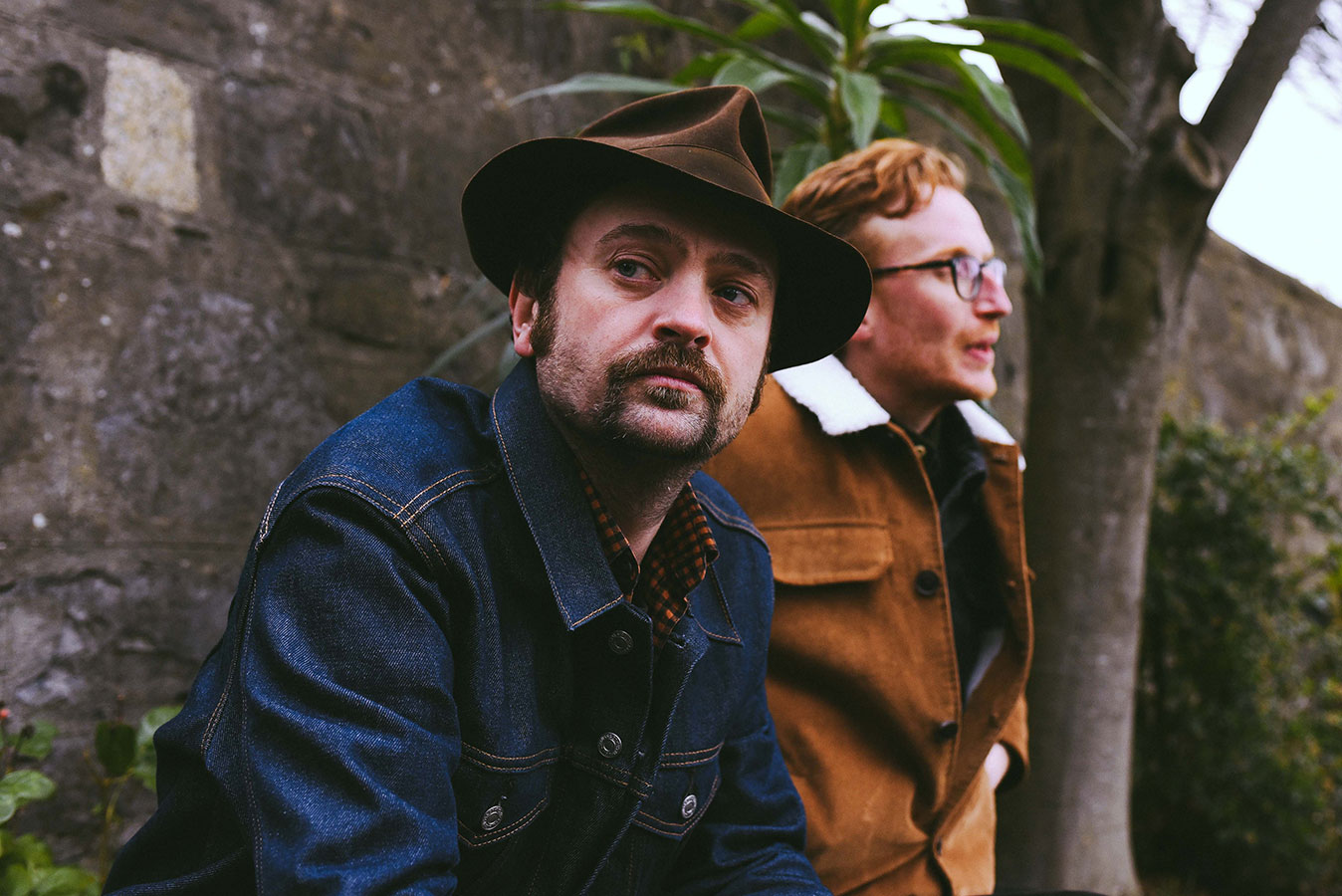 Advertisement
The Dust Blows Forward N' The Dust Blows Back
The work in Strange Weather was completed in just five days – "It was all everyone could afford, Tony was due to leave on tour and the studio was booked on the sixth day" – and the result is the brothers' best record yet. I throw out the cliché "cinematic" but Oisin is happy to take it. "It's a good word," he reckons. I hear traces of things like Dylan's soundtrack to Pat Garrett & Billy The Kid and, as it turns out, I'm not alone.
"It's lovely to hear you say that, actually," says Mark. "Tony said he kept thinking of Night Of The Hunter when we were recording." "I'm always conscious that we're two Irish lads writing these songs," says Oisin, completing his pal's thought, "but when we sit down with people like Howe and Tony, it's instantly there, like talking to you now. Pat Garrett & Billy The Kid is our favourite film, and the soundtrack is one of my favourite Dylan albums. Music is that connection."
The sound stretches across the record. 'Ash Wednesday' is a song in search of a spaghetti western to soundtrack, and 'Venus' has the air of John Ford, on a bad drunk, shooting a story by Flannery O'Connor.
"For us 'Venus' is somewhere between early REM and an Appalachian kind of folk song."
The kind of thing where everybody dies?
"And those are the happiest ones!" laughs Mark. "It was actually the song where everyone sat down with instruments on their knees. 'This is a really fucking weird time signature, lads, what is it?' They heard it like an old Irish folk song," says Oisin.
Advertisement
Appalachian music being mostly Irish folk music in a different location anyway.
"Music brought over on ships and now it's coming back," Oisin agrees. "The sound of Tony's bass adds this depth and colour. Dylan's Modern Times is one of my favourite records and on 'Thunder On the Mountain' Tony's bass is almost like a pulse, so between the songs and that, it's given the record a certain overall sound."
'After The Fire' would appear to carry an environmental message but this might not be the case.
"Since we released it, our mates are texting us saying 'Oh, love your protest environment song!' We had to start reading the lyrics, because we wrote it in about ten minutes, really hung-over!" reveals Oisin, tarnishing the magic somewhat. "But we thought 'now we have the start of an album' and we wrote everything else around that."
Its sister song 'After The Rain' proved fortuitous when it came to the sequencing.
"Mark and I thought let's put 'After The Fire' as side A and 'After The Rain' as side B and it'll bookend the album, it's kinda like a jazz joke, like those old jazz double records. All our songs are so dark and miserable..."
I wasn't going to say anything but when the drums come in on 'Wilderness', the listener does get a bit of a shock.
Advertisement
"That's as hard rock and as metal as we get!" is the guffawing response.
The Lost Highway
The impending tour dates will feature a mix of full-band and the two men alone.
"We'll get some friends and do it special because we've dreamt of playing Vicar St for the last 12 years, but then there are other nights on the tour where we'll strip it right back and do the gig as a duo. That's what people want to see." Oisin then goes back to the album. "What's that album Van Morrison made with The Chieftains?"
Irish Heartbeat?
"I love that album, but this record, for all its references to home, wasn't a thing where we said 'right, this is our home album', it's just kind of happened. If we had tried to do this ten years ago, we would have shied away from it but it just felt natural this time"
"It's also inspired by Arty McGlynn, I played with him every week in the local pub. He was lovely, very quiet, a man of few words," Mark adds, with respect.
Advertisement
2020 is all about heading back out, selling the record.
"Just today we got a US tour with M.Ward," Oisin reveals. "Seven weeks across the States, and we've got the Vicar Street gig and theatres like An Grianán in Omagh, and we're started to get booked in France for the first time this Autumn."
It would appear yer man in the record shop will be making his own tea for a while.
"Yeah," says Mark, "it's gonna be a lonely year!"
After The Fire After The Rain is out now on Bird Dog. The Lost Brothers' spring tour includes Ulster Sports Club, Belfast (March 20); Vicar Street, Dublin (21); and Town Hall Theatre, Galway (25). See thelostbrothersband.com for more dates.
Advertisement