Pulitzer prize winning author Jennifer Egan's The Candy House asks questions about authenticity, privacy, and memory. "I'm interested in the relationship between data and the human experience," she tells Pat Carty. Portraits: Miguel Ruiz.
Born in Chicago and raised in San Francisco, Jennifer Egan moved to New York in 1987 after completing her M.A. at St John's College, Cambridge, and worked the same menial jobs we all did while she learned her trade. Since then, there has been award-winning journalism for the New York Times Magazine and short stories in The New Yorker and Harpers, and six novels.
2017's Manhattan Beach was awarded the Andrew Carnegie Medal for Excellence in Fiction, although 2011's A Visit From The Goon Squad is still, perhaps, her best-known work. Among many other awards, it won the 2011 Pulitzer Prize.
Egan is in Dublin to take part in the International Literature Festival Dublin, promoting new book, The Candy House, and it isn't her first visit to Ireland either, which with a surname like hers – "everyone came over during the famine" – is hardly surprising.
"I came with my family for the first time in 2011, to Strokestown in Roscommon," she tells me over a cup of coffee as sunlight streams in the window of the hotel bar.
"I found The Famine Museum incredibly moving. I felt like this is what I come from."
Advertisement
She's happy to be back out on the road, something she sees as an important part of the process.
"I like to help sell the book," she says. "I don't assume anyone will do that if I don't do it, and I also really like interacting with readers."
Talking of selling the work, The Candy House is a dazzling ride across decades and multiple locations and viewpoints, employing a range of literary techniques to discuss ideas of memory and privacy in the changing digital world. Though it revives several characters from A Visit From The Goon Squad, the publishers are at pains to dispel the notion of The Candy House as a sequel. They prefer the term 'sibling'.
"They don't want to call it a sequel because that implies you have to read Goon Squad first," Egan explains. "The word implies a chronological progression, which doesn't exist. In fact, one of the defining characteristics of both books is they do not move in chronological order. I didn't reread Goon Squad to work on Candy House until the very end. I don't want people to feel they have to make every connection. And in America, they're with two different publishers!"
The Memory Machine
Tech Genius Bix Bouton is one of the returning characters and his invention of Own Your Unconsciousness is a recurring plot device. Our memories can be transferred to an external disk and then uploaded to the cloud so past events can be viewed from the perspectives of all present at that time. If this sounds like a dystopian extension of the way we currently allow our data to be manipulated, Egan is not so sure.
"I'm definitely not trying to offer judgements. I feel nonfiction is the place to do that. I'm interested in the way in which technological experience invites expectations that are simply not fulfilled as yet in normal life. I was provoked and interested in the relationship between data and the human experience. That sounds very dry. The way in which that becomes dramatic is another matter."
Advertisement
Why are we so susceptible to this Faustian allure of sharing our data?
"I do think it's basic human longing for connection, to know and be known. But there is this middle layer, for-profit platforms that thrive on engagement and are addictive. Products created by extremely smart people who are paid a lot of money to figure out how to keep us on these devices. We feel like we're indulging ourselves when we spend that time scrolling but we're actually indulging them. They're making money from that."
Bouton utilises algorithms from Patterns Of Affinity, a book by anthropologist Miranda Klein about trust and relationships in an isolated Brazilian tribe, indicating that this longing to connect was always there in us anyway.
"The only thing that's new is what is made of it," says Egan. "By going to a tribe without outside influences, she's able to focus on these very basic elements of human affinities, which leads her to these mathematical equations. I really don't think that the technology brings anything new to us. Have human beings actually changed? I'm not convinced we have and reading fiction from hundreds of years ago is the quickest way to verify that answer."
But isn't reading an 800-page novel harder now because our brains have been rewired?
"It's like if you stop exercising for a month, it's harder to climb up a hill," Egan considers. "The solution? Climb up the hill every day for a week. People say, 'Oh, I can't concentrate'. I have very little patience for that, but I feel exactly the same way that you're describing. I have to train myself too. We are absolutely complying with the manipulation that these platforms have engineered, so, in a way, reading an 800-page book is an act of resistance. And it's only possible by putting your phone in the other room."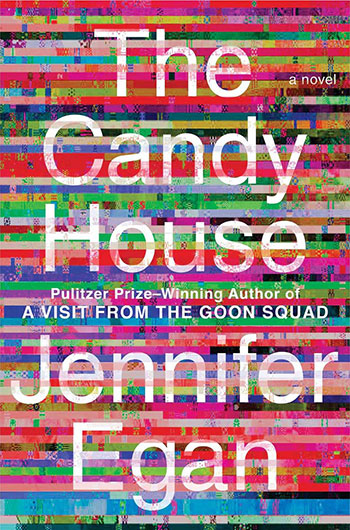 Advertisement
The Two Americas
The constant social media bombardment of what people might perceive as the perfect lives of others on social media must surely breed resentment in some quarters. As we were speaking the day after the news of the tragic events in Uvalde Texas where an 18-year-old gunman took the lives of 19 children and two teachers, I clumsily wonder if that kind of jealousy and resentment could lead to violence. Egan quite rightly advises caution.
"We have to be careful about making those connections," she says. "We could remove social media from this conversation altogether, and just talk about the absolute pathology of gun culture in America, which I think is far more to blame than anything new with social media. We don't know anything about this gunman, although I think these are totally reasonable questions, and I agree with you.
"Media culture is always about display and there's always artificiality inherent in it. Smart people have been thinking about this from the very beginning. A book that had a huge influence on me is called The Image by Daniel Boorstin. It was published in 1961 so he's basically writing about television. The phrase 'famous for being famous' comes from this book. One of his observations is that mediation is inherently artificial, it's curated and polished display, which creates a hunger for authenticity, which the media tries to satisfy through further acts of mediation that feel more authentic. All of this 'display' is kind of nauseating."
Just before I left the office for our meeting, I saw a clip of Senator Ted Cruz offering armed guards in school as a solution to the gun problem rather than any constitutional change. Egan is visibly exasperated.
"This is a case where I feel like I'm not even sure I live in the same America that they're talking about. I've lived in New York for so long, and before that San Francisco and Chicago, these are all places where the majority of people find that view abhorrent. It's also hard to know whether Ted Cruz even believes that. There's so much cynicism here."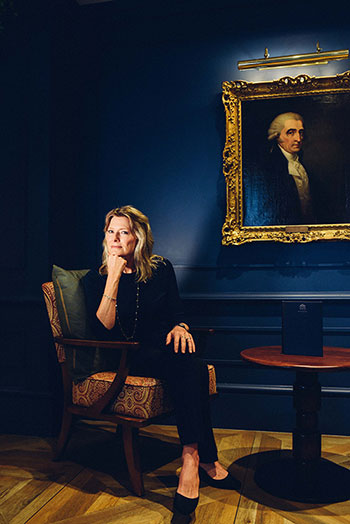 Advertisement
An Old School Mob Boss
He's protecting his job as well.
"Exactly," nods Egan. "The sense of guns somehow being integral to American identity goes very deep and I do not understand it. I feel very American but why should we be the country where children are slaughtered? I don't understand why, whether through cynicism or mad belief, enough leaders refuse to act. I think there is a lot of psychosis in American life right now, and not just in those ways. We've got a third of our country believing that the last election was stolen. They're in an information bubble that is feeding them lies for profit. It's pretty scary."
Egan has served as the president of PEN America, an organisation that seeks to protect and champion writers' freedoms. They filed a First Amendment lawsuit against then-President Trump's campaign of press censorship in 2018.
"He was trying to use his presidential powers to punish media entities whose stories he didn't like," she reflects. "He was always very consistent; he'll do anything to punish anyone who crosses him. He's a very American figure. He's an old school mob boss. That's the type he is."
Were you surprised when he won the election?
"Stupefied, as were most people, including him. Which gets back to the data question. We have so much data, but we have no idea what's going to happen. That's an odd disconnect. The data is obviously valuable, because Google, Facebook, and all those platforms are profitable, because they're selling our data when we engage. But the data is not predictive on a grand scale. It's the storytellers, the interpreters are the ones who tell us what the data says. The relationship between data and storytelling is kind of fascinating."
Advertisement
Does Biden's victory and the emergence of The Squad of female democrats offer some hope? Has anything changed?
"It's so great to have a sane person as president," says Egan. "There are a lot of divisions with within the Democratic Party, that's kind of the nature of it. We're all very worried about the coming midterm elections, we'll have to see what happens. I just feel relief that we have a Democrat in office. I know that progressives are very frustrated with Biden, for many reasons. I understand why. I especially feel it on the climate front."
You don't think he's doing enough?
"In some ways, his hands are tied. He's got a Democratic senator - Joe Manchin - who behaves like a Republican, which loses us a majority. I don't even know exactly why he calls himself a Democrat. He's always in the way of everything, and he's anti-choice."
Which brings us to the recent revelations that the Supreme Court has voted to strike the Roe v. Wade ruling according to an initial draft majority opinion written by Justice Samuel Alito. Egan must have been flabbergasted.
"In a way, yes, because it was shocking to see one of your huge fears writ large," she says. "But in a way, no, because we all we knew what the opinions of these Trump Justices were. It was shocking, but inevitable. It was not shocking in the way Trump's election or the pandemic or 911 was shocking, which were major events for which the predictive data existed but was not interpreted in a way that actually led to a correct prediction. To me that leaked report was more that combination of shocking plus inevitable. American life is very chaotic."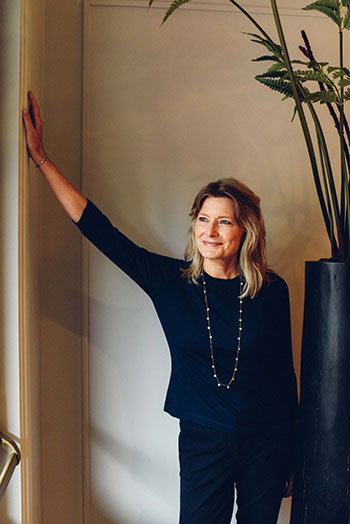 Advertisement
Autofiction
That is a succinct way of putting it. Before she heads off to her next appointment, I want to present my theory that Bix represents Egan herself. This proposal raises a smile, so I lay out my argument.
Bix is worried about the white space he sees in his future, that he doesn't have another big idea. Is there something of a writer facing what Hemingway called the white bull – the blank page – in this? What the hell do I do next?
"I felt it after Goon Squad because I was very heavily rewarded for that effort," says Egan, "but I felt I couldn't match it and probably didn't quite deserve it. The blank, the whiteness I made up, because that's not really how it works for me, but yes, that sense of 'am I finished?' What I identify with most is the idea that if he was finished, it meant that he'd never been that good in the first place, because the nature of being good is that you keep getting better."
Part of the reason Bix 'gets the girl' is a copy of Ulysses under his arm. Egan uses different techniques in what could be classed as a Joycean fashion – famously a PowerPoint section in Goon Squad and both an email and Twitter section in the new book. Is the mention of Joyce a signpost?
"Believe me, you don't drop the name of Joyce without thinking hard about whether it's appropriate to do so in this context," she notes. "I felt that it was because I think Ulysses is all about mass media, and how it how it affects discourse. Advertising, newspapers; I was interested in that cacophony of voices and the way that it changes expression and the way that they collide into one big kind of soundscape. I think that's a pretty accurate description of what I'm trying to do here too."
I've other notions but for brevity's sake, I'll skip to the end. Bouton's company Mandala introduce Skin To Skin, a service that allows us to enter each other's consciousness by touching and things start to get a little far-fetched…
Advertisement
"Well, it's all far-fetched!" Egan smiles, indulging me.
Are you really saying we don't need any of this because fiction already 'lets us roam with absolute freedom though the human collective'?
"That is definitely what I'm saying," agrees Egan. "It's not even arguable because fiction is the one narrative art form that lets us go inside other people's minds. We're an image obsessed culture and you talked about how it's harder to read 800-page books. Yeah, because we're used to staring at pictures. We have to train our brains to make the pictures using words. It's not that hard, because we are language-based creatures. I made my undergraduates read Trollope!"
You would seem to be at odds with autofiction?
"I am."
But if you are Bix, you're sneaking autofiction in under the table.
"Yes," she concedes, "but then it's all autofiction because I have to identify with every single character. If I can't make their choices, decisions, history and likes and dislikes immediately available, then I'm not doing my job. That is the job. The job is to be Bix and for Bix to be me."
Advertisement
So, I'm right, kind of?
"You're right, but we have to say the same thing about every one of them!"
• The Candy House is out now, published by Corsair.
RELATED