The Brazilian community in Dublin was plunged into mourning today with the news that 28 year-old Thiago Osorio Cortes was knocked down and killed in a shocking hit and run incident in Dublin city centre. A vigil was held today in his honour… Demo pix: Som Senior
Thiago Osorio Cortes, a cyclist working for on-demand food delivery service Deliveroo in Dublin has died following a hit-and-run accident in the city on Monday night. The 28-year-old English language student from Rio de Janeiro in Brazil had made his last food delivery of the night when a car swung in front of him on North Wall Quay at about 10:30 pm, knocking him off his bicycle.
An ambulance took Thiago (pictured) to the Mater Hospital with critical injuries. He was later pronounced dead.
Gardaí have said that the driver fled the scene and the vehicle involved in the collision was recovered by officers at Castleforbes Square, shortly after the incident.
"No arrests have been made to-date and enquiries are ongoing," Gardaí have said.
VIGIL FOR THIAGO
Advertisement
Speaking to Hot Press friends and family of Thiago Osorio Cortes, have described him as a hard-working man with a huge determination to fulfil his dreams in his adopted country.
Vinicius, a close friend of Thiago, said that, like most non-European immigrants in the country, Cortes worked and studied tirelessly.
"Talking about Thiago," he said, "is talking about an incredible person who always made everyone happy, a young man full of dreams and plans who was loved by everyone who knew him."
Embracing the related principles of hard work and perseverance, Thiago had the words, 'Persistence, Patience and Consistency,' tattooed on his arm.
A resident of Portobello, on the south side of the city, Cortes got engaged just two months ago, to his long-time girlfriend Tereza. The duo came to Ireland in 2018. Cortes was studying at Erin School of English.
A friend of Tereza, who preferred to remain anonymous, told Hot Press that on the night of the incident Cortes was expected at home any minute.
"Tereza was waiting for him to come and have his own dinner," she said.
"Thiago loved to live here in Ireland. He didn't want to go back to Brazil. He was studying English and was planning everything to start college here after," she added.
Advertisement
Non-European English language students planning to enter the Irish third-level education system must cobble together tuition fees that are much higher than what is paid by Irish and European students.
The cost of a BA degree for non-European students runs as high as €9,000 and obtaining a Masters qualification in an Irish university costs up to €15,000.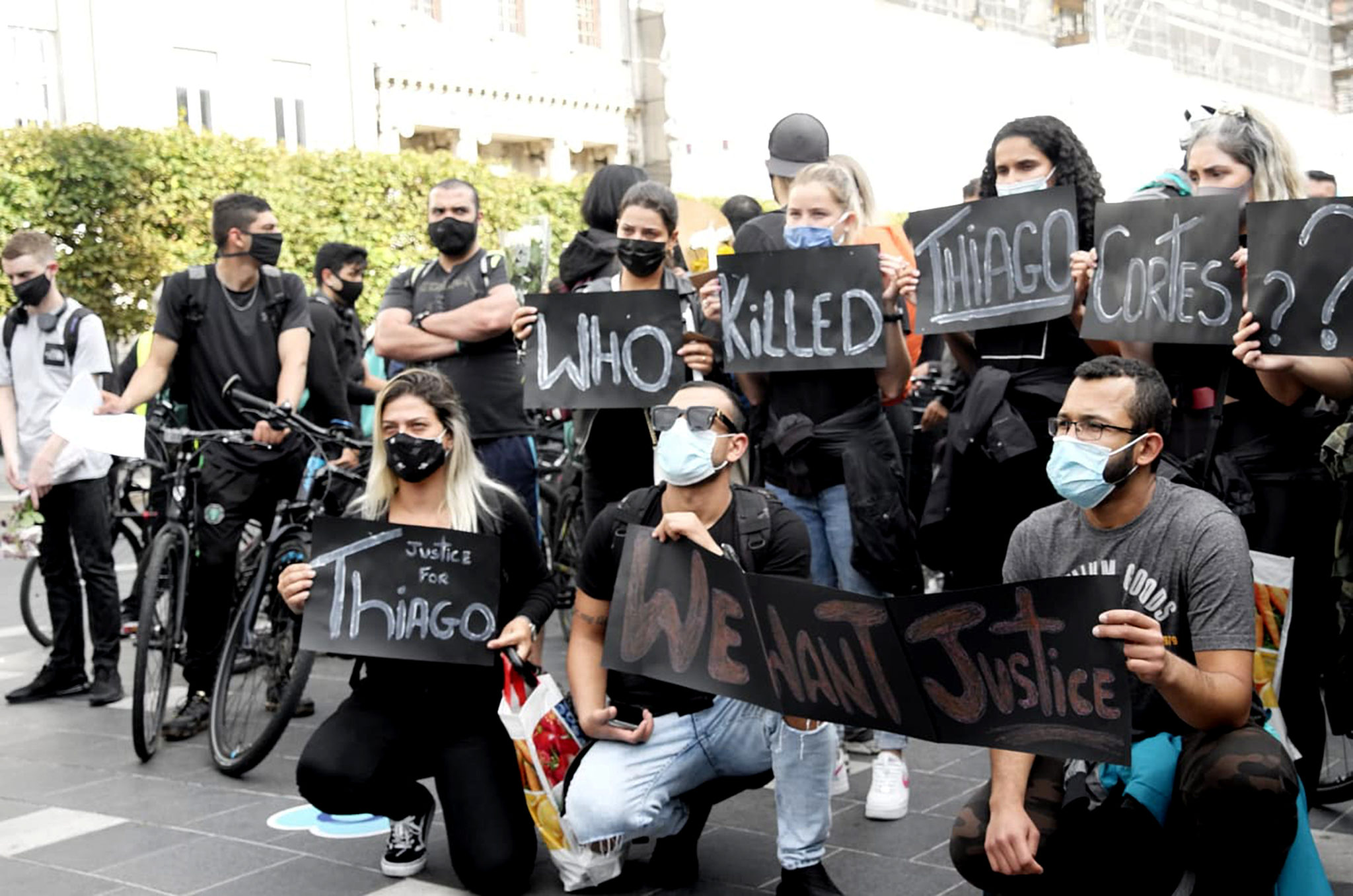 This afternoon, a group of mask-wearing Deliveroo cyclists held a vigil for their fallen colleague in Dublin city centre, holding signs that read, "Who Killed Thiago Cortes?"
Tereza has thanked members of An Garda Síochána for the assistance they have given to her since Monday night.
MULTI-BILLION EURO SECTOR
The emergence of food delivery start-ups like Deliveroo and Uber Eats in Ireland, and the UK, has drawn a large number of cyclists – many of them students and migrants – into what is in far too many ways a poorly regulated and highly precarious sector.
Non-Europeans in Ireland often sign up for dangerous and precarious jobs to make ends meet.
Food delivery has become a multibillion-Euro sector. Founded in 2012, Deliveroo, is part of a so-called 'unicorn club' of privately held companies whose valuation exceeds one billion, according to The New York Times.
Advertisement
Last year, the e-commerce giant Amazon, also made a $575 million investment in Deliveroo, becoming one of the London-based firm's biggest supporters.
Besides Ireland and the UK, the company is active in 12 other markets including Australia, France, Hong Kong and Kuwait. Deliveroo is now servicing about 80,000 establishments, according to the Times.
They are in close competition with Just Eat and Uber Eats, and the rivalries often mean squeezing pay – in effect by taking advantage of vulnerable job seekers.
Last May, Deliveroo cyclists in Cork city, told Hot Press that the company had reduced the minimum wage of €4.30 per order to €2.90 in recent months.
They alleged at the time also that Deliveroo had failed to provide PPEs to all of its Irish-based couriers. This was denied by Deliveroo.
The algorithm, they said, also works against cyclists, favouring car drivers and motorcyclists when it comes to commissioning 'gigs'.
Food delivery is a demanding line of work, with pressure to get the delivery done quickly and cyclists have been known to suffer serious injuries or lose their lives on the job.
It is a context in which insurance becomes a major issue.
INSURED BUT UNAWARE OF IT
Advertisement
In a statement to Hot Press, a spokesperson for Deliveroo has offered their 'deepest condolences' to the family of Thiago Cortes.
"This is a tragedy and a terrible loss. Our deepest condolences, thoughts, and prayers are with the family and friends of the rider. We will do everything we can to ensure that the family of the rider is supported during this extremely difficult time," they said.
The spokesperson told Hot Press that all of their cyclists in Ireland were insured, including the late Thiago Cortes, who has been delivering food for a little over a month.
"Every single rider is covered by accident and injury insurance for free, completely at the cost of Deliveroo, from the moment they start riding," they said. "Deliveroo was the first platform to introduce this for all riders in the world. This covers costs for injury and lost income, covering all riders regardless of vehicle type."
Leonardo Da Silva, a Deliveroo cyclist in Cork city, however, told Hot Press that the information was not communicated to him at any stage during his employment.
"They never told us about it," he said.
The spokesperson for Deliveroo said that even if unaware of the information, all riders are 'automatically' covered by a free accident and injury policy.
Advertisement
"This is automatic and riders are informed of this [as per the website], so the rider must have missed this, but it is not a case of our 'offering' insurance to any rider as it is automatic," the spokesperson said.
The free accident and injury insurance policy, however, was only introduced in 2018. This means that from 2015 – the year Deliveroo launched in Dublin – to May 2018, the London-based start-up was not covering its Irish-based couriers for potential accidents and injury.
The company has also said that it cannot provide free commercial insurance to its scooter and car drivers.
"All road users of motorised vehicles are required by law to have commercial insurance," they explained. "For those performing delivery services, they need a particular food delivery services insurance. Deliveroo does not provide this to scooter and car users for free because this is a requirement by law."
THE REALITY OF THE GIG ECONOMY
Classified as 'self-employed' or 'freelancers', food delivery couriers are not full-time employees. That means they have few protections like guaranteed wages, sick pay and health care, all beneficial elements that are even more critical during the ongoing coronavirus crisis.
Speaking to Hot Press, economist and Cork-based Green Party Councillor Lorna Bogue said that the death of Thiago Cortes has once again exposed the precariousness of life for non-European, gig-economy workers.
"A gig economy job is one in which the employee is technically defined as being an 'independent contractor'," she explaned. "The promise that is sold to the workers is that this will allow [them] to choose their own working hours. However, usually how it works is that the employee takes on all of the risks of work, with very few protections from the employer."
Lorna Bogue urged the State to regulate the sector to protect vulnerable workers, in honour of Thiago's untimely death.
Advertisement
"It has been clear for quite some time now," she said, "that the gig economy requires regulation from the State, to bring job stability, better health and safety practices, and to ensure that the employer – who is profiting from this form of exploitation of less well-off and migrant workers in particular – bears responsibility for the welfare of these employees."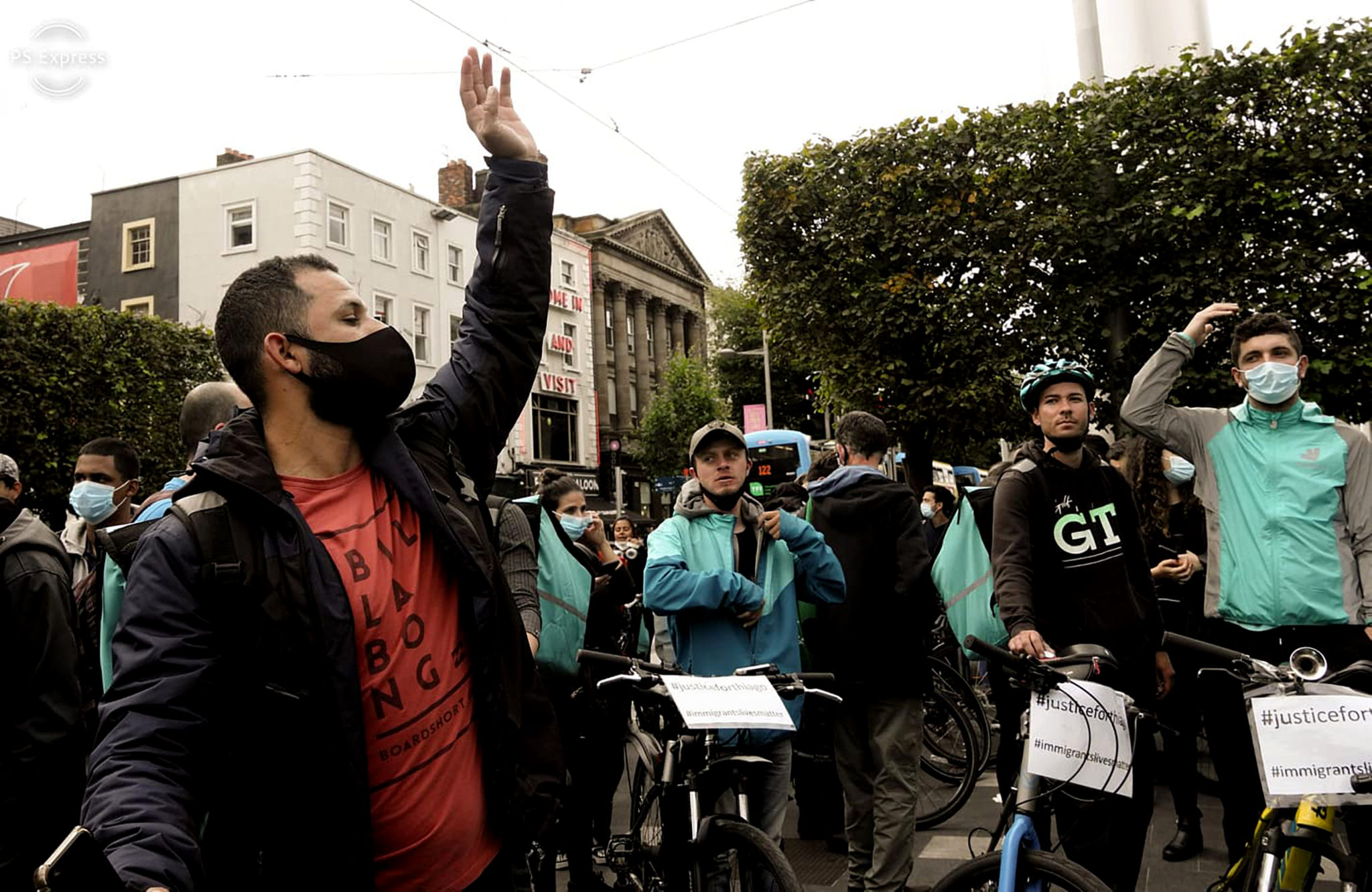 • Anyone with information or other potential insights regarding the individual who struck Thiago Cortes dead is asked to contact the incident room at Store Street Garda station 01 6668000 or the Garda Confidential Line at 1800 666 111.