Cormac McCarthy returns with The Passenger and Stella Maris: "His is the sort of nihilism that remains oddly exhilarating..."
It's the end of the world as we know it… and Cormac McCarthy isn't feeling fine. Paul Nolan runs the rule over the brace of new novels from one of American literature's acknowledged masters.
Now 89, heavyweight US novelist Cormac McCarthy has had a late career run to rival Leonard Cohen. Though he achieved cult status with his mid-1980s masterpiece Blood Meridian – a baroquely violent revisionist western that read like Peckinpah-meets-Schopenhauer – the author was well into his seventies by the time he achieved true literary stardom, courtesy of the Oprah-endorsed The Road.
That was a harrowing tale of a father-and-son's odyssey through a desolate post-apocalyptic wasteland, which could be read as a unnerving metaphor for humanity's slide towards oblivion (or as an allegory for Mayo's quest to win Sam Maguire).
Sealing the McCarthy legend, his previous novel No Country For Old Men quickly received a sublime cinematic adaptation from the Coen Brothers; a box office smash, the movie was inundated with Oscars and critical acclaim. As a literary offering, No Country also belonged in a special group of five virtually perfect American thrillers from the past 45 years, alongside Thomas Harris's Red Dragon and The Silence Of The Lambs; James Ellroy's The Black Dahlia; and Donna Tartt's The Secret History.
Aside from literary genius, McCarthy also shares with those authors a world class flair for self-mythologising. While Ellroy's outlaw image has been built via his opinionated, motormouth interviews – reminiscent of Quentin Tarantino – the other three traffic in theatrical reclusiveness. It's an approach as old as the hills, which nonetheless retains remarkable potency: the more silent they remain, the more attention McCarthy and co. paradoxically receive.
In addition, it's surely no coincidence that the fiction of McCarthy, Harris and Tartt has in common a pungent flavour of Southern Gothic. All three hail from close coordinates within the states of Tennessee and Mississippi, so clearly the concept of the media-shy literary star continues to have particular sway in that part of the world.
Advertisement
All-in-all then, anticipation amongst readers is at fever pitch for McCarthy's first brace of novels since The Road. First up is The Passenger, the basic plot of which could have been generated by a McCarthy algorithm: an ex-race car driver turned salvage diver, Bobby Western, searches an offshore plane crash from which one of the passengers has mysteriously disappeared. Pretty soon, Bobby's New Orleans home is being trashed in his absence and menacing "agents" are on his trail.
It's a satisfyingly pulpy premise, and as an exercise in mood and atmosphere, the eerie ambience of The Passenger has much to recommend it. Though they inhabit vastly difficult stylistic terrain, McCarthy's bleak vision has much in common with JG Ballard: if humanity ever attained a peak, we're now firmly on the other side and playing out a kind of existential end-game. The apocalyptic undertones are further emphasised by the spectre of Bobby's father, a physicist who helped Oppenheimer create the atomic bomb.
Unlike the more straightforward No Country For Old Men, throughout The Passenger, McCarthy is only really cosplaying as a thriller writer, with the episodic structure eventually giving way to the obligatory opaque ending. Some mysteries, it seems, aren't meant to be solved. If the novel had an epigraph, it could easily have been, "Forget it, Jake – it's Chinatown."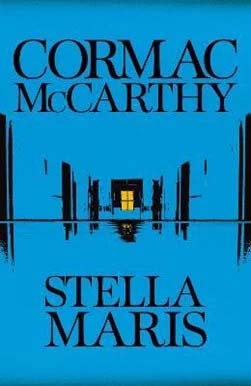 McCarthy dispenses with genre conventions altogether for the companion novel, Stella Maris, whose concerns are more purely metaphysical. It takes the form of a series of conversations between Bobby's late sister, Alicia – revealed in The Passenger to have eventually committed suicide – and a male psychiatrist, all taking place at the titular mental institution in 1972.
An inveterate student of theoretical physics, McCarthy crowbars in numerous scientific allusions, in between Alicia's descriptions of the hallucinatory characters who haunt her days, including the Thalidomide Kid, who has flippers for hands. Occasionally ludicrously pretentious, pregnant with a meaning that never fully arrives, Stella Maris still successfully sustains the atmosphere of dread McCarthy conjures in The Passenger.
Advertisement
Indeed, his is the sort of nihilism that remains oddly exhilarating, offering the deep catharsis that sometimes results from white-knuckle fear. Like Messi at the World Cup, McCarthy at his best continues to hit heights few others can aspire to.
The Passenger and Stella Maris are out now, published by Picador.