The last two days of the US leg of Bob Dylan's Rough and Rowdy Ways Tour took the master songwriter to Denver, Colorado in July. The next leg is in Europe, opening in Oslo, Norway on 25 September. As announced last week by Hot Press, the tour is currently set to conclude in Dublin on 7 November. So what can we expect from the great man? Report by Anne Margaret Daniel
"I said to myself, Wow! What'll Denver be like!… there were smokestacks, smoke, railyards, red-brick buildings, and the distant downtown gray-stone buildings, and here I was in Denver…"
—Jack Kerouac, On The Road
The arrival into Denver, from its airport the size of a city, remains remarkably the same in 2022, as Jack Kerouac found it in 1947: smokestacks (though not so much smoke, I suspect), the glimpse of train tracks, plenty of red-brick buildings, and a downtown of grey stone, with the white-capped Rocky Mountains far off in the distance.
I flew in on the night of the Fourth of July. All the way from Washington, D.C., to Denver, the pilots let us know where to look for the best fireworks: St. Louis had a show so brilliant that, from tens of thousands of feet in the sky, you could see the Arch and the river. Now, as we drove into Denver, bright sparkles and muffled booms continued, scattered through the town, well after midnight.
Bob Dylan and his band — Charley Drayton on drums, Doug Lancio and Bob Britt on guitar, Donnie Herron on steel and violin, and Tony Garnier on bass — were already there. They'd played two other dates in Colorado in early July, at the Ampitheater at Grand Junction and at the Dillon Ampitheater, with its stunning views of the Rockies across the reservoir.
Both shows got good reviews, but both were open-air and plagued — if you actually like to listen to the performance — by partying audiences. The band had the day off on the 4th, to do what they wanted. Did they go to the parade in Park Hill? The Denver Municipal Band concert? Did they go record-shopping at the epic Twist & Shout on East Colfax Avenue? Did they stop by the just-opened Georgia O'Keeffe photography exhibition at the Denver Art Museum?
Advertisement
It was gorgeous weather, sunny and breezy. The town felt level as a board when I set out walking on the morning of the 5th, which surprised me. I'd expected it to be mountainous, but the hills around the edges, ringing the flat shallow bowl of Denver, were much too far to walk to. My hotel was just a few blocks from the Temple Hoyne Buell Theatre, where Dylan would be playing that night and the next.
Named for a prominent Denver architect, the theatre snuggles into the shell remaining of a 1908 auditorium, with its new glass and sandstone interior designed both for acoustics and beauty. Behind the theatre is a small sculpture park, little Cherry Creek, and a very large Catholic church. I noted the name of the major-thoroughfare street running past the theatre: Champa Street. I smiled, turned around, and walked out Champa Street until I reached Neal Cassady's birthplace.
IN THE MOMENT
"I wanted to see Denver ten years ago when they were all children, and in the sunny cherry blossom morning of springtime in the Rockies rolling their hoops up the joyous alleys full of promise—the whole gang."
— Jack Kerouac, On The Road
Back in 1961, a 20-year-old Bob Dylan told Izzy Young, the owner of the Folklore Center in Greenwich Village, about his first time in Denver. He'd come down two years before, he said, while he was a student — or at least titularly a student — at the University of Minnesota. "Met Jesse Fuller in Denver at The Exodus," he recalled. "Upstairs was Don Crawford. Learned the way he does songs — mixed his style in with mine at the time."
Dylan ended up with a gig in a strip club. He would play for twenty minutes, then the strippers would dance for forty. "Never stopped. One night I was about ready to strip myself. Only lasted a week and a half. Worst place I ever played. A full drag."
In 1979, Dylan embellished things a bit, telling Creem Magazine "I went to school for a year and a half, but spent most of my time in Denver." What had drawn him there? On The Road. Dylan has said of the novel, "I read On the Road in maybe 1959. It changed my life like it changed everyone else's." When in 1985 he was talking to Cameron Crowe for the liner notes to Biograph, Dylan thought back to his young manhood, and said, "On The Road, Dean Moriarty, this made perfect sense to me[.]"
Advertisement
Neal Cassady, Kerouac's model for Dean Moriarty — in the original "scroll" typescript of the novel, Kerouac uses real names — was born and raised at 2558 Champa Street. His father's barbershop was downstairs. The little brick building, abandoned but structurally sound, sits next to a beautifully restored large house on the corner. I walked there in the already blazing morning after purchasing some local necessities — hydrated and caffeinated with a large iced coffee from Fluid Coffee Bar; lidded against the sun's rays by a splendid stiff straw Fishpond hat from M.W. Reynolds.
The stoop of Neal's childhood home is a lovely place to sit for an hour and watch the street go by. I met delivery guys on bicycles, a lady walking her beautiful rescue dog, a florist, and a man who wanted some money, he said, for a coffee like mine. None of them knew who Neal Cassady was, let alone that this had been his house. I sincerely hope that Denver restores the little old building, and makes the downstairs a bookshop that also sells appropriate Cassadyesque libations.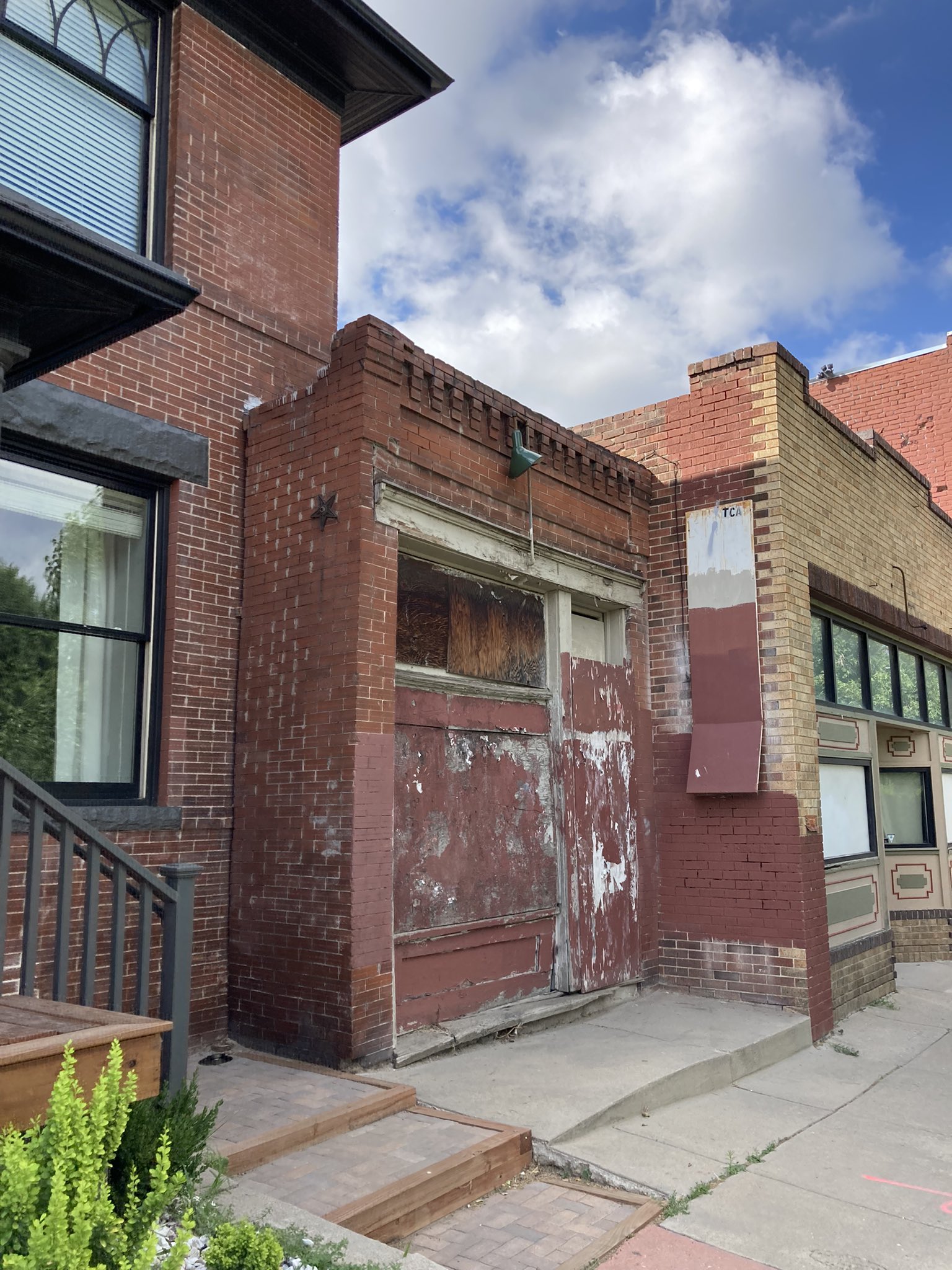 While I enjoyed a delicious early supper at Panzano, in the Hotel Monaco, I re-read some of Eli Wilentz's The Beat Scene (1960) and talked to my waiter. "I don't know why Dylan's not staying here," he sniffed. "Most of the musicians playing in town do. His son Jakob was here when he was in town. Really nice guy." Later, he came back to inform me that he thought some of the Dylan crew were indeed at the hotel. "Don't tell anyone, though." I promised I wouldn't, and headed the few blocks down to the theatre.
Dylan's bus was already parked behind the venue on 13th Street, with a lone lady in a folding chair as security guard. "You can't walk through here right now," she said, without getting up, to a couple on the sidewalk, and they lazily crossed the street. A handful of people with soon-to-be-locked-up cellphones lingered, waiting and contemplating. They kept a good distance, though. Polite Denver.
The tickets were all mobile, but our phones weren't allowed. Temple Hoyne Buell Theatre had it down to an art, though. You showed your ticket, and the ticket-taker supplied you with a slip of paper with your seat number printed on it. Before you went into the theater, you had your phone locked into a Yondr pouch. Yondr's website explains how this works, for schools and concerts and other places and events that are meant to be phone-free, under the inspirational quotation from Søren Kierkegaard: "The highest and most beautiful things in life are not to be heard about, nor read about, nor seen but, if one will, are to be lived."
Committed phone-ys have already defeated the Yondr by slipping a magnet into their pocket to unlock the pouch themselves; or giving up one phone and keeping another, with its camera at the ready, elsewhere on their person.
Advertisement
Honestly, I don't know why it's so important to have a bad cellphone photo of a blurry spot on stage that may be Dylan-shaped. He's asked for years that there be no photography or recording at his shows, but people won't stop. In the late 1980s and early 1990s, at Dylan shows, I was the queen of the BraCam: I'd bring in my trusty little cheap-ass Kodak Extralite by tucking it under one breast. No security guard ever patted me down in that place. Eventually, after dozens of photos that only I could tell were of a particular concert, or indeed performer, I quit. I love the cell-free shows now. Kierkegaard was right about angst, but also about being in the moment.
Throwing one's arms around Sue for a nice hello is always a grand moment before a Dylan show. She started going to them when I did, in the summer of 1988; my first Bob show was in Philadelphia on July 6, swiftly followed by Montreal two days later. Sue's first show was in Ottawa the next evening. We didn't meet, though, until Dylan Twitter brought us together decades later. We talked gigs and lives for a while — we'd both spent a big part of the day working remotely from our hotel rooms — and then settled into our seats well before the blast of Beethoven began.
AN INFANT PRODIGY
My, I thought, he's come a long way from that gig in a strip club, as Dylan and his band, shadows in the night, glided onto the stage. People clapped and cheered at the sight of Bob holding a guitar, which he brandished for a long introduction to 'Watching the River Flow'. Then he whipped it off for Doug Lancio to bestow on a rest, and turned to his piano for the rest of the show, which was a fine one. The new arrangement for 'Most Likely You Go Your Way (And I'll Go Mine)' was rowdy and well received, delivered with sass and style. Dylan really held off, with a long pause, on that "and I'll go mine."
'I Contain Multitudes' was silky-smooth and driven by the excellent drums of Charley Drayton. 'When I Paint My Masterpiece' was superb, and seemed to amuse Dylan tonight; he threw in quite a few "hehs" as he sang. He was loose and genial during the show, saying "thank you, brothers," to his band at one point and identifying Key West as "one of my faaaavorite places in the world," before chuckling as he said, "That's why I wrote a song about it."
Polite Denver did not laugh at "the size of your cock" during 'Black Rider' (personally, I thought of Neal Cassady at that point), but 'I'll Be Your Baby Tonight' got a lot of love and audience singalong and talkback. The audience took it as direct address; there were "we love you" and "I love you"s all night, during the very brief silences between songs (filled most of the time by instrumentals to prevent just this sort of address, I think).
'My Own Version of You' was laden with ad libs like "you know that it's true," while the stately, stunning 'Crossing the Rubicon' was calm, matter of fact, and inexorable—one of the best songs on Rough and Rowdy Ways. 'To Be Alone With You' is changed utterly from its 1969 state. I was listening for the new lyric about a "star spangled sky" after the 4th of July, but was disappointed. That "mortal bliss," in the place of "sweet reward," is a classically-tinged game changer — especially when Dylan gives a little "uh" before the first word, possibly turning it into "immortal bliss." The passionate 'Gotta Serve Somebody' was quieter and more spiritual in Denver, as was the pounding, danceable 'Goodbye Jimmy Reed'. These two songs had people up and stomp-dancing in the spring 2022 leg of the tour; both were more subdued in the summertime.
Advertisement
'I've Made Up My Mind To Give Myself To You' continued the heartfelt and quiet vibe, which capped off with Dylan's cover of 'Melancholy Mood'. He came out from behind his shielding upright piano, front and center, with neither instruments nor large water bottles between him and us, in the most intimate moment of the show. The proximity seemed to make him uncomfortable as people cheered and thanked him; he fussed with the mic cord and hurried back to his piano bench.
'Mother of Muses' was not as edgy as it's been in the past. It was, instead, a plea for the gift of Calliope and all she graces. The sometimes stinging phrase "unleash your wrath" Dylan delivered more softly, without the bite. The closing song, 'Every Grain of Sand' remains more a benediction every evening.
On the final night of the summer leg of the tour, the set list remained the same, with a dazzling exception. 'Melancholy Mood' was replaced by a spinning, swirling 'That Old Black Magic'. The weaver himself delighted in the performance, while audience members danced in the aisles. He spoke to someone in the crowd at one point, replying to a comment, or perhaps a request for a song, he'd heard with a sassy "not tonight, I don't think so." Dylan's band introductions were humorous, as he shouted out Tony Garnier — who has been in Dylan's band since 1989 — as the "oldest member of the band," and remarked that Bob Britt — the Nashville-based guitarist who played on Time Out Of Mind (1997) — had given up a film career to tour with him.
Charley Drayton obeyed Bob's order to "stand up so everybody can look at ya"; he is the finest addition to Dylan's traveling band in decades. His drums, which complement Dylan's voice so well, particularly shone on a long, sensitive 'Key West (Philosopher Pirate)'. Doug Lancio, Bob informed us, played on 'Rocket Man' (he didn't). He was right, though, when he introduced Donnie Herron as an "infant prodigy," a phrase Dylan applies to him gleefully and often; Herron has been playing anything with strings since he was a boy, and his band BR549 toured with Dylan back in the mid-1990s.
In one month, The Rough and Rowdy Ways Tour begins again, in Europe. According to Dylan's official website as of today, it ends on Halloween night in Glasgow. This isn't quite so. He and the band will be in Dublin at 3Arena on November 7, with tickets on sale September 1. Where will Dylan be for the intervening week? Rambling in the Highlands, where he once wrote that his heart is, and where he owns a stately home in Inverness-shire? Visiting old friends in Scotland and Ireland? Making a pilgrimage to Joyce's Martello tower, or in the West, to Yeats's Sligo, to Heaney's flaggy shore?
Maybe he'll swing back to London, where his art gallery, the Halcyon, is, and where Paul Brady is playing at the Royal Festival Hall on November 1. Maybe, though, more dates in Ireland will appear soon—places he's played before, like Kilkenny (where The Dylan Whiskey Bar awaits him, and will surely stock some of his Heaven's Door) and Cork; or places that might be meaningful, like the little Strand Theatre in Liam Clancy's birthplace, Carrick-on-Suir, or the Hawk's Well in Sligo, a town Leonard Cohen graced with two beautiful outdoor concerts I was lucky enough to hear, at Lissadell House in 2010.
If, as it might, this tour marks the last time Dylan will perform in Ireland, please go; you'll be so glad you did. And I'll see you there.
Advertisement