The extraordinary saga of an asylum seeker, who has been evicted from the Eyre Powell Centre in Newbridge and sent to Galway seems to have left the individual – Ayoola Titus Fabunmi – in no man's land. He tells Hot Press that he is homeless as a result.
Ayoola Titus Fabunmi, an asylum seeker, says he has been left homeless because the International Protection Accommodation Service (IPAS) failed to provide a self-isolation space for him, before moving him to a new centre in Galway.
IPAS is part of the Department of Children and Equality.
Ayoola Titus Fabunmi was told to leave Eyre Powell Hotel in Newbridge, Co Kildare, by IPAS on February 11, after the manager of the centre reported him to IPAS for alleged misbehaviour.
A letter from IPAS, seen by Hot Press, says Fabunmi, while living in Newbridge, had seriously breached "house rules and engaged in violent, threatening and abusive assault."
Fabunmi says the manager has also filed a legal action against him, and that he is due to appear before the court for assault charges "on the 11th of next month."
Advertisement
"I have not been found guilty of anything yet," says Fabunmi.
MUST PRESENT PROOF
The letter from IPAS to Mr. Fabumni says the Minister for Children and Equality has decided to transfer him to Great Western House Hotel, which is located in Co. Galway.
However, he has been told in the letter that he must self-isolate in an IPAS facility "in advance of you being permitted avail of your new bed space at Great Western Hotel."
The letter does not say where he must go for self-isolation.
IPAS officials say in the letter that they understood that Fabunmi had already left Eyre Powell Hotel, following an altercation with the centre's manager. But he claims he had not. He says he continued staying on the premises until he was asked to leave by members of An Garda Síochána.
A video taken by Fabunmi, which was seen by Hot Press, appears to show the Gardaí asking him to leave Eyre Powell.
Advertisement
The meeting seems to take place on a fire escape, which may be outside the hotel.
"You know you're not allowed to be here anymore," says a Garda, walking up a flight of stairs towards him. A few other officers follow the first Garda.
The Gardaí ask him to read the IPAS letter. "You have a letter there saying you're not allowed to stay here," a Garda tells him.
Another Garda says to him that he is "trespassing", and he must leave. A female Garda then says he needs to be isolating himself.
Fabunmi insists that IPAS have never told him where to go to self-isolate, before moving into Great Western Hotel. The effect of this, he says, is to render him homeless.
"I want to die," he tells Hot Press, "but I want to make sure people hear my story."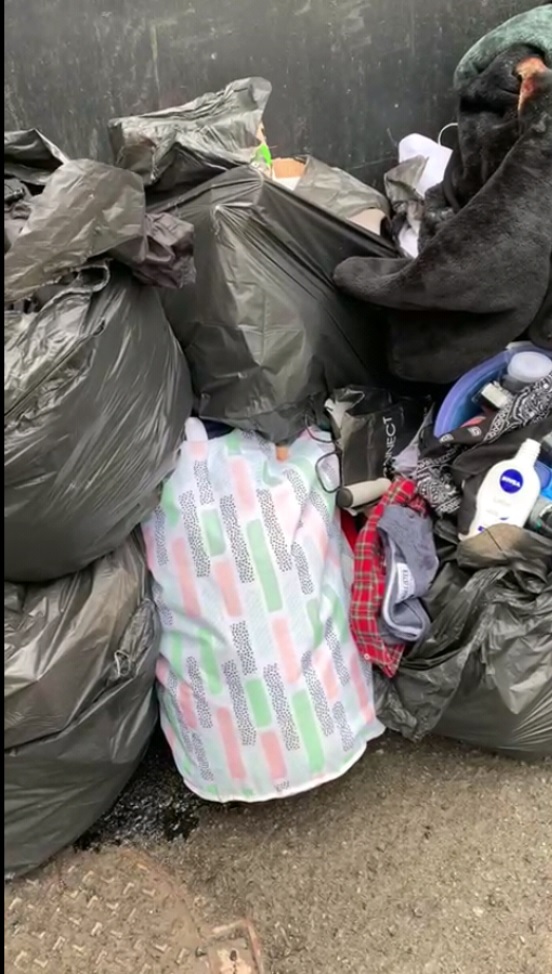 Advertisement
Fabunmi's belongings, including clothes, blanket and hygiene products, were given to him in large bin bags, before he was instructed to leave Eyre Powell Hotel.
He says that he tried to enter Great Western Hotel in Galway this week, but insists that he was told there that he must present proof that he was isolated for two weeks, before entering their premises as outlined in the IPAS letter.
A spokesperson for the Department of Children and Equality was contacted for a comment on Saturday but did not immediately reply.
The manager of Eyre Powell Hotel was contacted by Hot Press on WhatsApp on Saturday, but did not reply to a request for comment.
PSYCHOLOGICAL TOLL
Fabunmi had been staying in Eyre Powell for the past two years. His room wasn't inside the main hotel building. He lived in a separate room at the back of the Direct Provision centre, alongside two other men.
"Their room was in the back, but they still had to come through the main door to use the kitchen," says a current resident of Eyre Powell.
Advertisement
Last summer, one of his roommates – who works at a Dog Food Plant in Naas – brought back the coronavirus from work into the centre, prompting an outbreak which was reported by Hot Press, grabbing national headlines due to its link to the meat plant.
Fabunmi, who also contracted the virus, claims that he was blamed for the outbreak, even though it was clear that his roommate was working at a coronavirus-ridden meat plant. "When I went to the shop, I felt like people were trying to stay away from me, even my friends," he says.
He says he's been in the Direct Provision system for over eight years, and the psychological toll of being stuck in limbo for too long has left him agitated and anxious. He pleads that the centre failed to take account of his fragile mental state.
Fabunmi claims that the row with the manager of the centre – which precipitated the legal action being taken against him – was about letting someone from outside the centre into his room, in recent weeks.
Fabunmi says he has worked as a security guard in various places, including a branch of McDonalds on O'Connell Street, in Dublin.
The final time he spoke to Hot Press, in preparation for this article, Fabunmi said he was about to leave Galway.
Where he will stay remains completely uncertain.
Advertisement