Aileen Malone shares her message to the Citizens' Assembly on Drugs Use, following the death of her daughter Dara Quigley six years ago
Having lost her daughter Dara six years ago in the most tragic of circumstances, Aileen Malone is advocating for major changes to Ireland's drug laws and the way we treat people with mental health issues.
April 12th marked the sixth anniversary of the death of Dara Quigley, a Dublin activist, blogger and journalist who wrote for the Dublin Inquirer.
Aged 36, she was the eldest of four children born and raised in Coolock; was in a committed relationship with her boyfriend; and courtesy of an adult access course had studied Physics at Trinity College.
During her twenties, Dara started experiencing mental health difficulties and serious dependency issues with heroin and other drugs, which later caused her to miss sitting her Trinity finals.
In early April 2017, she experienced a psychotic episode and was arrested whilst walking naked down Harcourt Street in Dublin city-centre.
CCTV footage of the incident was copied by a member of An Garda Síochána and found its way onto the internet, being viewed in excess of 120,000 times. The officer responsible was put on paid suspension for two years before resigning without any criminal charges being brought against them.
Advertisement
Dara was understandably deeply distressed by this sequence of events and on the 12th ended her life whilst staying with a friend in Cornaleck, Co. Tipperary.
It wasn't the first time that she'd been badly let down by a state body. Having met the requirement of being clean for six weeks that's necessary to access residential treatment, the bed she'd been promised by the HSE in the Keltoi Rehabilitation Unit in the Phoenix Park failed to materialise. The disappointment of being abandoned like that was, her family say, something that Dara never got over.
"My daughter was not a criminal," her mother Aileen Malone reflects. "Dara was someone who used drugs, first for fun and then later it became a problem so big and overwhelming that she attempted suicide a few times. And then she did die, pushed over the edge by the absolute pain of being abused in her vulnerable state for online entertainment. This country destroys people who need care and compassion, blames and criminalises them."
Aileen describes Dara as "a quiet, self-contained teenager who was fun as well. She was never into makeup big time or clothes. She played basketball. She loved the X-Files and stuff like that. She was going to St. Mary's in Killester but in 5th Year changed to Sandymount High because she was able to do physics and chemistry there. It was co-educational, which she enjoyed far more than convent school.
"She was always anxious and felt a bit of an outsider. She would do things to please people, which made her vulnerable. The fact that she was really intelligent and empathic – it seemed to me she missed the protective skin that other people may have had."
Dara is proof that people with addiction issues rarely – if ever – fit into neat pigeonholes.
"The funny thing about Dara is that, while every parent I knew was worrying about their kids drinking too much, we never had that problem with her," Aileen resumes. "She took drugs at first because she enjoyed them. But she became dependent, though so many others didn't. Maybe a matter of physiology, perhaps a predisposition to dependence on substances like others in her family. Or maybe it was because she had deep emotional hurts or childhood trauma, the eldest of a family that had been at times a little chaotic. Or maybe it was because she herself had undiagnosed neurodiversity such as autism or ADHD, and drugs calmed her brain and relaxed her. She certainly discussed that with me much later on."
Advertisement
Dara's drug use became more problematic when she was seventeen and started working in a city-centre fast food restaurant.
"She used to go to raves and stuff over the weekend when she was earning money," her mother explains. "Then, on Sunday night, they'd smoke a bit of heroin to come down."
Along with the hedonism, there was also a more political, social justice side to Dublin's rave scene, which Dara embraced.
"She didn't fit society's stereotype of hopeless, helpless victim and addict," Aileen reflects. "Activism gave Dara purpose and a sense of belonging. She met and made many friends through it. She supported others. After her death I was surprised to find that she had also made many contacts within political circles.
"She started writing in 2016. Dublin Inquirer published a few pieces and helped Dara refine her writing style. She wanted it to be urgent, with a rhythm to it, like the music she listened to and referenced on her blog, Degree Of Uncertainty."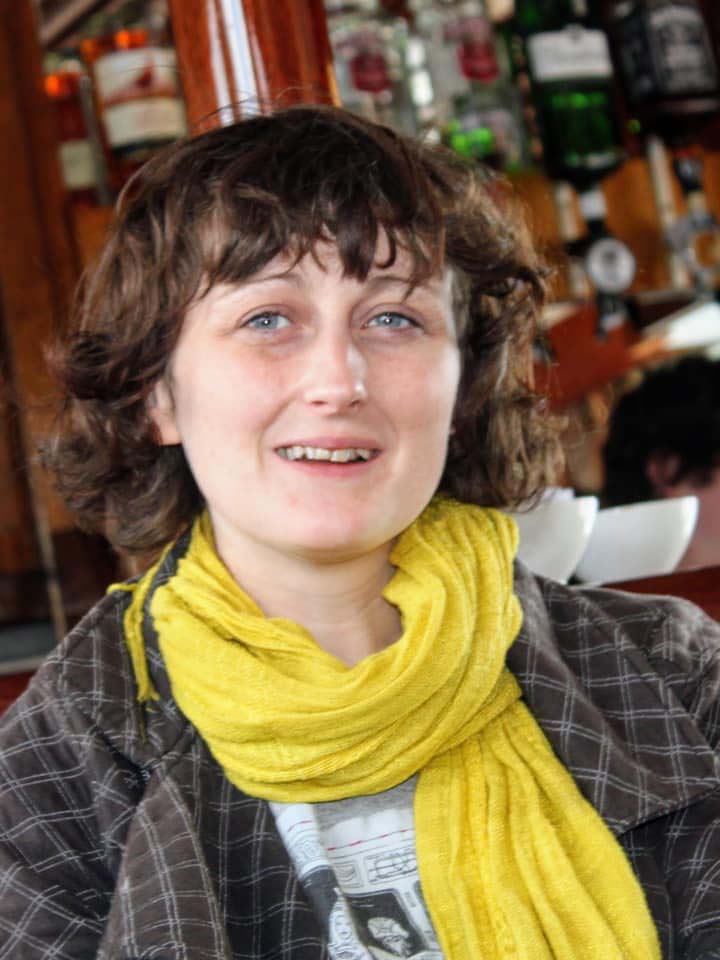 Having initially addressed the pain of losing Dara through her art – "I'd taken photos of the flowers people gave me and I drew them," she says – Aileen started writing about her daughter and has recently completed a poignant memoir, Fly High Starling, which she's seeking a publisher for.
Advertisement
"I do this to remember and honour her and to continue Dara's work," she explains. "Dara used her own experiences to describe the hardships imposed on people in vulnerable situations by political decisions. I disclose her drug use because she wrote about it, she was honest about it."
That honesty appears to be inherited with Aileen admitting that, "I also have a sense of failure, failing to keep my daughter alive, to protect her. Rationally I know that I did my best but I am still left with many regrets. Families carry enormous emotional, physical and financial burdens. We feel as if we are fighting the system every day of our lives, caught between the sometimes bizarre, often contrary behaviour of our loved one; the illegal and criminal world that they have to engage with to obtain their substances; the rigidity of the state systems; and often outright hostility."
It's with all that in mind that Aileen wants to say this to the HSE, the country's politicians and the Citizens' Assembly on Drug Use as they begin their deliberations…
Decriminalise Drug Use
People who use drugs are not criminals, whatever their reasons for using. It is pushing them away and out of mainstream society. Sanctioning them and ruining their future if they're convicted of having drugs for personal use – what use is that? So – at the very least – decriminalise drug use please, ASAP.
Integrated Services
Wouldn't it be great if a good integrated psychiatric and addiction treatment was easily accessible? Dara needed help for her depression; she needed help for her anxiety; she needed help for her paranoia; and she needed help for her addiction.
She was self-harming and tried to kill herself a number of times. Despite that, it took multiple emergency visits to hospital before somebody suggested a mental health intervention.
Advertisement
Health Condition
Dara was not treated as a criminal but abused differently. Many others, especially young men from certain areas are. They're brought to the station, charged and taken to court – when actually what they need is treatment for a health condition.
Access To Services
You can legislate all you want, but you'll only get to grips with Ireland's drug addiction problem when there's fast, efficient access to whatever the required treatment is.
It's no good going to a GP and them saying, "We recognise the problem – but it'll be six months before we can start to address it."
Dara, who was desperate at this stage, was promised a residential rehab place if she provided clean urine samples for six weeks. She upheld her side of the bargain and then they fucked her over and said, "We have no bed for you." That was the beginning of the end for Dara.
Proper Mental Health Treatment
Advertisement
For a lot of people, including Dara, taking drugs is a form of self-medication. It's a way to cope with trauma and to kill pain when you could be waiting six months to a year to access proper mental health treatment. To call them "a bad person" for doing that only increases the trauma. Access to proper mental health treatment should take days, not weeks, months or even years.
End Stigma
Consider this statistic – people who've had a drug-related death in their family are at greater risk of dying themselves within two years of that death. That's what happened to Dara's father. The illegality and stigma of drug use makes it very difficult to talk about – both within and outside of the family. There's an undercurrent of, "They're only like that because they weren't brought up properly by their parents." Ours is a loving, hard-working family – yet what happened to Dara still happened.
Prescribe Opiates
Look at regulation. Consider it an option for some substances. Maybe look at prescribing opiates. Switzerland prescribes heroin rather than opiate substitutes. They found that crime rates reduced dramatically in the cities after that. Dara hated methadone – it just made her feel like shit.
Stop The Inequality
Middle-class people and families suffer with substance abuse, just like any family from whatever section of society they're from.
Advertisement
The pain is the same, the self-blame, the regrets, the confusion, the strain on relationships. Their drug use, though, is more effectively hidden from view and they're far less likely to end up in jail than people from a working-class background who can't afford a good legal team. That inequality has to stop.
Consider All Factors
Abortion rights were simple. You either allow it or you don't. The drug issue is far more complex and difficult – not least because it intersects with so many other things like education, poverty, homelessness, mental health, and criminality. All of those factors have to be considered when formulating drug policy.
The Need For Nuance
We're having a drugs debate when really it should be a cannabis debate; a heroin debate; an MDMA debate; a prescription drug debate. You might decide to legalise one substance and decriminalise another. Personally, I think cannabis should be legalised, but you have to look at it substance by substance.
Drug-Related Intimidation
Dara never landed us with large drug debts – a few hundred here and there, for us easily obtained, but not the thousands that others have had. I know respectable middle-class families who've been forced to re-mortgage and borrow. They've had their cars set on fire, their windows broken and had large men barge into their house to threaten them to pay their drug debts. That sort of intimidation is a direct result of the current prohibition model.
Advertisement
Fund Independent Services
Instead of having their budgets cut, the Department of Health needs to properly fund NGOs like the CityWide Drugs Crisis Campaign who've been a lifeline for me and countless others since Dara's death. And that funding shouldn't be dependent on towing the official government or HSE line. The job of CityWide, and others like them, is to advocate on behalf of their service users – not to make officials and politicians look good.
• Dara Quigley's 'Every Addict Deserves A Better Life' article can be found here.