By: Peter McGoran
There's blood on the tracks on The Last Goodbye, the debut EP from one of the country's hottest young bands, Wild Youth. In a hugely revealing interview, the Dublin contenders discuss relationship turmoil, sex, youthful alienation and personal loss – and why they've got their eyes set on massive success in 2019.
Conor O'Donohue and Dave Whelan are live wires. They talk with the kind of energy and honesty that is a natural outcome of the fact that they've been friends since childhood. They're prepared to rip into each other, just as quickly as they'll bestow compliments. They seem to relish dealing with personal questions too. It makes a refreshing change.
This is the second time I've had the pleasure of interviewing the founders of Wild Youth. Back in October, the two frontmen of a band that one of Ireland's brightest hopes for 2019, talked to me about a whirlwind festival circuit in 2018, their string of hit singles, and non-stop recording sessions. The intervening three months have seen their fanbase swell by tens of thousands. Along with fellow band members Callum McAdam and Ed Porter, they're set to jet off to perform at Eurosonic Festival the morning after their Hot Press interview and photoshoot, and they've lined up a show at the Olympia Theatre for March that's already sold out.
To cap it all, their debut EP, The Last Goodbye, is set for release simultaneously with this issue. It's all happening for the band.
"It'll be the same kind of style as the singles," says Conor of the EP. "What we make is fun, you know? As we always say, 'It's sad songs thay you can dance to'. On one song, you can hear a lot of our earlier influences, like Prince and Michael Jackson. There's another that's in the same mould as 'Making Me Dance' and 'Can't Move On'. There's an acoustic one too. There's three songs people won't have heard before, unless they've seen us live."
Where'd the title The Last Goodbye come from?
Advertisement
"That's one of the songs," says Dave. He turns to Conor. "I think you're better off explaining it."
"Each song is kind of like a journey through a hard time," Conor picks up. "'The Last Goodbye' is about a break-up – the early devastation and heartbreak; then wanting to get that person back; then thinking about that person all the time. Eventually, you get to the point where you're finally saying your last goodbye. It goes from the very start of the break-up to where you've accepted the fact that you're not going to get back together."
Did you have a specific break-up in mind?
Conor laughs. "What triggered that particular song was actually meeting up with an ex again – 'the' ex – and then finding out she'd been with someone else I knew. So that was kind of like the final straw – that was like the 'Fuck you'. (Laughs) The last goodbye."
Are you past that 'fuck you' feeling now?
"I'm definitely over it," nods Conor. "I think we've all been through experiences... Dave with his girlfriend – well ex-girlfirend, who's now his current girlfriend again – and me with my ex... and we've had that harsh realisation that, 'Fuck, people move on'. And you have to accept that.
"It's weird because we've been best mates since we were young. But we both went through very similar break-ups. It's kind of crazy."
Advertisement
"Mine was the same," Dave says. "I was with her for a long time. I initiated the break-up, and then… I think it's always the lads that do that, isn't it?"
Conor nods. "And then afterwards they go, 'Shhhhhittt!'"
"Yeah," Dave laughs. "Three months later, after having what you think is the best time of your life, you sit there going, 'Ah here, I'm after ruining this. Like, I need that woman in my life to make me feel whole again'. Then again, girls are just good after those three months. They can get on their feet. They're stronger in most ways.
"So yeah. If you listen to the songs and you have that on your mind, the male mentality – or just our mentality at that time – you can hear it in the lyrics."
"That's why it was quite a…" Conor pauses. "I hate saying songwriting's easy, but it was quite a smooth process. Lyrically we could both totally relate, 'cause we'd been through the same thing. So I was talking about my relationship, you know, when you're away from your ex and they could be in a totally different country. It's like, you want to do anything to get close to them again, and to talk to them and convince them that you've made a mistake."
He looks at Dave.
"I had those exact moments," his friend says.
Advertisement
"We're both totally on the same page."
We wouldn't be sleeping around...
Is a break-up song about getting over someone or trying to reach out to explain things? You can sense, immediately, how close Conor and Dave are by the way they pick up the threads of one another's thoughts...
"Songwriting's like therapy," Conor reflects. "It really is. Because, you don't wanna be the guy going down to the bar the whole time crying to your mates saying, 'Aww, I'm so sad'. Sometimes, guy don't feel comfortable talking to other guys–"
"Which is ridiculous," Dave interjects.
"–saying to them, 'Aw, I'd do anything to get back to her'. But if you can put it in a song, back it up with some production and add a good melody, you'll get your friends singing it, which is kind of cool."
Have any of the girls you've written about ever–
Advertisement
"Aw, they've all definitely heard it!" Dave laughs.
Ireland's a small place…
"It's happens all the time," Conor says. "Friends of ours go, 'That's about her, that's about him'. We don't give specifics. We just laugh it off."
Dave: "I think the person who is the subject, or the persons who are the subjects, would definitely know."
Conor: "But like, they're not malicious songs, they're about a beautiful time that you spent with another person."
"They're love songs," Dave agrees. "It's us talking about how we fucked up. How we'd give anything to get back with that person 'cause we miss them." Pauses. "Conor, you haven't really talked to your exes about them." Dave turns to his friend. "Just imagine you're on Dr. Phil now!"
"I think the songs are kind of self-explanatory," Conor says. "As I said, it's almost like therapy. So, now, it's finally at the stage where we're over that hurdle. Onto the next chapter. Reaching the stage where you're at peace with the fact that you're not going to get back to that person. The girls that have been involved have texted us both and said they loved the songs, so it's kind of cool and feels like a friendship now."
Advertisement
Dave, you got back with your ex.
"I went through a period after that break-up happened. Went through that shit, that slog. Didn't speak to her for years."
What'd you learn from it?
"Don't do it again!" laughs Conor.
"What I learnt was that I had been a very immature and egotistical person. I thought I could pick things up and drop them whenever I wanted. I… Jesus, this is like Dr. Phil isn't it? I'm gonna start crying now! What I learnt is – it's okay to make mistakes sometimes. It's okay to question what love is all the time – but that you should listen to your heart, and listen to your gut, and not go with what other people around you say. I kind of got lost in a period where my head was all over the place. So she ended up being the person I took it out on. But I'm back with her now, so I've kind of gone full circle."
"I haven't. I'm still spiralling," Conor laughs.
"He's still spiralling! It's a tough question: I'm still learning. I'm not the fucking wizard of love. But we're in a happy place now."
Advertisement
How important is sex for you? And would you two talk about that sort of thing?
"We were actually talking about this today!" Dave laughs, turning to his friend. "I think it's one of the top three things in life."
"It's a natural human need, you know?" Conor adds.
"We're all made to reproduce."
"It comes and goes in my life," laughs Conor. "I can have sex, then I can go into the studio and not have sex for six months."
"But we are human," Dave adds. "We've been put on this earth to reproduce, you know? It's a very natural thing, we're not ashamed to say it."
"Just say it Dave! You like sex!"
Advertisement
When you go on tour, do you want to try it with different people every night?
"I don't think we're like that," says Dave. "We wouldn't be sleeping around. I mean I'm definitely not 'cause I'm in a relationship now. (Leans into recorder) Yes, you heard me, I'm in a relationship. Put that in big capital letters in case I didn't say it already! But no… we wouldn't be that type of band."
"We actually love each other's company too much," says Conor of the collective. "Like, as sad as that sounds. We could go to a party and say, 'Oh my God this place is amazing', then the four of us would just sit around together having drinks."
"We don't really tend to hang around much when we do our gigs. We go and do our stuff, then get out of there. As Conor said, we just like fucking off to a pub that does nice Guinness and chilling out together. We wouldn't really be big clubbers or anything like that."
A lot of bands decide when they start off, that they'll put the music first, and relationships and family come later.
"I think that's kind of our thing," says Dave. "It happened very naturally. We love what we do. And the thing with music is that you have to put everything into it. You have to do long days in the studio. If you can have a family, that'd be amazing, but when this is your job, it always has to be your main priority. That can change when you have kids or when you get more of a structure, but for now we're solely focused on the music."
How does that all factor into relationships and family?
Advertisement
"We're headstrong about it," Dave offers. "That's the way it is with us. But I still see my family when I see my family. I still see my girlfriend when I see my girlfriend."
"The other guys have great girlfriends," Conor nods. "Their girlfriends are so supportive. Even when we did the Kodaline tour, some of their girlfriends flew out to a show in Barcelona to hang out with us. I'm the only one that's single – but genuinely, they're all so supportive and they understand what we're doing here. They know that the lads love this job. They're very lucky to have three amazing girls in their lives."
The past is another country... f
Were you both musical growing up?
"Yeah, all our lives," Dave says. "My dad was a singer, my grandad was a singer. My dad's uncle nearly got signed to an American label. He was a Bob Dylan-esque guitar singer. So it's always been in my life. I was always singing in the house. I was the kid who, every evening, was made to stand in the middle of the room and perform."
"My dad was more a music lover," says Conor. "So I grew up listening to all his records with him: the Beach Boys, ABBA. He used to be obsessed with listening to trad bands throughout Dublin. So I used to always go with him, because I was the oldest. I grew up with a love of music because of him."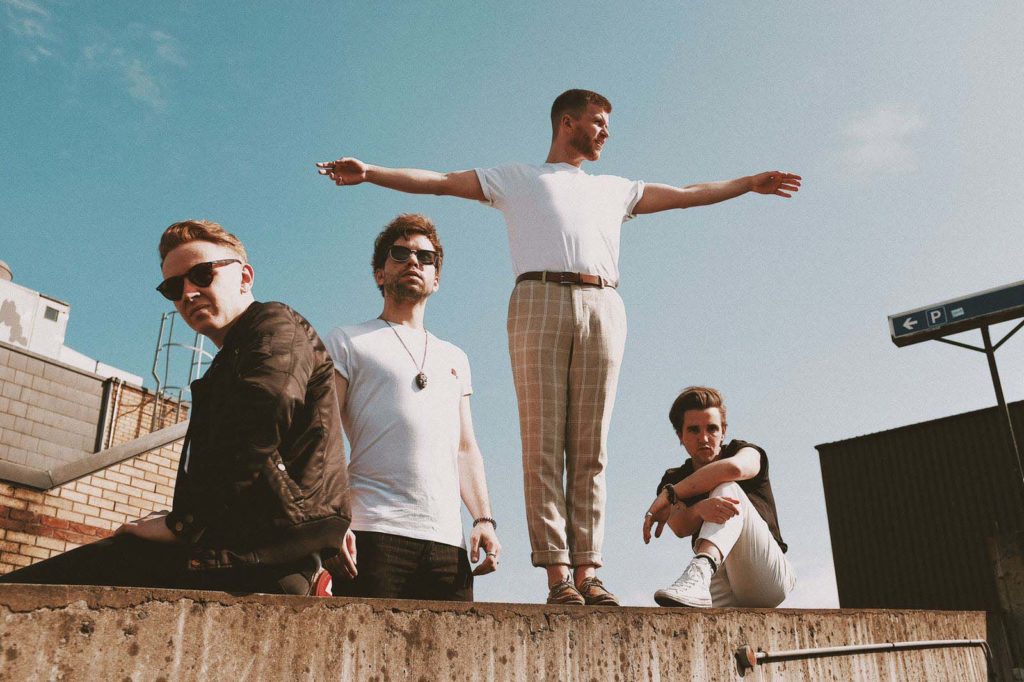 Advertisement
Did your parents always support your desire to be musicians?
"I'm very lucky with mine," Dave says. "They were always supportive. When I was growing up, I didn't know what I was doing with myself. I didn't know what I was good at. I always sang, but I didn't think of it as anything. They pushed me. I was almost doing the opposite. My rebellion was sometimes saying, 'No, I'm not going to go down that path'. But luckily a light went on in my head and I said, 'No actually I like this'. My mates were playing music and it was good craic, and that was the first time the switch really went on." He laughs wryly. "I actually think I'm living my dad's dream a bit."
Conor: "Ah, it's your own dream as well!"
"It is, but he always wanted to do something. He was an amazing footballer and an amazing singer and he always wanted to be the best at something. And I think I'm kind of living his dream. So I do thank him. Because otherwise I could be sitting in an office job achieving nothing."
Might that paternal influence become suffocating?
"No, because I know he'd be happy no matter what I do. He was always the person that, if I came in drunk at 16 or 17, he'd say, 'Why are you doing this? You can do something with yourself. Get your head out of your arse and start doing shit, because something can happen if you put your head to it'."
Conor's eyes have been darting around the room throughout this exchange. "My mum was – she honestly thought I could be President of the country if I wanted it," he says.
Advertisement
"You'd be a very stylish President," Dave observes.
"I would! But, yeah, my mother actually passed away when I was younger. But she was always so, so supportive. It was funny. I remember me and Dave, we used to sit in my house bashing out sounds on a piano–"
Dave: "Making awful noises."
"Yeah just making a racket, right? And she'd come in and say, (whispers), 'You guys are amazing!' And I'm like, 'Really?' We were there ruining a cover of 'Skinny Love'!"
"For about four hours!"
"Yeah! Playing all the wrong chords! Unfortunately, she passed away when I was younger. And then my dad… My dad was a harder one to turn. He was kind of old school. He'd have been one for finishing school and getting a job right away. And I can totally get that, because he wasn't a musician, and the music world is an obscure world. He was kind of going, 'What do you mean you're just staying home writing songs today?' He probably thinks we're just sitting in the house watching TV, when we're sitting at a piano, working as hard as anyone in an office, trying to master our craft.
"The lads always joke: we'd put on our first headline show and it would sell out really quickly, and then the next day he'd be asking me, 'When're you gonna get a real job?' But then, when he heard us on radio and his friends talked about us a bit more, he came round. He came to Whelan's, then he came to the Academy, and now he's our number one fan."
Advertisement
"He came down to the Róisín Dubh gig," Dave recalls. "It was so funny. We have this group of fans that always come to our gigs and stand right at the front, and his dad's just BANG right in the middle of them all. And he wouldn't dance, so he's just standing there with his arms folded. And sometimes when I'm on stage I'll be swearing – don't know why, just effing and blinding – and at this gig I looked down and his dad's looking at me like, 'Why's this eejit on-stage cursing?'"
Were you considered creative in school?
"We went to separate schools," says Dave. "I loved art. I didn't actually play music in school until fifth year, and the only reason I started was because I'd lost interest in everything else. School never connected with me. I didn't really like being told what to do. The music saved me. If I wasn't doing it, I don't think I'd have done my Leaving Cert."
"I did music inside and outside of school," says Conor. "I liked art, although I wasn't very good at it. I used to love English, writing short stories and that. I suppose I was creative in other ways. We were into both fashion. We'd look at designers and different graffiti artists, and listen to music, and read and write poetry. Even being able to share that with Dave, that was a rare thing. Maybe that happens more now between people, but when we were in school, we knew nobody else like that. Everyone was just interested in playing football."
"We used to bunk off a lot," Dave says. "I'd get my guitar in the morning, then my dad would drop me off. As soon as he'd driven away, I'd do a 360 and be straight out the school gates! I'd go round to Conor's: we'd be busking in town by 10am. Or if we didn't do that, we'd hide out in his back shed, playing music. We'd duck our heads when the parents came home for lunch! Then we'd peek out and go, 'They're gone! Back to the guitars!'
"It was kind of us finding our own feet. We were rebellious in a way, in that we didn't like being told what to do."
"Not in a 'fuck the system' way," says Conor. "I mean… I was dyslexic in school, so I used to get huge frustration with it, annoyed with myself for being in class and not understanding what everyone else was doing. So there was a real sense of freedom and relief with just doing our own thing, going to my back shed and writing music – or even just talking about different things: about books or poetry or looking at photographers, fashion websites."
Advertisement
Was there pressure to do well in the Leaving Cert?
"I remember doing my Leaving Cert and telling my mum I got 190 points, and she broke down crying telling me how proud she was," Conor laughs. "When I'm talking about her saying to us that we were made for the big time when we were fucking up covers of 'Skinny Love', this is the type of woman she was! Always encouraging. I think I actually got 380 in the end."
"I can't remember what I got," says Dave.
"It was one of those ones where it was like, 'What'd you get? Ah, grand'." (Mimics tearing up a page). "Right that's that. On to the next chapter!"
"My mam was like his," says Dave. "She knew I didn't like it in school. So her thing was, 'Listen, just do it'. So she was happy that I did it in the end. But as I said, school work was always on the back-burner. I wanted to perform. I wanted to sing. Then when school ended, we were like, 'We're free!'"
What about college?
"Went to college, dropped out after a month-and- a-half," says Dave. "Then we were back straight into his shed again."
Advertisement
"We both went to college. Two or three months, was it? Then we were out having drinks one night, and we were like, 'What are we doing?' And straight after, we dropped out and said, 'Right, let's keep at the music.'"
Did you always see a music career beckoning?
"We always wanted a music career," says Conor. "But that wasn't the main reason for doing things. We're happiest when we're doing this. Whether that means playing in our local bar, or making music that allows us to play stages like the Olympia, it's all about a piano and an acoustic guitar in a shed. Nothing else. It would've seemed almost foolish to go onto these big stages. Then obviously, Cal and Ed came on board and brought so much energy to the band. Then we started to think that maybe we could stand a chance."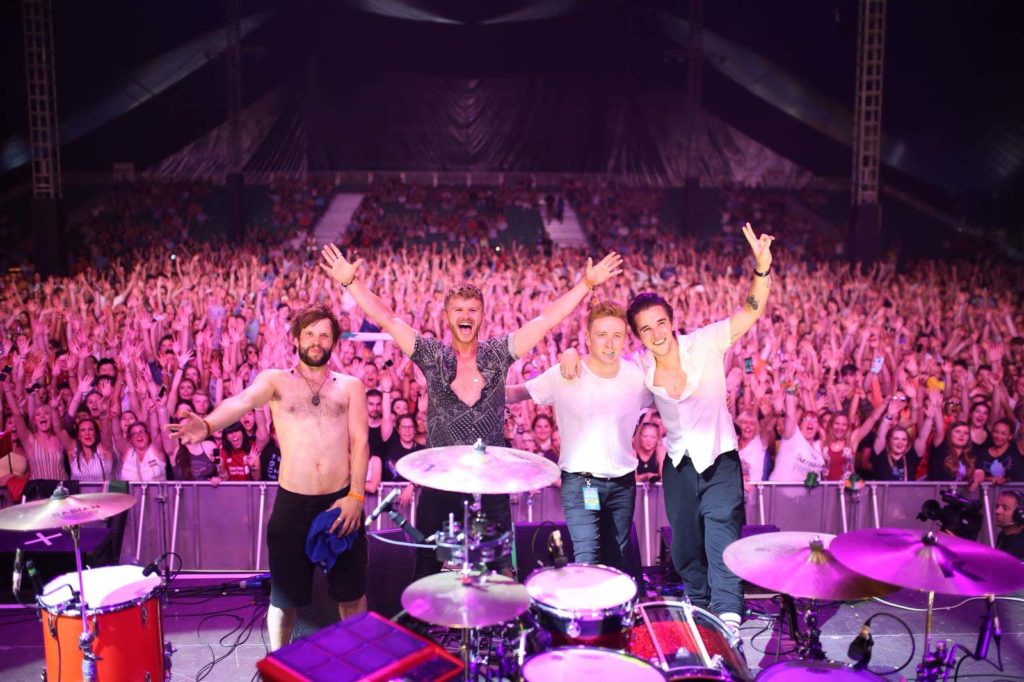 Meetings with remarkable men...
The band had labels and managers chasing them after their first gig. They now regularly pack out festival tents and have generated hundreds of thousands of plays on Spotify, YouTube and on radio. A lot of people assume that if you can pack out a tent at Electric Picnic, you're quid's in. What's the reality for a young musician nowadays?
"Many's a time people have said, 'I'm sure you're rolling in it now?'" says Dave. "And it's just not the reality. There's so much hard work and graft behind closed doors that people don't see."
Advertisement
"We're lucky enough to call this a job now," adds Conor. "But we're by no means rolling in it."
"I don't have a Ferrari."
"I'm not going to Sherry Fitzgerald asking about property! (Room erupts in laughter). We are lucky enough to call it a job and to be able to pay for lunch and dinner."
"It's always taximen isn't it?" Dave smiles. "We'd be going into town with our mates for a few beers, and our mates'll put the songs on in the taxi. 'Ah here, do you have an auld AUX cable there? Listen to this song. That's these lads here!' And the taximan – you'll see him fixing the mirror to get a better look at us – saying, 'No way!'"
"'Oh yeah, I recognise you from the Eir ad actually!'"
"And they're always like, 'You're definitely rolling in it now I'm sure'. And we're always like, 'No!'"
"Or we'd get back from touring and we'd meet up with old friends for dinner, and someone'd say, 'Here, you lads are gonna pick this one up now! Sure you're rolling in it!' I'm thinking, 'I'll be lucky to pay for my own here, pal!'"
Advertisement
"But we do one day hope," Dave adds, grinning, "that we can do this and that we can also roll in it."
Were there times when you thought, 'Fuck this, I can't do this anymore'?
"I think I can speak on behalf of all four of us when I say that it has been tough," Dave admits. "There was one time I was working in my day job in the airport, and it just got so overbearing – the thought of trying to do all this – that I just quit the job. I just said, 'I'm not going in anymore'. Didn't even hand in my notice. Just stopped. And there was a period after that where I was like, 'Oh shit what am I doing? I can't afford a bus to Conor's house anymore'. But I think, those moments make it so much better now."
"I don't think any of us know anything else," Conor shrugs. "But there's definitely times where you're like, 'Fuck this is hard'. At the start where you're so broke you don't even have money to pay for petrol. But you need those times. They make you."
The band's other two members,Callum and Ed, were both in highly touted bands before this – Bipolar Empire and Leaders of Men respectively. Is there a sense in which they've been here before?
"They were probably the ones who wanted those bands to continue the most," says Conor. "They knew that music was their path."
"I don't think we can talk on their behalf about the reasons why they broke up," adds Dave. "But I think that Conor's right – even after their bands broke up, they wanted to continue playing original music." "We used to be fans," Conor says. "We'd be in awe of Bipolar Empire. We'd go into town and see Leaders Of Men. We used to watch them like they were celebrities."
Advertisement
Is the songwriting done separately or as a group?
"I could sit down and have a melody and have a lyrical idea," says Conor. "Say, 'Can't Move On': (sings) 'Too broken hearted / Too hurt for this party / Saturday night and I don't wanna be alone'. I'd have that, and he might pick up on it – even though it might have just been a kind of scat – and he'd go, 'Oh I heard you sing that, here's what I've added'. And Dave's a phenomenal singer. So if I'm at the piano he might go, 'What if I went up here during this bit as a falsetto'. And I'll say, 'Beautiful!' It's always a really nice process."
The band have received public support from ex-One Directioner Niall Horan and The Script. Were they overawed working with Danny and Mark, who have worked on songwriting and production with them?
"Oh yeah, we were huge fans," says Dave. "Obsessed. I remember when we first went to the studio I got one of those red-eye flights to London and everyone was asleep around me. I just had it in my head that there was no way I was gonna be able to sleep. I was sitting there telling myself, 'Alright, you're gonna come back after this trip and you're gonna be somebody. This band is gonna be something'. Then I walked in the studio and I was shitting myself! Scared.
"But the lads are amazing. Danny's one of the best vocalists I've ever met. I think he's up there as one of the best in the world. He's been a mentor. Every time I did something, he'd give just the right advice. He'd play it back to me and say (taps table), 'That's the recording voice – that's what we need'. It was amazing to get that, seeing as I'd looked up to him so much. By the time we got home from that first time in the studio we were like, 'That went better than we could ever have imagined'."
Would you go out for a drink with them?
"They've become like our best friends," says Conor. "We'd talk to them every single day. If we're in London and not in the studio, we'd hang out with them. That's the beauty of the relationship: we're so close that it makes the working relationship even easier. They're so interesting. We sit there like sponges the entire time, just listening to what they have to say."
Advertisement
Dave: "They're so passionate as well, and they see a passion in us, so it just clicked. It was like being in the shed again, wasn't it? Except with two more members."
Conor laughs. "Yeah, two global stars!"
"And an amazing studio. But that's what I'm saying, we just walked in and it clicked. They have this policy where they leave all their shit at the door, all your egos at the door. So when you walk in the door, say what you want."
Conor laughs. "We're looking at them going, 'That's the fucking Script!' They're like, 'No, listen lads, everyone's the same here'. We're like, 'Yeah, yeah, sure. Ok! But you're the fucking Script.'"
Dave laughs. "'Whatever you say Danny! 'All the same'! Hey Marco, put on the kettle there bro!'"
What are they like after a few drinks?
"They're just up for the craic," Dave says. "They're good fun. We ask them for advice, music related and non-music related, you know? Relationship advice. Like I was just starting to see my current girlfriend when we went into the studio and he was asking about her."
Advertisement
"If we go out for food after the studio, it's like hanging out with your mates. I know it's crazy to say that, but that's what it is."
Does Danny give good relationship advice then?
"They give the best advice with everything," Dave nods. "They're very smart, intellectual lads. They speak from their hearts and they're very passionate, loving people. I can honestly say they have our best intentions at heart."
Meanwhile, the future is calling
Do Wild Youth have it in them to write the songs that are gonna be played in 50 years' time?
Conor mulls this over. "I think if we didn't feel like we had it in us, we'd pack it in."
Dave: "We love what we do. We love the songs. We write them and we're really passionate about them. I think I could flick on one of our songs in 50 years and be happy with what we've done."
Conor: "Wait, you're saying 'Can't Move On' won't already be a classic in 50 years?!"
Advertisement
I'm just an impartial interviewer!
Dave smiles. "I honestly think if one person hears our song and likes it, we're doing something right."
"And worst case scenario – we write a Christmas song. A Christmas banger."
Have you got one in mind?
"We did write a Christmas song actually," says Dave.
"We'll hold that one back," Conor warns. "Maybe for next year."
Final question. After the EP and the Olympia headliner, what next?
Advertisement
"Probably another EP," says Conor. "We won't wait too long. It's already underway. So yeah, then festivals during the summer. Then maybe an album early next year. We just wanna keep writing music. We'll work it out as we go."
• Wild Youth's debut EP The Last Goodbye is out now, via Warner. They play the Olympia Theatre, Dublin on Saturday, March 23.