In the first of a two-part special, Hot Press writers explore some of the musical milestones since the dawn of the magazine...
Who was the lunatic who came up with the idea? It started with the idea of 45.
The sum of all the single digits, it is a magic number. But it is also the vital speed at which vinyl singles rotate on a record deck. It was, in a curious way, part of us all.
So we decided to pick just one single for every year that Hot Press has bestrode the planet – selecting the 45 singles that shaped our world.
The soundtrack to our lives.
Stuart Clark, Paul Nolan, Lucy O'Toole and Will Russell on 1977-2021's musical milestones.
Advertisement
Part 1: 1977–1999
1977
Sex Pistols
'God Save The Queen' 
While Ireland (or most of it anyway) had been sensible enough to jettison the trappings of British monarchy in the 1920s, the Pistols' anti-Elizabeth II tirade struck just as resonant a chord here as it did in Perfidious Albion. A blistering slice of rock 'n' roll invective, it was released on May 27 to coincide with the 25th anniversary of Her Maj's coronation, and immediately banned by the BBC and Britain's equally queasy independent broadcasters.
Despite – or perhaps because of – the radio and TV blackout, it shot to No. 2 in the UK and but for some, er, creative accounting would undoubtedly have topped the Jubilee-week chart instead of Rod bleedin' Stewart's 'I Don't Want To Talk About It'.
Hot Press was quick to pick up on the fact that Mr and Mrs Rotten's boy Johnny was of London-Irish stock, something which became even more apparent when, in 1979, he jumped punk ship ("Ever felt like you've been cheated?") and formed PiL whose 'Religion' was as damning of the Catholic Church as this was of the House of Windsor and its adherents.
Whatever you think of the latter-day Lydon's politics, 'God Save The Queen' is rock 'n' roll at its most gloriously seditious.
Advertisement
1978
Patti Smith Group
'Because The Night'
At the same time as the Pistols and their mates/enemies were running amok on this side of the Atlantic, the likes of Devo, Talking Heads, Blondie, Television, Mink Deville, Richard Hell & The Voidoids and the rest of the CBGBs/Max's Kansas City crew were giving American rock the kick up the tush it desperately needed.
If Iggy Pop was the Godfather of US punk, its Godmother was undoubtedly Patti Smith who'd been making a cult of herself since 1974 when together with Lenny Kaye she unleashed the brilliant 'Hey Joe'/'Piss Factory' double A-side. Mainstream success had eluded Smith though until, at producer Jimmy Iovine's behest, Bruce Springsteen gifted her the skeletal version of 'Because The Night' that he'd hoped to include on Darkness On The Edge Of Town, but couldn't for the life of him finish off.
Immediately picking up on the song's sexual, spiritual and redemptive vibes, Patti had no such problem. Her completed version of 'Because…' was performed live for the first time on December 30, 1977 in CBGBs, which just happened to be her 31st birthday.
Released as a single on March 2, 1978, it quickly shot to No. 13 in America and No. 5 in the UK with the Easter album it trailed also going top 20 on both sides of the Atlantic. Despite Patti jettisoning all his lyrics, Bruce loved what she did with it, and has subsequently performed 'Because The Night' live over five hundred times including when Bono joined him on stage at the E Street Band's 2016 stop-off in Croke Park.
1979
Advertisement
The Clash
'London Calling'
We were about to tell Chic that they'd won the Hot Press '78 Single of the Year Award with 'Good Times' – the Studio 54 floor-filler went on to be sampled by everyone from Grandmaster Flash and Queen to Michael Jackson and Shakira – when on December 7, The Clash delivered this astonishing 3mins 18secs of lupine howl rock, whose "a nuclear error" line referenced the Three Mile Island meltdown, which had happened earlier in the year.
Not wanting to be straitjacketed by the new rock 'n' roll orthodoxy – the "Now don't look to us/ Phoney Beatlemania has bitten the dust" couplet can be seen now as the Westway Warriors jumping punk ship – The Clash had turned to frankly bonkers Procol Harum and Mott The Hoople producer Guy Stevens for sonic inspiration and received it in spades with the single's namesake double-album London Calling straying into reggae, ska, R&B and rockabilly territory.
From Topper's urgent pounding drums intro to Mick's squall of 'SOS' morse code guitar at the end, this was the sound of a band reinvigorated and ready for whatever the new decade was going to throw at them.
1980
Joy Division
'Love Will Tear Us Apart'
Having come on to the Hot Press radar with the previous year's 'Transmission', we were confident that Joy Division would make rock 'n' roll headlines in 1980, which they did for all the wrong reasons on May 18. If memory serves, it was John Peel who broke the news that Ian Curtis had died by suicide at his home in Macclesfield aged just 23.
Advertisement
Many, including bandmate Peter Hook, believe it was the cocktail of drugs Ian was on for his recently diagnosed epilepsy that were to blame for him hanging himself.
Recorded just two months before his death and released mere weeks after it, 'Love Will Tear Us Apart' addressed both his health struggles and the disintegration of his marriage to Deborah Curtis who discovered his body.
While clearly inspired by his twin Jim Morrison and David Bowie obsessions, the non-album single offered further proof that Joy Division had managed to fashion something unique from the wreckage of punk.
Even if Curtis' life hadn't come to such a tragically premature end, couplets like "Do you cry out in your sleeps, all my failings exposed?/ There's a taste in my mouth as desperation takes hold/ Just that something so good, can't function no more" would still have cut to the bone.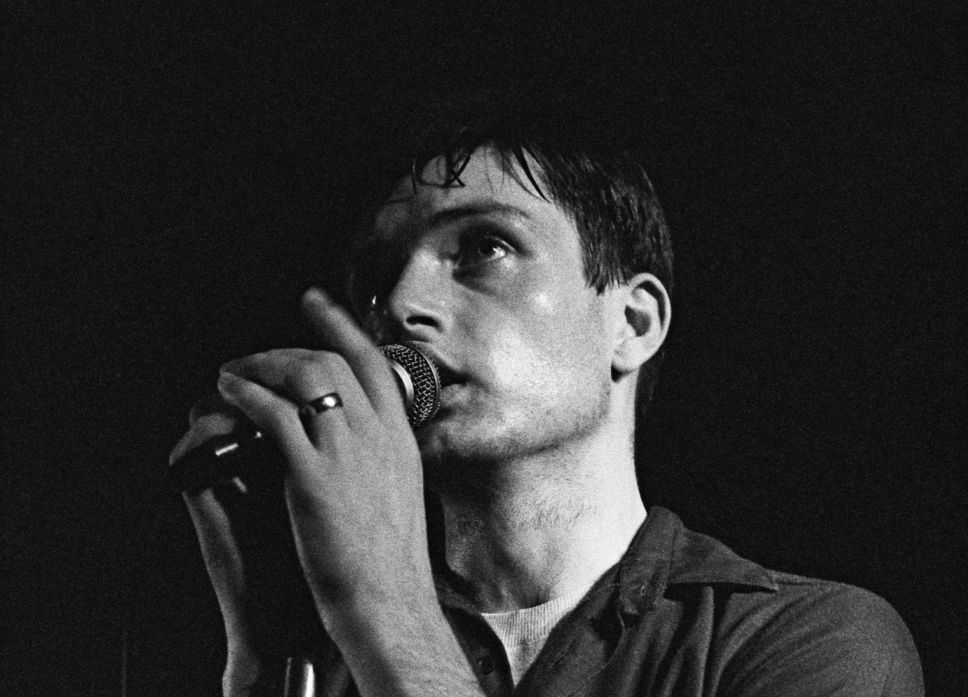 1981
Advertisement
Blondie
'Rapture'
Creatively they didn't need any help, but commercially Blondie rapping their praises presented Fab Five Freddy and Grandmaster Flash with a whole new audience and range of opportunities. With nonsense lyrics like "You go out at night eatin' cars/ You eat Cadillacs, Lincolns too/ Mercurys and Subaru" it shouldn't have worked, but thanks to Debbie Harry's obvious enthusiasm and Clem Burke's funky as hell drumming, it does.
Released on January 12, 'Rapture' was an immediate US airplay hit – no mean feat given how conservative American radio was and still is – and quickly climbed to No. 1 there.
Nowadays there'd probably be charges of cultural misappropriation, but Freddy and Flash loved both the song and the attention it brought them and their fellow Bronx warriors.
Listening back now to their nineteen marvellous hit singles, it's striking how musically adventurous Blondie managed to be whilst still making fantastically radio-friendly music.
1982
Prince
'1999'
Advertisement
In any other year The Jam would have romped home with their 15th hit single in a row, 'A Town Called Malice', but not even Paul Weller was going to keep Prince Rogers Nelson from his prize.
Blurring the boundaries between pop, rock, glam, R'n'B, soul and funk to the point where they no longer existed, this was the belated recognition – his first album, For You had come out in 1978 – that the then 24-year-old was Little Richard, James Brown, Jimi Hendrix, David Bowie and quite a few other people all rolled into one.
A song of defiant hope amidst fears of an end of the millennium apocalypse – "War is all around us, my mind says prepare to fight" – it sounded as outrageously great on the radio as it did on the dancefloor.
Let us not overlook the contributions of Revolution members Dez Dickerson, Lisa Coleman and Jill Jones whose silken vocals can also be heard in amongst all the scratching and explosion noises. Originally released on September 24, it finally gave Prince the global hit his talents merited and made Minneapolis the coolest, purpliest place on the planet.
1983
U2
'New Year's Day'
There's a case to be made for 'Pride (In The Name Of Love), 'With Or Without You', 'One', 'It's A Beautiful Day' and about half-a-dozen others being the most pivotal U2 single of the past 45 years, but it was scoring their first American hit with 'New Year's Day', which gave real credence to the Northsiders' belief that they could become the biggest band in the world.
Advertisement
Produced by Steve Lillywhite who shared that belief, it's an epic widescreen affair with Bono's voice at its most plaintive, Edge's 1975 Gibson Les Paul White Custom chiming like church bells and Larry and Adam doing what they've always done so brilliantly. Released somewhat belatedly on January 10, it started life as a love song from Bono to Ali but was reworked in response to the emergence in Poland of the Solidarity movement.
Indeed, with lyrics like "Under a blood red sky/ A crowd has gathered in black and white/ Arms entwined, the chosen few/ The newspapers says, says/ Say it's true, it's true/ And we can break through", U2 were foretelling the fall of the Berlin Wall seven years later.
With its parent album, War, ultimately going 4 x Platinum in the States, the genie was well and truly out of the bottle.
1984
Madonna
'Like A Virgin'
If anyone possessed the drive, the talent and the ruthlessness to re-write the pop rulebook, it was Madonna Louise Ciccone.
'Holiday', 'Lucky Star' and 'Borderline' had already seen her become a chart regular, but it wasn't until the October 31 release of 'Like A Virgin' that she became a fully-fledged global pop icon.
Advertisement
Yes, the song had been written for her by Tom Kelly and Billy Steinberg, but the then 26-year-old Madonna knew how to make lyrics like "Gonna give you all my love, boy/ My fear is fading fast/ Been saving it all for you/ 'Cause only love can last" her own.
Let us not underestimate the importance of the Chic Corporation's production, the funky guitars and the accompanying Mary Lambert-directed video, as Madonna struck some seriously seductive poses in Venice. But the looks, the voice and the chutzpah were all Madonna's.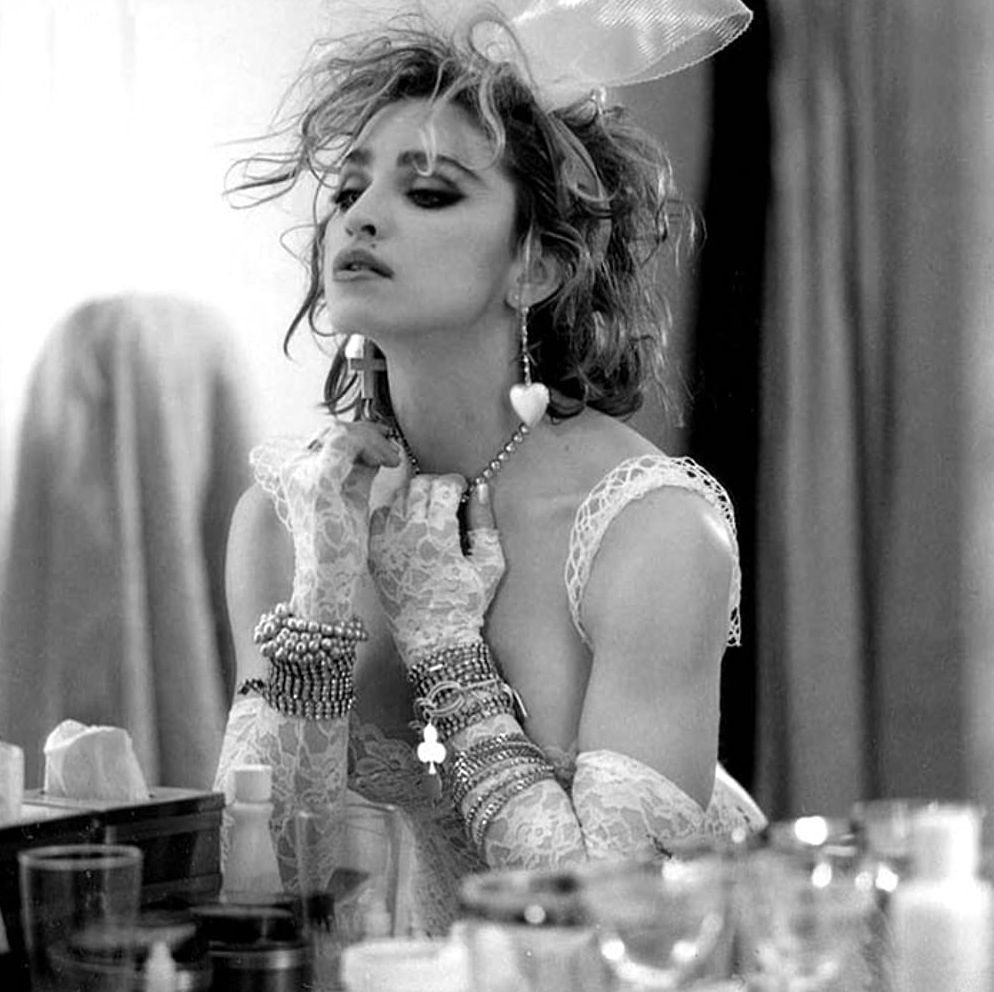 1985
Kate Bush
'Running Up That Hill (A Deal With God)'
Thirty-seven years before unexpectedly becoming a Stranger Things phenomenon – apparently she's £250,000 a week better off because of it – Kate Bush was making Team Hot Press come up with new superlatives to describe her Hounds Of Love album – which even by her own exalted standards was a sonic game-changer.
You couldn't say that she hadn't been working towards it, with Bush's 1978 debut single, 'Wuthering Heights', a delicious genre-defying curveball amongst all the punk and new wave bluster. Released on August 5 as Hounds Of Love's flagship single, 'Running Up That Hill (A Deal With God)' found Kate reflecting on, as she puts it, "the fundamental differences between men and women, I suppose trying to remove those obstacles, being in someone else's place; understanding how they see it, and hoping that would remove problems in the relationship."
Advertisement
A song that builds and builds and then builds some more, 'Running Up That Hill (Deal With God)' will be still be a cultural phenomenon in another thirty-seven years.
1986
Pet Shop Boys
'West End Girls'
Having written about it for Smash Hits, Neil Tennant decided to start making perfect pop of his own with Chris Lowe, who he'd randomly met in a hi-fi shop, as his willing accomplice.
Arriving fully formed, the Pet Shop Boys' debut single drew lyrical inspiration from T.S. Eliot's poem The Waste Land as it explored London's seedy dark underbelly. Having died 31 years earlier, Eliot wasn't around to hear it, but you imagine he'd have wholeheartedly approved of lines like: "Sometimes you're better off dead/ There's a gun in your hand and it's pointing at your head/ You think you're mad, too unstable/ Kicking in chairs and knocking down tables/ In a restaurant in a West End town."
Musically, there were nods to Michael Jackson, Barry White, Kraftwerk and Melle Mel whose flow Tennant later confessed to copying.
Released on April 9, it took its time but eventually reached the summit in both America and the UK.
Advertisement
1987
The Pogues featuring Kirsty MacColl
'Fairytale Of New York'
A fellow punk traveller of Shane MacGowan's – she'd been in The Drug Addix at the same time as he was fronting The Nipple Erectors – Kirsty MacColl was drafted in as the female voice on the Pogues shot at a Christmas single by her husband, producer Steve Lilywhite.
The daughter of folk legend Ewan MacColl, her cherubic looks belied the fact that Kirsty was almost as up for a spot of bad behaviour as The Pogues were. When in her pugilistic call and response with Shane she sings, "You scumbag, you maggot/ You cheap lousy faggot/ Happy Christmas your arse/ I pray God it's our last," you don't for a moment doubt that she means it.
With both of them playing their roles to perfection – and let's not forget they were roles – and the rest of The Pogues in typically rumbunctious form, 'Fairytale Of New York' became one of the most enduring Christmas songs of all-time, hitting the Top 30 in all of 21 years and reaching the Top 5 repeatedly.
Tragically, Kirsty was killed in 2000 by a jet-ski whilst swimming in Mexico – the case still hasn't been investigated to her family's satisfaction – but this, along with her five solo albums, is testament to her prodigious talents.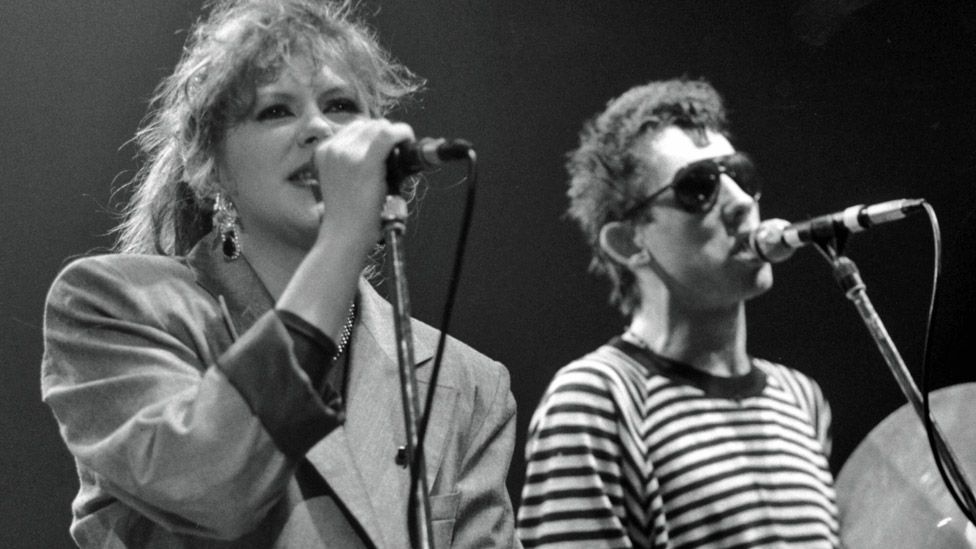 Advertisement
1988
Guns N' Roses
'Sweet Child O' Mine'
Like many an artist, Guns N' Roses were vulnerable to the occasional fashion faux-pas, and their early embrace of hair metal chic meant they came under sustained critical fire. But a proper listen to their immortal 1987 debut Appetite For Destruction – a hedonistic deep dive into the most sordid depths of LA nightlife – revealed there was serious punk grit beneath the ostentation.
Whether it was the artwork, the lyrics, the interviews or the live shows, by the late '80s, just about every aspect of GNR was a scandal. Imbued with a surprising sensitivity, though, the soaring ballad 'Sweet Child O' Mine' showed a different side to the band. It crash landed at the top of the US charts, sending the group truly supernova.
Slash's iconic riff, combined with an unforgettable chorus, indicated songwriting chops on a par with Led Zeppelin and The Rolling Stones. Notably, during one early rehearsal, when the band hit the mid-song breakdown, Axl Rose – momentarily stuck for lyrics – muttered "Where do we go now?" Liking the effect, he kept it in the finished song; from such decisions does genius sometimes result.
1989
Stone Roses
'Fool's Gold'
Advertisement
The Marquis de Sade, Nancy Sinatra's 'These Boots Were Made For Walking', James Brown's back catalogue and John Huston's 1948 film adaptation of The Treasure Of The Sierra Madre were among the disparate influences, which helped Stone Roses score their first top 10 hit with this inspired psychedelic dancefloor shuffler.
Released on November 13, it put Ian Brown, John Squire, Mani and Reni centre-stage as the ecstasy-fuelled Madchester movement conquered all before it – well, until the drug use got totally out of hand and fucked-up many of its main protagonists.
While radio feasted on the 4mins 15secs edit, it was the extended ten minute-plus version that all the cool rave kids in their Joe Bloggs clobber were dancing to. And rightly so because, even without the chemical enhancement, it's one of the downright funkiest songs that's ever come out of the UK.
The Roses had doubted the wisdom of releasing 'Fool's Gold' as a single, but soon changed their minds as the gold and platinum discs started rolling in.
1990
Sinéad O'Connor
'Nothing Compares 2 U'
Over the years, Prince provided several memorable hits for other artists, including 'Manic Monday' for The Bangles and 'Nasty Girl' for Vanity 6. Perhaps the most iconic of all however, was 'Nothing Compares 2 U', which became a career-defining smash for the extraordinary Sinead O'Connor.
Advertisement
Originally an obscure soul ballad tucked away on an album by funk group The Family, O'Connor and Bristolian trip-hop pioneer Nellee Hooper gave the track a dramatic new arrangement, topped off by O'Connor's epic, heart-wrenching vocals. Accompanied by a stunning video in which the singer famously shed a tear, the song became a global No.1, and helped its parent album, I Do Not Want What I Haven't Got, become an international mega-hit.
O'Connor would have a complex relationship with the song throughout the ups and downs of her career, but it remains an indelible pop cultural moment.
1991
Massive Attack
'Safe From Harm'
As Oasis and Blur were doing their somewhat monocultural thing, arguably the real Britpop was coming out of Bristol where the Wild Bunch and their mates were combining choice punk, hip hop, soul, funk and dub reggae sound system influences to exhilarating effect.
All of those – and more – were evident on May 17 when Massive Attack released the Billy Cobham, Funkadelic and Herbie Hancock-sampling 'Safe From Harm'.
The sleeve-notes cited Taxi Driver as an influence and, sure enough, featured vocalist Shara Nelson is in Bickle-esque mood as she darkly intones: "If you hurt what's mine, I'll sure as hell retaliate." The bass-bins quivered, as did we.
Advertisement
For all of its brooding menace, 'Safe From Harm' was as tuneful as anything else that joined it that year in the UK and American charts. The track makes even more sense, listened to alongside the rest of Blue Lines, a record that still speaks many bitter truths about not-so-great Britain.
1992
Nirvana
'Smells Like Teen Spirit'
In his recent book The Nineties, US journalist Chuck Klosterman noted that "The video for 'Smells Like Teen Spirit' was not more significant than the reunification of Germany" – but it was a seismic cultural moment all the same. In a musical sense, Nirvana's grunge anthem seemed to properly herald the beginning of the '90s, putting the allure and danger back into a landscape that had come to be dominated by overblown hair metal and anodyne pop.
Both the song and video were testament to the genius of Kurt Cobain; the former a devastating exercise in uber-melodic, Pixies-style quiet-loud dynamics, the latter – inspired by the teen rebellion movie Over The Edge, and fondly described by Nirvana's drummer Dave Grohl as "the pep rally from hell" – a gloriously subversive effort that colonised the-then all-powerful MTV.
Indeed, 30 years on, Gen X's signature tune remains as thrilling and visceral as music gets.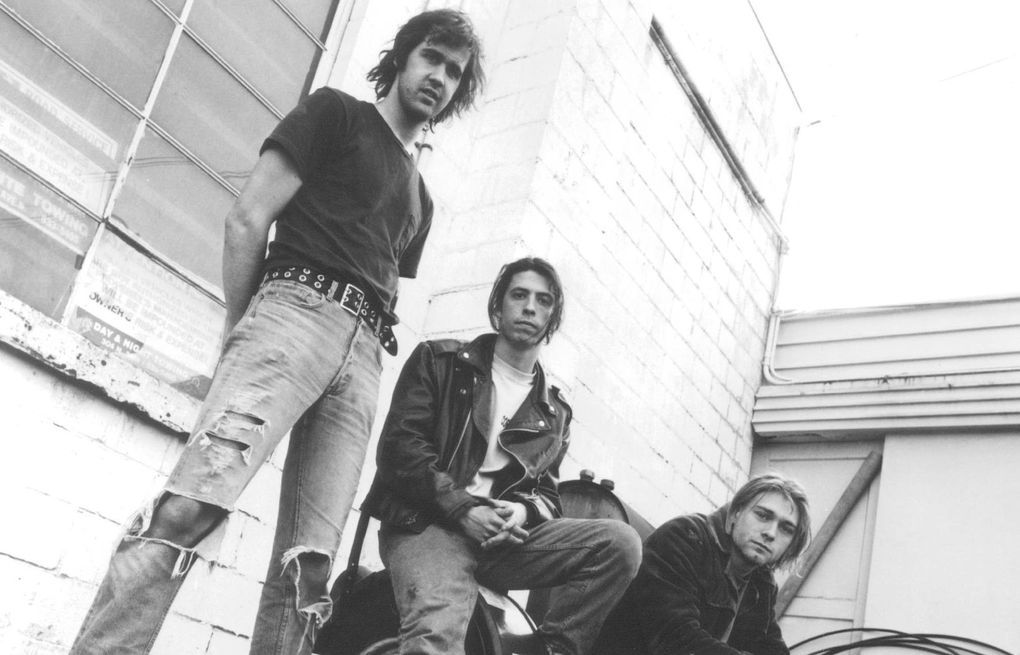 Advertisement
1993
The Cranberries
'Dreams'
In 1993, Nirvana's dominance of the rock landscape continued with the raw and abrasive In Utero, while in the UK, the Britpop era commenced in earnest with Suede's self-titled debut, driven by the memorable glam-punk hit 'Animal Nitrate'. Closer to home, though, Limerick's The Cranberries landed a knockout punch with 'Dreams', a soaring anthem that incorporated Celtic rock influences to thrilling effect.
Now, the song stands as a powerful testament to the brilliance of Dolores O'Riordan, who noted: "I wrote that when I was living in Ireland… It's about feeling really in love for the first time." Boasting some of the ethereal quality of the Cocteau Twins' Liz Fraser, whilst also brimming with attitude à la Siouxsie Sioux and Sinéad O'Connor, O'Riordan's vocal performance was truly inspired.
Along with the haunting ballad 'Linger', 'Dreams' would drive The Cranberries' debut album, Everybody Else Is Doing It, So Why Can't We? to multi-platinum success, and make them the first Irish band since U2 to crack America.
1994
Blur
'Parklife'
Advertisement
We certainly weren't lacking for classic singles in 1994, from Nine Inch Nails' industrial hit 'Closer' to Beck's slacker anthem 'Loser'. Another era-defining tune arrived that summer in the shape of 'Parklife', the title-track of the third album from Blur, the English art-pop crew whose race already seemed run in the aftermath of their underwhelming debut Leisure, only for the band to dramatically reinvent themselves with the stunning Modern Life Is Rubbish.
Building on the critical success of that record, their third album dialled up the pop thrills. With actor Phil Daniels serving as the cheeky narrator, the quirky observations on everyday life in 'Parklife', and its unforgettable chorus – testament to Damon Albarn's melodic genius – summed up the optimistic feel of the era. With grunge on the wane following the death of Kurt Cobain, Britpop provided a feelgood counterpoint to Stateside alt-rock.
The same summer, a certain Manchester group called Oasis released their iconic debut Definitely Maybe, eventually leading to a legendary chart showdown between themselves and Blur the following year.
1995
Van Morrison
'Days Like This'
In 1995, Britpop was in full flow thanks to the Blur-Oasis feud, as well as Supergrass' memorable hit 'Alright' and Pulp's classic album Different Class. Meanwhile, following on from Massive Attack's international success, the Bristol trip-hop scene threw up another genius in the shape of Tricky, whose debut Maxinquaye was an innovative and daring masterwork.
In Ireland, one of our greatest ever artists offered a stunning reminder of his enduring brilliance. Van Morrison's place in the rock pantheon had long been assured thanks to the Them classic 'Gloria' and his '60s opus Astral Weeks, the lyrical depth of which drew comparisons to Bob Dylan. With the title-track of his 1995 LP Days Like This, Van hit another creative high point: a sublime soul effort underpinned by a moving sense of hard-earned celebration.
Advertisement
Adopted as an anthem of the peace movement in Northern Ireland, in a symbolic moment Van would perform the track before a massive Belfast audience during Bill Clinton's Presidential visit in November '95.
1996
The Prodigy
'Firestarter'
Britpop reached its high watermark in '96, with Oasis performing two sold-out nights at Knebworth and hitting No.1 with the immortal 'Don't Look Back In Anger'. One of the groups who supported them at Knebworth was Essex dance crew The Prodigy, whose UK No.1 'Firestarter' – along with The Fugees' memorable version of 'Killing Me Softly' – soundtracked the summer.
Like Trent Reznor, The Prodigy's sonic mastermind, Liam Howlett, had a fondness for all-out musical assault, and 'Firestarter' was a vintage exercise in pulverising electro. But the track's real star turned out to be Keith Flint: hitherto confined to a background role as a live dancer, he stepped up to deliver a vocal performance brimming with punk attitude. Of course, there was also the not-insignificant matter of the menacing video, where Flint took the role and duly became an international icon.
For those who lived through it, 'Firestarter' captures an entire cultural moment: MTV still a hegemonic power; Select, Vox and Q, The Face magazines in their pomp; and – true, this – record shops across Ireland and the UK literally putting up signs saying, "No, we don't have the new Prodigy album" (it eventually arrived the following year in the shape of The Fat Of The Land). Halcyon days.
1997
Advertisement
Daft Punk
'Around The World'
With The Prodigy and the Chemical Brothers having enjoyed a series of No.1 hits throughout 1996, the following year saw the arrival of another beloved dance act, this time from France. Comprised of Thomas Bangalter and Guy-Manuel de Homem-Christo, Daft Punk drew on funk and disco to exhilarating effect, and imbued all of their output with a mischievous sense of humour.
Underpinned by a ludicrously catchy refrain – the title repeated over and over – 'Around The World' – was a vintage slice of dance-pop. Completing the package, the duo's fellow Frenchman Michel Gondry, also delivered a memorable video: based around choreographed figures dancing on a giant vinyl record, it quickly became an MTV hit.
Along with the stomping 'Da Funk' (which boasted another classic video, this time from Spike Jonze), 'Around The World' ensured that its parent album Homework became a major international hit.
1998
Jay-Z
'Hard Knock Life (Ghetto Anthem)'
As the post-Britpop comedown continued in the UK, Radiohead basked in the glow of their masterpiece OK Computer, Massive Attack created their third consecutive classic in Mezzanine, and Manic Street Preachers released one of the singles of the decade, the UK No.1 'If You Tolerate This Your Children Will Be Next'.
Advertisement
We were also introduced to New York native Shawn Carter, aka Jay-Z, who would become one of the defining artists of the next 25 years of hip-hop and pop culture. Though he was already established Stateside, with 'Hard Knock Life (Ghetto Anthem)', Jay-Z achieved his international breakthrough.
Notably produced by The 45 King, a hip-hop legend celebrated for his instrumental classic 'The 900 Number', the chorus of 'Hard Knock Life' was based on an inspired sample of a showstopper from Annie the musical. In between, Jay-Z reflected on the toughness of his upbringing in characteristically powerful fashion.
What name next? A series of classic albums and singles, mega-stardom, marriage to Beyoncé. You could say it's been eventful.
1999
TLC
'No Scrubs'
Part of the glorious Atlanta hip-hop tradition, by the turn of the millennium TLC – comprised of Tionne 'T-Boz' Watkins, Rozonda 'Chili' Thomas and Lisa 'Left Eye' Lopes – were one of the biggest groups in the world. Having enjoyed a substantial hit with their 1992 debut album Oooooohhh… On The TLC Tip, they went truly supernova with '94's CrazySexyCool, which – propelled by the sublime soul smash 'Waterfalls' – sold a phenomenal 23 million copies worldwide.
Anyone wondering if they could repeat the success with 1999's FanMail got a resounding answer, as the group turned in another huge critical and commercial hit. The album's flagship tune was the instant pop classic 'No Scrubs', which recalled Prince in the way it combined insane catchiness with innovative production.
Advertisement
Aided by a typically memorable video from hip-hop auteur Hype Williams, the track became a worldwide smash, topping the US charts for four weeks and also hitting No.1 in Ireland.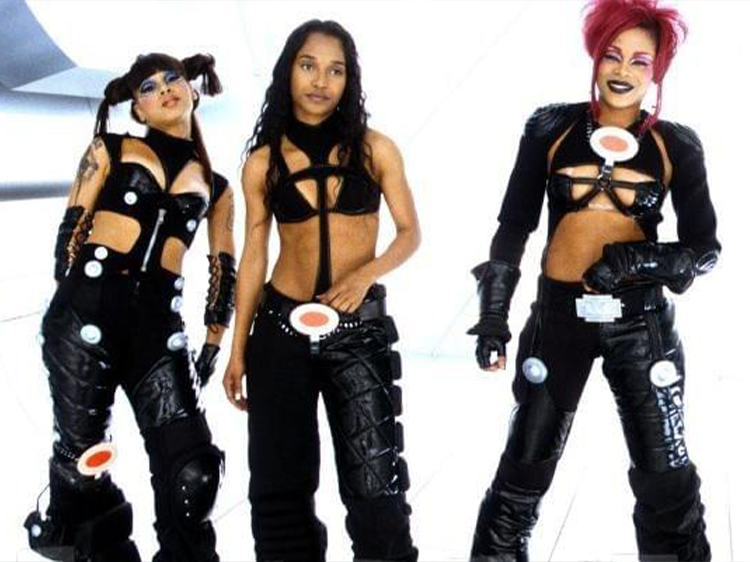 Read the full 45th Anniversary special in the current issue of Hot Press – out now:
Advertisement
RELATED