The Dropkick Murphys announce second album filled with folk legend Woody Guthrie's unpublished lyrics
The Dropkick Murphys announce their Okemah Rising album, their second album to feature the late Woody Guthrie's lyrics, drop their new single 'I Know How It Feels,' and confirm their St. Patrick's Day 2023 livestream
Celtic punk band The Dropkick Murphys are dropping a new album and continuing to introduce Woody Guthrie to a new generation this May. They've also announced the return of their live stream St. Patrick's Day Tour.
For the album, the Boston punk band were joined in the Tulsa recording studio by trusted collaborator and producer Ted Hutt. Okemah Rising features guest artists like folk punk legend Violent Femmes, Boston rebel Jesse Ahern, and country singer Jaime Wyatt.
To be released on May 12th via Dummy Luck Music / [PIAS], it will be their second album to feature American folk singer-songwriter Guthrie's lyric after This Machine Still Kills Fascists. 
Woody Guthrie was famous for his folk ballads, like 'This Land Is Your Land,' and his anti-fascist, pro-working class views. The Dropkick Murphys' vocalist and founder, Ken Casey, previously expressed admiration for the "national treasure" folk singer.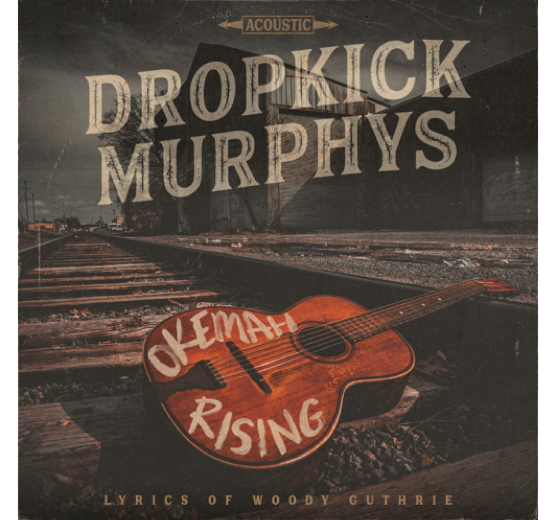 Advertisement
In an interview with Hot Press, Casey talked about how the band began using Guthrie's lyrics. The late singer's grandson was a fan of the punk band, prompting his mother, Nora Guthrie, to reach out and connect with them 20 years ago.
This Machine Still Kills Fascists was talked about for twenty years before its production and release in 2022. The 10 track Okemah Rising will be the last acoustic release from the band's recording in Tulsa, where they began recording to be closer to the folk singer's archives and museum.
"Every night, when the audience is singing along with Woody's words, his steadfast defence of the working class, and his fight against social injustice and the abuse of political power comes across loud and clear," said  Casey.
The unique collaboration, fostered by a shared philosophy, intends to honour the late folk music hero.
"So as long as Dropkick Murphys are involved, Woody's message will always be heard."
Because of the band's connection with the Guthries, some of the late singer-songwriter's lyrics even made their way into other, earlier tracks, like the renowned single 'I'm Shipping Up To Boston' - which has a re-imagined "Tulsa treatment" version for the new album.
Okemah Rising will be available on CD, LP, and streaming services worldwide. The vinyl edition of the album will include an exclusive bonus song, 'Talking Hard Work.'
Advertisement
The first single of the album and its accompanying video, 'I Know How It Feels' is already out in the wild for your streaming pleasure.  It retains the empathetic, middle-class commiseration the band has always striven to maintain.
The band's efforts revitalising Guthrie's unpublished lyrics are to be recorded in a documentary.
As for the Dropkick Murphys' St. Patrick's Day 2023 Tour, starting March 1st through March 19th the band will play four sold-out shows in their hometown of Boston, Massachusetts.
The Rumjacks and Jesse Ahern will open most of their dates, although Turnpike Troubadours will play three shows from March 16th to March 18th. Nikki Lane will also support March 16th.
Don't worry though, Irish fans of the American band won't miss out. Their famous St. Patrick's Day show will be live streamed via Veeps on March 17th, 8:00P local time, March 18th at 1:00 AM GMT.
Included on the set list of fan favourites are new songs from Okemah Rising, like the newly released 'I Know How It Feels' and 'Gotta Get To Peekskill.'
Advertisement
Find Okemah Rising's tracklist here:
1 - My Eyes Are Gonna Shine
2 - Gotta Get To Peekskill ft. Violent Femmes
3 - Watchin The World Go By
4 - I Know How It Feels
5 - Rippin Up The Boundary Line ft. Jesse Ahern
6 - Hear The Curfew Blowin
Advertisement
7 - Bring It Home ft. Jaime Wyatt
8 - When I Was A Little Boy"
9 - Run Hitler Run
10 -I'm Shipping Up To Boston – Tulsa Version
Pre-order the Dropkick Murphys' new album, Okemah Rising, here: