Tickets €30.50 including booking fees on sale this Friday, 27th January at 10am.
Ahead of the release of their long-awaited sophomore album Sitting Pretty on February 10th, Mullingar indie-pop outfit The Academic are returning to Dublin's 3Olympia Theatre on Friday, March 10th 2023.
With their self-released debut album, Tales From The Backseat, The Academic announced themselves with an unlikely bang. Buoyant guitar hooks and earworm melodies coalesced with Craig Fitzgerald's lyrics about teenage romance and tribulations in rural Ireland to place the band firmly amongst many ones-to-watch lists.
Released in 2018, it hit number one in the Irish Albums Chart but had enough of a global reach that over the next few years, the band toured the UK, Europe and a good chunk of North America.
New album Sitting Pretty was built in London, recorded alongside producer Nick Hodgson at Snap Studios in London. Building outwards, the record is a real coming-of-age narrative, switching between youthful confidence and anxiety.
"It has a more matured edge to it," bassist Stephen Murtagh promises. "We're different people now but that's natural. You grow out of things."
Advertisement
Stephen adds that the songs on Sitting Pretty are "reflections of where we are now and who we've become. We're in our mid-20s and experiencing all the chaos that comes with that. No one really knows what they're doing or where they're going, but nobody is panicking because we're all in it together."
With the band having not played a live show for almost two years due to Covid, by the time they went into the studio with former Kaiser Chief, Nick Hodgson, their excitement was at an all-time high.
"We were just buzzing to be in a room, playing loud music all together," says Craig. That same excitement drove those early years of The Academic and that giddy joy can still be heard across their second album. There was an emphasis on live takes. "If the magic is there, the magic is there," Craig smiles.
The band hopes Sitting Pretty "connects on a visceral level with people who are grappling with their sense of self-worth, their identity and not knowing where they belong in the world. It is a struggle to know where you fit or what's around the corner and it feels like that's only getting harder," explains Stephen. "I think a good chunk of young people feel lost or confused. Hopefully there's comfort to be found in knowing other people feel the same way."
'Pushing Up Daises' was the first single from the record to be released; a punchy, incisive return before last week's 'My Very Best' landed.
Advertisement
Tickets to see The Academic at the 3Olympia Theatre from €30.50 including booking fees go on sale Friday, 27th January at 10am.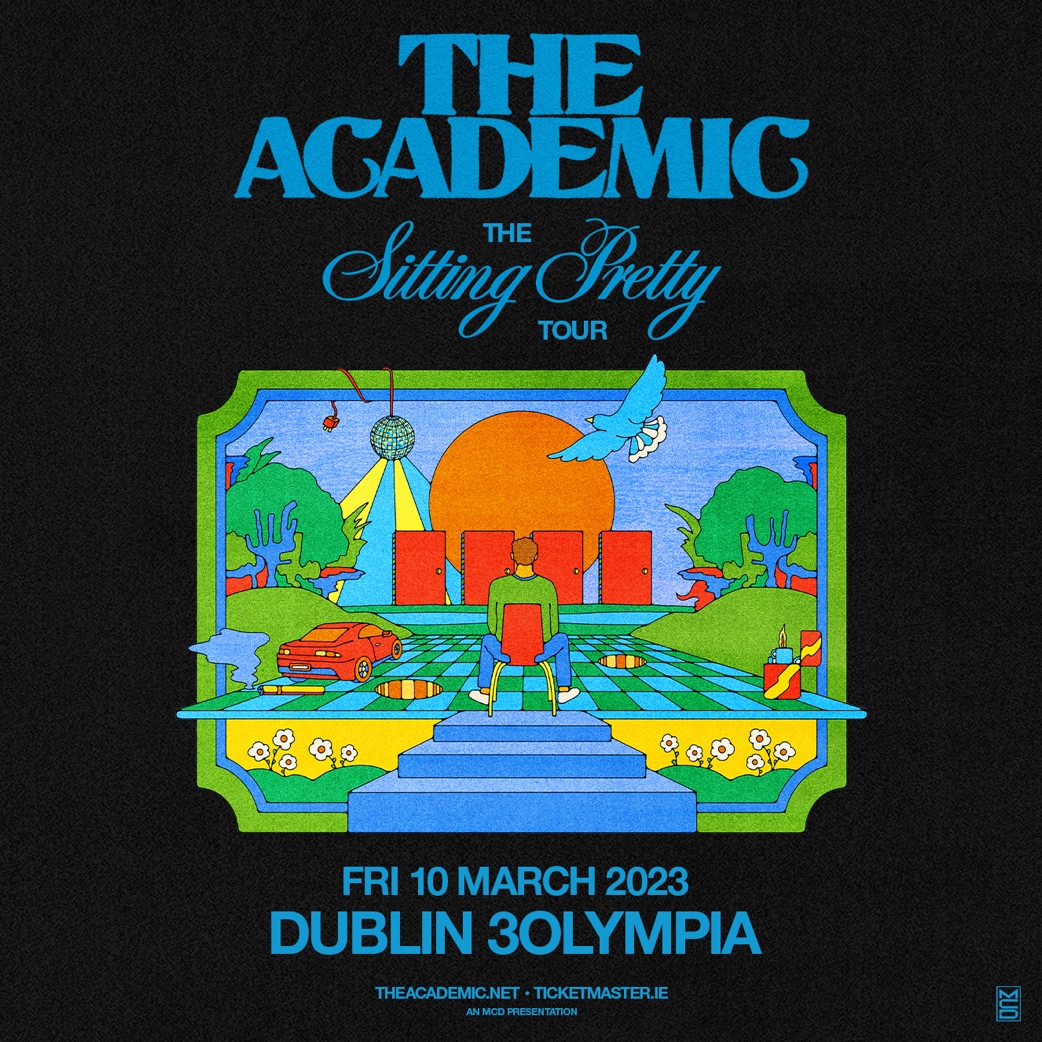 Sitting Pretty Tracklist:
1 - Pushing Up Daisies
2 - Don't Take It Personally
3 - What's Wrong With Me
4 - My Very Best
5 - This Is Your Life
6 - Homesick
7 - Heartbreak's Where It's At
8 - Do What You Want
9 - Step My Way
10 - Let Go of My Heart
11 - Right Where You Left Me
12 - Rain
13 - Buying Smokes