The Story Behind The 'Caped Crusaders' Animation with David Rooney & God Is An Astronaut
By: Lucy O'Toole
See the powerful animation, paying tribute to newly qualified doctors, on the Hot Press Instagram, Twitter and Facebook.
David Rooney's powerful 'Caped Crusaders From a Cast of Thousands' illustration, which features in the new Hot Press 'Stay Safe' Emergency Issue, has taken the country by storm. The comic book-style tribute to the doctors on the front line of the COVID-19 crisis has been shared across social media as a stunning animation by Hot Press's Karen Kelleher, featuring music from acclaimed Irish post-rock band God Is An Astronaut.
David, who has collaborated with the band on both artwork and music in the past, reached out to God Is An Astronaut's Torsten Kinsella shortly after Karen had added the finishing touches to the animation: "I asked Torsten if he had anything that might work for the loop," David explains. "It was 1.30am with a Hot Press deadline for the next day."
"David usually works late, and so do I," Torsten tells us. "He told me he needed a 10-second piece of music for the animation. I was still working in the studio, so I sat there for a few minutes and worked out that 'Fragile' could work – because it's got this melancholic, tragic feel, but with hope slowly emerging in the background."

'Fragile' is the opening track from God Is An Astronaut's second album, All is Violent, All is Bright. David worked closely with the band to create new artwork for the 2011 remastered edition.
"I was really happy with how it turned out," David says. "There's a beautifully printed edition for the vinyl version with a spectacular gatefold sleeve featuring a post battle scene."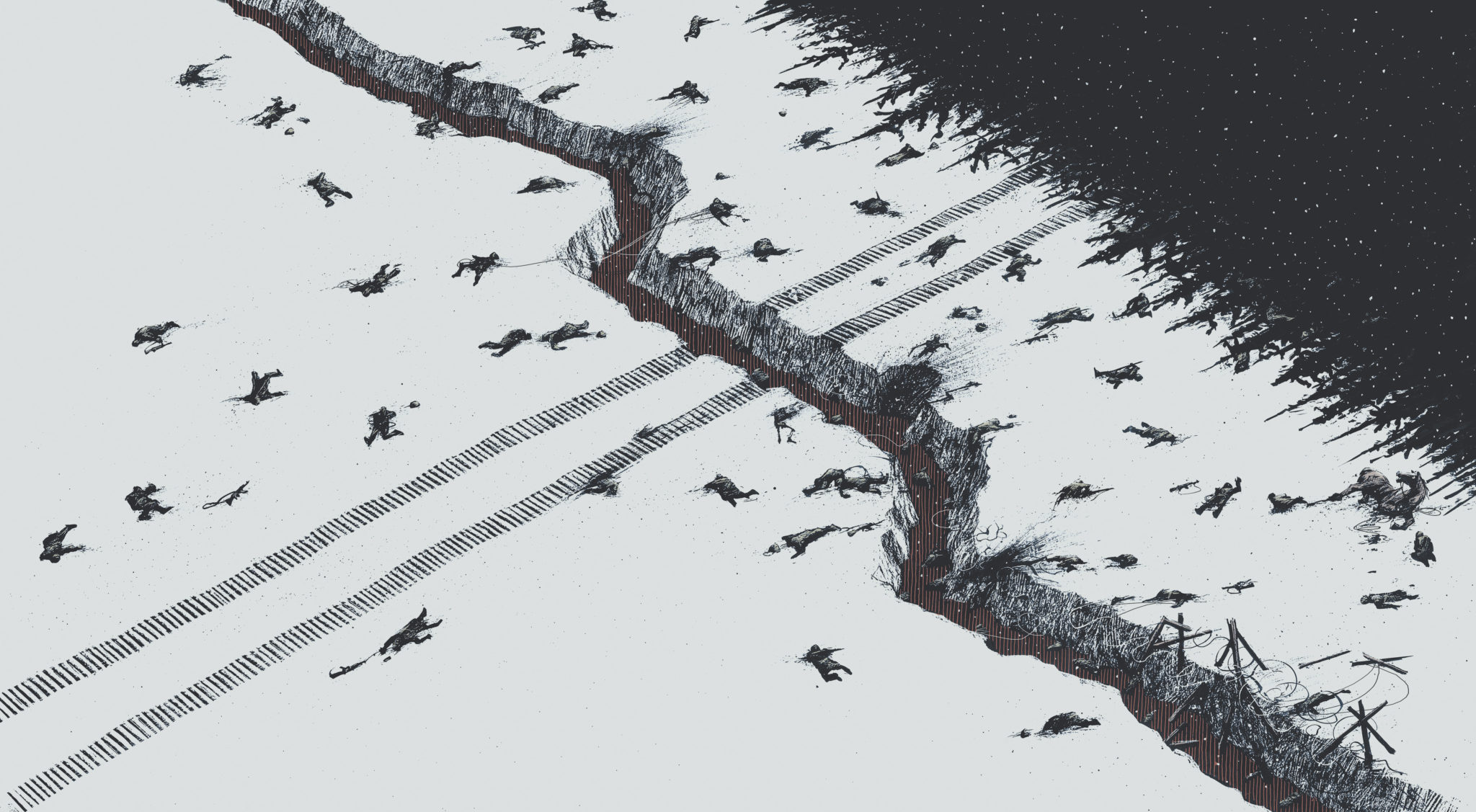 Advertisement
While David's been busy working on artwork for God Is An Astronaut's new album, he's also been collaborating with Torsten on music of his own.
"I've always tried to bridge his artwork with the music," Torsten explains. "I have to push the music to be a little more left-of-centre. We've come up with this new thing called Black Echo. Jay Wilson, who used to play with James Vincent McMorrow, is playing keyboards and doing backing vocals. We're trying to keep it as a minimalist project, but we've got two or three songs now, and they're really interesting. It will probably be coming out later this year, or early next year."
Take a look at the animated version of David Rooney's powerful 'Caped Crusaders from a Cast of Thousands' below, and read more about the real life heroes behind the illustration here.
FRONTLINE SUPERHEROES

Thank you, caped crusaders.

The Hot Press Covid-19 Emergency Issue.

https://t.co/gH3yjYdJc8

Illustration by: @rooneyd35
Animation by: Karen Kelleher #hotpress
Music by: God Is An Astronaut pic.twitter.com/8cCsaDQqGx

— God Is An Astronaut (@Giaa_band) April 13, 2020
See the full-page illustration in the new 'Stay Safe' Emergency Issue of Hot Press, available to buy in shops and order online now.
Advertisement