There will be additional treats for festival fans this year, featuring new collaborations, several international artists, spectacular new stage designs, new areas to explore, an array of art installations and endless performance art in many glorious forms...
New band Soda Blonde which consists of four members from the now defunct Little Green Cars are set to perform at the KnockanStockan festival which takes place July 19-21.
Donal Dineen, Panik Attacks and many more are also booked to play at the festival which embodies its ethos - to support and "Love New Music".
Four months ago, Little Green Cars decided it was time to call it a day, but it wasn't long until former members wasted no time in announcing a new band: Soda Blonde. Fronted by Faye O'Rourke alongside Adam O'Regan, Donagh Seaver O'Leary and Dylan Lynch, the band "evokes the tragic beauty of Karen Carpenter and the pop sensibilities of Annie Lennox".
Kerryman Donal Dineen is renowned as a pioneering DJ, but his talents don't stop there, he dabbles in photography and film-making also.
Panik Attaks is a talented, rag-tag team of punk rockers, consisting of Rob Walsh (Cold Comfort), Mick Pyro (Republic of Loose) Trevor Keogh (New Secret Weapon) Alex Harvey (Thumper) and Rian trench (Solar Bears) plus even more.
Other live acts announced include: Jimmy Penguin, Messyng, Aswell, Pine The Pilcrow, Lil' Brendan, Donal Gunne Band, VictorRama, The Other Side of Detroit, Schindler's Fist and Robbie Cash & The Black Tar Bandits.
Advertisement
Performance artists have also been announced for the festival: Eoin Tyrell, GirlPlay, Elder Norman's Formal Board of Normal Mormon Moral Orders and Frankie, Cikada Circus, Spiralites, LedBelly, Giant Wolf Theatre Company, The Comedy Collective, Walnut & Scroope, Niv & Circus Hoop Artist, SPÁSÓGS, Emmet O'Brien ft. Sea High, Sarah Kineen, Disco Dragons, Cúana Matata and Ring Dem Bells.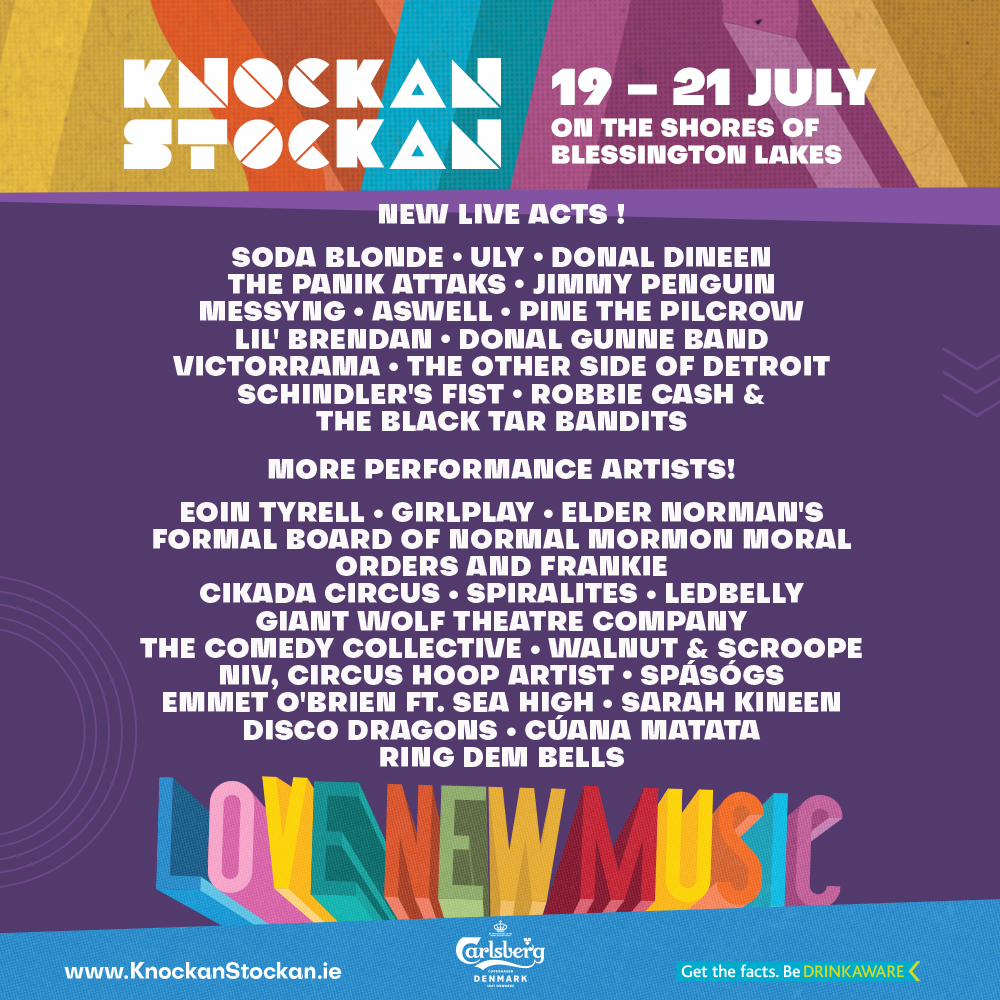 KnockanStockan are hosting the Knock Out Games which will allow audiences to participate more in the festival, the games will consist of various mini-games. All proceeds raised will go to the SCOOP foundation, a charity that aims to help all vulnerable lives - from children in war-torn countries to the homeless crisis on our own doorstep.
Tickets are on sale now and can be purchased on their website here.