With the anticipation of Scouting for Girls' covers album, 'Easy Cover', Roy Stride discusses nostalgic 80s singles, the thrill of touring and his plans for Angus Fest.
One of the most established pop rock groups to emerge from the UK in recent years, Scouting For Girls may be best known for their original songs like 'Elvis Ain't Dead' and 'She's So Lovely'. Their latest album, Easy Cover, will further cement the group as innovators. The covers album is an infectious collection of 80s tracks that take a whole new approach to music production during the pandemic.
"I started doing this album of 80s covers because I wanted to record something and just needed something to take my mind off of everything that was happening," lead vocalist Roy Stride explains.
"I actually found that I fell really far in love with music during the last sort of nine months. Not being able to make music, I suppose, made me more appreciative of what I do for a living."
Stride says that the original idea for the album "came about from a very late night after gig party on a tour bus, whilst driving to Ireland. We were listening to Phil Collins' live album, partying and dancing," he laughs. "There are some videos which must never be shown of us dancing.
"That's when we came up with the idea of 'Easy Cover' being an album of 80s hits. We had to have 'Easy Lover' on there by Phil Collins, because the whole premise for the album is because of that song."
Advertisement
Easy Cover combines much-beloved music from the 80s with a signature Scouting for Girls twist.
"I feel like we were a bit nervous to record some of them, because it started out – as I said – as a drunken tour bus idea, and it's a bit ballsy to try and re-record some of the greatest pop songs of all time," Stride says. Understandably so – Easy Cover contains new renditions of classic hits like Whitney Houston's 'I Wanna Dance with Somebody', The Waterboys' 'Whole of the Moon' and Tears For Fears' 'Everybody Wants to Rule the World.'
"I remember listening to that one in the back of my dad's car while going to the sweet shop when I was probably about six or seven years old," Stride says of the Tears For Fears track.
"The last band I saw before lockdown was Tears for Fears, and I actually drove my dad to go and see them, so it means a lot to me for that song to be on there. The first song I ever remember listening to was 'Everybody Wants to Rule the World,' which is the first song on the album. I think we did a good job with that one with that one."
As for the rest of the songs featured on Easy Cover, Stride is modest about the band's efforts. "I think some of the songs are really good, some are really fun and some of the songs are nowhere near as good as the original – but they have a different take on them, and that is what the album is supposed to be.
"Especially with a band like Scouting for Girls, we're known for fun pop songs, but we're not exactly musical pioneers," he continues.
Advertisement
"So what we tried to do was have a lot of fun with them and create something which we could then do live on the tour, to drop a few of these songs into our set, and hopefully in a festival environment. I think everybody is looking forward to having something to look forward to, it's just been tough for so many people."
The frontman says he feels like he has a renewed energy to perform and produce music since the start of the pandemic. "When I went to the studio, I felt like a kid in a sweet shop. I think I'm gonna be like that, like a giddy seven year old on sweets when I get to the first festival or the first gig, I can't wait."
Scouting for Girls will also be performing a massive headline tour across the UK in autumn of 2021 themselves. "Oh my god, I can't wait for that tour bus door to shut," Stride enthuses. "It makes this noise and all of your outside troubles in the world seem to disappear, you're just on this bus. With our band, it's my oldest friends and all of our crew has been with us for like ten to fifteen years and so it's a really great environment to me.
"To get back on stage again, to play songs to our fans and for people who haven't been able to go out the last two years, I just can't wait. I feel like it's gonna be like the biggest party tour of our lives."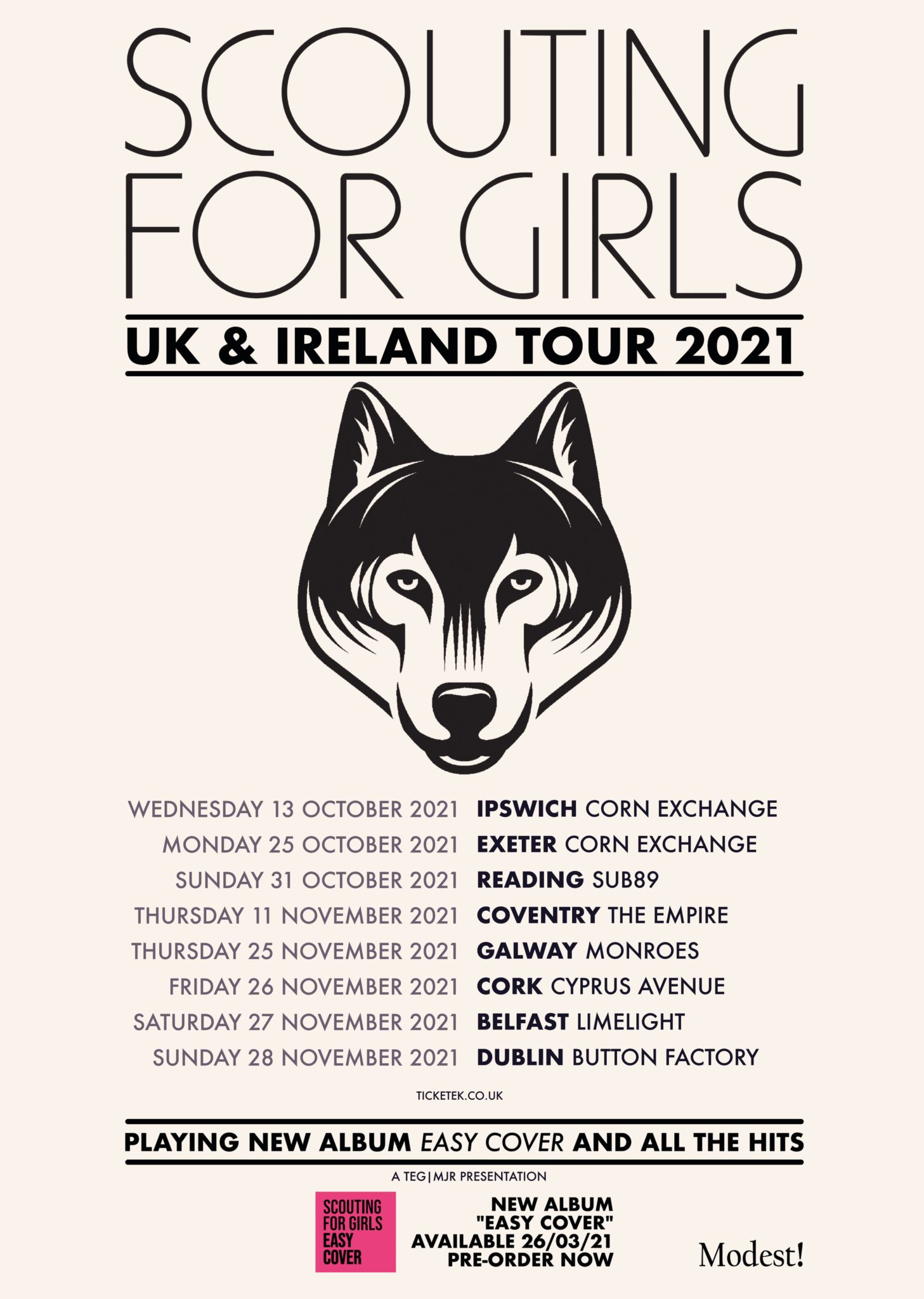 The tour closes in Ireland, and Stride is keen to discuss his specific admiration for Irish audiences. "Ireland is always the last, we always try to make sure that if we do Irish shows they're always the last on the tour because it's such a great place to play.
"The shows are always so fun, and the audience is always so musical and appreciative and really up for a party.
Advertisement
"I'm really looking forward to just banging out 'She's So Lovely' again, because it always goes nuts when we play that and it's just gonna be so fun for people to see it again. It's always been the highlight of my day whenever we play live, so I'm looking forward to playing all the big hits again."
With the mention of the band's 2007 hit, Stride jokes about how their song is still referenced from the 2008 romantic comedy Angus, Thongs and Perfect Snogging. "I reckon there's probably at least one tweet a day which goes, 'I can't hear 'She's So Lovely' without thinking of somebody running through a street dressed like an olive.' For a long time, I thought, `What the hell is that?' and then I watched the beginning bit of Angus,Thongs where somebody is dressed like an olive and thought: 'that makes sense there'."
If you're a girl and hear 'She's So Lovely' and don't think of Georgia Nicholson walking around in an olive costume, you've missed out

— Millie Payne (@_milliepayne) October 9, 2016
Despite the film being hugely popular, Stride confesses he was ignorant of its existence until very recently. "I had never seen the film until last year," he admits. " It's a bit of a weird film to watch as a forty year old man, because it's very much about teenage girls growing up.
"We were gonna get some of the bands on that soundtrack together and put up a night in Eastbourne, where it is based," he continues. "We were gonna play the film with a screening, play a gig afterwards, then have a night out in a pub.
"We started planning that and then obviously everything happened with bloody Covid, so that may be planned for 2022. I'll definitely be looking into Angus Fest again."
Advertisement
Scouting For Girls have gained a cult status of their own, over the last 15 years. "It is one of those things where I feel very lucky that we're a part of people's livelihoods," Stride reflects. "We soundtrack people's lives, in a way. It's such a magic thing that everything that I've done – and the fact that we've done it together, as friends – is still probably the best thing."
Easy Cover is out now, and tickets for their upcoming gigs are available here.