Rock Solid Investments' Laurence Carpenter on tracking down the piano Bob Dylan used to write Blood On The Tracks – which is now looking for a loving new home
In the first of a series, Laurence Carpenter tells us how he became a specialist music memorabilia dealer and tracked down Dylan's long-lost piano. Words: Stuart Clark
Coming from a family of collectors, it wasn't much of a surprise when Laurence Carpenter obsessively started buying Oasis records in the 1990s.
"I'd flick through the back of music magazines and find whatever promos and pressings were out there", the Dubliner now in exile in Wicklow recalls.
Needless to say, things accelerated.
"My father somehow had an old auction catalogue for Sotheby's or Christie's listing things like Jimi Hendrix handwritten letters and Beatles autographs, which I found really intriguing. So I got into the habit of contacting the auction houses to see what they had, even though I didn't have any money to buy things."
That all changed in 2009.
"Shortly after Micheal Jackson died that year, I saw that a massive limited-edition lithograph of him had sold at auction in L.A. for $10,000. I thought, 'If I can track one of the other ninety-nine down, I might be able to make some money.' I eventually did in a Canadian auction catalogue, which listed the lithograph but didn't have an accompanying photo. I had an inkling that this might put other bidders off, which it did. I got it for $500, sold it for $3,500 and was up and running as a specialist dealer in memorabilia."
Now at the helm of his own Rock Solid Investments company, Laurence has managed to hunt down everything from the Flying V used by Noel Gallagher on 'Cigarettes & Alcohol' and assorted Lady Gaga costumes to the Hohner D6 clavinet keyboard that supplied Stevie Wonder's 'Superstition' with its funky intro and the Bob Dylan piano featured in the first of this special series.
"That Flying V was loaned to Noel by Johnny Marr whose guitar dealer I got it from," Laurence resumes. "Most of my time is spent tracking down people who are as close to the artists as possible. You'd be banging your head against the wall thinking, 'This isn't getting me anywhere', and suddenly you strike gold!"
The Piano Used By Dylan To Write Blood On The Tracks
Politics, sport and religion be darned, if you really want to provoke an argument ask a bunch of Bob Dylan fans what his finest longer-player is and watch the sparks fly.
The last time Team Hot Press deliberated over the matter in our 2004 Greatest Albums Of All Time special issue, it was Blood On The Tracks that came up trumps – and, in this writer's opinion, rightly so.
Much of his classic 1975 breakup record was conceived in the private writing space that Dylan rented in a residential building close to his own Manhattan abode.
Alone save for his guitar and upright piano, The Big Zim would pull all-nighters composing songs.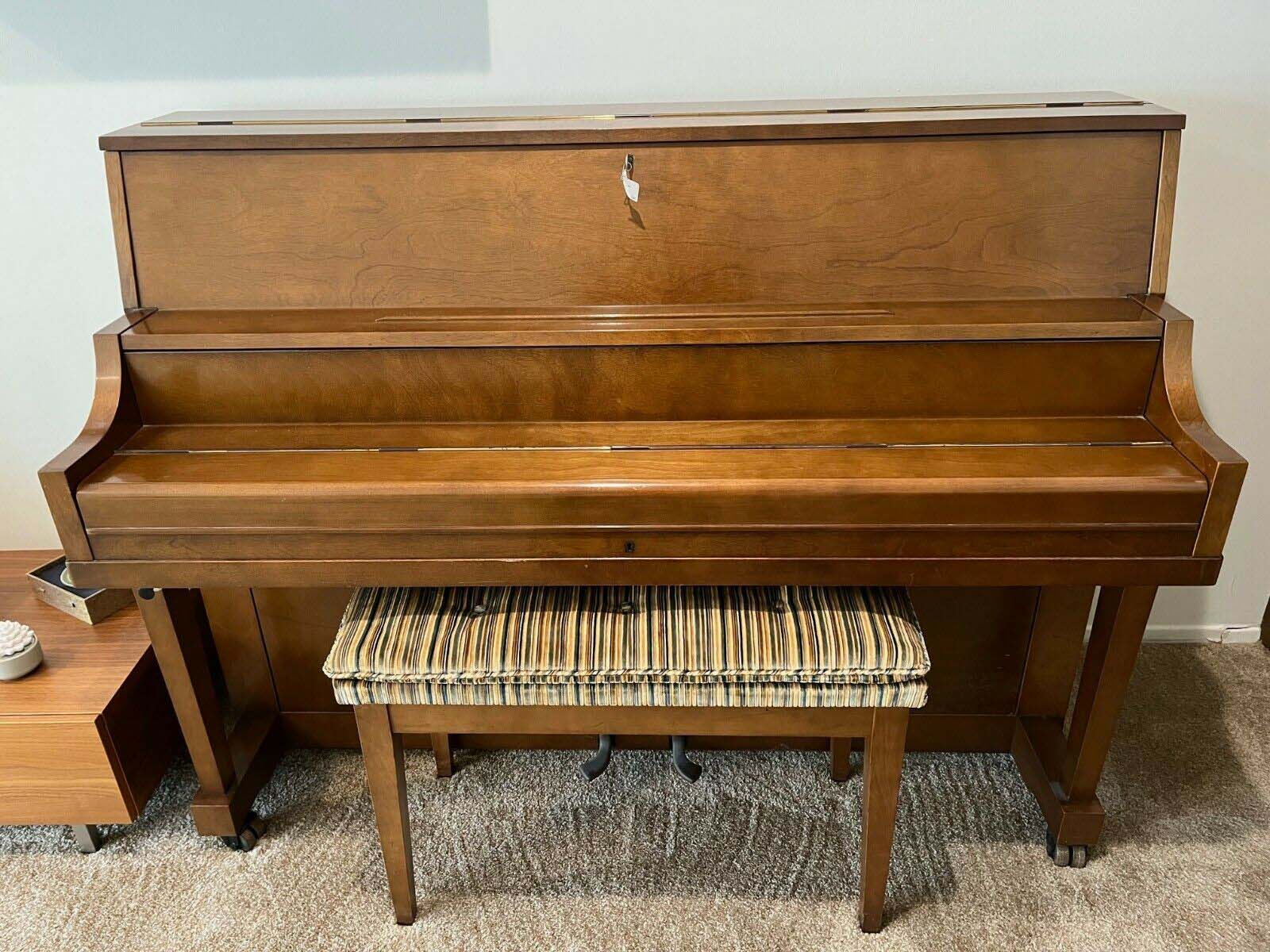 The upright in question still exists and has been acquired by Laurence Carpenter who's conducted extensive detective work to confirm its provenance.
"I was doing an online search using various Dylan keywords and an image of this upright Yamaha piano came up, which a woman in New York said had belonged to him," Laurence tells us excitedly. "There were also photos of the bond made out to Bob by Yamaha in 1969 and the original invoice from the Ostrovsky piano shop, which had his home 94 McDougal Street address on it. The minute I saw them, I was like, 'Holy shit, this is legit!'
"I contacted this lady who explained that her Aunt Mildred had worked as Bob's bookkeeper from the early '70s to the '80s, and that he gifted the piano to her when he moved away from Greenwich Village. It was then left to her by Mildred when she died."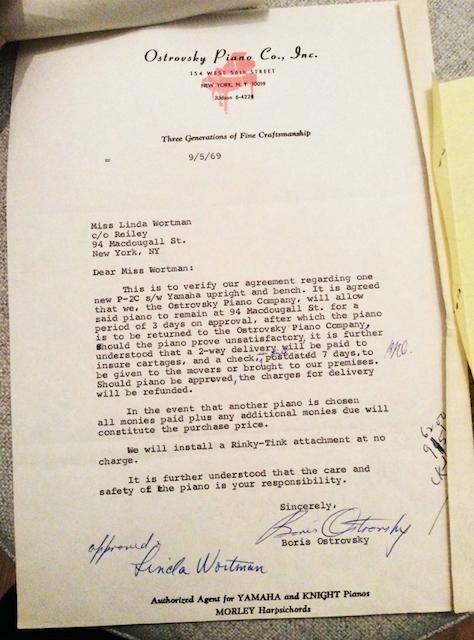 That would seem like sufficient I's dotted and Ts crossed, but Laurence wanted to know more.
"I found this article by a Village Voice journalist called Lucian Truscott who'd lived in the loft of 124 West Houston, the same building that Bob had his first-floor studio in. He used to get a chair and sit outside Dylan's studio while he worked on 'Tangled Up In Blue', 'If You See Her, Say Hello', 'Idiot Wind' and other songs that made it on to Blood On The Tracks, on that upright piano."
Having bought the piano last year and put it into specialist storage, Laurence is now looking for a loving new home for this unique Dylan artefact.
"It's a real once in a lifetime find," he concludes. "I'd love it if one of the successful artists who were inspired by Dylan ending up buying it. As for me, I'm on a mission now to find as many of Bob's guitars as I can!"
• See rocksolidinvestments.ie for their current range of investment-grade artefacts from some of the most iconic artists in the world. And there will be more in the next issue of Hot Press!