Reneé Rapp: "I'm very pro social media... It's obviously been such a catalyst for my career. But, also, I think it's crazy and psychotic..."
Having already lit up the screen in cult TV hit The Sex Lives Of College Girls, rising star Renée Rapp also looks set to conquer Planet Pop with her stunning debut album, Snow Angel.
From a young age, it was certain a music career was on the cards for North Carolina native, Reneé Mary Jane Rapp. At just 19, Rapp was cast in the lead role of Regina George in the Tony-nominated Mean Girls, which shot her to stardom. The starlet then took the leap from stage to screen in Mindy Kaling's HBO Max series The Sex Lives Of College Girls, playing Leighton, one of the four leads – a role which she has since left in order to focus on music.
As her career took off, her fan base grew through TikTok, especially as the world entered lockdown. Using this newfound platform, the singer independently dropped a teaser of her track 'Tattoos', before being scooped up by Interscope Records.
Everything To Everyone, her first EP, was released to a monstrous wave of support. Just a year later, Rapp is set to release her debut album, which she has spent a lot of time emotionally preparing for. Over the phone, the singer listens to me express my adoration of her music and giggles, humanising her in a big way.
"I love that – I mean I hate that but also love that," the singer drawls, as she hears how a combination of being scheduled to interview her, and entering the battle for Taylor Swift tickets, reduced me to tears. With less than a month to her album, the young-twenties hysteria is clearly hitting us both hard.
Advertisement
"I've gone through a year of releasing music, and when I first started releasing, I would get so nervous that I would twitch for a month leading up to it," Rapp laughs. "But now, I don't really worry about it as much. I prepare myself, maybe not in the best ways. I sort of prepare myself for failure, to be honest, so that I'm still somewhat happy and prepared if that happens. Hopefully it doesn't. It's probably not really a healthy thing, but I don't want to give a fuck."
This pressure of writing again after her EP followed Rapp through the creation of Snow Angel, although by the time she whipped out 'I Hate Boston' – a booming ballad of similar grandeur – she felt more at ease.
"'In The Kitchen' was a big one for me from my EP," the singer reflects. "It was definitely on my mind throughout making the album. I was so fucking nervous. Because, like I've said so many times, songwriting was one of my biggest insecurities growing up, and honestly, still kind of is.
"I feel like people can say anything they want about anything else I do in my career, but the second somebody starts to talk about my songs, I get so insecure and defensive. I was definitely worried about living up to that track, but I feel so relieved knowing that it wasn't just this little fluke."
The singer notes that 'I Hate Boston' is her favourite track from the LP.
"My favourite track changes a lot," she says. "I have different favourites for different reasons – you know, different strokes for different folks. 'I Hate Boston' was the song I was most proud of when I wrote it. It's another good ballad and I think I really needed that. I also love 'Willow', because it's the song most inspired by the artists I listen to myself. I don't make a lot of music like the artists that I listen to, so it's special. It's like my secret favourite child."
Despite these two tracks taking her top spots, fans have still to hear them.
Advertisement
"'Talk Too Much' was definitely the first single from the moment we wrote it," says Rapp. "As I got a lot more comfortable and found a groove with my creative partners, a lot of the concepts that I had always been wanting to write about started to feel right. When Alexander (23) and I wrote 'Snow Angel', it made the whole album make sense.
"It added this depth of my not-great-experiences that I wanted on the album. I wanted this release to be vulnerable and an accurate depiction of the last six months of my life. So, 'Snow Angel' made so much sense to release as a single, as well."
Throughout her career to date, Rapp's lyrics have been remarkably mature.
"To be honest, I'm someone who obviously feels very deeply, and I went through a lot of really tough experiences very young," she says. "For instance, in 'Snow Angel', those kinds of things aren't something a person should have to go through, right? But then when you do, it's like: 'Alright, well, I'll make the most of this.' If the situation wrecks me, I want to benefit from it in the end!
"I grew up surrounded by almost toxic positivity, so now, I've got to at least profit from the things that have hurt me and make it worth it. Writing songs about those experiences helped me find peace and closure, in situations where closure isn't possible for me."
For a lot of people, the way Rapp speaks so openly and candidly about her mental health struggles, her experience with eating disorders, and discovering her bisexuality, provides a beacon of hope. Stepping back to see how much of a positive impact she makes on her fans must be incredible – but also overwhelming.
Advertisement
"To be honest, it's not that I'm doing all of this in a selfish way," she says. "It's not like I don't care who's affected by it, it's quite the opposite, but I put all of this out there for myself. It's good for me and it's who I am. So if I'm showing up as myself and it's benefiting other people, then that's amazing. But what I can't do is start going into it saying that it's strictly for the benefit of others. Because then I'm gonna start saying shit thinking it's helping other people, when it might not be an authentic experience to me."
Describing herself as "a mix between 2000s Paris Hilton and really soft, sensitive and emotional" – perfectly encapsulated in 'Tummy Hurts' – Rapp moves on to talk about social media and its advantages.
"I'm very pro social media," she says. "I think it's an awesome way to communicate with fans, and it's obviously been such a catalyst for my career. But, also, I think it's crazy and psychotic, and it drives me fucking insane. I used to be somebody who didn't look at every comment and worry about it, but recently I have been, because I feel like there's so much going on in the world.
"It's great, it also sucks – but also, I really hate when older people start talking about how much they hate social media. It's like, yeah, your mother probably said she hated your fucking horse and buggy too."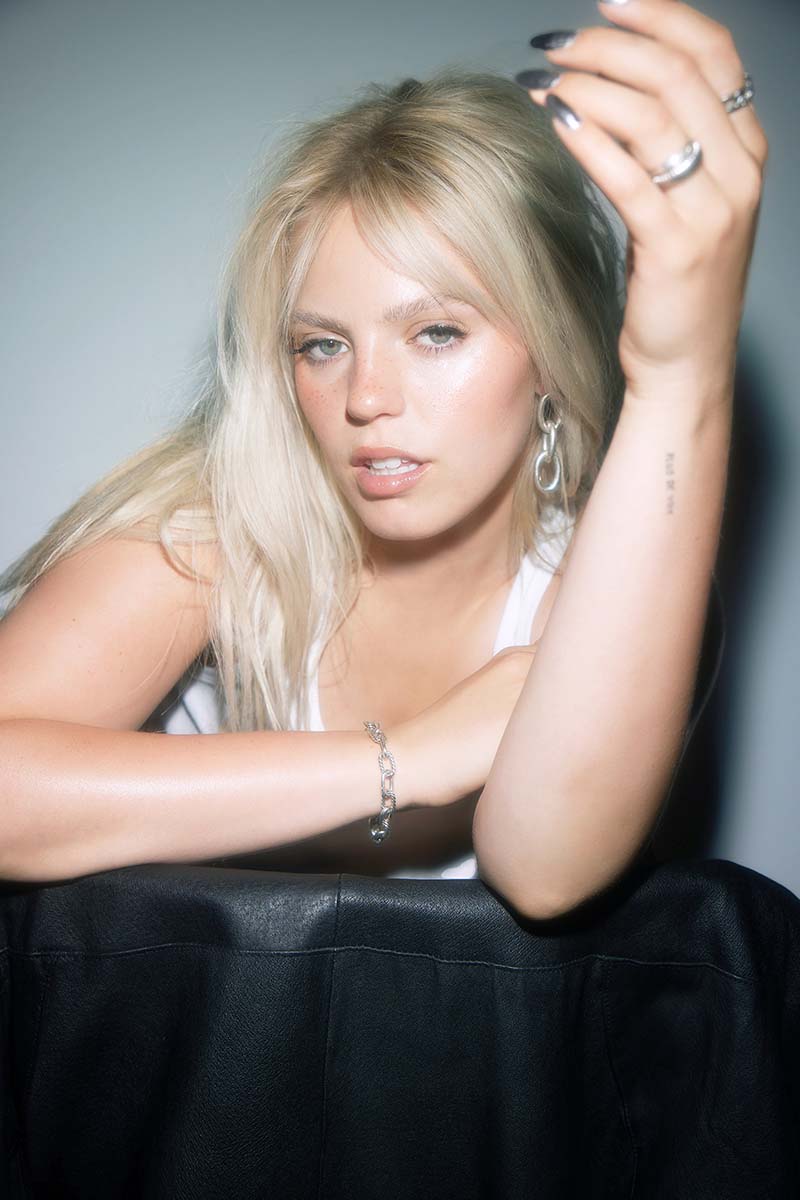 As a young actress, Rapp also takes time to speak about the current SAG-AFTRA strike.
"I say all this with a very, very thick grain of salt, as I'm very aware of my privilege," she says, "but I'm so pro fuck everybody who gets in your way, and who tells you that you need to fit into certain spaces to do XYZ.
Advertisement
"I'm really excited for the changes I think this is going to bring. It's exposing a lot of different things in our industries. I really do believe that it's going to make it better going forward. I cannot tell you how much it's needed."
On top of her album, the singer also revealed earlier this year that she'll be hitting the road for the Snow Hard Feelings tour.
"The last couple of shows that I did, I was so anxious," she says. "And this time, I honestly just feel really excited to go to new places. Like, I've never even been to Ireland before. I'm really excited to go to different places and experience how people consume music."
• Snow Angel is out tomorrow, August 18. Renée Rapp plays the 3Olympia, Dublin on March 4, 2024.