Record Store Day: The Thrills' So Much For The City – Revisiting a Classic Interview
One of the highlights of Drop 1 of Record Store Day tomorrow is a new red vinyl edition of The Thrills' iconic 2003 album, So Much For The City. As we count down the hours until Saturday, we're revisiting a classic interview with the Irish band – originally published in Hot Press in 2003...
Originally released in 2003, The Thrills' debut album, So Much For The City, spent 61 weeks in the Top 75 in Ireland – and also marked the Dublin band as serious contenders overseas, debuting at No.3 in the UK, and earning a Mercury Prize nomination.
Having been notoriously difficult to find on vinyl, So Much For The City is now being released for Drop 1 of Record Store Day (tomorrow, June 12) on red vinyl, complete with original packaging.
"Fortunately for The Thrills, the good news is that they have lived up to the hype and managed to bear the weight of expectation to deliver one of the finest, most delightfully crafted albums I've heard in a long time," Tanya Sweeney wrote in her original review of the album for Hot Press. "The initial reaction is that it seems incredible that such a Weezer-like, Californian-sounding band originated in this country – imagine, instead of surfing the Pacific every day of their young lives, they probably watched Bosco and ate Homestead Jam, just like you and me. Too weird..."
In the run-up to the release, we're revisiting a classic interview with The Thrills – originally published in Hot Press following the release of So Much For The City in 2003...
* * * * * *
Advertisement
It's been a hell of a year for The Thrills, propelled from rehearsal rooms in rainy Dublin to a number one album, sell-out shows and limo-driven tours of L.A. at night. Hot Press catches up with the band as they kick off an Irish homecoming trek with an exclusive Dublin fan club gig.
Interview: Peter Murphy
California dreamin' on such a winter's day. It's early December 2003, and The Thrills are back home in Dublin for a lap of honour Irish Christmas tour, beginning with what will be a triumphant fan club show in Whelan's on Wexford Street. Six months on from the release of their debut album So Much For The City, the seeds of which were planted on a San Diego summer holiday a couple of years ago, the quintet have gone from being a namedrop amongst Dublin rock cognoscenti, to arguably (and there are a few who will argue) the most promising young Irish rock 'n' roll band since Ash – with whom they share an abiding love of teen-dream Californication.
Of course, Euro kids have been falling for classic Americana and then exporting it back to its place of origin for decades, and as we join The Thrills in their dressing on the afternoon of that Whelan's show, the conversation has inevitably come around to the band's romance with the west coast. Understandably enough, after a full year of being asked the same question, singer Conor Deasy is keen to play down the sunshine angle and accentuate the noir.
"We're not as obsessed with California as people think we are," he says, to which we respond by pointing out that almost half the songs on So Much For The City are beach-buoyed: 'Santa Cruz', 'Big Sur', 'Hollywood Kids', 'Your Love Is Like Las Vegas'…
"Yeah," he concedes, "but I think a record, if it should do one thing, it should capture a state of mind at a certain time, which isn't always necessarily relevant a couple of years later. But if it does that, then it's served its purpose, it documents a year in your life. And to be honest, when we listen to the record it's the sound of five guys in a bit of a rut, pissed off with their deal and feeling a bit frustrated, stuck in their hometown, wherever the fuck it is. But in California, those towns were like symbols of something else for us. None of the songs are really about those places, but it meant something. In a way it was an indulgent thing; we didn't know what the fuck anyone else was going to get out of it. Before we went in to do the record, we knew that if there was an angle for people to have a pop at us, this was it, but we stuck with it."
Advertisement
Is it possible for them to come back to Dublin and write songs that make, say, Tallaght sound glamorous?
"I do think that when you spend time away from somewhere you have more perspective on it. I think we're in a better position now to write a record of songs about being Irish or being an Irish person overseas. I've a kind of respect now that I don't think you have when you've grown up somewhere your whole life. I think sometimes you have to get something out of your system to move on. There's no way we're going to write those kinds of songs again, 'cos if we did we'd be the phoniest bunch of pricks alive. But at the time those songs meant a lot to us, so we went with that."
One thing about So Much For The City: for all its bumming-in-the-summer feeling, there's also a definite melancholy underpinning the whole thing, particularly in Deasy's lyrics and vocal melodies. If it's a summer record, then it's the end of summer, with a haunted autumn just around the bend. Tunes like 'Til The Tide Creeps In' and the uncharacteristically dirty 'Hollywood Kids' come wrapped in an air of faded grandeur, of rock 'n' roll ghosts walking the halls of the Chateau Marmont. On such songs, one might think that The Thrills have pitched their tent just down the street from the Flying Burrito Brothers' Gilded Palace Of Sin, or that great shabby hulk Exile On Main Street: both tumbledown monuments to excess and ruin. Certainly, Deasy feels the haunted hotel aspect of that debut album has been somewhat, uh, Overlook-ed.
"I remember when I got back just after the record was out, and a lot of the reviews were out," he says, "and I was talking to Donal, one of the guys we were living with in San Diego that summer, it was when a lot of that 'sunshine pop' thing was going around. And he said something like, 'When I listen to it I hear a sad record'. I think that's 'cos he knew what it personally meant to us, and I was like, 'Thank god someone's seen it'. It annoys me, because if you look at the lyrics there's hardly a single uplifting lyric in it, a lot of it is quite down, the first line you hear is, 'Well tell me where it all went wrong'. And so it's like a bittersweet thing."
Which is of course is also the very essence of a pop cultural Californian artefact like Pet Sounds. In fact, Thrills keyboardist Kevin Horan had all the Beach Boys albums before he'd reached his teens and attended conventions on the group, obsessive to the point of collecting copies of Nick Kent's Brian Wilson epic 'The Last Beach Movie Revisited' ("It was in three different issues of the NME in the '70s, really small writing, it's a real read. It was photocopied and stapled together.")
And when the band were despondent in their early days, having denied themselves the quick fix of club gigs in favour of sweating over the rudiments of song composition in grotty rehearsal rooms, this imagined west coast Shangri-La represented an escape from the cold realities of their hometown.
Conor: "I guess (it was) the fact that we were in cold pissing rain in Dublin, we used to be practicing in a practice room just off O' Connell Street behind the Supermac's. I remember one time we were loading the gear out and there was this guy having sex with a prostitute just around the corner, this weird looking guy, and I was thinking, 'This is a low point'. So we wanted the songs to pick us up."
Advertisement
You can hear that longing for escape writ large all over a song like 'One Horse Town', where Deasy could be eulogising Jack Kerouac and Woody Guthrie in the opening lines: "You're burning my ears with your travelling tales." The tune also boasted an intro that alone justified the initial hype – slashing Townsend Fender strokes, a rumbling Motown piano figure and pumping backbeat, plus washes of harmonies heralding a hushed and husky lead vocal.
"People used to always ask us if 'One Horse Town' was about Dublin," the singer says, "and we used to say it could be about anywhere, you could grow up in fuckin' New York City and eventually it would feel small, it would conform to a routine or piss you off after a while. I think it's only natural at some point you're going to resent where you grew up, and then you get away and get perspective and realise all the shit that you love about it. If you didn't go through it you wouldn't have a pulse."
'One Horse Town' was the point where this writer, like most casual pop pickers, tuned in and turned on. When the video went straight to heavy MTV rotation last February, I was intrigued – who were these guys, with their effortlessly dishevelled surf-movie, gently overgrown hair and immaculately scuffed t-shirts and sneakers? They're from Dublin?
Such a reaction was not uncommon, but the band insist the promo was shot off the cuff and on a shoestring the morning after the album's final session. Kevin, Conor and guitarist/bassist Daniel Ryan take up the story:
Kevin: "It couldn't have been any less contrived. We just got out of bed with raging hangovers, it was Thanksgiving."
Daniel: "Ah now, Kevin, you were shopping for two weeks beforehand!"
Advertisement
Conor: "Kev had hair and make-up stylists! We'd just finished recording the day before and we'd been up 'til about six in the morning, I think we got about 50 minutes sleep – not good. That night, as a treat, they rented us out a limousine to take us around wherever we wanted to go in LA. So we basically got the driver to take us around all these different bars on Sunset. I'll never forget we pulled into the Chateau Marmont…"
Daniel: "…And we met Fran Healy, he was staying in the hotel, and we were chatting away to him and telling him that we were going to do the NME Brats tour, and we ended up walking out the door with him."
Conor: "And he'd been giving us a lecture on keeping away from all the rock star bullshit, and we were going, 'Oh yeah, of course, no way!'"
Daniel: "But you have to walk out of the bar and around the front into the hotel, the bar is kind of separate, and we stopped beside the limo, and he said, 'Whose is that?' and we said, 'It's ours!"
Conor: "He just cracked up laughing!"
Daniel: "Every time he sees us he laughs about that."
So, to recap: a number one album, a brace of hit singles, limos, constant touring – 2003 has been The Thrills' annus miraculous. So what's the feeling in the camp?
Advertisement
"Pretty wrecked," says Conor. "There was a point there when we got back from America, we only took one day off and went straight into a European tour. That was the first time we all realised we needed a break because we were so jet-lagged that we'd be waking up at five in the morning, and then an hour before we'd go on stage we were all falling asleep. And then of course after the gig you've got the adrenalin in you, so you're wide awake and it's like a vicious circle. That was the first point where I felt that we were fucked tired once we got off the road. Up until that we were enjoying it immensely. As long as you get home once a month for a bit it's cool, but this was nine weeks without even going home at all."
Presumably it was crucial to play America with this album, though.
"Yeah, I mean, the record company were talking about putting it out later 'cos it's Christmas time now, and Mariah Carey's got her b-sides coming out and all this kind of shit, and here's a new band… so we said listen, fuck it, let's put it out low-key, get it out there, do some small shows, and it worked out well. The album just kinda came out at the end of the tour, the night we played the Troubadour in LA."
Still, it's quite a gamble – here's the album they've waited their whole lives to make, and they're releasing it into the teeth of the Christmas market.
Daniel: "It's only our first record."
Conor: "In the UK everyone's obsessed with going in real high, that kinda thing. The idea of a sleeper hit like Damien Rice is kind of unheard of these days, it doesn't happen that often. But America's such a big place you can put something out and try to build it through word of mouth. It's not like the way The Strokes and those kinds of bands come over to the UK and get a buzz and all of a sudden it explodes, that kind of thing doesn't happen in America, those kinds of bands have to come to the UK to make it happen first."
Plus, America always reacts with antipathy towards arrogant "UK" acts arriving in a blaze of press cuttings, only to fade early and return home chastened by dozens of one-nighters in Bumfluff, Idaho. As it happens, the low-key approach seems to be working: So Much For The City scored a reserved but generally positive write up in Rolling Stone, while LA Times veteran Robert Hillburn, who's planning a major piece on the band, called it "one of the most enchanting rock debuts in years".
Advertisement
Conor: "He spent a day hanging out with us and we went back to the place where we stayed in San Diego."
Daniel: "He's an amazing person as well, the stories he had, we could listen to him talk all day. I asked him about John Lennon and he said he had dinner with him every Wednesday for three months. He introduced Bruce Springsteen to Phil Spector."
So, they're forging alliances and perfecting strategies, and crucially they've also managed to weather the inevitable backlash that followed the rush of debut album euphoria. When I mention the feeling of knives-out for the band in media circles around the time of their Beck support slot in the Point, Daniel says this:
"We were surprised it hadn't happened sooner. You could imagine people who hang around in here (Whelan's) going, 'Where are these guys coming from? – they should've played here at least four times before they got a record deal,' which is a completely fair enough attitude to have. But we got really good initial press in Ireland, and it was only about three months after the album came out that other opinions started coming through."
For my part, I'm not sure whether The Thrills a pure pop group masquerading as an albums act, or rock 'n' roll traditionalists who've managed to pull off an act of Trojan horse entryism by dint of good luck, good looks and a knack for a catchy tune. Either way, I'd rather see them sandwiched between Blue and Westlife on CD:UK than playing second Rickenbacker to Teenage Fanclub and Cosmic Rough Riders. Watching the group live in Whelan's, I'm intrigued by their grasp of roots and radio rock (it makes total sense that they come onstage to Tom Petty's 'American Girl'). Sure, there's a definite whiff of the Nick Hornby B-band canon: The Beach Boys, Bacharach, Big Star, The Beatles, The Byrds, The Band, even Buffalo Springsteen – an anagramalgam of Neil and Bruce, but there's also a grasp of blue-eyed country-soul and film score music theory that yokes together the two Vans, Morrison and Dyke Parks. Indeed, during 'Old Friends, New Lovers', Deasy is the image of Rick Danko doing 'It Makes No Difference', with a few Otis vocal inflections for good measure.
It's a much more robust band that one might expect from the record, and the newer songs reflect all the roadwork, particularly one tune anchored around blatant 'Pinball Wizard' piano and guitar steals. Later, the final encore of 'Don't Steal Our Sun' discards the script and implodes into a 'My Generation'-style demolition derby, with guitarists Padraic and Daniel crowd surfing and scaling the balcony. Watching this, I suspect album number two may be a more muscular and unshaven affair, although Conor Deasy is reluctant to make any predictions.
"I think there's loads of ideas there that we're carving into shape," he says. "I don't think I'd like to say what the theme or direction is as yet because there's still a lot up in the air…"
Advertisement
And if you're not careful you'll end up with an album full of songs about airport lounges and hotel rooms.
"See, that's the thing, I think being on the road and travelling can be a very cool thing for a songwriter so long as you stay away from those danger zones. Once you start talking about room service and long distance calls on your phone bill, you're in trouble."
The red vinyl edition of The Thrills' So Much For The City is out tomorrow, June 12, as part of Record Store Day 2021 Drop 1.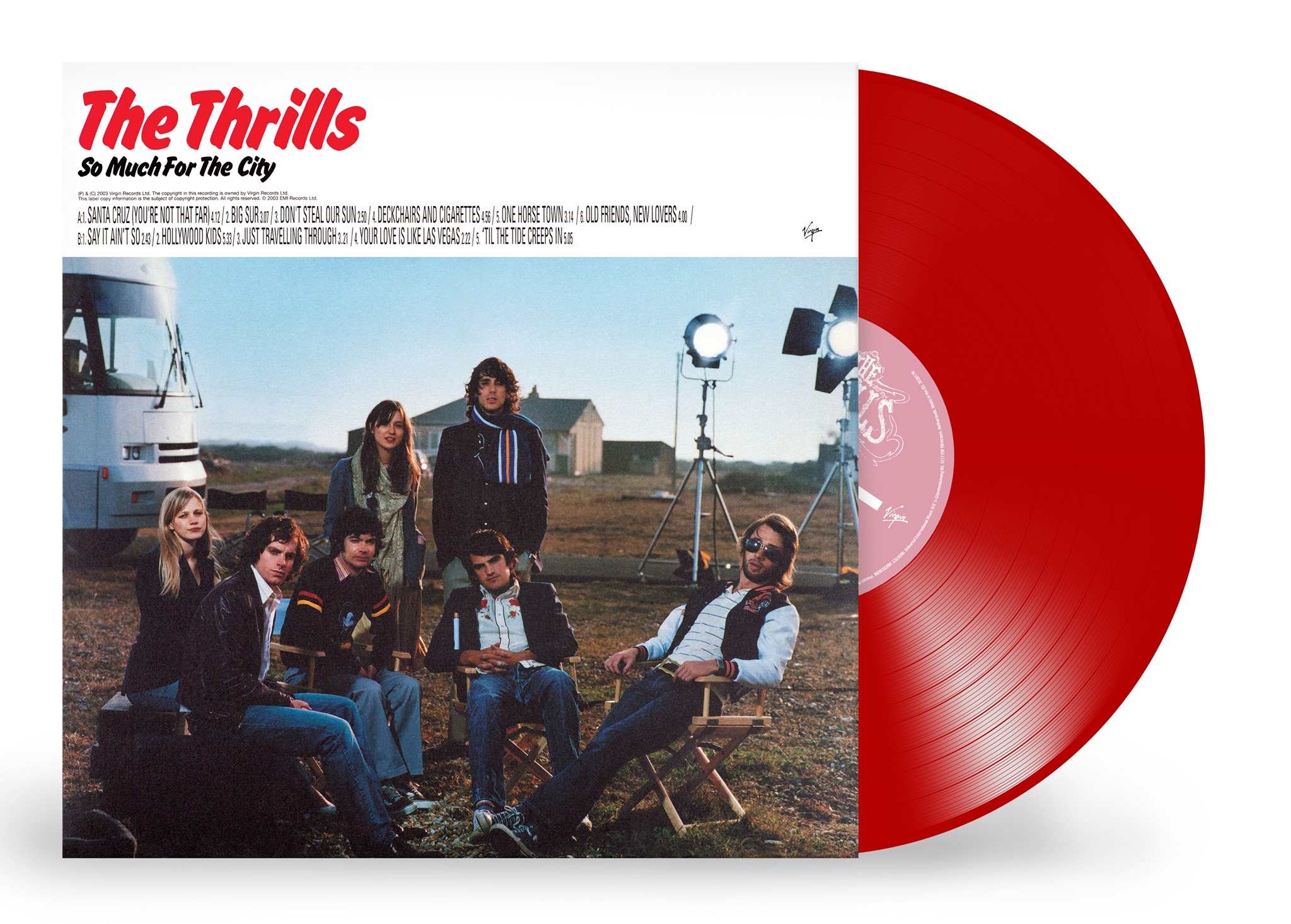 See the list of participating record stores here.
Keep an eye on hotpress.com over the coming days for more Record Store Day 2021 content.