Tickets from €37 including booking fees on sale Friday, 16th December at 10am.
For the first time in a decade with their classic line-up, indie icons Razorlight have announced a show in Dublin's 3Olympia Theatre on 5th April 2023.
The London-based act are also set to play Belfast's Telegraph Building on 4th April 2023, with tickets on sale this Friday.
The group recently announced the upcoming December 9 release of Razorwhat? The Best Of Razorlight, which collates 11 of their finest moments plus two thrilling new tracks, 'You Are Entering The Human Heart' and Violence Forever?'.
Before that, the reunited band premiered a new documentary at the Raindance Film Festival in London. Razorlight: Fall To Pieces aired for the first time at the Genesis Cinema in Whitechapel on November 4.
The film, which was directed by Ben Lowe, tells "the untold story of Razorlight." A trailer for the documentary captured some of the tensions that led to the band's split and an emotional reconnecting between Borrell and Burrows.
Advertisement
"I had to go and chat with Johnny and make things good," recalls Burrows. "If I didn't, I'd have gone on thinking about it for the rest of my life, that we should've met up, we should've played together again, it was too special to leave behind."
Bridges have been built. The artistic, and sometimes unwieldy, connection between the two has been re-established. It has been a heartening experience for those involved. "My trust with Andy was at absolute zero so to get that back was really inspiring," says Borrell. "That's never happened before and it made me think a lot about my life, like if I can get my trust back with Andy, I could do it with anybody."
"Whilst our relationship hasn't always been plain sailing, when Johnny and I sit down to write music together, there's a magic that happens. I'm so grateful to have him and the band back in my life," agrees Burrows.
In 2021, 10 years after Razorlight's classic line-up of Borrell, Burrows, Ågren, and bassist Carl Dalemo announced their reunion. They held a one-off livestream concert that summer.
The first fruits of their revitalised creativity came with the one-off single 'Call Me Junior' earlier this year, a punchy, energetic indie-rock gem, and two new songs on Razorwhat? broaden the sonic horizons further.
Pre-order the new album here.
Advertisement
Tickets from €37 including booking fees on sale Friday 16th December at 10AM.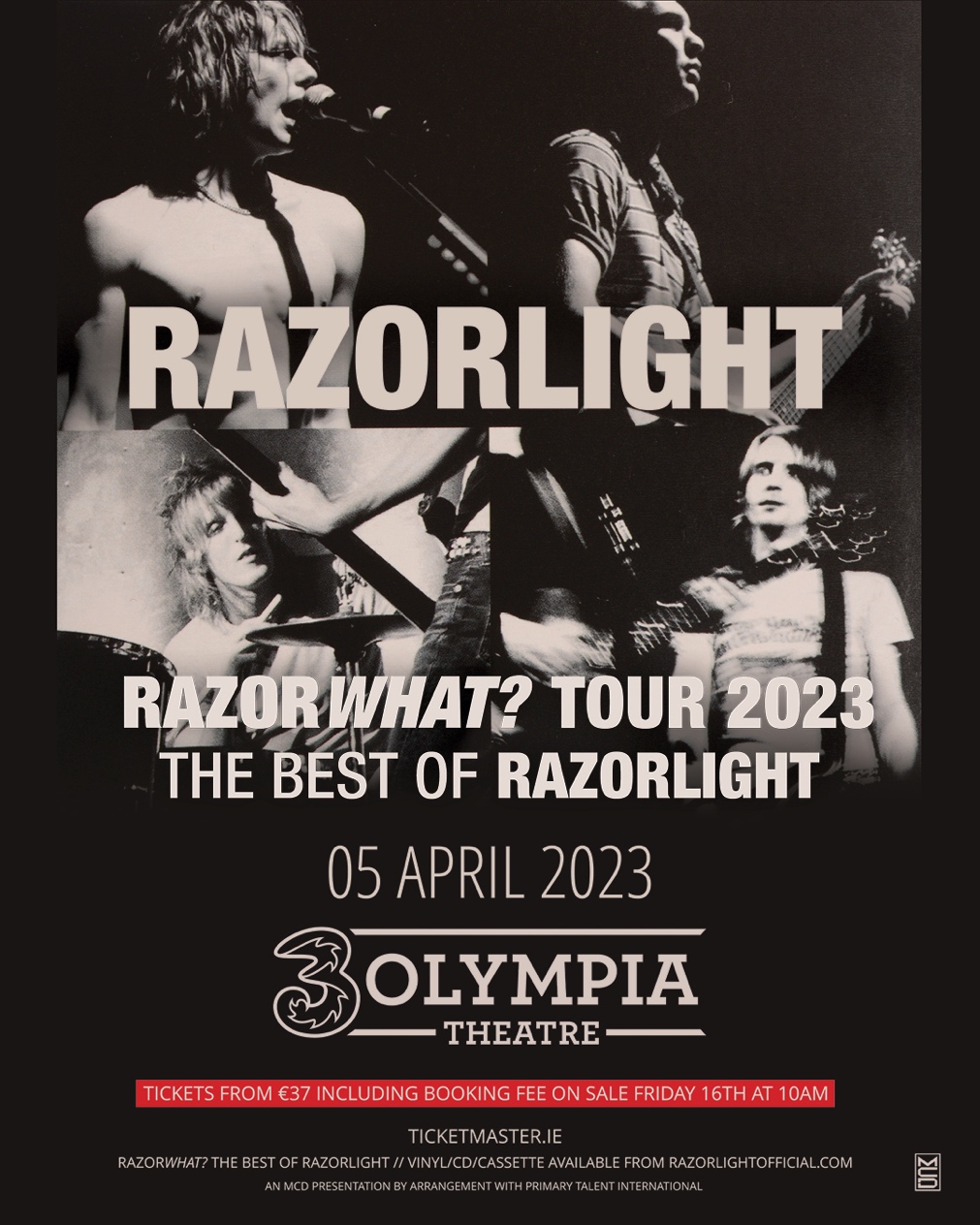 Razorwhat? The Best Of Razorlight tracklist:
1. Golden Touch
2. In The Morning
3. Who Needs Love?
4. Before I Fall To Pieces
5. Violence Forever?
6. Stumble And Fall
7. America
8. Somewhere Else
9. You Are Entering The Human Heart
10. Rip It Up
11. Good Night
12. Wire To Wire
13. Don't Go Back To Dalston