As fans, friends, and fellow musicians send their birthday wishes to Mick Jagger, we're looking back at some notable reflections and quotes about The Rolling Stones' lead vocalist – all taken from interviews in the Hot Press Archives. Featuring Paddy Moloney, Taylor Hawkins, Marianne Faithfull, Michael Hutchence, Lord Henry Mountcharles, and more...
Paddy Moloney
On collaborating with The Rolling Stones on The Chieftains' album The Long Black Veil 
"Our record company, BMG, have been at me for a long time to make this album. We went to our friends, The Rolling Stones for a kick-off. Mick Jagger did a ballad with us one day and the following day the entire band came down, Keith Richards, Charlie Watts, Ronnie Wood, and we did 'The Rocky Road To Dublin' — stone by stone! There's a photo of meself and Keith with his arm around me and he says to me, dragging away on a fag, 'you know, Paddy, music is music and musicians are musicians. That's it, isn't it?'. Tee hee! And this at about four o'clock in the morning!"
(1994)
The Rolling Stones and The Chieftains enjoying a pint in
Studio 1 during the recording of Voodoo Lounge in 1993. pic.twitter.com/dt4knjaY5P

— Windmill Lane Recording Studios (@WindmillLaneRec) November 10, 2017
Advertisement
Taylor Hawkins
On playing in Mick Jagger's backing band, when the Rolling Stones frontman guest-hosted Saturday Night Live.
"Yeah, we were his backing band. There's always an after-party for SNL, and that time they asked Chevy Metal – the cover band we occasionally perform as – to play it. And of course, Mick Jagger was there and he got up and did a couple of Stones songs with us. It was pretty amazing. Mick Jagger played with quite possibly the most decorated wedding band of all time!"
Was he demanding to work with?
"No, he was funny. He's got so much energy. He would show up every morning for rehearsals and be like (does Jagger-style drawl), 'I'm really tired, I probably won't sing much'. But as soon as we kicked into the songs, it was like we were playing fucking Madison Square Garden. He's such an amazing guy."
(2019)
Advertisement
The Simpsons writer Mike Scully
On Jagger's guest appearance on The Simpsons:
"We got a call from the Rolling Stones management saying they were going out on tour and would we be up for a Mick 'n' Keith guest appearance. 'You kiddin'? We'd kill to have the Stones on!'
"His manager came into the recording studio and said, 'Mick wants to talk to you.' I didn't know whether to be excited or scared, but I walked down the hall and found him alone on a couch. He beckoned for me to sit next to him and we went through the script page by page, with Mick telling me the jokes he liked and suggesting a few word changes. I had to project the cool, calm image of a Hollywood producer while inside I'm like a 12-year-old girl screaming, 'Oh my God, oh my God, it's Mick Jagger!'"
(2007)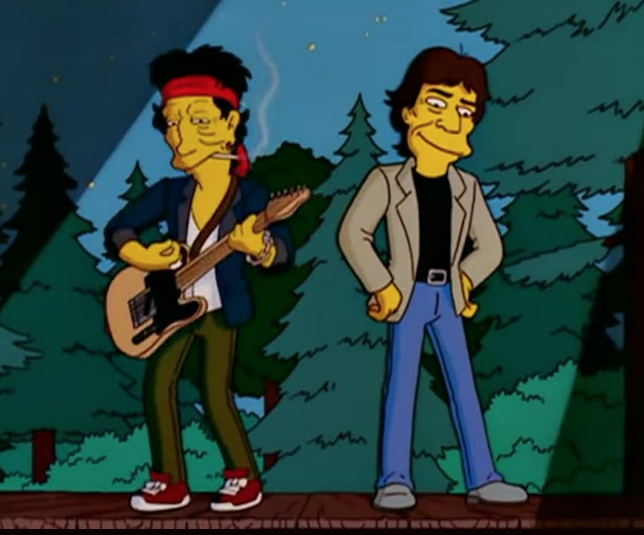 Lord Henry Mountcharles
Advertisement
"[1982] was their first year playing at Slane, but Mick had actually visited a few years earlier," Henry says. "I got a call from my father, who was still in residence, saying, 'I've got some chap coming to dinner. A Mick Jigger? I think he might be a musician.' I was like, 'Do you mean Mick Jagger?' and, yep, it was. I took him for a few jars in the nightclub we used to have at Slane and one of the locals, spotting him in his white suit, went up and said to Mick: 'Has anyone told you you're the spit of that Rolling Stones fella!'"
(2019)
Dan Aykroyd
"I've known Mick Jagger since 1976, when he did SNL. The Blues Brothers have actually opened for The Rolling Stones! In the end, even though he is this world-renowned writer, composer, performer and executive, Mick Jagger is just a really nice guy. All great talents are normally like that."
(2014)
Henry Rollins
"Look at Jagger. He might not be makin' records as good as Exile On Main Street anymore, but the guy's like, 54 or something? Look at him onstage. Try and find a second where he s not moving. Whew! I mean the guy works, he runs seven miles a day, he maintains it, y'know? And now he sings like a motherfucker, out there. It gives you some inspiration."
Advertisement
(1998)
Johnny McEvoy
On supporting The Rolling Stones on their Irish tour.
"In Dublin there was such a racket from the audience screaming for Mick Jagger. They were even firing ashtrays at us! The emergency services were grabbing them, slapping them in the face, throwing water on them to revive them. So the compère chickened out and I introduced the band on stage. They were brilliant, to see Jagger working the crowd. The show was abandoned when the crowd stormed the stage."
(2004)
Advertisement
Joe Satriani
"Mick is such a great guy, really fun, a real entertainer. He's also a really great guitarist and musician. He's one of those performers that gives 100% of every moment of every show. He was a very generous guy off stage, good to hang out with, no power trips either."
(2010)
Jim Aiken
"I did a show with [Johnny Cash] in the Carlton Cinema in 1976 and Mick Jagger was in the audience – he used to come here a lot to visit the Guinness family."
(2003)
The Answer's Cormac Neeson
Advertisement
"It was like meeting royalty. We were brought in to the general area of their living quarters and then were told, 'The Rolling Stones will see you in five minutes.' Once we met them they were really good guys, Mick Jagger even cracked something approaching a joke, 'So you're the Scottish guys are ya?' He could see us getting a bit annoyed and he burst out laughing and said he was only teasing."
(2011)
Michael Hutchence:
On whether he'll still be performing at 50, like Mick Jagger
"I've a lot of passion for music, obviously Mick Jagger does too... When did Mick Jagger turn 50? I'll have to send him some flowers. He's older than the president of the United States, isn't he? Amazing. Maybe that says more about the president. I think everbody's older than him. I'm getting close."
(1993)
Marianne Faithfull:
Advertisement
When offering her thoughts on her album She Walks In Beauty's final track, Tennyson's 'The Lady Of Shallot', she suggests that the poem's allusions to Camelot reflect her experience of the '60s.
"Oh yes, and things like that. I remember going to see Stonehenge on LSD with Anita, Mick, Keith and Christopher. It was absolutely fabulous – that came into our lives very much. I was much younger, so it affected more me I think."
In a good or bad way?
"Oh in a good way. I've got some very happy memories of the '60s, but at the same time, it broke my heart."
Did Mick perhaps have 'The Lady Of Shallot' in mind when writing the lyrics of 'As Tears Go By'. 
"I think so. You know, Mick is a very cultured, educated person actually!"
Is she still in contact with the Stones?
Advertisement
"I'm still in contact with Keith and his son, Marlon. When I lived in Paris, I would bump into Charlie Watts and his wife Shirley, but I haven't seen Mick for years. I did see him once or twice in Ireland and we just talked non-stop, as if there was no one else in the room. It was at a dinner party, so in a funny way, we're still kind of close. But no, I don't go out and I'm not in his world anymore."
(2021)