Visitors should book travel arrangements in advance. Given traffic, allotting an extra 2 hours to travel time is suggested as parking delays are inevitable.
In light of a series of musical acts coming to Marlay Park next month, the venue has released a series of guidelines and helpful tips for concert-goers to abide by to facilitate their visits and concert-going experiences.
Some of the acts coming to town this summer include the Arctic Monkeys, Dermot Kennedy, the Weeknd, and Def Leppard & Mötley Crüe. Gates open at 4:00PM on the dot, with each show commencing at 5:00PM - be sure to get there early with your ticket ready and be aware that no re-entry is allowed.
Downloading or printing out the ticket before arrival is a great idea - it not only insures that you actually have your ticket, but it speeds up lines. If you got your ticket through Ticketmaster or are on a guestlist, the box offices can be found at the entrances stationed on Grange Road and College Road.
Of course, there are different ways to actually arrive at the venue. If a car is your method of transportation it is important to be careful of where you park - Marlay Park is in a residential area and any parking at the Marlay Park venue is limited and must be pre-booked, costing €25 a spot.
Visitors can find the entrance on College Road accessible via Whitechurch Road. Do not park illegally or in residential areas. Please do not engage in antisocial behaviour.
Advertisement
Parking is also available in Dundrum Town Centre, from where you can catch a Marathon Coach - like parking at Marlay Park, it should be reserved in advance. Marathon Coaches are also available at the Custom House Quay.
If you're being dropped off or picked up by a friend, the best place to do it is near the Supervalu car park on Ballinteer Avenue, although be careful planning your route. There are road closures on some roads around the park.
Taxi pick-up, however, should be found on Brehonfield Road, although there is no guarantee about their availability after the concerts.
Accessibility parking must be booked prior to arrival - registration and inquiries can be made by contacting [email protected].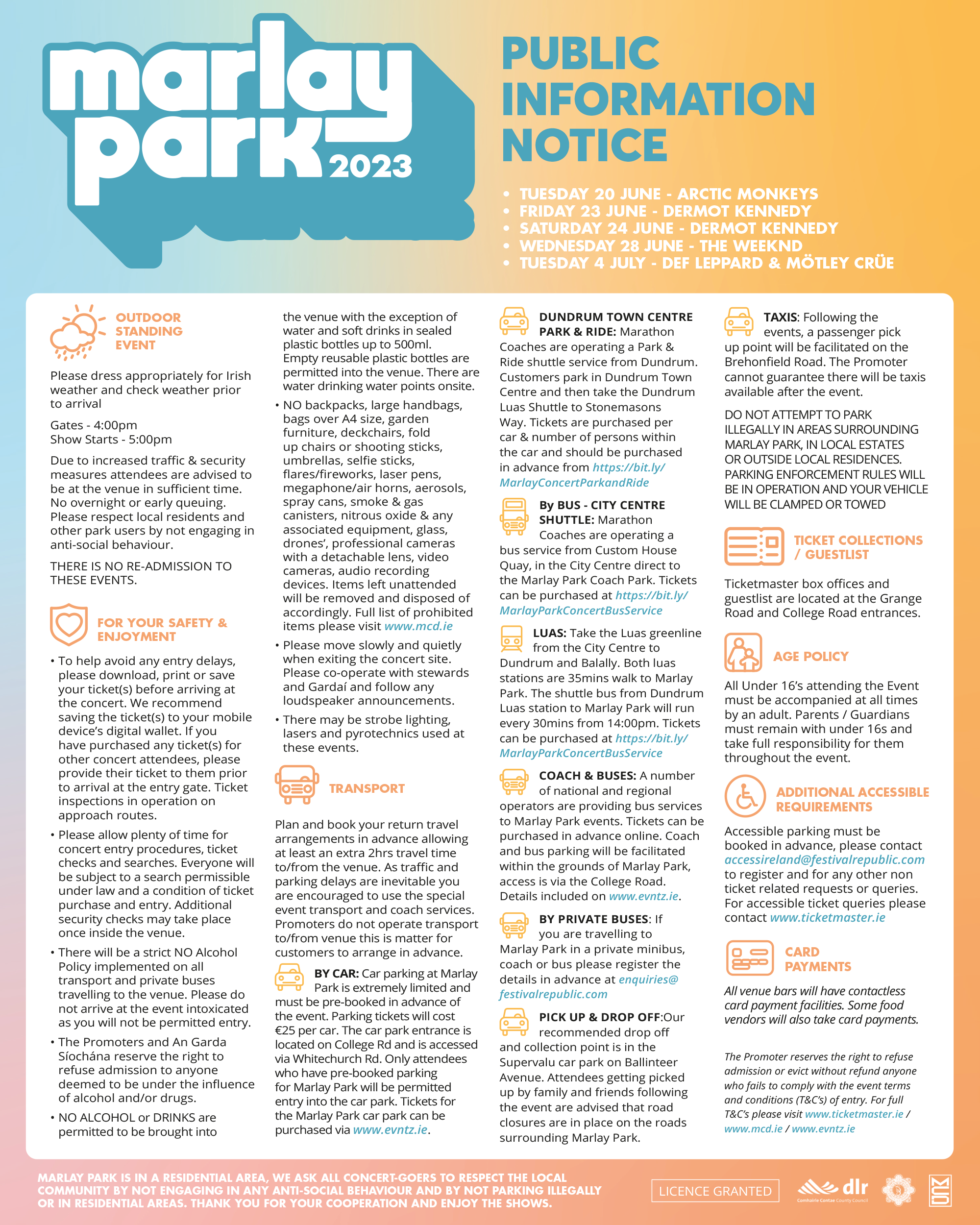 If you're coming from Dublin's City Centre, the Luas Green Line is also an option - it goes to both Dundrum and Balally, although the walk from both stations to Marlay Park is about 35 minutes. There's also a shuttle bus from Dundrum that will run every 30 minutes from 14:00.
Private buses and minibuses have to register in advance at [email protected]. There will also be national and regional coach bus operations that can be purchased online, accessible via College Road.
Advertisement
Please note that the events will employ strobe lighting, lasers, and/or pyrotechnics.
Security checks are a condition of purchasing a ticket. Some items forbidden include alcohol and outside drinks. Sealed plastic bottles of water and soft drinks are permissible only for liquids up to 500ml. Empty reusable bottles are allowed.
Other banned items include backpacks, large bags, furniture, selfie sticks, air horns, spray cans, etc. A list of other items not allowed, like gas canisters and cameras and audio recording devices, can be found on MCD's website.
Guests under 16 must be accompanied by a responsible parent or guardian.
Once you're in the venue, be sure to have fun. Venue bars will have contactless card payment facilities available, as will some food vendors.
Find tickets to Marlay Park events here:
Find parking reservations for Marlay Park, here:
Advertisement
Check out the events coming to Marlay Park this summer, here:
Tuesday, June 20th - Arctic Monkeys
Friday, June 23rd - Dermot Kennedy
Saturday, June 24th - Dermot Kennedy
Wednesday, June 28th - The Weeknd
Tuesday, July 4th - Def Leppard & Mötley Crüe