As part of our June Gig Special, Edwin McFee looks at why we're still going bananas for the Marlay Park-bound Arctic Monkeys. Plus – we take a look at the other acts playing the Co. Dublin park this summer...
Famously founded in Sheffield at the dawn of the new millennium, the Arctic Monkeys' story so far has been something of a fairytale. Actually, perhaps the multi-platinum selling indie icons' career is best described as a How To guide on taking on the music industry on your own terms and winning.
You see, the four-piece built their empire the old-fashioned way, albeit with a little help from the then newly fangled world of internet file-sharing. In true rags-to-riches fashion, they went from playing sweaty clubs to performing for tens of thousands every night, armed with that famous Sheffield steel, an unwavering belief in what they do, and a treasure trove of arena-shaking hits.
Back in 2005, your humble Hot Press correspondent was one of those aforementioned folk "In The Know" and I first encountered the band in the original Limelight venue in Belfast on a balmy August night.
It was Alex Turner and co.'s first ever visit to these shores (they played Whelan's, Dublin the following day), and despite only having one EP under their belt (Five Minutes With The Arctic Monkeys), and of course the now seminal Beneath The Boardwalk demo collection, they sold out the 450 capacity room in no time.
As much as it might pain Metallica tub thumper Lars Ulrich to read this, much of the excitement surrounding Arctic Monkeys in those days was due to bootlegging, online file-sharing and a fledgling concept called social media that you might have heard of. Yes readers, MySpace helped break Arctic Monkeys to the masses, and that night, the people of Belfast and beyond were believers from the get-go.
Advertisement
Their short, sharp set was a welcome shock to the system, and I remember being stunned by the sheer power of the four-piece.
Fast forward to the following year and Hot Press put them on the cover for the very first time.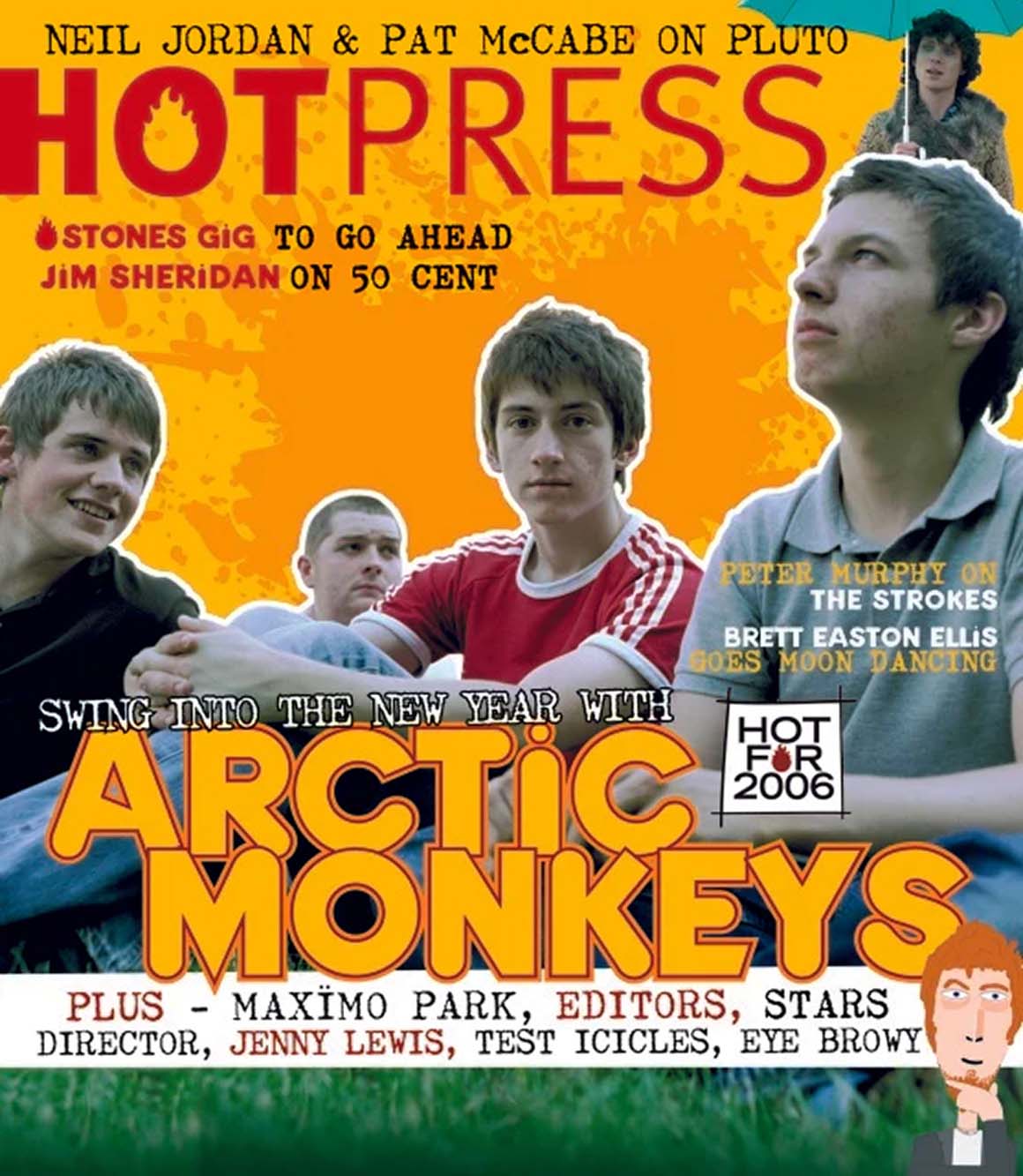 Peter Murphy caught up singer/guitarist Alex Turner while riding high on the inevitable success of their record-breaking debut album, Whatever People Say I Am, That's What I'm Not, and the frontman's trademark swagger was in full effect, even in those early days.
"All we can do is write good songs, we really don't know much about internet stuff, it just happened," he offered. "The fans just sort of swapped amongst themselves. They found something that they had a certain affection for and perhaps wanted to share with other people. Which is great, really. It made us have some very fuckin' exciting evenings.
"Mind you," he continued, "we earned our stripes. This time last year, we were still playing little gigs to nobody. We've played as many dives as anybody really, we just kind of did it quietly and went about it on our own. We pretty much drove about the north, didn't go much further down than Leicester at first. So we haven't bypassed that stage as much as people think, it's just it leapt up so quickly at the end of last year, people assume we came out of nowhere. But at the end of 2004 we were playing to no fucker."
Over the next few years, Arctic Monkeys were playing to "every fucker" to borrow a phrase from Turner, stealing the show at Oxegen 2006 before headlining their own open air concerts in Malahide Castle a year later. While Favourite Worst Nightmare proved they were certainly no one hit wonders, and was loaded with evergreen tunes such as 'Brianstorm' and 'Fluorescent Adolescent', which indie DJ's still play in clubs across the globe, it was their third opus that proved that just when you think you know the answers, the Arctic Monkeys change the questions.
Advertisement
Released in 2009 and dubbed Humbug, it was the album that would cement them as bona fide stadium-fillers for the foreseeable. Their first LP recorded entirely in the States, the band rolled the dice and decided to embrace a more expansive, rock-minded sound. Shrewdly enlisting Queens Of The Stone Age's Josh Homme to co-produce, who at the time had the Midas Touch, the band went into the Mojave Desert as John Cooper Clarke fanboys, and re-emerged long haired, Kyuss worshipping men who weren't afraid to turn their amps up to 12 (11 just isn't loud enough…)
"Our first encounter with Josh was at a festival in Belgium when he stormed into our dressing room and shouted 'Monkeys!'" recalled Alex to Stuart Clark in a Hot Press interview in '09. "We sent him some demos, and then I had a chat with him on the phone, which was when we tapped into each other's sense of humour a bit. I said to the others, 'Even if it don't work out, this'll be a bit of fun!'"
Humbug was the start of a musical evolution which is still continuing to this day. While many of their peers from their early days have floundered due to either a lack of ideas or self-control, Arctic Monkeys are still sonically exploring, and fans remain as excited as ever about that journey, as last year's pigeonhole-busting, pleasingly peculiar seventh LP The Car so effortlessly proved.
Part of their continuing success can be attributed to their fearless frontman. A modern day rock 'n' roll enigma, Turner is a generational talent who proudly marches to the beat of his own drum.
"Alex is so gifted," offered his The Last Shadow Puppets bandmate Miles Kane when this writer interviewed him in Hot Press in 2013. "Any time he wants to make music together, I'm there, because I know it will be great. He's got that magic inside him."
Advertisement
For those lucky enough to nab a ticket for Arctic Monkeys' sold out Marlay Park show next month, expect another spellbinding and memorable set.
• Arctic Monkeys play Marlay Park, Dublin on June 20.
Who else is playing Marlay Park next month?
Dermot Kennedy
June 23 & 24
Following a string of major dates in North America, the Co. Dublin singer-songwriter is set to return to these shores with an eagerly anticipated homecoming victory lap – celebrating the success of his latest album, Sonder, which debuted at No.1 on the charts here and in the UK following its release in November. He kicks off his run of Irish dates with two massive shows in Marlay Park – a mere 20-minute spin from where it all began in his hometown of Rathcoole. The gigs serve as a further testament to the remarkable heights Dermot has soared to in a relatively short period of time, with the Choice Prize-nominated Sonder and 2019's Without Fear having cemented his status as one of the country's most wildly successful homegrown stars.
Advertisement
The Weeknd
June 28
These are busy times for the artist also known as Abel Tesfaye – with his new HBO series The Idol premiering on June 4, and his action-packed After Hours Til Dawn tour taking him to stadiums across Europe and the UK this summer. The Toronto star's Marlay Park gig, which will see him joined by special guests Kaytranada and Mike Dean, also follows the release of his first live album, Live at SoFi Stadium, earlier this year – offering a promising taste of what to expect from his Dublin show. One of the world's best-selling stars, The Weeknd has garnered some serious accolades over the course of his career, including  four Grammy Awards, 22 Juno Awards, and 20 Billboard Music Awards, as well as Academy and Emmy nominations.
Read the full June Gig Special – presented in association with MCD – in the current issue of Hot Press:
Advertisement