Meath's psych pop artist, Jamie Adam has just released his very first album today, where he brings a vintage-toned psychedelic-rock into a more digital territory, creating an upbeat electro-pop sound that is equally catchy and quirky in nature. The forthcoming debut album, Melodic Electronic, is being launched in Whelans on 19 April, promising a show that will the celebrate bringing of his music out of the dark and into the spotlight.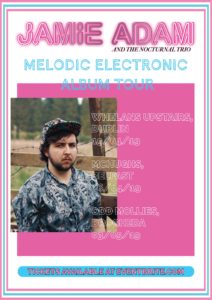 A statement about the artist says: "Adam embraces his nights, when his mind sparks with ideas of what can be and should be, as well as those moments when one finds themselves alone in the early hours - after the afterparty. It's more than appropriate then that the new single from his album is entitled 'Nocturnal'; where he declares, "we are the creatures of the night".
'Nocturnal' is catchy and funky, a thrilling party jam with the power to get anybody up on their feet in a tumult. Adam's self-confessed love for Tame Impala is evident here, with hints of other acts like Animal Collective and MGMT in there too. It combines reverb-laden vocals and guitar with a purring bassline, before the chorus swoops in with a swirling ambience that really packs a punch. The glorious mix of pop, dance and electronica draw out that exhilarating longing for the festival season, which we're all so impatient for.
Similarly, the music video conveys a matching party atmosphere as the track, set at a house party that is a typical Irish session which we can all relate to.
Advertisement
Besides his Whelans show, he has two more shows coming shortly after in Belfast, as well as Drogheda. Tickets for all shows are now available to buy on Eventbrite.