ITMA announce new collection of field recordings made by Alan Lomax in Ireland in 1951
The New Demesne features singers and instrumentalists from across the country, including legendary musician and collector Seamus Ennis.
The Irish Traditional Music Archive (ITMA) have announced a special new collection of field recordings of Irish traditional songs, tunes and stories, made by Alan Lomax in Ireland in 1951.
The release, titled The New Demesne, includes 66 tracks across two CDs, as well as a 68-page booklet which documents Lomax's collecting trip, and includes notes on the recordings. The audio from the recordings was remastered by Harry Bradshaw.
Alan Lomax, a famed American ethnomusicologist and musician, came to Ireland in January 1951, accompanied by folk singer Robin Roberts. Their aim was to make sound recordings of traditional Irish songs and tunes, which were to be published as the first in a series of LPs: The Columbia World Library of Folk and Primitive Music.
In Ireland, Lomax and Roberts were guided by the legendary uilleann piper and singer Seamus Ennis, who was working as a professional collector with Radio Éireann. Ennis, who hailed from Dublin, would feature prominently on Lomax's subsequent recordings.
Assisted by the Irish Folklore Commission and Radio Éireann, Lomax and Roberts recorded for several weeks in Ireland, travelling around Dublin, Cork, Galway and Donegal. The surviving originals of the recordings have been kept in the American Folklife Center of the Library of Congress in Washington, D.C.
Advertisement
Lomax's Irish recordings have been made freely available to ITMA for publication by his daughter, Dr Anna Lomax Wood of the Association for Cultural Equity (ACE) in New York.
The two new ITMA CDs serve as a hugely valuable record of the Irish song tradition from over 70 years ago – featuring the Co. Cork singers Elizabeth Cronin, Seán Eoghain Ó Súilleabháin, Diarmuid Ó Riordáin, Máire Ní Shúilleabháin, Gobnait Ní Chróinín, Peigí Ní Scanláin, Máire Ní Cheocháin, and Mickey Cronin; the Co. Galway singers Colm Ó Caodháin, Meaigí Nic Dhonncha, Beairtle Ó Conaola, Seán Jeaic Mac Donncha, and Seán 'ac Dhonncha; the Co. Galway fiddle players Aggie & Bridie White, flute players Eddie Moloney & Chet Coughlin, and the Ballinakill Ceili Band; the Co. Donegal singer Cití Ní Ghallchóir, fiddle player and storyteller Mickey Doherty, and fiddle player and lilter Neillidh Boyle; the singing and uilleann piping of Seamus Ennis of Dublin; and the singing and guitar playing of Robin Roberts and Alan Lomax.
The accompanying booklet "contextualises and details the collecting trip and afterlife of the recordings, and their position in the history of Irish traditional music."
The New Demesne is available to purchase from ITMA's online shop and at ITMA's premises at 73 Merrion Square, Dublin 2.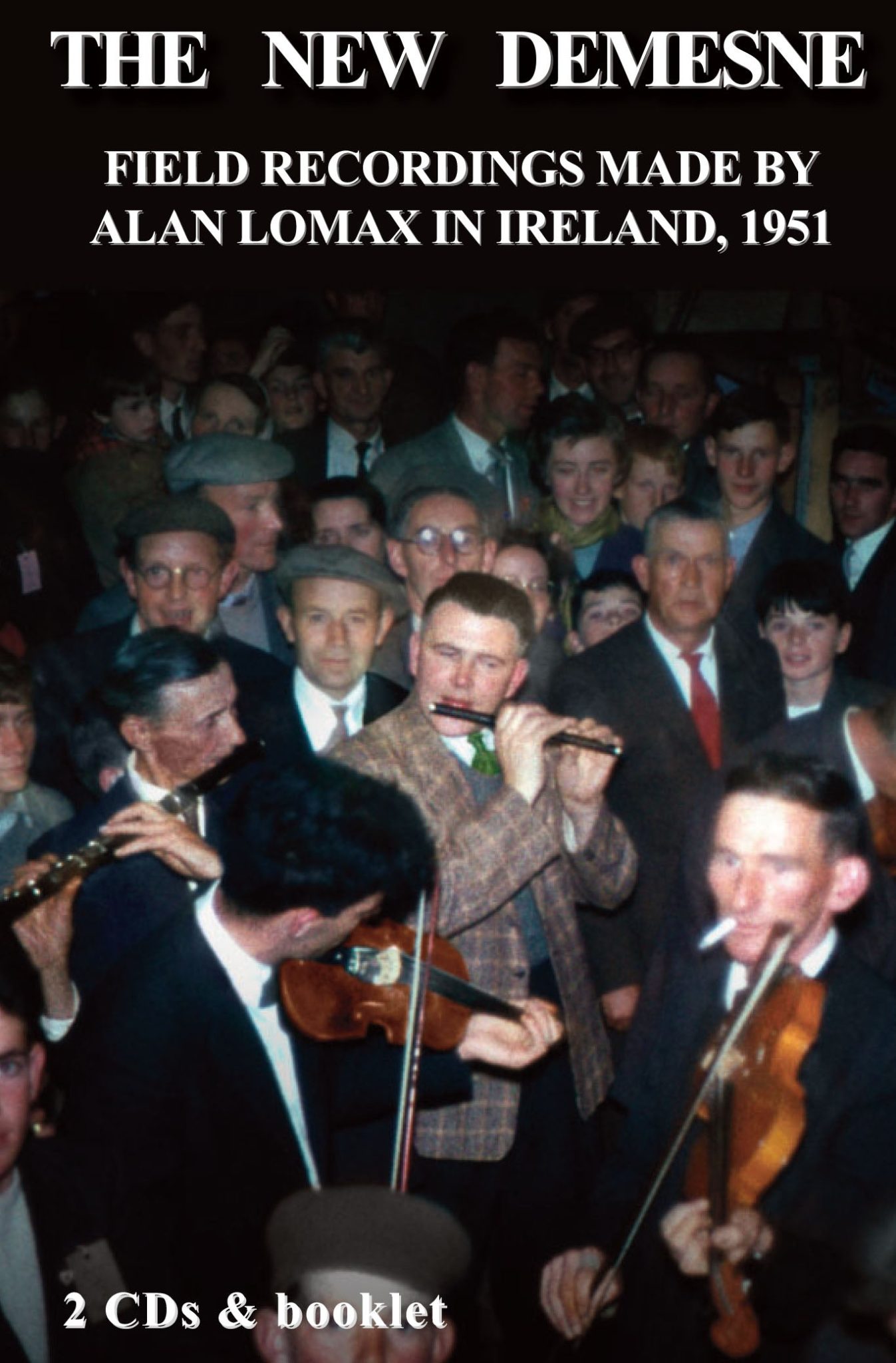 Advertisement