There was much sadness on the Irish music scene, following the announcement by Le Galaxie, that they were splitting. "It's time to say goodbye," they said in a statement...
One-time Hot Press cover stars, Le Galaxie have called it a day.
The band were one of the finest to emerge from the Dublin dance scene over the past 30 years. However, there was a sense that they didn't quite achieve the level of commercial success that their music merited.
Formed as far back as 2008, Le Galaxie released three albums: Laserdisc Nights II (2011), Le Club (2015) – which peaked at No.8 in the Irish charts – and finally what they had hoped might be the big one, Pleasure, in 2018.
Their single 'Love System' was nominated for the Choice Music Prize "Song of the Year" title in 2012.
The original line-up featured Michael Pope, David McGloughlin, Anthony Hyland and Alastair Higgins and having debuted in the infamous Boom Boom Room in Dublin, they went on to feature and numerous leading festivals over the following decade, including Sea Sessions, The Great Escape, SXSW, Electric Picnic, Metropolis and Longitude, among others.
Advertisement
***
Hot Press' 2008 feature on their 2nd single "We Bleed the Blood of Androids."
****
Photos from the various nights in 2011 that they were playing night The Hot Press Freezer Sessions in Sligo!
Waterford! & Dublin
Look how young! Where's Michael Pope's Beard???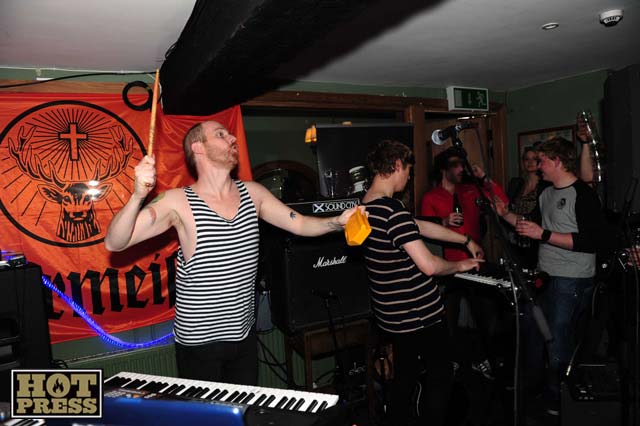 *****
In 2017 – and in time for Pleasure – they added the brilliant former Fight Like Apes front-woman May Kay on lead vocals (line-up pictured), and it injected a fresh sense of purpose into the outfit's music. But not enough for them to sustain being a band, it seems, in an increasingly torrid and unpredictable musical climate.
The first sign of a crack in the edifice came with the departure of David McGloughlin earlier this year. Now, however, the end has been reached.
The band's decision was announced tersely via Twitter.
"Hello friends," they said in a message, "it's time to say goodbye. We've completed LE GALAXIE. It's been a true pleasure to spend the last decade with you all. Thank you from the bottom of our hearts! Lots of love. Gotta go x."
The news will be greeted with dismay by fans of dance music and of the electronic scene in Ireland.
Advertisement
"Le Galaxie were genuine favourites here at Hot Press," Hot Press editor Niall Stokes said. "They were big-hearted individuals, committed musicians who were pioneers in electronic music in Ireland and deserved every success that came their way. It is a tough field to make a living in, but we have always felt a very special regard for Michael Pope and the boys – and that was buoyed further with the arrival of May Kay, who is such a fine singer – and a great person.
"It is the end of an era in many ways, and a sad moment I am sure for the guys in the band themselves. But hopefully they will bounce back. That they have much to contribute is certain. We wish them the best of luck in whatever new adventures they embark on. Thanks for the music and the memories."