Interview: Mark Graham & Leo Pearson launch new Irish label Electric Mayhem Records with Steven Sharpe's 'WORK'
With the release of their first single – 'WORK' by Galway artist Steven Sharpe (pictured) – Electric Mayhem Records are about to establish themselves as the most unapologetically fun and irreverent indie label Ireland has ever seen. Founders Mark Graham and Leo Pearson discuss the story behind the label, the importance of being provocative, and why there's never been a better time to dance. Photo credit: Marta
"Attention, bitches. It's time to dance."
That's the unforgettable rallying call with which King Kong Company's Mark Graham and Solkatt's Leo Pearson are launching their brand new independent label, Electric Mayhem Records. The quote is borrowed from Steven Sharpe's 'WORK' – the first single to be released on the label, out today.
With a dazzling funk energy, uncompromising confidence, and some provocative choice of lyrics, it's the kind of track you could envision at the centre of a drag show – which is exactly how Steven and co. are set to launch the single tonight, as part of the virtual drag spectacle, Fringe FUSE: Disco Utopia Edition.
Introducing the label with 'WORK', Electric Mayhem Records have made their position clear – they aren't in the business of playing it safe.
"Steven certainly doesn't hold back in grabbing people's attention," Mark grins. "It's so fun, but it's a bit subversive as well. There's something in it that may be a bit uncomfortable for people – but it's to a rhythm that you can dance to."
Advertisement
"We wouldn't have been drawn to the tune in the first place if it didn't have that sort of quality," Leo nods. "It's set the marker for where we hope to go in the future. We want the label to be fun and upbeat, and maybe not as introspective as a lot of Irish music can be. We want it to be a bit more outgoing, but also have that quality of being able to say 'Oh, there's something else to this…'"
The defiant irreverence of 'WORK' also serves as a powerful antidote to the uptight, even moralistic, mood of lockdown.
"There's always room for irreverence – maybe more so now," Mark reflects. "God forbid we'd all get so set in our ways that we can't laugh at ourselves, or poke fun at things, or test things, or push some boundaries. And maybe stand on some people's toes – but apologise if we stand on them and hurt them! And still be a bit irreverent in the process."
Of course, the structure of the music industry has been undergoing some dramatic changes, even before the disruption of the global pandemic. Clearly, however, Mark and Leo still believe that indie labels have something to offer in 2021.
"It offers us something, and offers artists something as well," says Mark. "As we worked on this track, one of the main things we noticed was that we were having so much fun doing it. We really had some laugh – and it's hard not to have a laugh, when you're working with really nice people who are enjoying what they're doing.
"So that became a big part of it," he continues. "We realised, here is something that we can do, to really enjoy making music – music that we want to make, that challenges things a little bit, but primarily is fun. And, in the process, gives some artists that we work with the opportunity to be heard by more people than they ordinarily would have."
"It's a record label and a production team as well," Leo nods. "So our hope is to basically repeat the process with other people that we come across. Steven set the bar pretty high, but what we want is that kind of individuality and, of course, that exceptional talent!"
Advertisement
The danceability factor is equally paramount, they tell me.
"We both come from electronic music backgrounds, but we also work in live bands," Leo explains. "So even on this record, there's a mixture of both. There's live bass, live guitar and live brass. But whether there's synthesisers or not, the dance feel is what we're aiming for, going forward."
It's certainly an interesting time to be launching a label with dance at the heart of it – with dancing currently, for all intents and purposes, illegal...
"It makes no sense!" Leo laughs. "Whatsoever!"
"I don't know," Mark interjects, with a wry smile. "The Gardaí are dancing, aren't they? It didn't stop the Guards dancing on the side of the road – and if TikTok has taught us anything over lockdown, it's that people are dancing at home. So maybe it's more important than ever to have new music that you can dance to now?
"It's like a coiled spring – and people are waiting for a release," he continues. "It will be a wonderful thing, when we do get to be together, and experience music communally. But we need to have that music in place, ready."
While we'll have to wait another few months before we can hear 'WORK' blaring in the club, tonight's Disco Utopia virtual event promises to be the next best thing.
Advertisement
"I'd been talking to a drag artist, Annie Queeries, about the possibility of doing some video work on this track," Mark reveals. "Annie got back to me and said, 'Well, maybe not just me – I have these three other drag artists, and we're doing a show in conjunction with FRINGE LAB, which is part of the Dublin Fringe Festival'. They asked if they could use the track in a show they were putting online. And I said, 'Hell yeah! Too right you can!'
"Coincidentally, months before that, Steven had said to me that one of the things he'd love to see is a drag artist performing the track. So to then have four drag artists offer to perform the track, he was delighted! It's a really fun way to launch something that we had so much fun doing."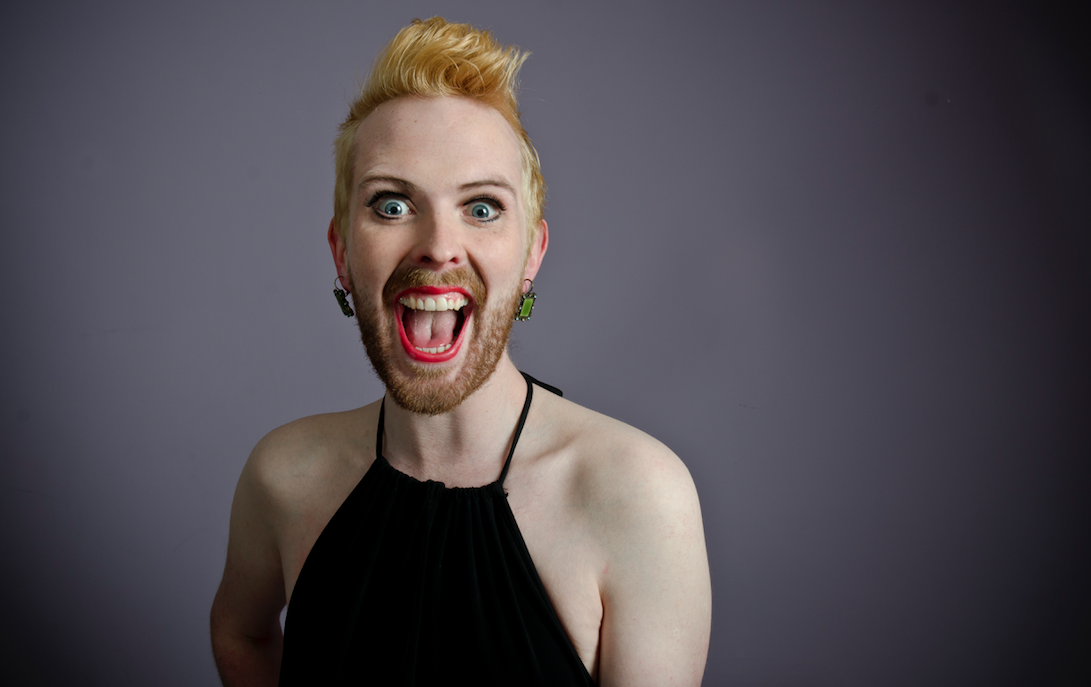 Although recent years have seen an explosion in drag's popularity within the mainstream, its subversive, underground roots will always be integral to the art form – a legacy that 'WORK' is clearly aligned with. Steven claims that he originally wrote the track about "over/under-sexed, outrageous-for-the-sake-of-being-outrageous gay people who are just a series of catchphrases, almost a caricature of themselves" – before eventually realising that he was writing about himself.
"Steven's singing about things that some people may still not be comfortable with," Mark notes. "There's not going to be many radio stations playing that track during the day, because of the content in it. And yet, the likes of Mick Jagger can sing about similar things when it involves teenage girls – but that's fine!
"So maybe we're getting places, but we're not quite there yet," he adds. "Steven singing about what he sings about, in the way that he sings about it, might help. It is provocative and challenging in a good way, and maybe it will help bring us further along on that path."
'WORK' is the first of many releases the team have lined up over the coming months – which are set to further establish Electric Mayhem Records as one of the most thrilling independent labels in the country.
Advertisement
"The dream is for the label to have its own reputation, and its own sound," Leo tells me. "That's our dream for what we're doing right now – to build it up into something solid, so people would go to the label because they trust it, and because they know what to expect. And then we'll do something totally different!"
Watch Fringe FUSE: Disco Utopia Edition tonight, February 19, at 7pm – streaming live on YouTube.
Download/stream 'WORK' below: